A young girl has died during a rescue operation to save migrants trying to reach Spain's Canary Islands in a small boat. The boat, carrying 36 migrants, drifted for more than two weeks before it was found by a merchant tanker.
A girl thought to be five years old died on Wednesday (June 30) on a helicopter flight to hospital after being rescued from a boat off the Canary Islands. Emergency services said the girl had suffered cardiorespiratory failure before the rescue helicopter reached the hospital. Two other migrants, a man and a woman, were also admitted to hospital, one in a critical and the other in a serious condition.
The girl was one of 36 migrants on a small boat found by the merchant ship Cape Taweelah on Tuesday about 200 nautical miles south of Tenerife island between Mauritania and Western Sahara, two common departure points for migrants to the Canary Islands. It was not known whether the boat had left from this region or whether it had been dragged there by wind and currents, the newspaper el Diario said.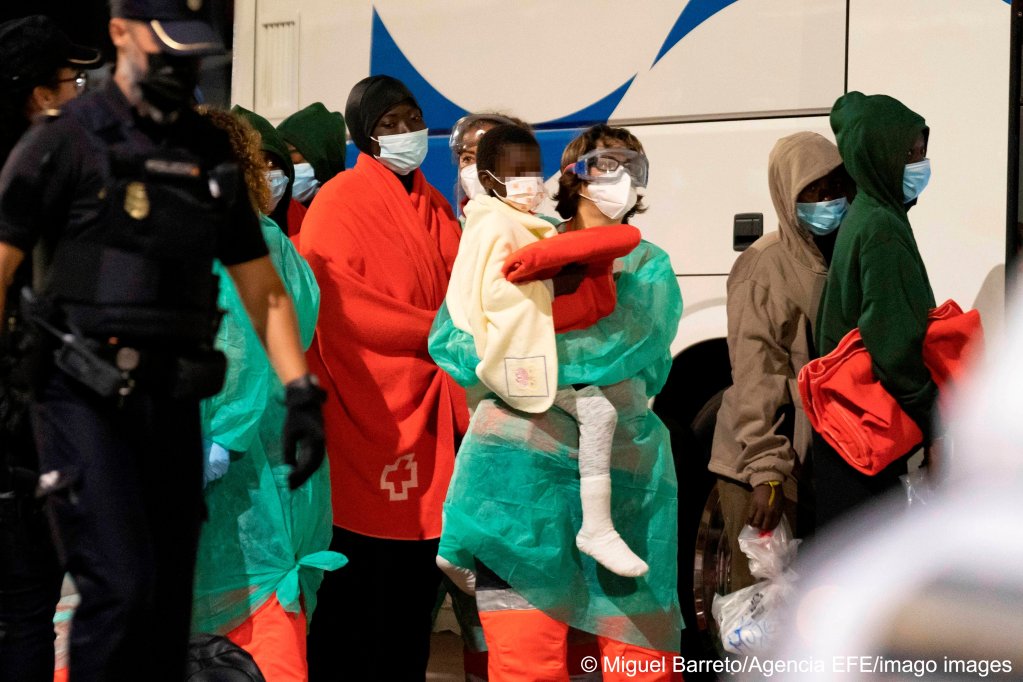 The Taweelah took 35 people on board, including six children. Jose Juan Tejera, an emergency worker, told Spain's public broadcaster EFE that the group had been traveling for 17 days when the merchant ship arrived. One of the migrants in the small boat had already died. Reports indicated that his body was not picked up.
The emergency services 112 tweeted: "In addition, another deceased person was left in the drifting boat."
The merchant ship reached Santa Cruz de Tenerife late Wednesday with the 32 survivors on board. EFE news reported on Thursday that four of the survivors were subsequently hospitalized suffering from dehydration and weakness.
One death per day
The dangerous sea route from western Africa to the Canary Islands has seen a growing number of attempted crossings by migrants hoping to reach Europe. As of mid-June, 5,734 irregular migrants had arrived in the archipelago since January 1, 2021, more than twice as many as for the same period in 2020.
The total number of people arriving in the Canaries from west Africa last year was 23,023, a figure eight times as high as in 2019, Spanish interior ministry figures show.
The two most recent deaths bring to at least 138 the number of migrants who have lost their lives this year alone en route to the Canary Islands, according to figures from the UN migration agency, IOM. Estimates by non-government groups put the number of deaths much higher. El diario notes that the number may be roughly equal to an average of one death per day. 
With AP, AFP, EFE