Almost 300 migrants attempted to enter the Spanish enclave Ceuta on the African continent earlier this week. At least five people were arrested by border guards.
After rumors published on social media that the border controls around Ceuta were about to be relaxed, almost 300 migrants attempted to enter the Spanish enclave on the African continent on Tuesday and Wednesday (September 28, 29). That's according to reports from the French news agency Agence France Presse (AFP) and the local newspaper El Faro de Ceuta.
Once at the borders though, most of the migrants were turned back and five men were arrested. AFP reported that some migrants threw stones at the police and were then arrested. Mohamed Benaissa from the NGO Northern Observatory for Human Rights (ONDH) confirmed that the migrants were turned back before they had even made it to the border.
Many of those who attempted the crossing this time may have been hoping for a repeat of events in May when thousands of migrants did make it across the borders in Melilla and Ceuta, although subsequently many of those were also taken back to Morocco.
Road blocks
Police put in place roadblocks and told local taxi firms they were forbidden from transporting people from neighboring towns and villages towards Fnidea, reported El Faro de Ceuta. Undeterred, about 20 people tried to make it into Ceuta via the sea route, but they were also intercepted by Moroccan police.
The borders around both Ceuta and Melilla have always been relatively hard to penetrate. Barbed wire, video cameras, high fences and watch towers are just some of the measures that the Spanish authorities and the Moroccan border guards on the other side use to keep people from crossing into the territory illegally.
The English-speaking Morocco World News (MWN) also reported the incident, saying that "hundreds of young people and minors" had attempted to cross into Spain from Morocco's northern coast Fnideq between September 28 and September 29.
'Stopped at the border'
Morocco World News said that most of the minors attempting to cross were "stopped at the border by Moroccan security forces." Spanish forces were deployed along the other side as a second line of defense.
According to MWN, the Spanish deployed helicopters from the Guardia Civil, Civil Guard forces as well as anti-riot squads. But these squads were not deployed, wrote MWN, saying that the authorities on the Moroccan side "dispersed the youth and managed to keep them away from the border area."
MWN says that the attempts to cross the border are symptoms of a deep socio-economic crisis affecting small towns in northern Morocco. Part of that crisis has been exacerbated by the closure of the border crossing between Ceuta and Morocco, as many Moroccans living near the Spanish enclaves relied on work from there crossing daily in and out. The coronavirus pandemic has also increased poverty rates in the region, reports MWN.
The Moroccan authorities are now investigating who might have diffused this 'fake news' about a relaxation of border policy. Any suspects identified could risk being charged with inciting illegal immigration and spreading lies about border controls.
Also read: In Melilla: 'We Moroccans have to fend for ourselves'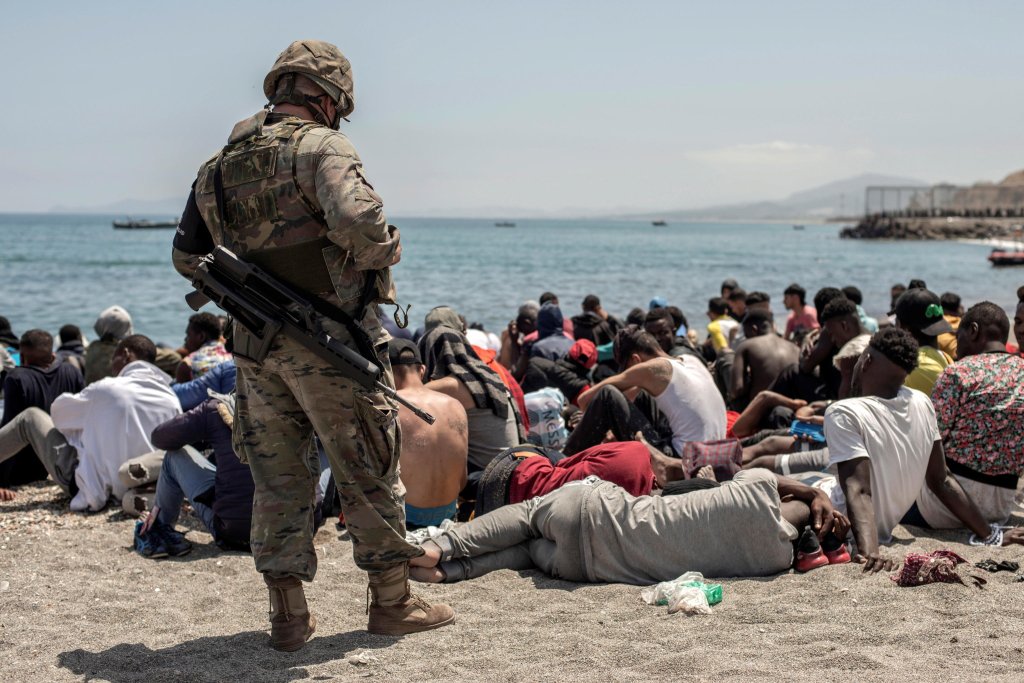 Dangerous currents
The day after the first attempt, several more small groups of Moroccan migrants attempted to cross into Ceuta again, but they were also turned back. On September 26, ten Moroccan migrants were arrested by the Spanish police for crossing the border illegally. They had set off from a small island off shore and attempted to reach Ceuta by boat. They were taken into custody and their boat too.
Ten days ago, local newspaper El Faro de Ceuta reported that a 21-year-old Moroccan Oussama El Hammoumi attempted to reach Ceuta by sea with a couple of friends. Like several young men before him, he had wrapped large plastic bottles around his body to act as a kind of life raft. But, because of "strong currents," the newspaper said, Oussama remains missing, although his two friends made it to Ceuta.
Another employee at ONDH told InfoMigrants in April this year, that although the distance between Morocco and Ceuta was tiny, the currents could be deceptive and very strong and the water was often colder than many expected. At the beginning of September another man was found dead close to the beach at Tarajal in Ceuta.
With AFP, MWN and InfoMigrants French