Among the more than one million people who fled the Russian invasion of Ukraine are thousands of foreigners. Medical student Linda Omwenga from Kenya is one of them. Her treacherous journey to safety from Kyiv to Warsaw together with nine other Kenyans took two and half long days.
Before martial law and bombs abruptly paused her pursuit of higher education and upended her life, Linda Omwenga was one of more than 75,000 foreign students leading a normal life in Ukraine. The 24-year-old Kenyan first arrived in the eastern European nation in 2017 to become a medical doctor.
Linda had chosen Ukraine for her studies partly because it's more affordable than EU countries. Her university in Ternopil, a city in western Ukraine with a population of 250,000, had a large international student body with 2,000 foreigners from 60 countries including Indians, Pakistani, Ghanaians and Nigerians.
"It's a nice place, everyone knows everyone," Linda says. "The atmosphere was really calm, there were no problems security-wise or anything."
One reason Linda chose to study in Ternopil was because a friend of hers, who was studying in Kharkiv near the Russian border in eastern Ukraine at the time, recommended a university in the western part of the country. "She told me about a terrible war in 2014." That year, Russia annexed the Crimean peninsula and started a war in the eastern Ukrainian Donbas region.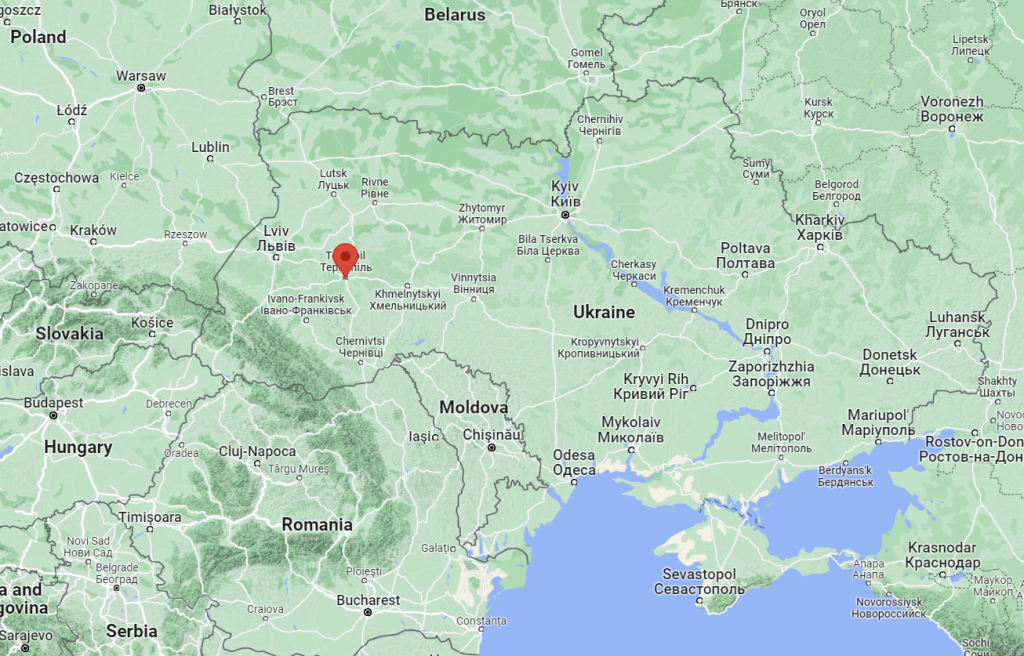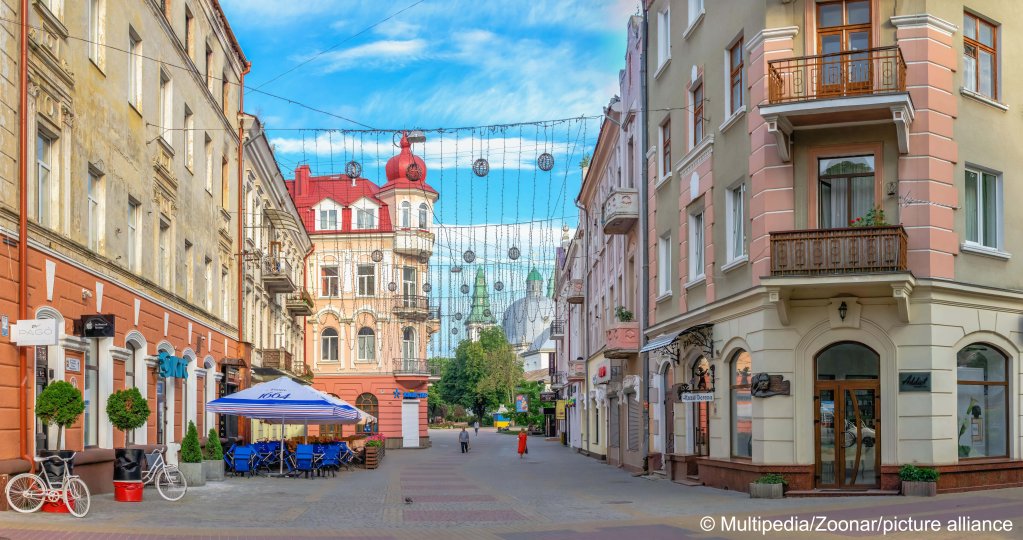 The calm before the storm
In late 2021, as people around the world were watching more and more Russian troops amass on Ukraine's border, Linda and her fellow students started getting calls from outside the country. "They were telling us something wrong was going on," she says.
"We got really worked up, but the atmosphere on the ground was different. People were really chill, going about their daily activities. Nothing was alarming on the streets, actually," she says. "Plus the news was either in Russian or Ukrainian, so we were kind of unaware of what was happening."
Linda says it wasn't until the Russian government evacuated its embassy staff on Wednesday, February 23 that she started feeling alarmed. While some Ghanains and Kenyans traveled home right before the invasion started, she and most of her friends stayed. "I would have left in probably two months," she says, her voice sounding uneasy. "But the invasion started before I could even think about it."
Waking up to war
Linda was in the middle of a gap year staying at a hostel in the Ukrainian capital Kyiv when the full-scale Russian invasion of Ukraine started during the night from Wednesday to Thursday,
It wasn't the sound of missiles hitting the capital that woke her up. It was her Nepali roommates running around the room shouting 'Everywhere, boom boom boom!', she says, not able to suppress a giggle, likely because of the absurdity of the situation.
Thinking it was just another talk about the threat of war, she fell asleep again. The next time she woke up, she saw calls coming in "from everywhere" and messages about a Russian invasion. Although there were still no audible signs of the war, seeing her roommates pack and leave the hostel left her shocked.
"I remember thinking: 'My God, I don't have enough money to leave the country right now.'" Her mother tried to send money to her from Nairobi via Western Union but couldn't because of mass money withdrawals and banks closing in Ukraine. "That was a very tough deal, honestly," she says. But even for those who had the means, leaving the country by plane was no longer possible as Ukraine had closed its airspace.
Around 3 pm on Thursday, February 24, Ukrainian soldiers came to Linda's hostel and told her to pack and leave, she says. She spent the night from Thursday to Friday in an underground hostel that was "supposedly safe" from explosions. Asya, another Kenyan whom Linda joined in escaping the next day, posted a video of an explosion in Kyiv early Friday morning:
Fleeing Kyiv
At 7 am Friday morning, Linda heard from friends about free trains departing Kyiv. Leaving most of her belongings behind, she made her way to the train station with only a small bag, where she met up with several of her friends. They found themselves surrounded by hundreds of people, including many women and children and some cats and dogs, all running toward the platform serving Kyiv to Lviv in western Ukraine. Linda says a few of her friends got trampled in the chaos but managed to get up and keep walking.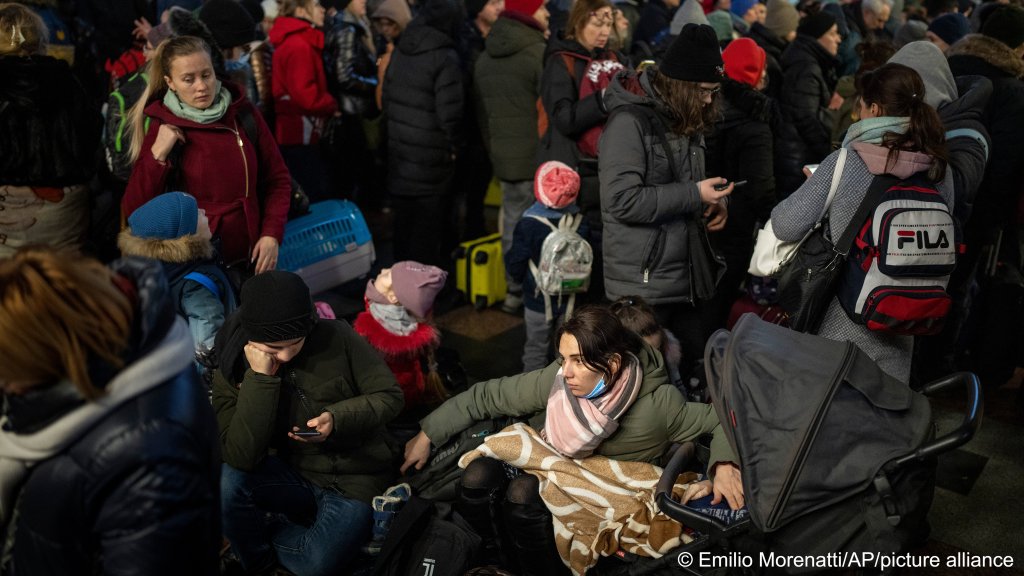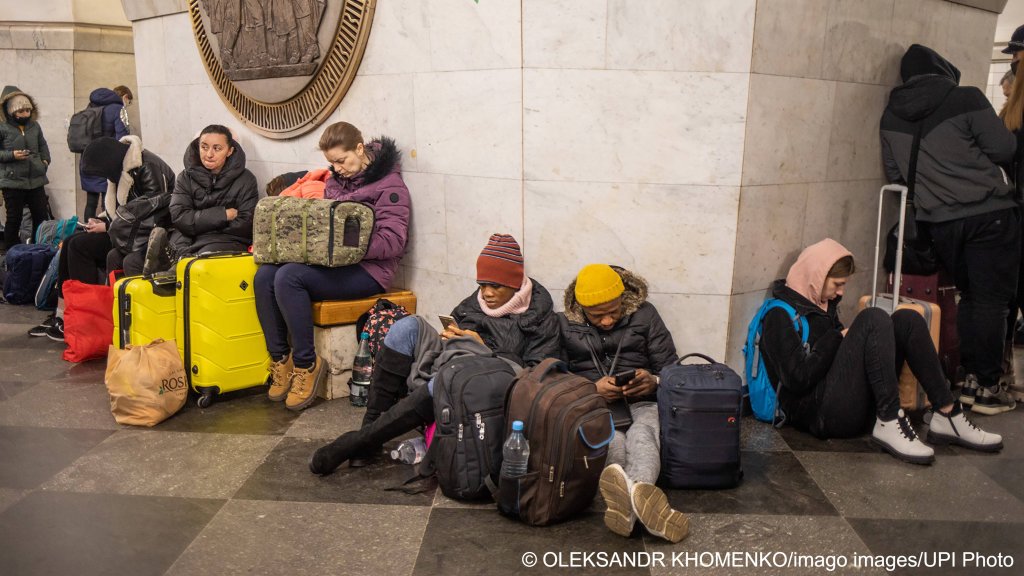 While waiting for the train, she heard explosions for the first time. "People were running left and right," she says. "Police told people to go underground to take cover. It was scary." Back on the platform, she saw people fighting for a spot on the evacuation train. Some kept trying to force their way in even though all the coaches were already chock-full, Linda remembers. "The police had to literally yank people out of the train."
Linda and her friends missed that train as they weren't able to reach the platform in time after an announcement alerting people of the approaching train came only minutes before it arrived. By the time the next train pulled in a couple hours later, however, they were ready.
"The order was 'women and children first', and Ukrainians were treated preferentially overall." Male foreigners were the last group allowed on the train. Linda says she saw some African men getting pushed and punched in the face by Ukrainian security personnel for trying to board prematurely. She eventually managed to get onboard, too. In the early afternoon, around six hours after they arrived at the station, Linda and nine of her Kenyan friends finally left Kyiv.
Crammed in a compartment designed for two people, after a few hours the group of ten noticed the train had turned around. "We were asked to close the blinds, turn off the lights and be quiet. Everyone was scared." According to Linda, the train was rerouted several times due to security concerns.
After 16 hours, more than twice as long as the train would normally need for the 500-kilometer journey, Linda and her friends arrived in Lviv at 6 am on Saturday morning. Next, they freshened up and had some much-needed tea and coffee at a restaurant.
Then, around noon, the group decided to take taxis to the border town of Rava-Ruska some 50 kilometers northwest of Lviv. The taxi driver dropped them off at the end of the car queue and they started walking the rest of the way in sub-zero temperatures. According to Linda, it took the ten girls eight long hours to get to the border.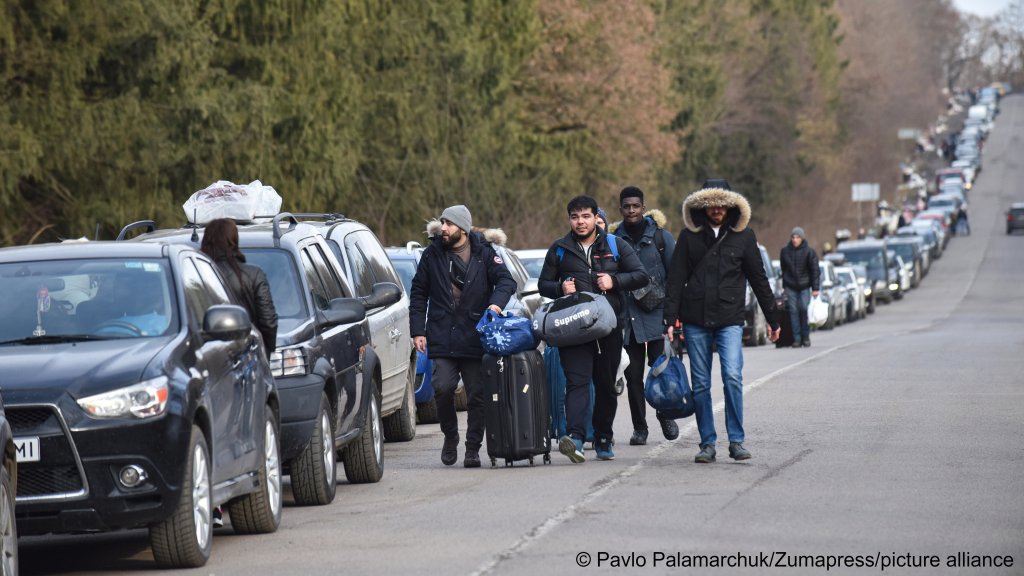 Nightly border crossing
Near the border, the disadvantages of not being Ukrainian became even more apparent than at the train station in Kyiv.
Linda says that border guards separated Ukrainians from foreigners and transported people to a nearby place where everybody's passports were checked. She remembers Ukrainians being brought across the border much quicker than foreigners.
She also observed that male foreigners with wives were treated preferentially to unmarried men. "If you were a gent and had no lady accompanying you, you had to stay at the back forever. No one cared, really," Linda says. So Linda and one of her Kenyan friends pretended to be two male Pakistani's wives. It worked.
Most other non-Ukrainian men didn't have this luxury. As everybody else was given a higher priority, some of Linda's male friends needed two or even three days to reach Poland.
Shortly before midnight on Saturday, Linda was the first among her friends to make it across the border to Poland, more than 30 hours after they had left Kyiv. On the Polish side, volunteers handed out coffee, tea, snacks.
"We had been in the cold freezing for hours, so it felt really good," Linda recounts. "They asked everyone where we wanted to go and made sure all everybody who crossed the border was taken care of." She slept in a heated tent until her friends arrived around 5 am. One of them was Asya, whose tweet about their experiences at the border went viral on Twitter.
When asked whether she had experienced any kind of racism during her five years in Ukraine, Linda says she never felt as though people consciously discriminated against her. But some of her friends, especially male ones, told her about racist behavior, albeit isolated in nature. According to Linda, Ukrainians are a lot more direct than Kenyans and people from other English-speaking countries.
"Ukrainian culture and language can come across a bit harsh and rude," she says. "They say what they want to say. But if you can get used to the fact that somebody could yell at you at any moment, you'll be fine."
Next stop: Warsaw
Once reunified on EU territory, the group was faced with a choice: Polish border guards said they could either go to a camp near the border or to the Polish capital Warsaw, both by bus. "We decided to go to Warsaw because it would be easier for us to catch flights back home and find a place to stay."
Once she relaxed into her seat, Linda says, she felt a big sense of relief.
When their bus arrived in Warsaw, the Ukrainian passengers were given food and were brought to hotels, while she and her friends -- along with all other non-Ukrainians -- were left to fend for themselves, according to Linda. Luckily, one of her friends knew somebody who connected them to a Polish man who offered them a place to stay.
By the time they arrived at the suburban house early Sunday evening, the girls had been on the road for more than three days. They were exhausted but grateful for the hospitality and for having found something at such short notice, Linda says. For the next four days, Linda and two of her friends shared a room in which they recovered from the stresses and strains of their journey and made new plans.
Frustration about her government
While countries like India, Tunisia, Nepal, Ghana and Nigeria have been organizing evacuation flights from other countries as well as food and accommodation, Linda says she hasn't received any support from her own government. "This is unfair," Linda complains. "We literally left everything in Ukraine and had to travel across the border on foot. How do they expect us now to find our way back to Kenya on our own? It makes no sense."
One week after she was forced to leave her hostel in Kyiv, Linda and her Kenyan friends crossed borders again. An independent protestant church brought them -- along with people from Ukraine, Nigeria, Sierra Leone and other mainly African countries -- by bus to Hamburg, where they'll be accommodated for a few days, Linda says.
Uncertain future
Going back to Kenya now is not an option for her, she says. "You can't waste all this time and forget about your degree."
When the Russian attack forced her to flee her host country, Linda was less than a year and a half away from graduating. "Some students like me only had a few semesters left before finishing our studies, which take six years to complete and cost so much money. It would be really nice if we were allowed to transfer credits from our university in Ukraine to another one."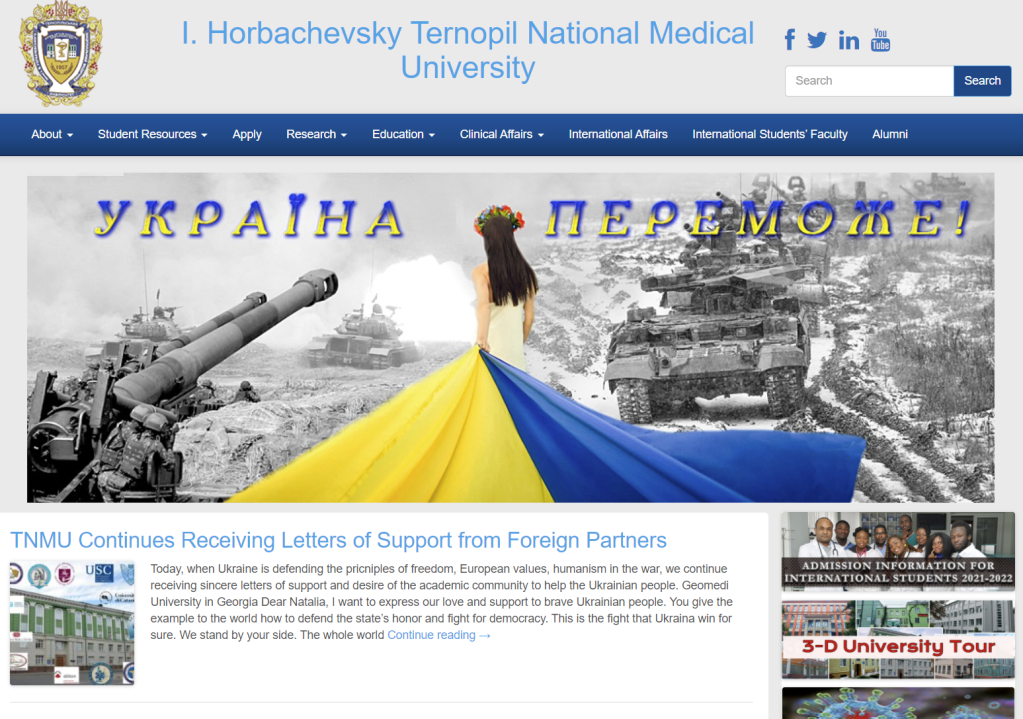 Despite the uncertainty, she hopes she can finish her medical studies in Europe, then return to Kenya for a mandatory one-year internship and then do a residency in pediatrics in Germany. When she speaks about her future, her otherwise light-hearted voice has a pensive and melancholic touch.
But Linda is not only worried about her own fate. "We don't know what's going to happen to Ukraine, whether Putin intends to make it part of Russia," she says with exasperation. "I doubt things will come back to normal in the near future."