On the occasion of Women's Day, various NGOs are shining a light on the issue of domestic violence among female migrant and refugee populations. One initiative in Athens highlights how it is actively helping to rescue women from abusive partners.
The Doctors of the World NGO has set up a program in Greece to save refugee and migrant women who have faced domestic abuse as part of their migration journeys. 
Funded by the EU and supported by two partners, Sol Crowe and Human Rights 360, the program called "A Step Forward" has been operating a reception center for vulnerable women asylum seekers and their children outside the Greek capital, Athens. The program assists the women by providing housing, counseling, healthcare services and education while they undergo the asylum process.
Congolese asylum seeker Ruth is one of more than 40 women it has welcomed since June 2021. She told Agence France Presse (AFP) that a social worker helped her "find a place in this centre."
"My husband was violent but I had been hiding it for a long time. Then one day, I couldn't lie, my face was scarred by the beatings," 23-year-old Ruth told AFP. "The difficulties have not destroyed me. Today I am moving forward," the young mother of three further explained.
Many of the women at the facility, like Ruth, have children and come from Democratic Republic of Congo. Some hail from other parts of sub-Saharan Africa as well as from Afghanistan.
Read more: UNHCR: Surge in violence against displaced women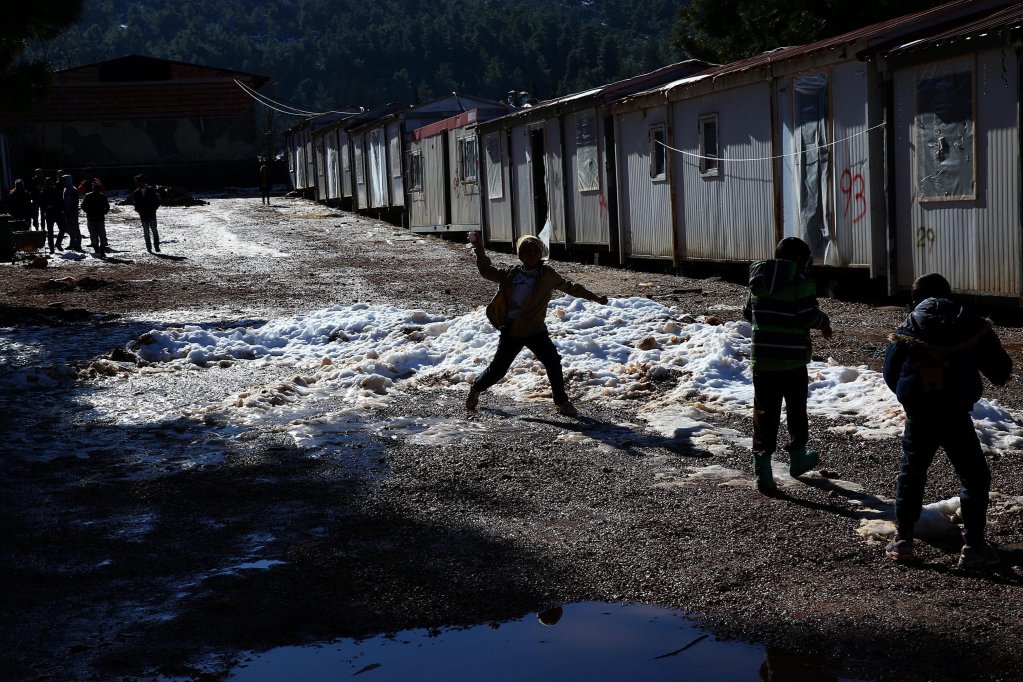 Long history of suffering
Like many abused women migrants in Greece, Ruth's ordeal went unnoticed for a long time, as she decided to keep the fact that her husband used to routinely beat her a secret. Only by confiding in the social worker did Ruth find shelter and help in Athens. 
Ruth recalls that after losing her parents in Congo, she "no longer had any protection" in her life: "I lived on the street, I suffered sexual violence. Then I found my husband. He sold his house, we flew to Istanbul," she explains. From Turkey, the young family then began the "dangerous journey" to Greece in February 2021 on an inflatable boat. 
She remembers how suffered pushback attempts at the hands of Greek authorities, which she and her family escaped by hiding, and she recalls witnessing people fall off the small dinghy and drown. In addition to all that, she endured domestic violence at the hands of her husband.
Evi Papayianni, the social worker in charge of the reception center, said that all women who come there are victims of trauma and violence: "Some have suffered rape, physical violence, others were oppressed by their families who prevented them, for example, from studying," she told AFP.
"Our goal is to give them a sense of safety, strength and also to make them understand that they have rights. If for Greek women, filing a complaint is difficult, for foreign women this is even more so!"
Read more: Raped 'every night' in Libyan prison until she gave birth: Sarah
Overcoming the past
There are various additional resources that the women at the center can make use of, as they await responses to their asylum applications. These include seminars on violence against women and their rights, language courses, yoga, drawing and more. But there's also more hands-on assistance, such as help in finding work
Papayianni says, the women can see their lives transform in just a few months, allowing them to regain their confidence.
"When I first met Ruth, she was very withdrawn and her children were scared, they didn't speak. Now they are smiling, they are getting back their hunger for life," she says. Ruth agrees that her life has changed greatly since she came to the facility:
"(T)he most important thing is to talk, to free yourself from your past. I'm still disturbed, I had trouble concentrating but the psychologist and the sports sessions are helping me," she says.
"All that belongs to the past. Now I'm thinking about my future. I would like to go back to school and become a midwife."
Read more: 'Conflict-related sexual violence is preventable'
Celebrating Women's Day — by keeping on fighting
On the occasion of Women's Day, Ruth reflects about how far she has come as a woman, and how far women in general have journeyed — both literally and figuratively — to carve out their own rightful part of the world:
"Are we more vulnerable? In a way yes, I've been through a lot because I'm a woman, but I've always had the courage to keep fighting," she says. "(W)e women, we are strong!"
Read more: Italy: Support for migrant women who survived violence
With AFP