Around 25 people -- including several babies -- are feared dead after their boat capsized in the Atlantic Ocean off Spain's Canary Islands on Monday. The Spanish coast guard rescued 36 people from the stricken dinghy.
The Spanish coast guard said Tuesday April 26 that it had rescued 36 people from a capsized dinghy around 250 kilometers south of the Canary Islands. Earlier, a spokesperson had said there were 34 survivors. The coast guard had been alerted on Sunday to a boat that had left Cabo Bojador in Western Sahara, with around 61 migrants on board, news agencies reported.
One person was confirmed to have died, and 25 others remain missing.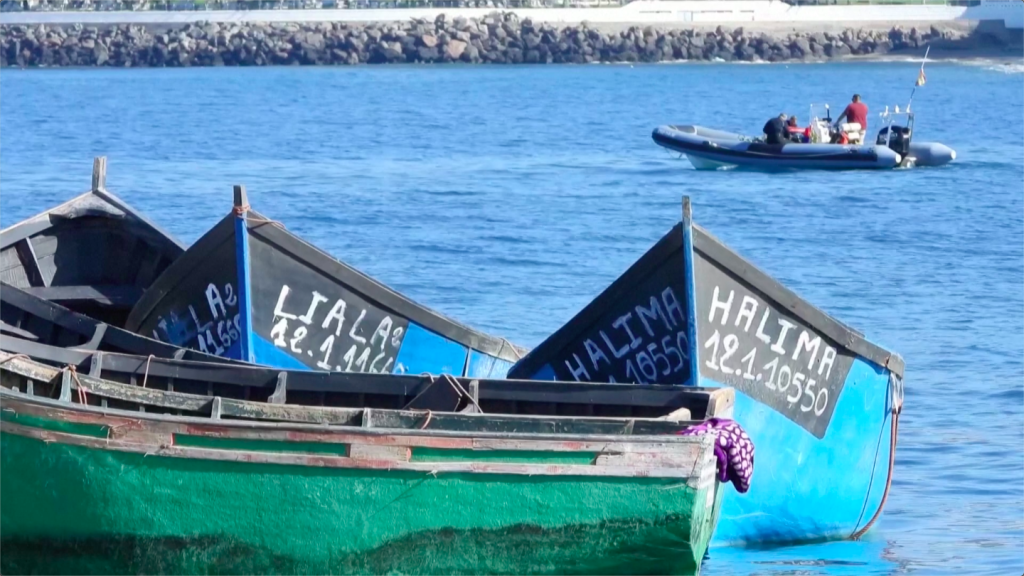 The survivors, including two minors, arrived at Gran Canaria's Arguineguin port at about 10 am on Tuesday, according to Reuters. All of them were from sub-Saharan Africa, the coast guard said. 
The Spanish NGO Caminando Fronteras, which helps migrant boats in distress, initially reported that 27 people had died, the group's founder Helena Maleno describing the incident on Twitter as a terrible tragedy. She later revised the number to 25 people, seven of them babies.
80 rescued off Gran Canaria
Two more boats with a total of 80 people on board were found by Spanish rescue services, according to further reports on Tuesday. While searching for the boat that had reportedly left Bojador, the Salvamento Marítimo rescuers discovered two inflatable boats about 70 kilometers south of Gran Canaria on Monday, Radio Television Canaria said.
One of the migrant boats had 33 people on board, including two minors. The other, which had made a distress call, was carrying 47 people, two of them children.
Human cost keeps rising
It is becoming more common for migrants from West Africa to risk the Atlantic Ocean crossing to the Spanish Canary Islands. Between January 1 and April 15 this year, 6,359 people arrived in the islands in small boats, 60% more than in the same period in 2021, according to official figures.
Last year as a whole, over 40,000 migrants managed to reach Spain by sea, the Spanish interior ministry said.
The Atlantic route remains highly dangerous, with more recorded lives lost in 2021 than ever before.
As of April 21 this year, the UN migration agency's Missing Migrants Project had recorded 185 deaths on the route since the start of 2021 – a figure it says is likely to be a significant undercount due to 'invisible shipwrecks' and unreported departures from the African coast.
Caminando Fronteras, which has direct contact with survivors and migrants' families in Africa, says at least 4,400 migrants were lost at sea trying to reach Spain in 2021, more than twice as many as in 2020.
Also read: Canary Islands: More migrants risk deadly Atlantic route
With AFP, Reuters