The plight of Ukrainian refugees has captured the world's attention. Meanwhile, the struggles of millions of refugees from other countries have faded from view. How are they faring? A look at the Balkans.
"I lost the mother of my two children in the war. She was my everything, " Kiano (name changed) recalls, crying. The Cameroonian has been living in the Bosnian refugee camp of Lipa, near the city of Bihac, for about two months.
When we first meet Kiano, he is standing in front of the white containers that have been set up as temporary housing for the refugees. Each unit houses roughly half a dozen refugees in bunk beds. It's about 30 degrees Celsius (86 degrees Fahrenheit) and there are very few shaded places at the camp.
Kiano does not want to talk about his life and his treacherous journey at that moment – instead, we talk on the phone a few days later.
Dangerous mines at the border
"I want to reach a country that is part of the Schengen area and request asylum there, " he explains.
Unlike neighboring Bosnia, Croatia is part of the European Union (EU). However, Croatia is not fully part of the Schengen agreement. This means that passport checks are still carried out at all its borders -- including the border to its westward neighbors, Italy and Slovenia.
Kiano – who is in his mid-30s – says he wants to get legal residency status and find employment in the EU so his children can join him. He says he has been trying to reach a place of safety since 2018. He arrived in Bosnia via Turkey and Serbia, among other countries.
He has already tried twice to reach the EU by crossing the Bosnian-Croatian border. Once, he almost made it to Slovenia. "After eight days of walking, day and night, I almost couldn't walk anymore," he remembers. His foot was injured and Croatian locals called the police for help, he says. But the police did not believe that he was injured and took away all money and cellphones from him and others he was travling with, he recalls.
"They brought me and my friends back to Bosnia at one in the morning, to the jungle," he says. There's a large, dense forest on the Bosnian-Croatian border, parts of which still have dangerous landmines in them, left over from the Bosnian War in the 1990s. Approximately 200,000 mines and unexploded bombs are still in the ground in Bosnia.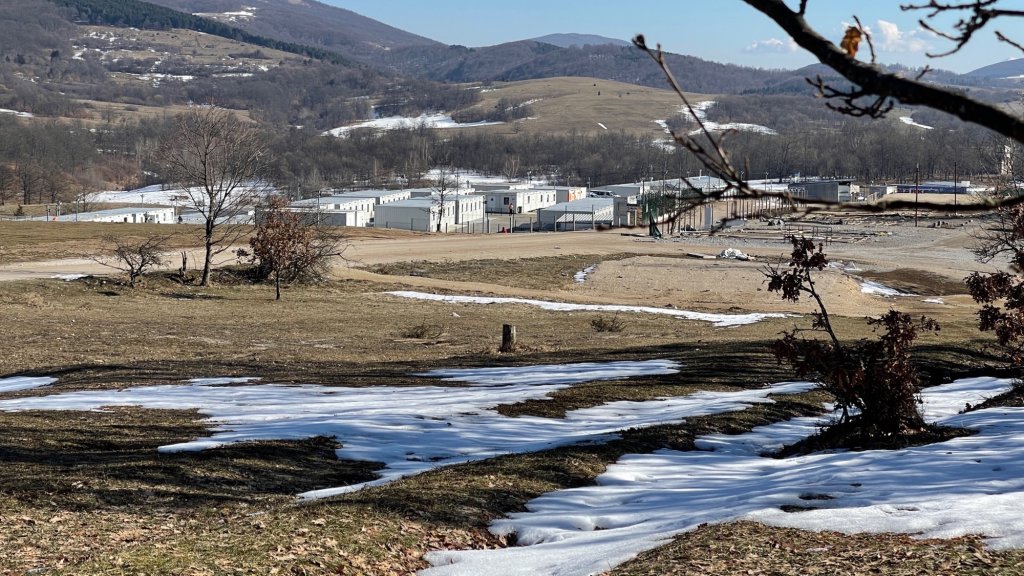 Thousands of illegal pushbacks at the Bosnian-Croatian border
Many refugees at Lipa camp report being pushed back across the border to Bosnia by Croatian police, sometimes with force. Human rights organizations recorded 16,000 illegal pushbacks at the Bosnian-Croatian border in 2020. Investigative journalists from several news outlets, including German public broadcaster ARD, documented a violent attack by Croatian police and wounds suffered by refugees in 2021 – indicating that apparently little has changed.
Kamran (name changed) from Pakistan tells us that was violently pushed back to Bosnia by Croatian officers. "I tried reaching the EU ten to 12 times," he says. One of his hands and one of his feet is bandaged.
The young man does not know his exact age, he tells us that he is either 18 or 19. He left Pakistan five years ago – and has not seen his mother or brothers since. "I miss my mother a lot," he says.
Lipa refugee camp: A transit point en route to the EU?
Everyone we talk to at Lipa camp tells us they want to reach the EU. The camp is only a transit point, a temporary home, for them. The camp has room for 1,500 people, but can take in up to 3,000 when necessary, according to local authorities. 
Many of the residents are from Afghanistan and Pakistan, even a few people from Cuba have been stranded here. There's electricity, wireless internet/WiFi, running water, sanitary facilities. Because of the coronavirus pandemic, there are signs on the bathroom containers reminding the refugees to be mindful of hygiene. Meanwhile, inside the containers, the floors are flooded, the water is several centimeters high.
But the refugees aren't complaining. "The staff is trying their best," Kiano from Cameroon says. "There's a fitness room, we can play cards, we can larn languages like English, Italian, Bosnian," he explains. They are just not allowed to work – they do not have a work permit.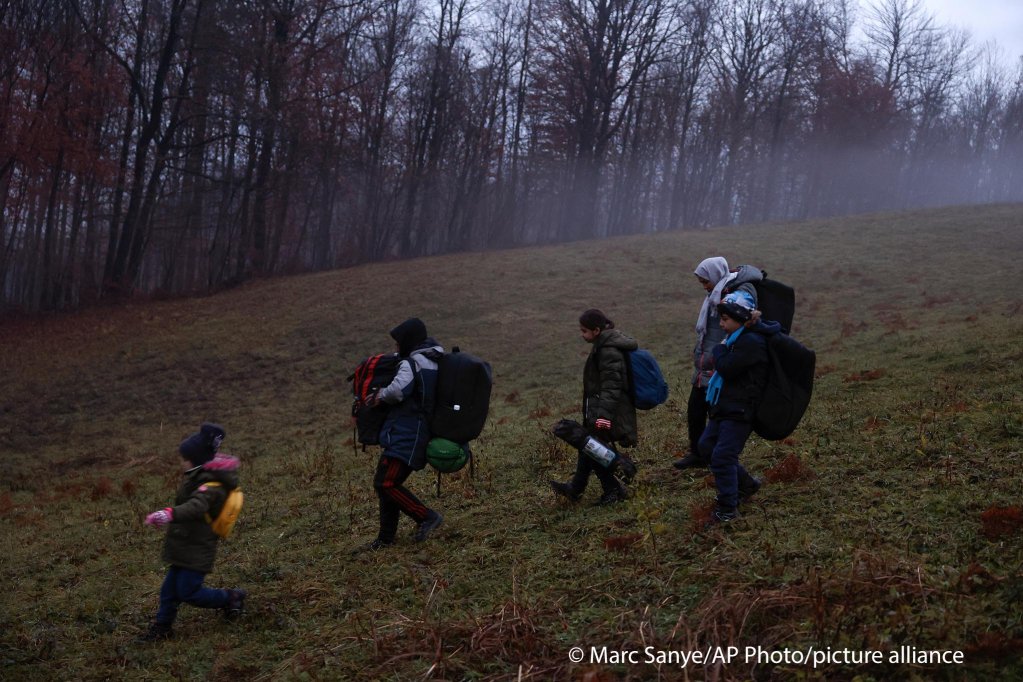 Refugees are trying to earn money to continue westward
But trying to make it across the border and further west is expensive. They need several days worth of food and drink for their treks across the border and beyond, some of the men tell us. Sometimes, they have to pay for taxis.
Some of them have families or friends abroad who send money. Others go into the city and sell small goods, like packs of tissues, that they find in garbage bins or on the streets. Others have opened small shops in the camp.
In one of the containers, a man who everyone affectionately calls 'Chaachaa' – which means 'uncle' in Hindi – has opened a tea shop. Two electric kettles, plastic cups, tea and milk are sitting on a small bench and table next to the bunk beds where the men sleep.
A few containers down, another resident, a barber, offers haircuts for roughly two euros per person. And in another container nearby, chips, gummi bears and fruit juices have been stacked up on a bunk bed.
Kiano too has tried to find a way to earn money here. He tells us that, among other things, he sold his own shoes. But he wants to find a "real" job. "I am a qualified plumber," he explains. "I want to go to Europe to be useful." Once his foot has healed, he wants to try once more to cross the border. "I don't have any other option," he says.
He does not want to return to war-torn Cameroon – even if trying to reach the EU is dangerous, too. One of his friends even died on his journey seeking refuge. The things he and other refugees have experienced on their journeys, Kiano says, have left not just physical scars. "We are alive, but mentally, we are dead."
Adapted from German by Mara Bierbach for InfoMigrants.
Author: Kathrin Wesolowski
First published: June 20, 2022
Copyright DW - All rights reserved
DW is not responsible for the content of external websites
Source (German original): dw.com