A media report suggests that Germany's governing coalition wants to retain the deal with Libya's coast guard despite election promises to end it. The cooperation is highly controversial due to well-documented human rights violations in Libyan migrant camps.
"You cannot cooperate with the Libyan coast guard, a regime, a terrorist regime, in whose camps people are tortured, raped, where people flee from," said Annalena Baerbock of the German Green party in June 2018. At that time, her party was still in the opposition.
Fast-forward to today, the Greens are part of the government coalition and Baerbock is foreign minister. But it's not only her role that has changed -- apparently her stance on Libya has, too, despite her past criticism of Germany's cooperation with Libya in the Mediterranean and the well-documented human rights violations in Libyan migrant camps.
Migrant aid organization Sea-Watch regularly documents so-called pullbacks from the air with its reconnaissance planes, like this one in early July. It shows Libyan coast guards pursuing boats full of migrants trying to escape from Libya to Europe. 
Unless an NGO vessel finds the migrants first, they are intercepted and returned to Libya, where they face torture and abuse. German investigative format Monitor on Thursday (July 28) published several videos of these interceptions, the latest one from this week.
More support instead of 'ending illegal returns'
In the past, Green politicians like Baerbock particularly criticized the establishment of a so-called search-and-rescue (SAR) zone that has been allowing Libyan authorities to intercept migrant boats far into European waters and return them to Libya using vessels and equipment provided by the EU.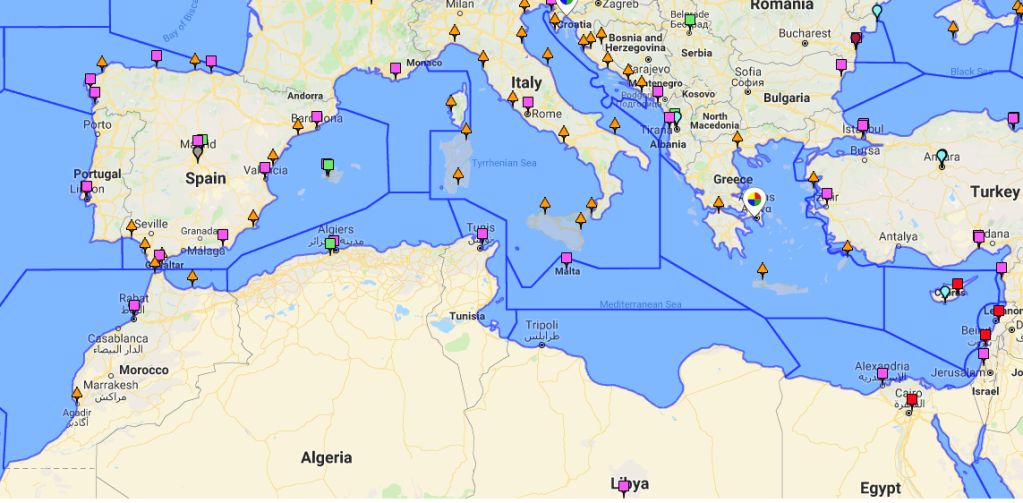 Germany's federal police in early July met with representatives of Libya's coast guard, according to tagesschau.de. The purpose of the meeting was to exchange information and get to know each other, federal police told Monitor on request. At the same time, it acknowledged that the Libyans expressed the wish for better equipment.
It is known that the European Union plans to further arm the so-called coast guard. According to internal documents seen by Monitor, €200 million in funding are earmarked for the loosely organized force whose members are often former militia. An EU document reportedly named border protection and saving people from distress at sea as priorities. Libya's coast guard and "sea police" are to be expanded in order to enable it to "carry out effective search and rescue operations".
Replying to an inquiry by Monitor, the foreign ministry reportedly didn't voice any criticism of further arming Libya's coast guard and declined an interview with a spokesperson.
In their coalition treaty from last November, the three governing parties had promised to change course: "We want to end illegal returns and (the) suffering at external borders."
Calls to end cooperation
In the Mediterranean, pullbacks by the Libyan coast guards continue. In a reply to the inquiry by Monitor, the foreign ministry declared that "Libya is obligated under international law to organize and coordinate sea rescues within its area of responsibility."
The public news platform tagesschau.de reported that Baerbock's ministry also specified how far this area of responsibility extends: "Libya's area of responsibility includes the Libyan SAR zone." In doing so, according to tagesschau.de, the foreign ministry seems to be recognizing the Libyan search and rescue zone system created with Europe's help -- and with it, forcible returns to Libya from international waters.
Politicians of the Green party criticized the government: "The federal government is aware of the dramatic situation, for which the Libyan coast guard is responsible," said Member of Parliament Max Lucks. "This is why I expect the government to make an effort to not continue the cooperation with the Libyan coast guard as we've seen it until now."
Sea-Watch's Felix Weiss, who has been documenting and making public the controversial returns in the Libyan search-and-rescue (SAR) zone for years, called the intentions of the new federal government "shameful" and a "mere lip service".
Abuse, torture and death
In recent years, the European Union has cooperated with Libyan authorities to prevent migrants from crossing the Central Mediterranean from northern Africa to Europe. So far this year, Libya's coast guard has reportedly intercepted and returned more than 11,000 migrants to the war-torn northern African country.
Libyan militia forces enlisted to stop migrants from reaching Europe are apparently becoming more aggressive. Last week, the Associated Press news agency reported that Tripoli's SSA security force, which indirectly draws money from funds provided by the EU, are torturing, beating and humiliating migrants in detention facilities after intercepting their boats in the Mediterranean.
And in late June, UN investigators reaffirmed previous reports about migrants and refugees detained in Libya facing serious abuse, with women especially facing sexual violence. The report highlighted how females are forced to submit to rape in exchange for food. It also mentioned the discovery of "dozens" of mass graves with migrants' bodies.
Read more: When helping hurts -- Libya's controversial coast guard, Europe's go-to partner to stem migration
Deadly route
Libya has emerged as the main transit country for migrants trying to reach Europe in recent years. The oil-rich country plunged into chaos following a NATO-backed uprising that toppled and killed longtime autocrat Moammar Gadhafi in 2011.
According to the Associated Press (AP) news agency, human traffickers have benefited from the chaos in Libya as they smuggled immigrants across the country's lengthy borders with six nations. The migrants are then packed into ill-equipped rubber boats and set off on risky sea voyages.
The Central Mediterranean route from northern Africa to Europe is among the deadliest escape routes in the world. In early April, some 90 people presumably died in the Mediterranean in one of the worst shipwrecks involving migrants in recent years.
The estimated death toll in the Central Mediterranean Sea currently stands at 875 for the year. Last year, more than 1,500 people drowned there while trying to reach European shores. The real numbers are likely a lot higher.
A state-run sea rescue mission doesn't exist in the Mediterranean. Instead, it's NGO vessels like the Sea-Watch 3 that conduct search-and-rescue (SAR) missions to save migrants in distress.
With tagesschau.de