They are undocumented, live in social hotels and seedy apartments, and eat with the help of food banks. InfoMigrants met with Uber Eats riders who work for a meager income in Paris. Many had their accounts kicked off the restaurant delivery platform following 'fraud' dismissals.
On the Uber Eats app, Aboubacar Cissé, 25, goes by "Adama". He has an approval rating of 93% and has completed more than 6,000 deliveries in two years. The delivery professional had to put a full stop on his deliveries on August 19. "I received a notification at 4am informing me that my account had been deactivated due to fraudulent documents," said Aboubacar last Wednesday, September 14, in a café near Place de Clichy, in the 18th arrondissement of Paris.
"I was told my profile photo didn't match my ID card. They knew the two photos weren't identical but they had no problem with it up until now," said Aboubacar, his voice hoarse from chanting during a protest on Monday against the company's decision. Like Aboubacar, around 2,500 delivery workers who use "borrowed" IDs to open their accounts had their accounts shut down overnight. 
Using false identities is a common practice among undocumented migrants. These identities, however, are not imagined: they are people in a regularized situation, often "cousins", who "lend" their name and other administrative details to people so that they can work using an alias. In this case, these papers are essential for delivery couriers to create their self-employed status.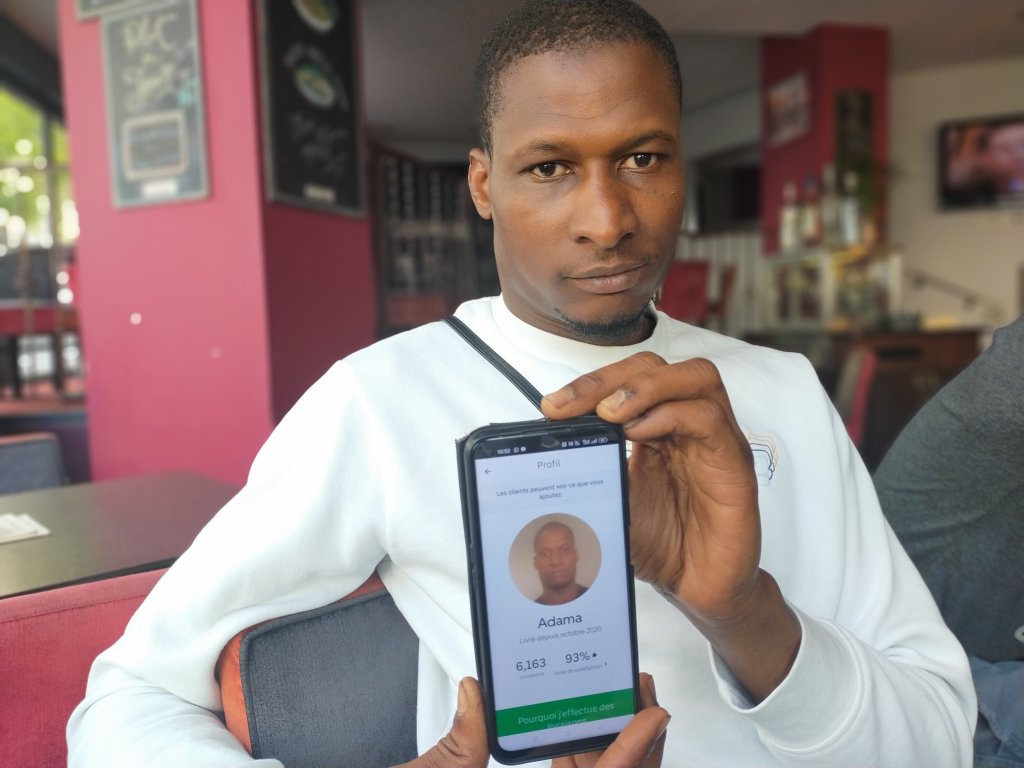 The delivery workers claim that it is impossible that Uber Eats would have been ignorant of the scheme that allowed thousands of them to enter the system for years. The rental of IDs took place on Facebook groups in full view of everyone, they say. "During the pandemic, it was beneficial for them (the company Uber Eats), but now they are doing everything they can to make our lives difficult," says Amidou Koné, a delivery worker and spokesperson for undocumented migrants. Uber for its part affirmed that the deactivations were the result of a "careful audit of rider accounts using Uber Eats in France," carried out in order to "harmonize the oversight practices" of its platform.
Also read: French delivery service dismisses undocumented workers after Covid-19 lockdown
Unemployed, a handful of former delivery workers continues to gather, with their two-wheelers and insulated bags, on the Place de Clichy, a busy intersection lined with fast-food brands, which serves as their HQ. The vast majority of the Ivoirians present have strangely similar backgrounds.
'I have become a beggar'
Almost all of them are survivors of the Sahara desert, of Libya and of the Mediterranean. They traveled through Italy before reaching France, which did not grant them asylum. They experienced living on the street for a few nights, near Porte de la Chapelle, in the north of Paris. In France, they tried working in construction, a sector known to be lax on the employment of undocumented migrants, but they no longer want to do that kind of work -- "too physical", "too hard, especially at the top of the scaffolding." They eventually filled the huge employment gap left by Uber Eats.
Namoli Meite, 32, lives nearby, in a social hotel where the social services redirected him with his wife and nine-month-old baby. A food bank provides the baby formula. "I'm screwed," he says repeatedly, while apologizing for his language. At his side, Adama Ouattara, 42, says he was "cut" (meaning his Uber Eats account was blocked) six months ago, after more than four years of work. "I don't know what to do, I ask everyone for money. I have become a beggar," he says, his voice full of anger.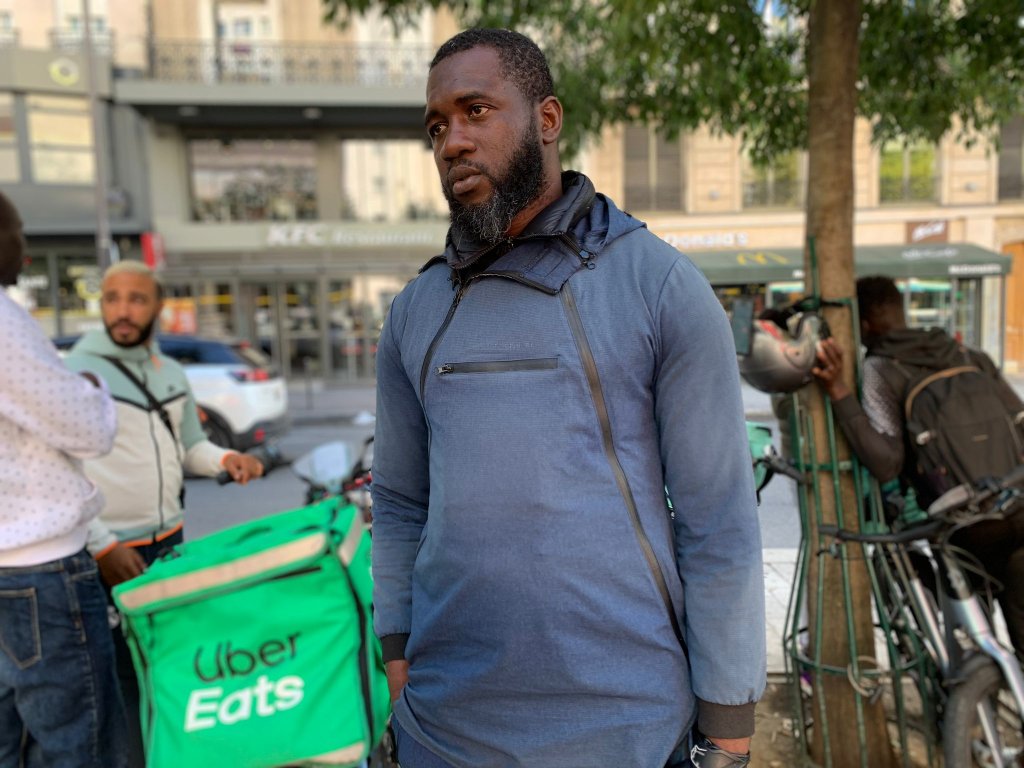 Amidou Koné is one of the few to have survived the 'fraud' dismissals: his account is still active. However, he has been using a false identity for three years. "I am not immune to problems. I can wake up one morning and no longer have a job," he says while waiting in front of McDonald's and KFC for donations.
'Less than two euros for a delivery'
This kind of work is "a dirty job" in everyone's opinion. "You will never see a French citizen doing this. We don't even know any French delivery workers," says Adama Ouattara.
Often the riders work 12-hour days, which leave them with only around forty euros in their pocket. "On average, one delivery brings us less than two euros," says Amidou Koné, 37, a delivery worker with a muscular build and a "PARIS" baseball cap on his head. The riders must purchase their own vehicle, their equipment, their bag, as well as the fuel. The riders' scooters are run down, proof of their owner's poverty.
Also read: French postal service company 'treats us like slaves', say striking migrant workers
The job is also full of risks. "I fell off my bike for the first time after being knocked down by a scooter," says Amidou Koné. He went to the emergency room and could not afford the knee surgery the doctors recommended. "Since then, I have been in pain, especially in the winter when it swells. After the accident, I fell on this knee while making a delivery, this time on a scooter. I damaged the meals I was carrying and I had to tell Uber. All they could say to me was to be careful next time."
'Why aren't you smiling?'
A former truck driver in Côte d'Ivoire, Amidou Koné used to work in the fields and in a car wash station in Italy, already illegally. He has had to be resourceful over the years in order to survive. "If you could see a picture of me before I arrived in Europe, you wouldn't recognize me," he says with a sad laugh.
After a quick search in his image gallery, he holds up his phone: in the photo is a smiling man with a youthful silhouette and a face with fine features. In six years, Koné has hardened. His body became heavier and his gaze became moodier. "When I deliver, sometimes customers ask me: 'Why aren't you smiling?'"
Despite the poor working conditions and the meager salary, Amidou Koné depends on his job as delivery worker. It is thanks to his job that his wife and three-month-old baby can live. The family sublets a room of 4 square meters in an apartment in Sarcelles, in the Val d'Oise, for €450 per month. The other tenants are a second family, also housed in one room and two single men. About another €400 are sent to Côte d'Ivoire each month to help Amidou's aging father and his divorced sister who has six dependent children. "My wife gets milk and diapers for our baby from a food bank," he adds.
Also read: French postal service company 'treats us like slaves', say striking migrant workers
'It's sad not to be able to help one's family'
Situated in the middle of the group, Aboubacar Cissé remains silent and stares into space. The youngest of the group of delivery workers did not notify his family back home of his new status as "unemployed", as they call it, even if they are not entitled to the rights that usually come along with it. "I don't like talking to people about my problems. I do not know why. I grew up like that," he says, visibly uncomfortable. The young man has not stopped looking for a place to settle in recent years: Italy, Switzerland, the Netherlands, Germany and finally France. Once in the Hexagon, he thought he had found some form of stability up until a few days ago.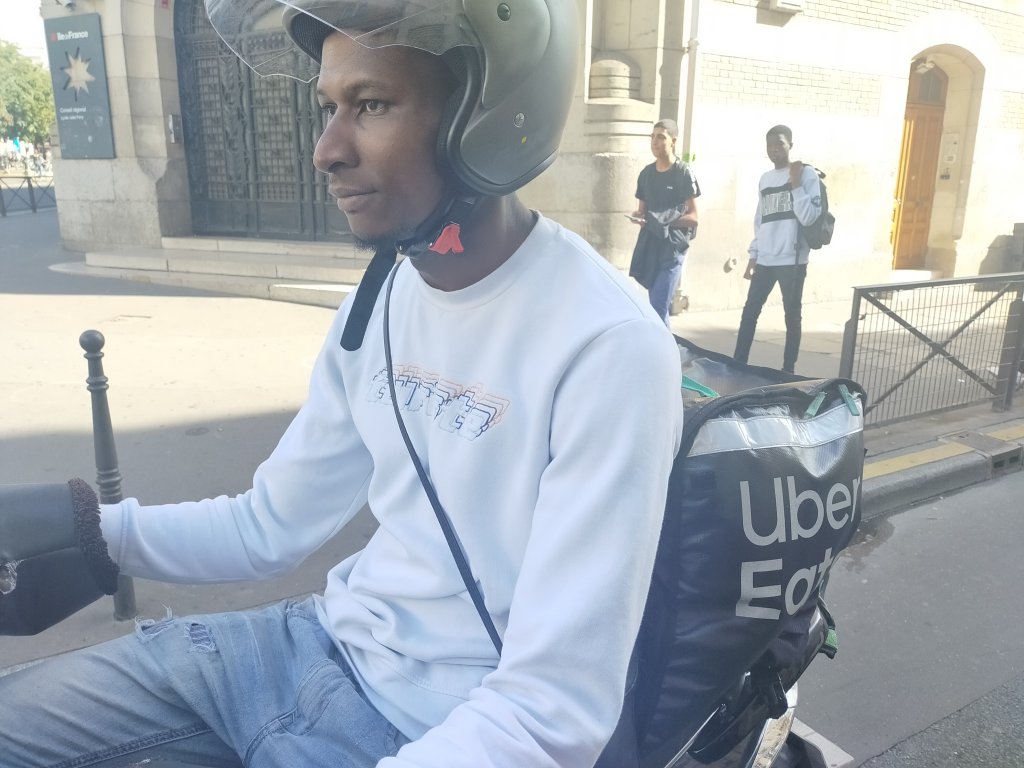 The ax fell two days before his "wedding", he says. A religious ceremony organized remotely in honor of him and his wife, while waiting for the latter to join him, took place on August 21. Aboubacar had his mind elsewhere. "I was lost and depressed, I wasn't able to be happy at all" he says.
Last month, Aboubacar Cissé had sent €300 to his half-sister. He sent her money regularly despite earning a meager income of around €1,300 per month. "Her husband lost his job, so I'm helping them," he explains. It was a source of support that he will no longer be able to provide. "It's sad that I can't help my family. But if I can't anymore, I can't anymore."
Also read: France: 'Precarious' employment conditions for refugees