More than 30,000 migrants have reportedly crossed the Channel in small boats so far this year, more than in all of last year. On Wednesday, 667 migrants arrived in the UK on 15 boats. On the French side, where rescues at sea continue almost every day, police busted a Channel people-smuggling ring.
More than 30,000 people have been intercepted by British authorities in the English Channel since the start of 2022, British government figures show. Already last week, the number of people to cross this year exceeded the total for 2021. Figures for small boat crossings have grown steadily in recent years.
On Wednesday (21 September), a total of 667 migrants and 15 boats were detected and brought ashore, with young children wrapped in blankets, the UK defence ministry confirmed Thursday. This brings the total number of arrivals this year to 30,549.
According to ITV, people were wearing winter coats and some were carrying children as they climbed down a ladder from a packed lifeboat and on to the beach at Dungeness, Kent. A government spokesman told the BBC the continued rise in crossings was "a clear abuse of our immigration laws, risking the lives of vulnerable people and funding immoral criminal gangs."
In 2021, just over 28,000 people had reached British shores via the English Channel. It was already a record, with three times more arrivals than in 2020.
Read more: Channel migration: 'France and UK should strike a deal instead of resorting to police surveillance'
Arrivals peaked in August
This year, the number of arrivals has been rising steadily. Initially, the Home Office counted 12,747 people arriving from January to June 2022. Albanians, Afghans, Iranians, Iraqis, followed by Syrians, are the top five nationalities of arrivals.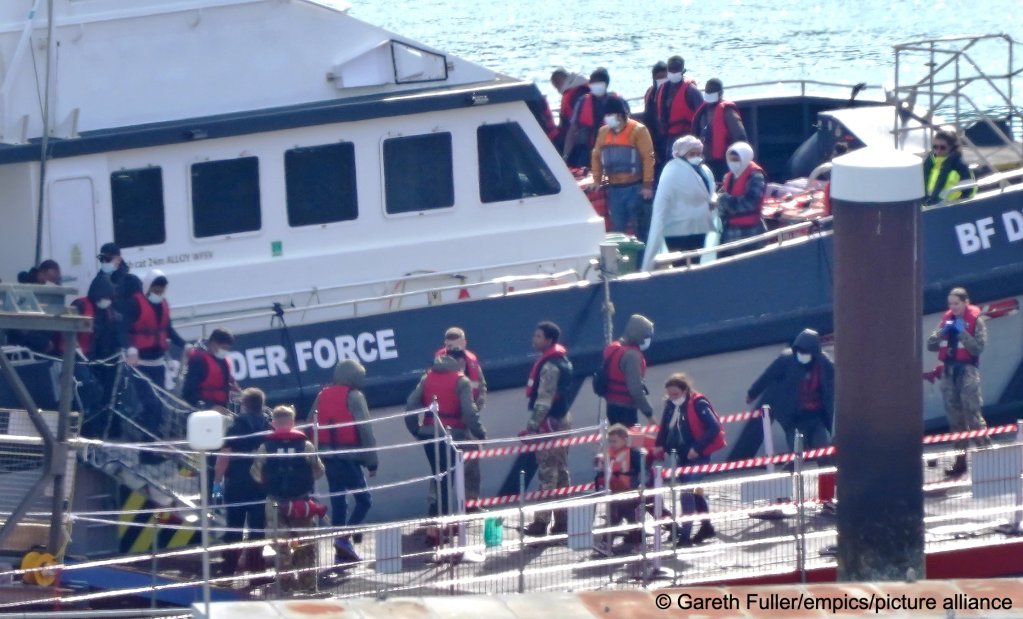 In July, there were then 3,683 arrivals, and 8,641 in August. So far this month, 5,475 people have made the journey, the BBC reported. Some days saw a particularly high number of arrivals: On September 3, for example, 960 people arrived, spread over 20 boats. A few days earlier, on August 27, 915 migrants were intercepted aboard 14 makeshift boats.
Also read: UK outsources Channel policing to private companies as record number of migrants reach Britain in August
Channel people-smuggling ring busted
French police meanwhile cracked down on a major migrant smuggling ring that has been sending migrants to Britain in dinghies, news agency AFP reported Thursday (September 22) citing French officials. Police seized more than a dozen boats and 700 life jackets in the raid, according to AFP.
The smuggling ring was reportedly run by Iraqi Kurdish migrants and had a logistics hub in Lille, a major northern French city about 100 kilometers from the Channel beaches around Calais used for crossings.
According to AFP, three Iraqi men have been charged, along with three French suspects after their arrest on Monday. Police discovered "a real factory supplying nautical equipment" in Lille, an French official told AFP.
The 13 inflatable boats, 14 outboard engines, 700 life jackets, 100 pumps and 700 liters of fuel amounted to their biggest-ever confiscation of equipment, according to the official. The 80 Channel crossings the suspected smugglers are accused of having organized over the summer netted them around €80,000 for each one. 50 of the 80 crossings reportedly succeeded.
The arrests were facilitated by the sharing of intelligence between authorities in Belgium, Britain, Germany and the Netherlands, AFP reported, all of them are trying to crack down on migrants crossing the Channel by boat. The original tip-off reportedly came after a border guard control discovered a group of French youths carrying inflatables from Germany into the Netherlands, according to AFP.
Read more: Rival smugglers blamed for shootings in French migrant camp
With BBC, AFP