In a small red van, which tours an agricultural area in southern Sicily, a team from the organization EMERGENCY offers healthcare, psychological assistance and social support to migrants working in the fields. InfoMigrants paid them a visit.
A warm but damp breeze blows off the sea and through the carpark where the small red van is parked at Marina di Acate. It is an overcast day in late September when InfoMigrants visits the mobile clinic. Depending on the day, the clinic moves around this area of southern Sicily, between Marina di Acate, Vittoria, Punta Braccetto and Santa Croce di Camerina.
"This area is really run-down, many of the people who attend our clinic live in camps in the fields right next to the greenhouses where they work," explains Ahmed, the project leader for EMERGENCY's mobile clinic.
Enormous greenhouses cover the entire coastal area in this region. Among them there are old farm buildings and warehouses where many of the workers live. "Some of them live just under plastic sheets, with very little access to bathrooms or hygienic services. Sometimes whole families will be living in these buildings," explains Ahmed.
Also read: Julian's tale, child labor and exploitation in Sicily's greenhouses
"There is no heating in the winter, and no comfort that you might expect in a normal house. The workers here are mostly excluded from the normal services on offer in Italy. They live, work, sleep and eat right here in the fields. If you live close to the greenhouses you can work longer and you don't need to pay any transport to get from a nearby town, where there might be more services available to you, to your workplace."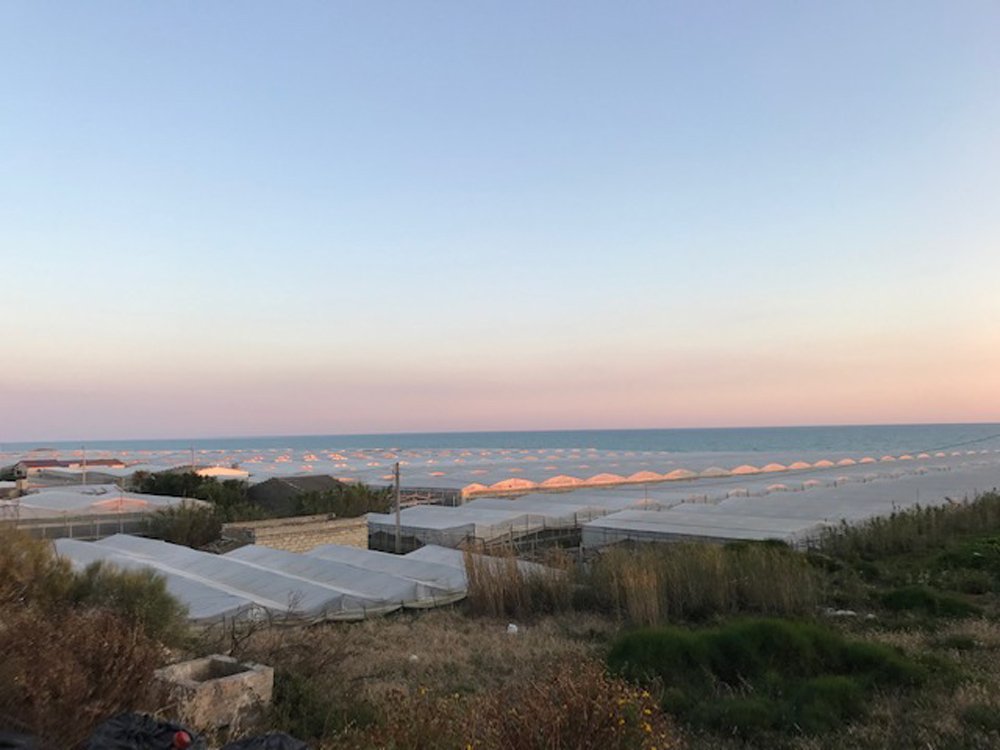 'Working conditions are very difficult'
Ahmed says that the latest information they have estimates at least 2,000 migrant workers are living in these kinds of conditions in this area of Sicily. "The working conditions of these workers are very difficult," he concludes.
Also read: Idris' tale, from Sweden to Sicily
The word EMERGENCY is emblazoned in white on the sides and back of the bright red van, which is already busy helping a small queue of migrant workers who have made it here to see the doctors and social workers. Some of the team from the Italian medical humanitarian organization EMERGENCY stand chatting to the migrants who have come to attend the clinic; they check what their needs are and greet people who might be coming back for a check up. Others are busy seeing patients inside.
Magda, a cultural mediator who has been working with the clinic for the last six months in the Ragusa area, says that the various languages on the team is another huge bonus for the migrant workers who visit. "Accessing health services, or even knowing what your rights are can be very difficult if you cannot speak Italian," explains Magda.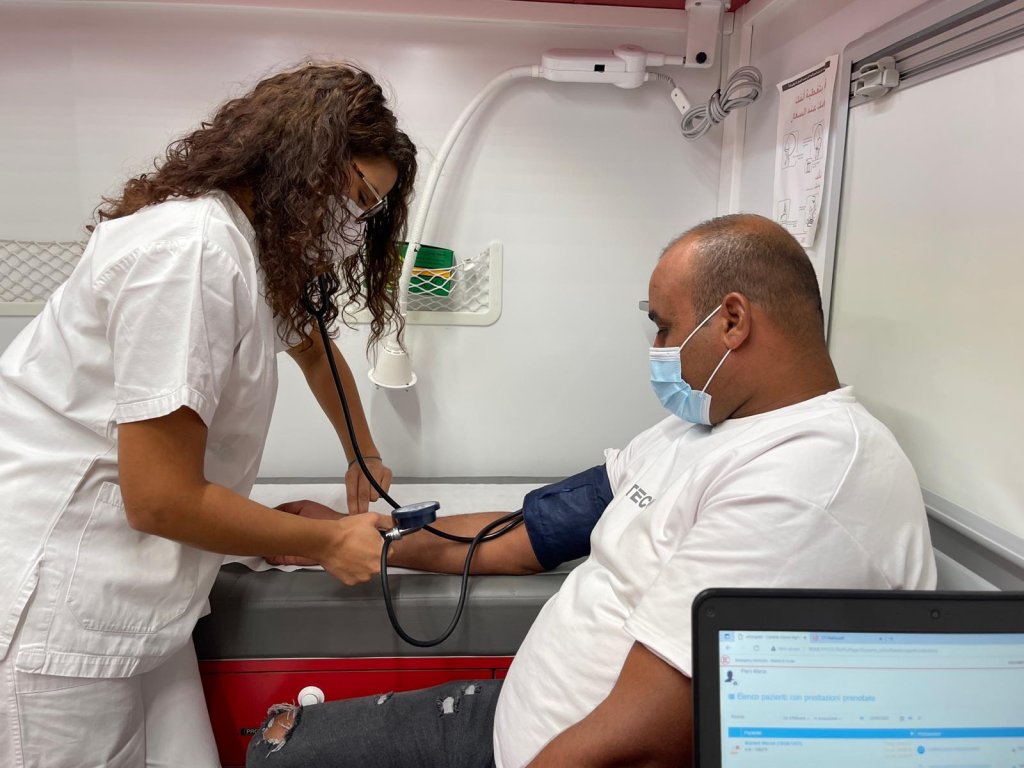 Injuries from the fields
Many of those who come to the mobile clinic have injuries sustained in the fields, explains Magda. "They might have been small things but they get worse because of the lack of time to get it seen to, and the lack of hygiene in the fields." Others might have had a problem for years, she says.
Also read: Sister Chiara's tale, 'we are just like family here'
The mobile clinic was set up to take the services to the people, and avoid workers having to pay out huge amounts to exploitative gang masters in order to access health and social services. As well as offering health services in the clinic, the mediators can help migrants outside of the clinic too. For instance, they might help them renew their health cards or take them to a hospital visit and provide translation services to them.
"This is a rural area. In the greenhouses they are growing things like tomatoes, aubergines, courgettes. They need workers all year round, the majority of them come from North Africa, mostly Tunisia and Morocco, and also from Romania. In the last few years there has also been a rise in the numbers of workers coming from Albania to work in the greenhouses," continues Ahmed.
'I will not report you'
Ahmed and the team wear bright red t-shirts with the words "I will not report you" written in several languages. This is important for the migrant workers who attend the clinic as not all of them have the correct papers to be living and working in Italy.
"Since we began operating in 2019, we must have helped between about 800-1,000 migrants. Around 40% have permits to work here and everything, but the majority don't have those documents. They might have been asked to leave Italy, but because Italy doesn't have a repatriation agreement with their country, then they just come here because, as you can see it is the perfect place to work without any questions being asked. But also the perfect place to be exploited because of their situation. So they are invisibile and they stay invisible, there are no services for them," sighs Ahmed.
'We came here to work and send money back [home]'
Two young Tunisian men who are waiting in line outside the clinic dont' want to give their names but are happy to talk in Arabic, with Ahmed acting as translator. "I have been in Italy for one year and four months," says one man, the other man arrived just two weeks's ago, he says, dropping his eyes down shyly.
"We came here to work and send money back to our families," they both say. "Things are not too bad, we have work and that is the most important thing for us," says one man. "It was difficult getting here, we got a boat to Lampedusa," remembers the man who has been in Italy longer. This man explains he spent several months in various reception centers in Italy, transferred up and down the country, from Sicily to Calabria and on to the northern port city of Genoa, before being issued with a notice to leave Italy and "set free. That's when I came back down here to work," says the man.
Also read: Between olive groves and 'no-man's land,' migrants workers in western Sicily
"I have a young child in Tunisia, I just need to keep working for him," says the man, who says he is not worried about being repatriated to Tunisia.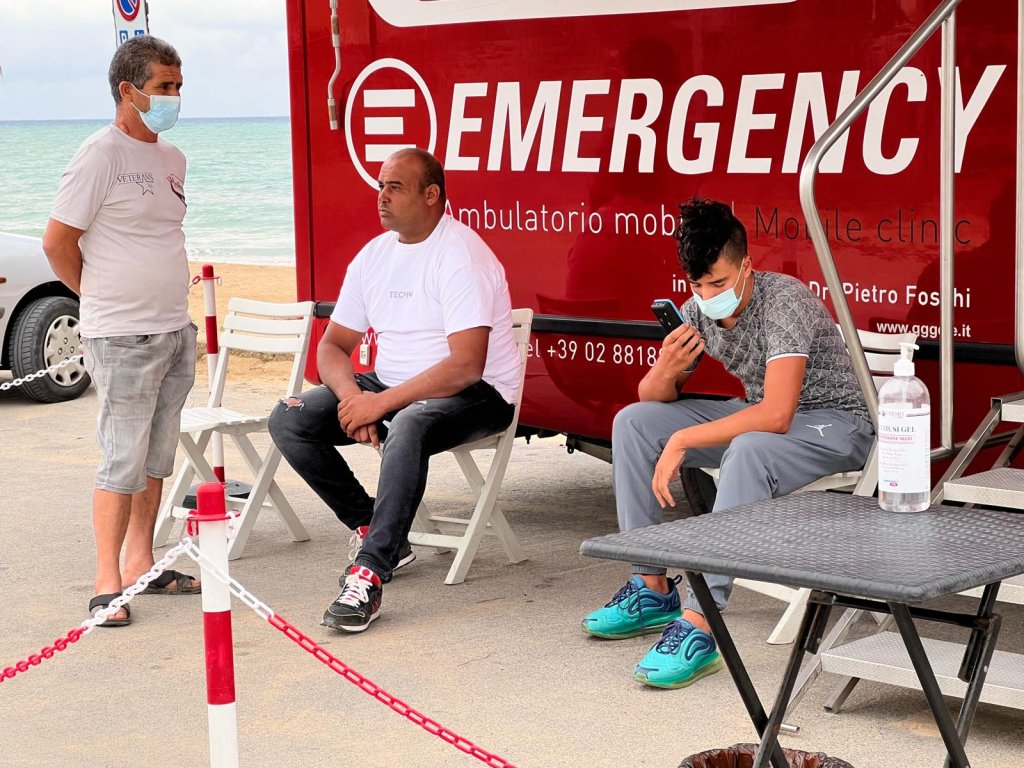 Open in the evening to ease access
Depending on demand, the clinic is generally open between about 4 pm until 9 pm. That is to make it as easy as possible for workers to visit the clinic and access services after their day's work in the field is done.
The mobile clinic began its rounds in 2019. In May 2022 the team also opened a fixed clinic in Vittoria, in partnership with the local state health services in Ragusa, the main provincial town in this part of Sicily.
Working days for the migrants are varied, explains Ahmed. In the winter, they might work eight or nine hours a day, in the summer, because the temperatures are so high, many workers take shifts at night. "They might start at 8 pm in the evening and continue until 8 am the next morning," explains Ahmed, "to avoid the summer heat."
"Not all the companies exploit the workers," admits Ahmed, "some of them pay the official rates and everything is fine. But if you find workers with no papers and no permission to work, it is obvious that they will accept less pay for the same work, and they are being paid maybe €25 or €30 per day."
The most vulnerable
Currently, according to information from Italian trade unions, a worker doing an eight-hour shift should be receiving at least €40 per day. InfoMigrants found that even on some of those farms, that appeared to be adhering to the national minimum wage for seasonal unskilled agricultural workers, migrants might still be living in shacks close to the fields.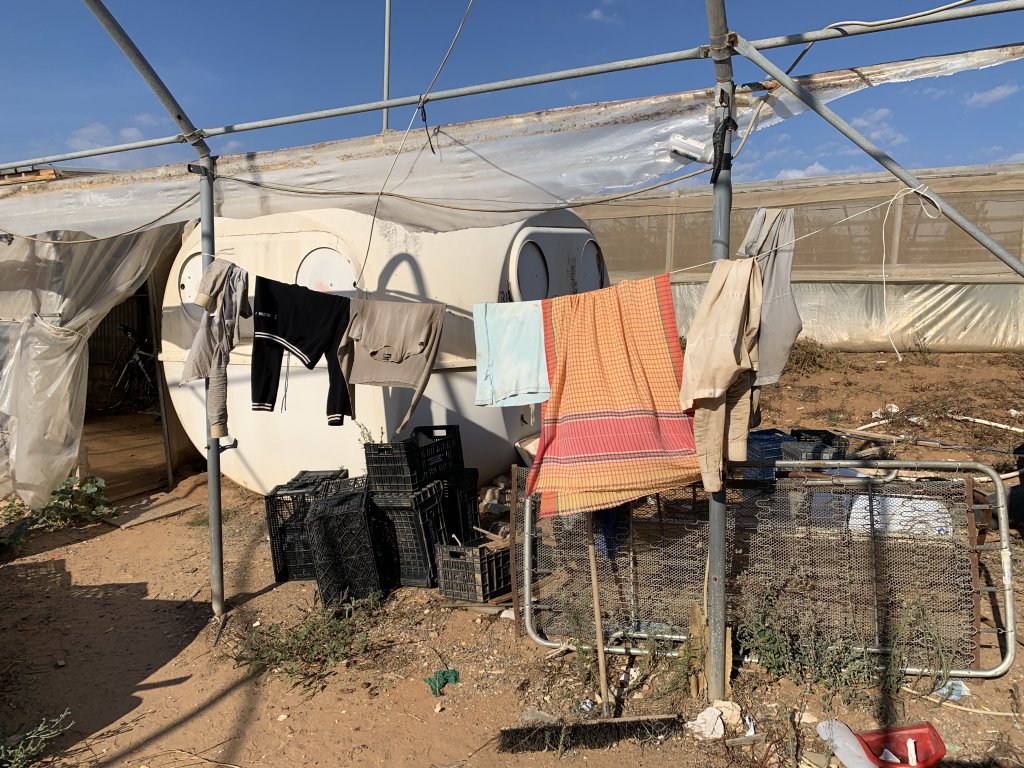 At a Bangladeshi-run farm InfoMigrants visited -- where both foreman and workers confirmed the wages met Italian standards -- the living accommodation was right next to the greenhouses, surrounded by discarded barrels of pesticides and without any evidence of running water or a proper bathroom or toilet.
The migrants who tend to be most exploited, notes Ahmed, tend to come from sub-Saharan Africa. Many of these, he explains, were given some form of protection when they first arrived, but as the categories for protection were changed in 2018 and 2019 the last time a center-right government was in charge, many of them lost the protection they had and were unable to renew their stay permits.
"These are the most vulnerable, the last link in the chain and often will be working for around €20 per day. Their conditions are really difficult, especially compared to people from North Africa who have a much bigger community here on which they can rely," says Ahmed.
Psychological help
The psychologist on the team, explains Ahmed, is there to intervene whenever they see that someone is really suffering. "They are often excluded from Italian society, they might miss their home, if they have no papers, they can't go home to visit those they love, their family, and their lives are just working and living in these greenhouses, so often they also need psychological support."
"Most of them came to improve their lives, but what they really want is a 'normal' life, what for us is available just because of the place where we were born," says Ahmed. "Most recently we are seeing people coming from Tunisia who no longer fit the profile of young men who come to work, but are middle aged people who maybe had a good job previously in Tunisia, but who lost it in the latest economic and political crisis and the pandemic. They can't afford to feed their families."
Ahmed provides an example of this: "The other day, we saw a 40-year-old who had worked in a factory in Tunisia. But due to the pandemic, the factory closed and he could no longer feed his family. He came here, with no work permit, nothing and he has been here a month. He could no longer sleep at night as he was missing his family. So we are really looking at forced migration because of hunger and poverty."
Sadly, says Ahmed, "the situation for migrant workers has been getting worse for the last ten years, not just in Italy, but right across Europe. Just look around at all the different policies. But we have worked through lots of different governments of all political persuasions, and we just try and continue to offer the services we can to make the lives of the migrants better."
More details about the clinic can be found on EMERGENCY's website here