The bodies of 27 people believed to be migrants who had died of thirst have been found in the Chadian desert. The UN migration agency has called for greater efforts to protect migrants in remote regions.
The International Organization for Migration (IOM) said Tuesday (December 13) that 27 bodies, including four children, had been found in the deep desert in Chad. The bodies were thought to be those of migrants who had left Moussoro, a crossroads town in West-central Chad, 17 months ago on a pick-up truck, it said.
"It is believed the truck got lost in the deep desert, broke down due to mechanical issues and the migrants subsequently died of thirst," the agency said.
"We are deeply saddened by this most recent tragedy and extend our heartfelt condolences to the migrants' families," said Anne Schaefer, IOM Chad Chief of Mission. "We need stronger collective action to prevent further deaths."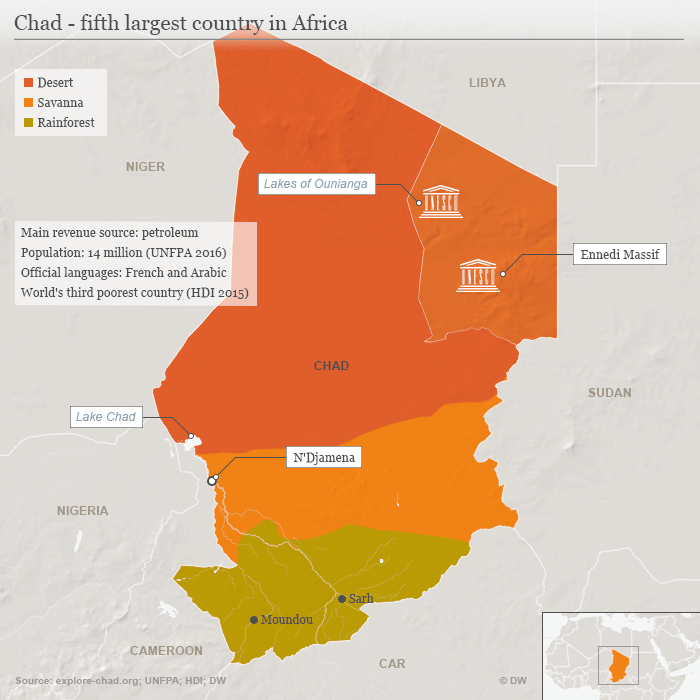 Dangers of Sahara Desert
According to the IOM, Africa is the second-deadliest region for people on the move after Europe, with more than 9,000 deaths during migration documented on the continent since 2014.
Chad is a landlocked country in central Africa which borders Libya to the north and is traversed by African migrants trying to reach the Mediterranean. A huge part of the country is the sparsely-populated Sahara desert. 
The IOM's Missing Migrants Project has documented the deaths and disappearances of more than 5,600 people transiting through the Sahara since 2014, with149 deaths recorded so far in 2022.
Also read: Red Cross: 'When a person disappears, life is frozen in many ways'
Lost or abandoned in Chad
Since 2014, 110 migrant deaths have been recorded in Chad, including this latest incident, although the numbers are likely to be higher, since many deaths go unrecorded.
In June, the bodies of 20 people from Chad and Libya were found in the Libyan desert in Koufra, a town on the Chad-Libya border. They were also believed to have died of dehydration.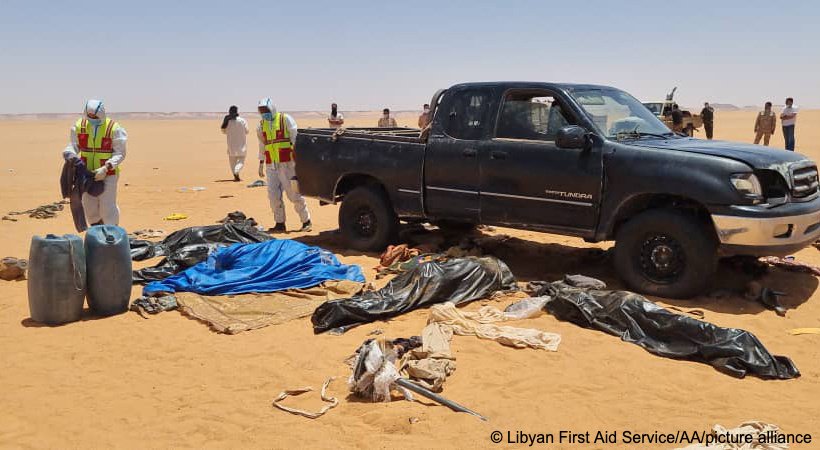 Since the intensification of gold mining in northern Chad in 2012, an increasing number of migrants have become lost or have been abandoned by traffickers and smugglers in the border area, according to the IOM.
Between January and March 2022, the agency said 45,000 migrants were recorded at certain points in northern Chad (Faya, Zouarké and Ounianga Kébir). Of those surveyed by the IOM in that period, around one third said they were headed towards Libya."
Greater protection needed in remote areas
The news of the latest deaths comes as the United Nations prepares to mark International Migrants' Day on December 18. "This tragedy … should be a wake-up call for us all to act more decisively to prevent migrant deaths along dangerous irregular migration routes," said Schaefer.
The IOM has reiterated a call for improved coordination and support to enable dedicated search and rescue operations and to provide humanitarian assistance and protection for migrants traveling in extremely remote areas.
In a statement, Schaefer also highlighted the importance of access to reliable information and safe migration pathways. "Without (these), migrants will continue to take risky roads through the deep and perilous desert, with tragic consequences."