A new report suggests that migrants and refugees are being pushed back within the European Union from Italy to Greece under what many have described as "inhumane" circumstances. Even though the practice is highly illegal, hundreds of potential asylum seekers seem to have been affected by it in recent years.
A joint report by several investigative media outlets in Europe has found that certain people who come to Italy from Greece in hopes of presenting as asylum seekers are being detained in metal boxes and dark rooms in the hulls of passenger ships and sent back to Greece.
This can last sometimes more than a day, and is reportedly also applied to children and minors. In some cases, the refugees and migrants are reported to even be handcuffed. Among those affected in the last 12 months were scores of asylum seekers from Afghanistan, Syria and Iraq.
Lighthouse Reports, a non-profit organization focusing on complex investigative journalism, said that "… people who risk their lives stowing away on ferries bound for the Italian Adriatic ports of Venice, Ancona, Bari and Brindisi in the hope of claiming asylum are being denied the opportunity to do so."
"Instead, they are detained at the port before being locked up on the vessels they arrived on and sent back to Greece," the organization further highlighted.
Data provided by the Greek authorities shows that in the last two years, at least 157 people were returned from Italy to Greece this way, while more than 70 are thought to have suffered the same fate in 2020.
However, migration experts believe that not all cases are documented.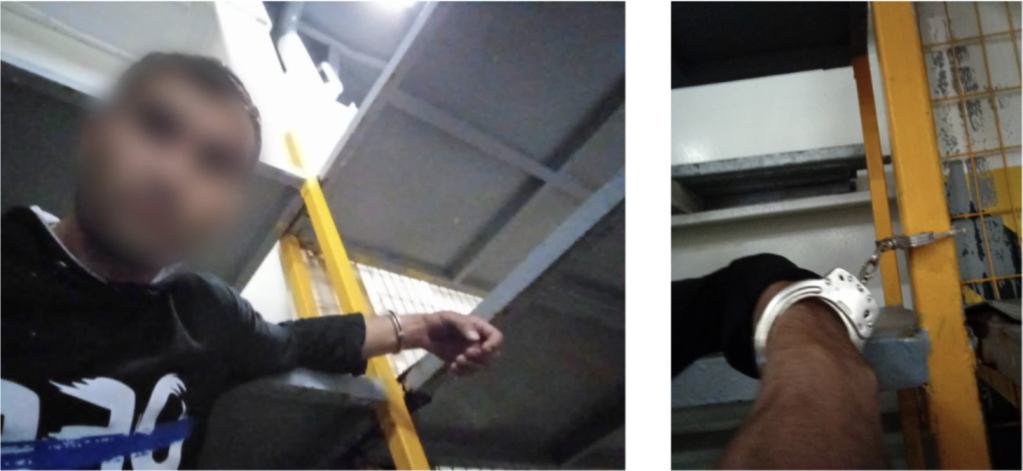 Read more: UNHCR chief calls naval blockades and pushbacks 'racism'
Breaking the law for nearly a quarter century
Lighthouse Reports referred in its investigation to these spaces in the hulls of ships as "unofficial jails," saying they constituted a part of a series of illegal pushbacks that were carried out by Italian authorities. The practice reportedly came into existence already in 1999, when the Italian and the Greek governments reached a bilateral "readmissions" agreement.
Under this policy, Italy is legally allowed to return undocumented migrants who have arrived from Greece back to the country. However, according to the tenets of the agreement, those seeking asylum are excluded and should be allowed to file their claim and have it processed. Italy repeatedly broke this provision, leading to litigation in front of the the European Court of Human Rights (ECHR) almost ten years ago:
In 2014, the ECHR already ruled that this kind of return of asylum seekers to Greece was unlawful, as it meant that Italy had denied those affected to lodge a claim for protection. 
After the ruling, Italy claimed repeatedly that it had stopped this practice; however, the joint investigation by Lighthouse Reports, ARD Monitor, SRF, Al Jazeera, Il Domani and Solomon revealed that these types of pushbacks continued to take place.
Read more: Italy: Pushback against anti-migration 'naval blockade' proposal by far-right candidate
'Don't ask, don't tell'
Following the judgment, the ECHR even sent official monitors to Italy to assess border processes at Italian ports for a while; but when it was found that the practice had apparently been stopped, it discontinued the monitoring at the ports. 
It appears that some time after the ECHR monitors had left Italy, the violations were resumed once more.
For its part, the ferry company seemingly responsible for the pushbacks, Attica Group, meanwhile has denied all accusations.
Read more: 'Hot returns': Are pushbacks at Europe's land borders lawful?
Sent back in a cage
Lighthouse Reports says the joint investigation was based on testimony reports as well as on photographic and video evidence. In addition to personal reports from migrants affected by the practice, the investigative journalists also got confirmation "from a number of crew members that these places were being used to detain asylum seekers being returned to Greece."
Their research highlights, among other things, that the refugees and migrants suffering these pushbacks were also held without having access to a toilet and with insufficient food supplies in extreme heat.
The investigation found that "on one ferry, named the Asterion II, people are locked in a former bathroom with broken showers and toilets, along with two mattresses," according to Lighthouse Reports. On another commercial ship, named Superfast I, people migrants and refugee were reportedly locked in a metal box with a caged roof "in the garage room on one of the lower decks."
One asylum seeker from Afghanistan, who says he was held in this space, said that it was "a room the length of two meters and the width of 1.2 metres."
"You have only a small bottle of water and no food at all […] We had to stay in that small room inside the ship and accept the difficulties," he told journalists.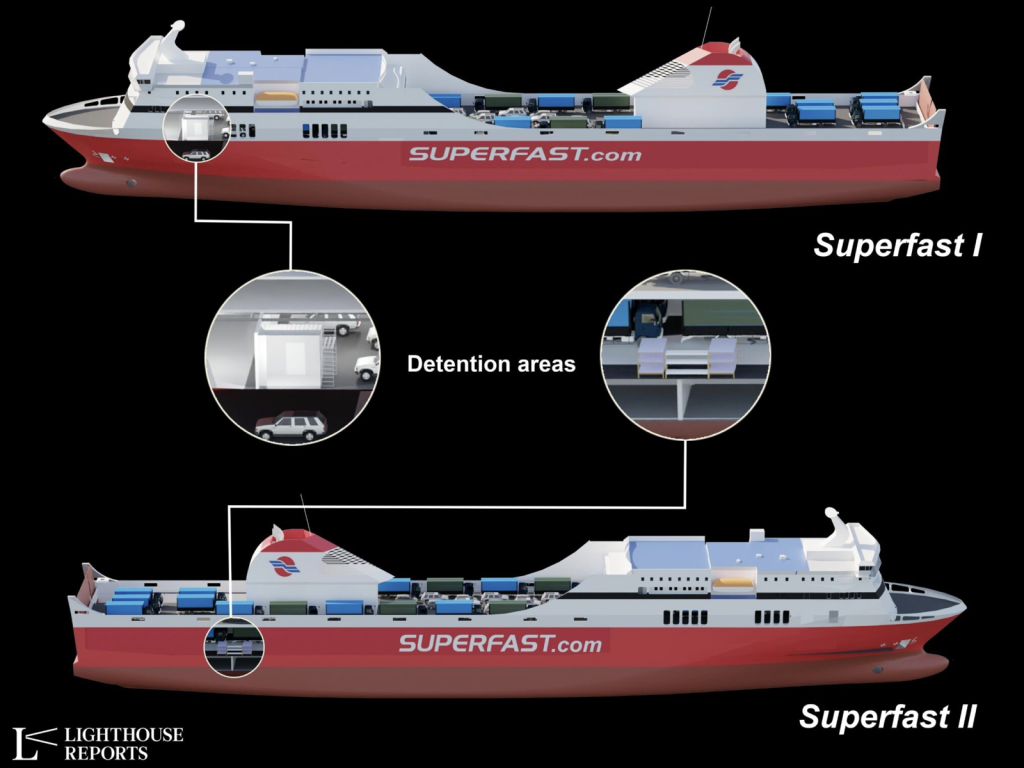 Read more: EU refugee strait could worsen in 2023 without policy change
Pushbacks as a matter of course
Dana Schmalz, a Senior Research Fellow in Refugee Law at the Max Planck Institute for Comparative Public Law and International Law, told the AFP news agency that the research showed "clearly inhumane accommodation" of migrants on board the ships.
She added that this violated "both EU law and requirements of the European Convention on Human Rights."
Other legal experts and NGOs corroborated these findings with Lighthouse Reports, saying they had heard a "large numbers of reports of these practices taking place in recent years."
Italian immigration lawyer Erminia Rizzi told the investigative organization that she knew that such forced returns took place frequently, adding that this served the purpose of preventing asylum seekers, including minors, "from accessing the territory, in violation of all the rules and with informal procedures."
Read more: 'Europe's black sites': Allegations of torture and detention along EU borders
Pushbacks - as European as the EU itself
Pushbacks are illegal under EU law as well as under international law, as they constitute an official refusal to allow people to file asylum claims. Despite this, there are numerous documented instances of pushbacks happening on the European Union's external borders, such as in Greece, Spain, Hungary, Poland, Croatia, Serbia and elsewhere. The EU's external border agency FRONTEX has also been accused of complicity in pushbacks at sea.
While those reports mainly focus on brute force to keep potential asylum seekers from entering the bloc both on land and at sea, the latest report reveals the unlawful practice of within the context of EU member states.
Read more: EU report reveals systematic cover-up by border agency
"This is Europe's lesser known pushback practice, where secret prisons on private ships are used to illegally return asylum seekers back to where they came from," the investigation led by Lighthouse Reports says. 
Another investigative outlet, Germany's Monitor magazine, which is carried on the ARD public broadcaster, also confirmed that the migrants and refugees are forced back to Greece from Italy without having had the opportunity to apply for asylum.
Lighthouse Reports said that this is the first time that "the existence of the temporary prisons on the passenger ships" was proven using investigative methods.
Read more: Migrants: The year 2022 in pictures
with AFP, Monitor, Lighthouse Reports