In 2020, for the first time, the number of human trafficking victims detected globally decreased, the UN has said, citing the COVID-19 pandemic as the reason. But the war in Ukraine and climate change are becoming driving factors of human trafficking.
The ongoing war in Ukraine and climate-related disasters are becoming a cause of human trafficking as criminal networks exploit a growing number of uprooted people, the United Nations Office on Drugs and Crime (UNODC) stated on Tuesday (January 23) in its seventh Global Report on Trafficking in Persons.
The COVID-19 pandemic, however, led to the first decline in the known number of human-trafficking victims in 20 years as trafficking opportunities as well as detection capacities were reduced.
The number of detected trafficking victims declined 11% in 2020 – the most recent year for which data is available in most countries.
"In 2020, for the first time, the number of victims detected globally decreased," UNODC declared.
Why are human trafficking figures on the decline?
The UNODC report is based on data from 141 countries collected between 2017 and 2020 and the study of 800 court cases.
The biggest drops were reported in low- and middle-income countries, particularly in south and central America, but also sub-Saharan Africa, east Asia and the Pacific region.
The decline could be the result of three different factors, UNODC said. "Lower institutional capacity to detect victims, fewer opportunities for traffickers to operate due to COVID-19 preventive restrictions, and some trafficking forms moving to more hidden and less likely to be detected locations."
Trafficking for sexual exploitation saw the biggest drop (24%).
"Sexual exploitation may have reduced due to the (pandemic-related) closure of public spaces and it may have also been pushed into less visible and less safe locations, making this form of trafficking more concealed and harder to be detected," the report noted.
How is climate change impacting human trafficking?
Climate change is increasing vulnerability to trafficking, the report UNODC found.
The impact of climate change "disproportionally" affected poor farming, fishing and other communities mainly relying on the extraction of natural resources for their livelihoods, the UN said.
Once "deprived of their means of subsistence and forced to flee their community," people became more vulnerable to traffickers, Fabrizio Sarrica, the report's main author, said at a press event.
In 2021, climate-related disasters internally displaced more than 23.7 million people. As large swathes of the world are at risk of becoming "increasingly uninhabitable," millions will face "high risk of exploitation along migration routes," the report said.
Bangladesh and the Philippines, for example, reported spikes in human trafficking cases after cyclones and typhoons displaced millions.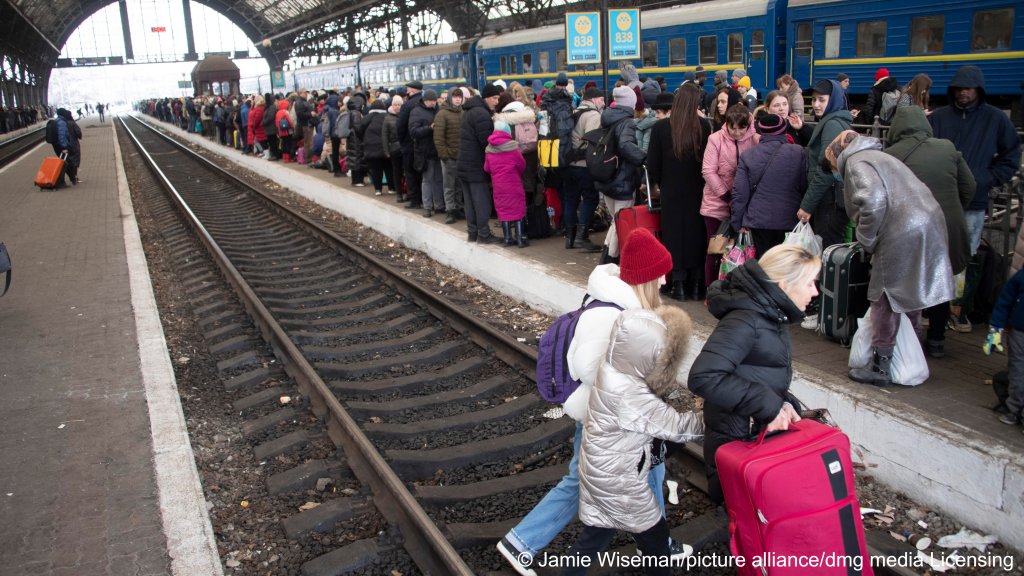 How is the war in Ukraine affecting human trafficking?
According to the UN body, society typically sees a surge in trafficking during war and conflict – and Ukraine is unlikely to be an exception.
"The refugee emergency in Ukraine is elevating risks of trafficking for the Ukrainian displaced population. The 2014 conflict in Ukraine quadrupled the number of Ukrainian victims detected in Western Europe in 2016," it said, referring to Russia's annexation of Crimea.
It expects an even larger number of trafficking victims following Russia's invasion of Ukraine in February last year, it added.
Ilias Chatzis, the head of the human trafficking and migrant smuggling section at UNODC, told French news agency AFP that the challenge is "how to deal with human trafficking arising from war and instability."
Assisting neighboring countries and strengthening support to the Ukrainian authorities is equally important, he stressed.
With Reuters and AFP