Blessing is originally from Nigeria. She arrived in Italy four years ago and was identified as having been a victim of human trafficking. She came to the social cooperative Proxima through a similar social project in Palermo. Now she's planning to move out of Proxima to live independently.
Blessing is small and slight, her eyes flicker as she talks and she often looks shyly at the ground; but when she is speaking about the things she has learnt at Proxima her whole face lights up in a smile. Like the other beneficiaries at the project, her identity is protected. In her case, because Blessing was identified as a victim of human trafficking. She speaks on condition that she doesn't have to relive the experiences she has suffered in the past.
The 26-year-old is one of the current beneficiaries at the social cooperative Proxima in Ragusa who has been there the longest. "I work in the fields and in the tailoring workshops," explains Blessing, taking a quick break from her tasks to talk to InfoMigrants. "My favorite task though is in the tailoring workshop," she smiles, lifting her shoulders enthusiastically with the corners of her mouth.
"I learnt tailoring here at Proxima," says Blessing. Later in the social tailoring workshop, sitting at a table, she skilfully handles the sewing machine, picking oblongs of pretty printed fabric and spinning them around and around the needle until she has a straight seam and has made a fabric pouch.
Anti-trafficking freephone number
"The pouches will eventually have project information in, with a freephone number to call in case you are being exploited. The number is valid across the whole of Italy and our project is part of the anti-trafficking network," she explains.
"Normally we give these numbers out to workers, they can call and then they will be directed towards the nearest anti-trafficking project to them. However, these pouches are being made from material scraps, and we will give them out at the convention to mark Europe Anti-trafficking day on October 18. It will contain the freephone number and information,as well as a small token from the allotment, to remind convention participants of the day, which is a really important one for us in the calender," explains Letizia Blandino, Communication officer and Head of the Social Tailoring initiative at Proxima, who shows InfoMigrants around the project.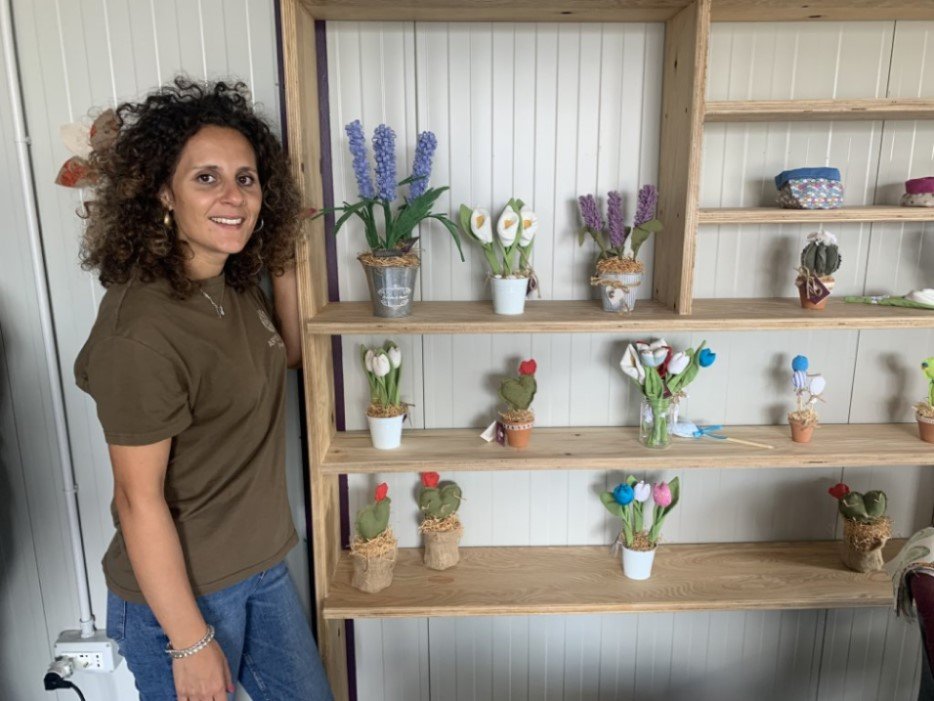 The social tailoring workshop was opened up in 2017. "We used to sew at the house where our beneficiaries live, but this year, we decided to open up the workshop to visitors, so that we can offer more services to the local community," explains Blandino.
"We make lots of things in the sewing workshop," says Blessing. "Decorations for the house, and wedding favors, gifts and clothes. We also offer alterations for clothes that need mending or changing in some way. I make my own clothes too, sometimes dresses."
Also read: Sicilian region works to stop gangmaster system
'We offer protection, help and integration projects'
As well as a social tailoring workshop, aiming to produce items to sell and teach those on the project useful life skills for the future, which they might be able to use to get a job and live independently, Proxima also has an extensive allotment. Fruit, vegetables and herbs grown at the project are then sold in a barn to local residents.
"Our project has been going since 2003 to combat human trafficking and labor exploitation. We offer protection, help and integration projects here for victims of trafficking and exploitation. Our workshops have been developed to offer skills to the beneficiaries," explains Blandino.
"The land where we grow fruit and vegetables was given to us by the town of Ragusa. We sell all the products we grow in our barn. All the beneficiaries who take part in the project go from living in our house where they are offered assistance [to combat the effects of their experiences as victims of human trafficking or labor exploitation] to coming to work in the fields and tailoring workshop."
Ultimately the projects' aim is to help beneficiaries to grow their independence. "What we are aiming for, for all beneficiaries is that they are integrated and work towards their own personal autonomy, so they can live and contribute to life in our town."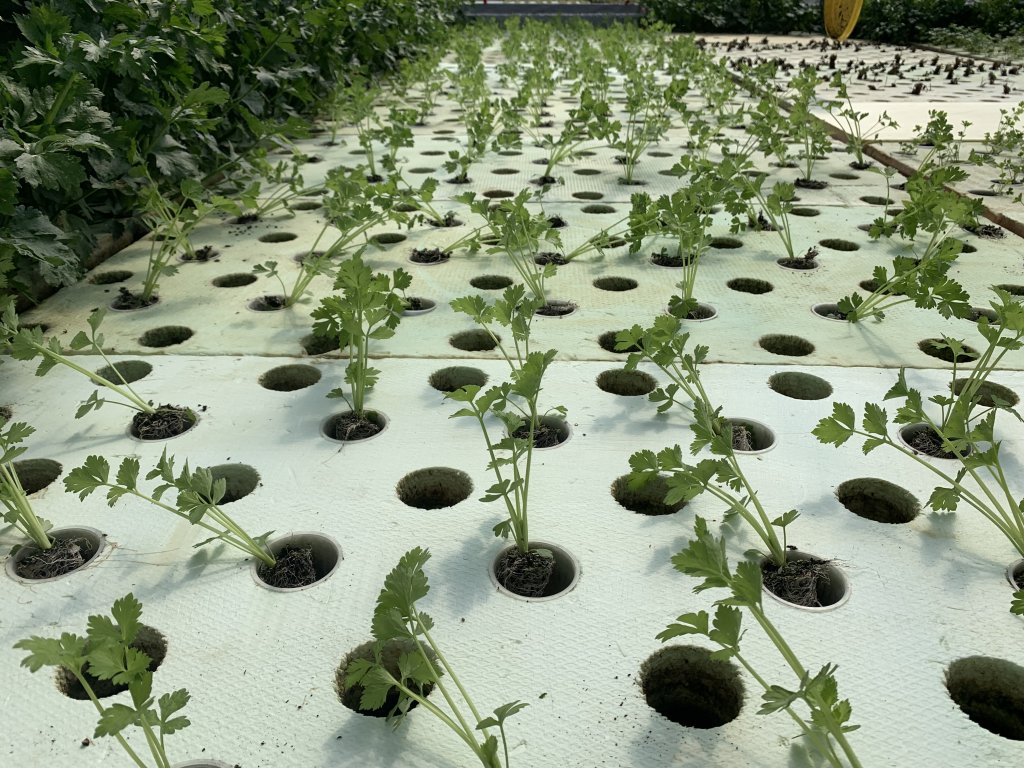 Currently there are about 10 people working with us
New beneficiaries join us every month, says Blandino, "but currently there are about 10 people working with us. Each person who joins the project has a different back story, but they either come from human trafficking, are former prostitutes for example, or labor exploitation, so they all have a lot of difficulties in their pasts."
The project works hard to protect its beneficiaries because some of them are at risk of being threatened by the networks who exploited them in the first place. The project offers a secret safe house first for all those who join, and helps with legal, medical and psychological needs a beneficiary might have. "After they are starting to feel better, we offer them a place in the allotments and tailoring workshops. We chose these two activities because a lot of people had already been working in that direction and we wanted to equip them with more skills so that they can avoid exploitation in the future."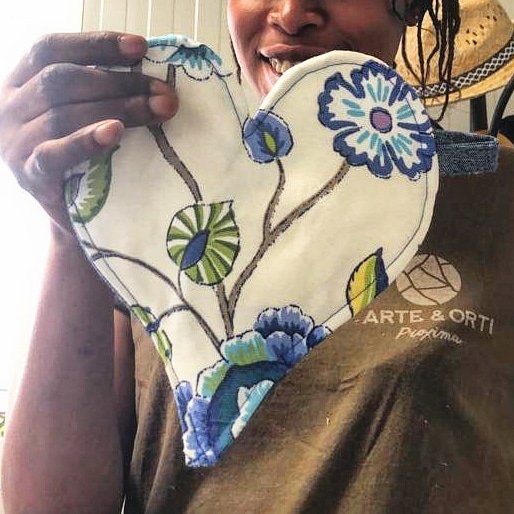 Also read: Between Olive groves and 'no man's land':Migrant workers in western Sicily
People stay at the project for different time frames. Someone might come just for a week, everyone is free to leave whenever they want, explains Blandino. "Some stay here for two years or more, and some even stay on and become a worker at the project even though they are now independent."
The danger of slipping back into exploitation
The majority of those at the project don't slip back to being exploited, but there have been some cases of that. "For some the most important thing is to earn money immediately. So some have fallen back into prostitution for instance, because when they come to us, there is a period when they are just staying at the house and so they are not earning money. They can participate in lots of activities, exercise, cooking, photography, but for some, the most important thing is to earn money to send back to their family."
"Sometimes they keep contact with the criminals who exploited them and they do end up going back. We take time to try and make them understand they are being exploited and that things are not good for them. Some come from countries where they would earn a lot less money for a day's work so they don't even think they are being exploited here."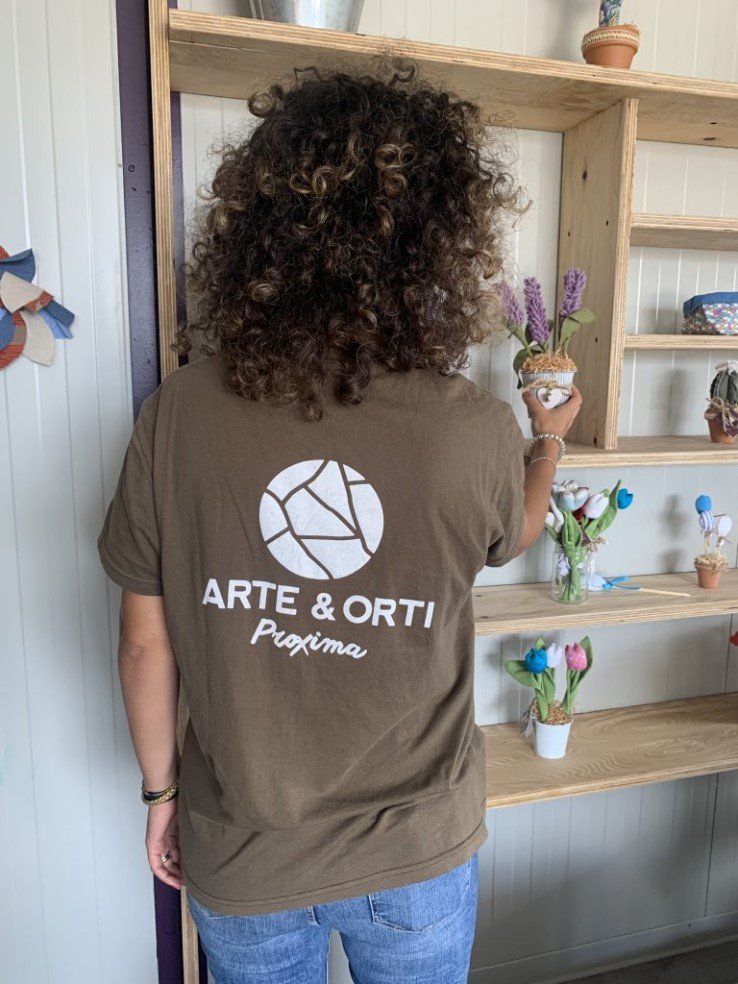 "We grow basil here," says Blessing, "so many different things, vegetables and salads." Blandino adds to the list, "Courgettes, aubergines, tomatoes, kale, broccoli, fennel, cabbages, mustard greens, leeks, peanuts, borlotti beans, black pepper and peppers, onions, potatoes, squash. We are currently moving from summer to autumn so the new things are just starting and the summer crops are winding up."
Blandino continues the tour. "We work with natural agricultural techniques here, so we use our own compost to fertilise the fields and only grow things seasonally, it is important for us to respect our environment. The fields might look a bit 'messy' here and there, but that is because when a crop has finished its growing cycle, we leave the roots on the land, and we plough them back in, to give the soil nutrients for the next year. For instance this kale. We also have hydroponics and acquaculture over there and we use that to grow salads and herbs in the greenhouses, where only the roots are in water, mixed with the fertiliser from the fish."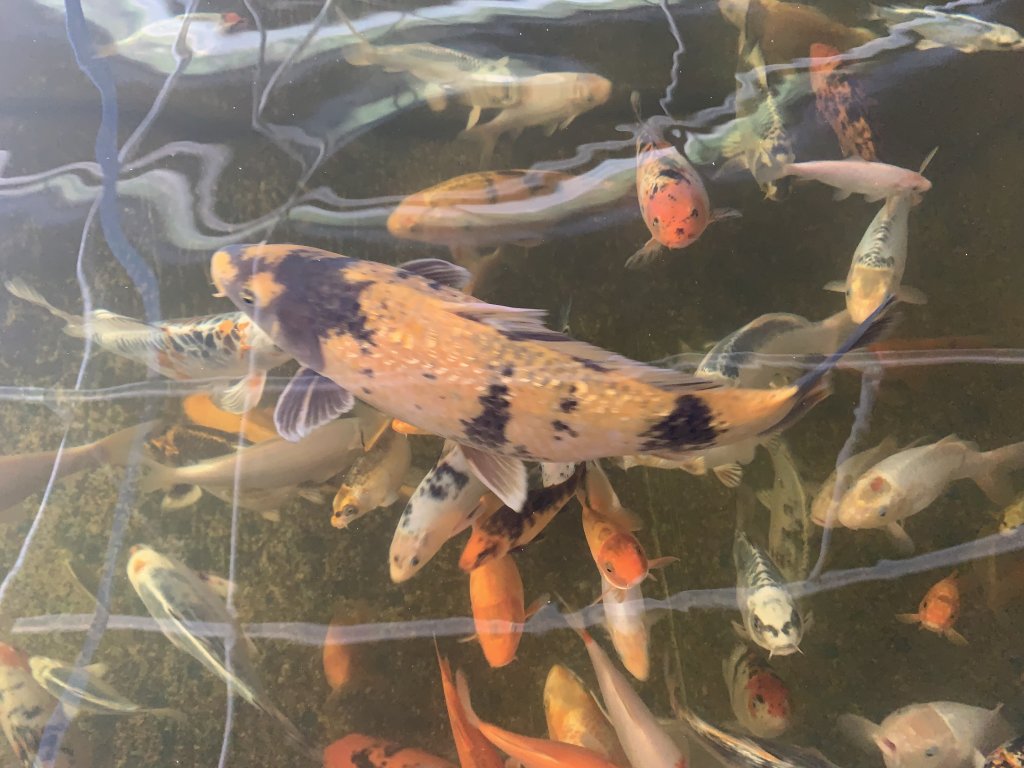 Innovative farming techniques
Proxima is experimenting with all sorts of innovative techniques. Worms are added to the compost piles to help break the substance down more quickly. The carp in the pools also help add nutrients to the fields. They have set up hives, so they hope to produce honey in the future too, and add to the pollination of the crops with their own bees. Bumble bees are already being used to pollinate their strawberry crops. Giuseppe Lisandrello is in charge of the agriculture at the project.
Also read: The implications of the Italian elections on migration policy
"We are also working on rehabilitating part of the land that had been over-ploughed with heavy machinery, which means there were no wild herbs and plants left growing here and all the funghi from the soil had disappeared. That means the soil was thin and lacking nutrients. We have started a project to just leave the land to wild sow and see what establishes and grows and put nutrients back into the soil. Although it is an experiment, we have been harvesting from here too. This for instance is wild rocket, these are flowers from the radish plant. We have had saffron too. We built mounds to give the plants a bit more soil, and we deliberately don't plough here. You can eat these too. We like to plant our crops gradually, so that we don't have a glut."
In the greenhouses, he is overseeing a couple of beneficiaries clear up the beans which have been drying in the warmth of the sun, ready to put in jars and sell at the barn. "The plants in this greenhouse, are in acquaponics, so they grow much faster. Their roots don't have to push for space in soil, but they get all their nutrients from the water," says Lisandrello.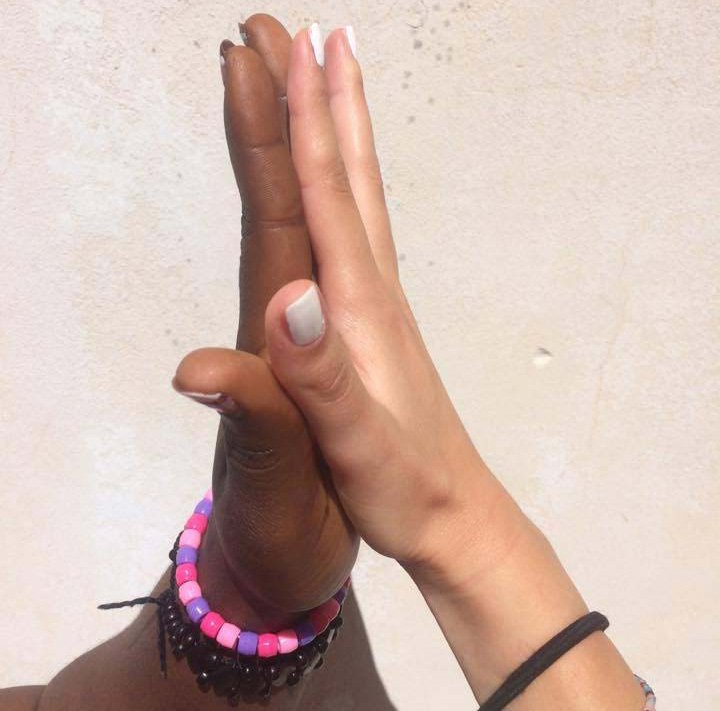 'I don't like going out and making friends'
At the corner of the greenhouses, Blessing is busy with another task, scrubbing the polystyrene panels filled with holes for the next round of herbs and salad to be planted. Blessing says she left Nigeria for "personal reasons" but doesn't want to explain further. Perhaps it is her past experiences of human trafficking which resurface when she is asked if she has made friends at the project.
Blessing shakes her head. "No, I haven't really made friends, I prefer just to do my work and leave" she says. "I don't like going out and making friends, I like to do things on my own. If I want to make friends, I will make friends who can lead me to somewhere else, not to people who can drag me down, that's why I don't make friends."
Also read: Aunties providing a safe space for women and girls in Palermo
Blessing's mood brightens a little again as she looks towards her future. She is soon preparing to leave the project, she says and move away from Ragusa and look for a job so she can live independently. She hopes that sewing will be in that future.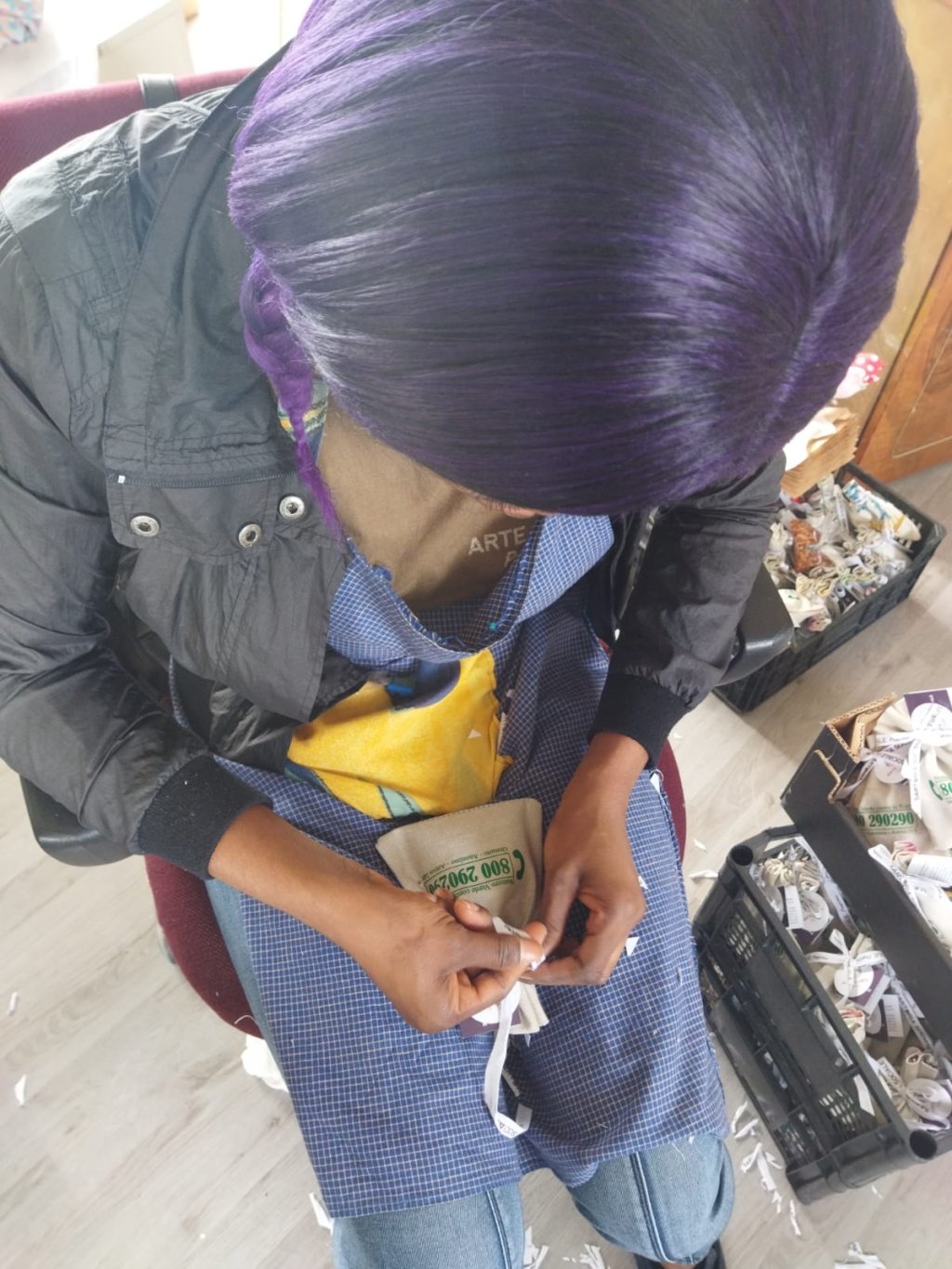 "I really hope I can use my tailoring skills. That is my passion. If I can find a job like that, I will be very very happy for myself." Thanks to Proxima, Blessing now has all the correct papers she needs to live and work in Italy.
"Next month I will be leaving here, but it is so difficult for me to leave. I have learnt so much from here that I didn't know before. I knew nothing about Italy and I have learnt all that here. I am not scared exactly to leave, but I do fear how difficult it might be to find a job. What job will I find out there? That is my fear. If I had stayed here longer and stayed in Ragusa, they would have helped me find a job, but it is my decision to leave and move to another city, so that's why I will be on my own. I am sad that I am going, but I hope the future will be brighter for me."
If you are a victim of trafficking or exploitation in Italy, you can call a freephone number (numero verde), information is available in at least ten languages 800 290 290, operators will then direct you to a project near to you or social services who can help.