On Sunday, the crew from the private rescue organization Sea-Eye announced they had taken on board 133 migrants from three different boats off the Libyan coast. Two of the rescues took place on Saturday and a further one happened on Sunday.
"In the space of 12 hours, the captain and crew on board the Alan Kurdi has rescued 133 people from three different boats," read a press statement on Sunday from the private rescue organization Sea-Eye which operates the Alan Kurdi rescue ship.
Kai Echelmeyer, a human rights observer on board the Alan Kurdi, said in a statement that 90 people on board one boat and 24 people on board a smaller wooden boat had set off to sea "without any kind of satellite phone." Echelmeyer added this meant that they couldn't have called for help and would have gotten nowhere if they hadn't been rescued.
The crew under captain Joachim Ebeling spotted both boats with the aid of the ship's binoculars. "In this vast area, it was just lucky [we spotted them]," explained Echelmeyer. "We wonder how many other boats just disappear unseen and unheard."
The organization tweeted about the rescues and posted a video on Sunday.
Third rescue on Sunday
The third rescue happened on Sunday after 19 people aboard another wooden boat did call the organization Alarm Phone to say they were in trouble. Alarm Phone then told the crew on board the Alan Kurdi, and the boat proceeded to the area. 18 of the people on board that boat, according to Sea-Eye, hold Libyan nationality.
The captain of Alan Kurdi said that he had notified the search-and-rescue coordinators in Rome, Valletta (Malta) and Bremen (Germany) as well as the Libyan authorities and none of them had responded.
Later, on Sunday, Gorden Isler, Sea-Eye's chairperson tweeted that the Italian authorities had told him that he should contact Search and Rescue in Germany because Sea-Eye is sailing under a German flag. In German, he wrote: "The Libyan search and rescue coordination center were unreachable. That is nothing new. However, what is new is the response we received from the Italian coastguard @guardiacostiera, when we asked if it would be possible to evacuate families and minors. We are 12 nautical miles from Lampedusa and they told us to talk to the authorities in Bremen."
The Italian authorities wrote in English that since all the rescues took place outside the Italian search and rescue zone and had not been coordinated by them in any way, the crew of the Alan Kurdi should talk to the authorities in Bremen.
Families and children on board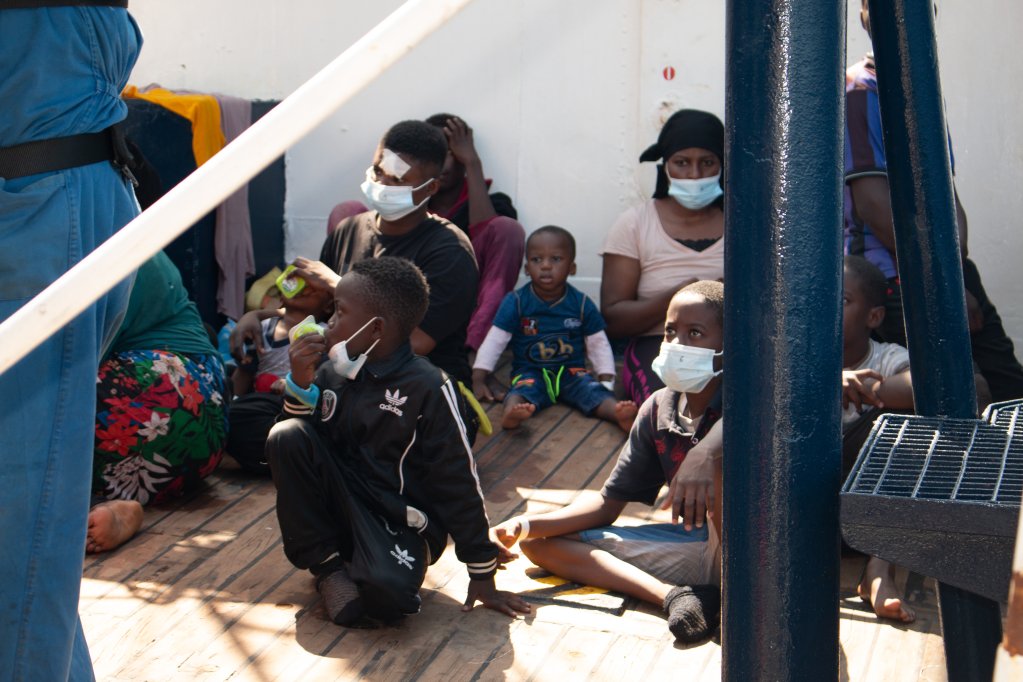 62 out of the 133 migrants rescued claimed to be minors. Several families and pregnant women were also on board. The youngest child is "still a baby and according to its Libyan mother is just five-months old," read the Sea-Eye statement.
"The families and children are particularly in need of protection," said Sea-Eye. Following the rescues, the Alan Kurdi reached the Sicilian island of Lampedusa. Gorden Isler, Sea-Eye's chairperson, said that the ship's crew had asked Italy to provide a "safe harbor" and was hoping to evacuate at least the families and minors from the ship as soon as possible.
Stand-off feared
Isler however worried that the Italian authorities might refuse the ship harbor and that a stand-off would keep the people on board at sea for longer than necessary. Recently, the Spanish rescue ship Open Arms was held for more than seven days with about 270 people on board.
"The Italian authorities provide very intermittent support to the humanitarian rescue ships, and keep our ships in their harbors, when they can, for weeks. They don't seem to have any kind of scruple putting those rescued in further danger by keeping them on board."
Isler called the argumentation of the Italian authorities "transparent" saying that they were using very thin justifications, to demonstrate that the humanitarian ships were not built to keep people on board for that length of time, after the same authorities had forced the people to stay on board for longer than needed in the first place.
Fleeing war and persecution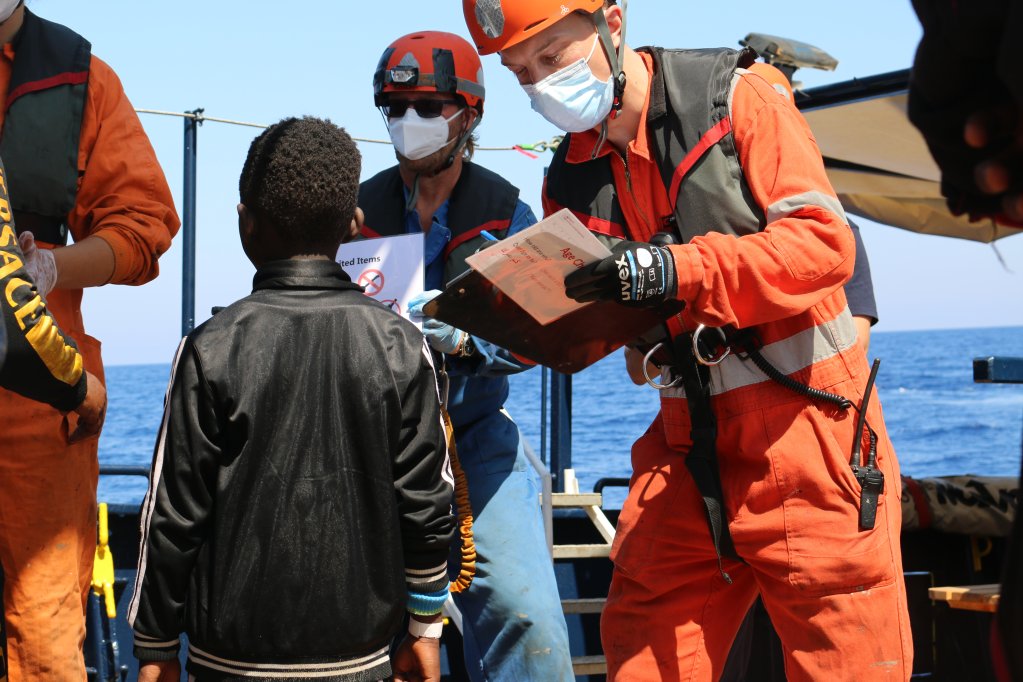 Those on board the Alan Kurdi at the moment come from "15 different countries," according to Sea-Eye, including Sudan, Nigeria, Mali, Egypt, Bangladesh, Yemen and Libya. Isler asked the EU authorities once again to stop calling Libya a "safe country" to where people could be returned when even Libyan families are now fleeing the civil war in their own land.
Kai Echelmeyer collected some testimonies from those rescued, who explained why they had decided to make the crossing over the Mediterranean. "The government removed me from my home. Some militias caught me in Libya and I had to pay to stop them killing me," said one 28-year-old man from Egypt, who said he had fled to survive.
Another 29-year-old man from Yemen said that he had left his country because of war. He said Sunni Muslims were "being persecuted" and he "had to flee because they wanted to kill me."
A 45-year-old woman from Libya said that the war in Libya had "destroyed my house and left my family and me with nothing." She said she had spent all she had "for surgery which my son needed but he still needs urgent help which I cannot get in Libya." She added that she "never imagined I would leave my country like this but there was no other way to protect my family."
Second ship to be launched soon
The organization Sea-Eye was founded in 2015 in Regensburg, Germany. Since their establishment, the organization says more than 1,000 volunteers have launched more than 70 missions to save more than 15,000 people.
Last Thursday, according to Bavarian broadcaster BR24, the organization announced it had completed its purchase of a second, larger rescue ship which will be called the Ghalib Kurdi, older brother of Alan Kurdi, who also died at sea alongside their mother Rehanna.