An Iranian born canoeist, who was forced to flee his country in 2015, has just been given the green light to attempt qualification for the IOC Refugee Team at the Tokyo Olympics. It's the next step on the way to an Olympic dream for Saeid Fazloula who lives and trains in Germany.
Saeid Fazloula's biggest dream is to compete at the Olympic games. He was already blocked from competing in Rio but he has been holding out hopes for the possibility of competing for qualification at Tokyo 2021.
On Wednesday, the German Canoe Federation (DKV) announced that his dream might be a little bit closer. After "weeks of arguments," according to the press release from the DKV, the International Canoe Federation (ICF) has decided to grant the possibility of joining the qualification rounds for the IOC Refugee Olympic Team for Tokyo 2021.
Training hard
After arrival in Germany in 2015, Fazloula started learning German, completed an apprenticeship as a fitness salesperson and joined a canoe club "Kanuclub Rheinbrüder" (The Rhine Brothers Canoe club) in Karlsruhe on the Rhine. Every day he paddles up and down the river, training to achieve his dream, even though, according to a report from Germany's national broadcaster ARD, Fazloula had started to give up on that dream and ask himself "why do you row?"
Back in 2016, the International Olympic Committee (IOC) rules meant he couldn't compete for either the refugee team or Germany. He would need a German passport to compete for Germany in the Olympic team -- something impossible so soon after arrival.
But Fazloula carried on paddling away, and by 2018, the now-28-year-old had convinced the DKV that he could compete for the German team. He debuted for the German team at the European championships in Belgrade. "This was possible at that time because the ECA and ICF rules are different than the Olympic rules," said the DKV press release.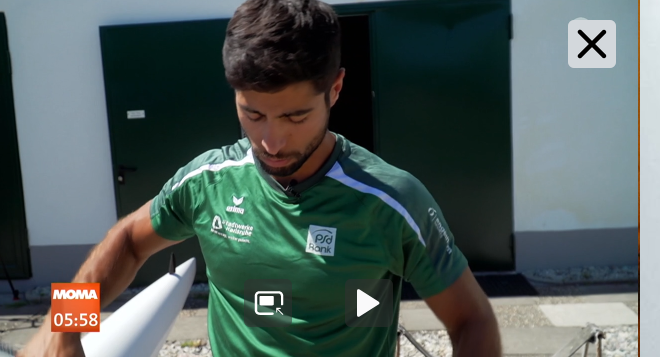 Falling foul of the regime
Fazloula's case is complicated still further because in the past he competed for his home country's national team. He won silver in the Asian Games in Korea in 2014. But after celebrating at those games, he was told he had cheered in an "unreasonable" manner. A year later, he fell foul of the regime's regulations again when, after competing at the World Championships in Milan, Italy, he took a selfie in front of Milan's famous cathedral. That picture made the regime accuse him of wanting to convert to Christianity and he was sent to prison.
He told Germany's national broadcaster ARD that on returning from Milan he was met at the airport. "They were standing in front of the door and they put a hood over my head and pulled me into a room."
Fazloula told ARD that he tried to convince his interrogators in every way possible that he wasn't trying to convert and it had just been a tourist photo. "I said, 'no, I'm a Muslim,' and then they said 'we have proof' and they pulled out this picture [in front of the cathedral]. They said, 'what you have done, changing your religion entails the death penalty for us. You can kiss goodbye to your life."
Fleeing Iran
Watched over heavily, he was released and as soon as he could, Fazloula decided he had to flee, along the Balkan route to Germany. Fazloula got refugee status in Germany but has, so far, been refused a request for a German passport. That meant, although he was allowed to compete for the German team in the European championships, he would not be allowed to at the Olympics.
Initially, Fazloula made it on to the newly formed Refugee Team candidate list at the IOC in 2016, reports ARD. "But just before the games, I got a call saying that Saeid had been taken off the list. Apparently it was something political, but we don't really know more than that," Detlef Hofmann, from the Rheinbrüdern Canoe Club and Fazloula's mentor told the German broadcaster.
Caught in bureaucracy
Normally, for an athlete to change the country for which he or she competes at the Olympic games, the athlete would need the go ahead from their first federation and an OK from the new country too. The suspicion, according to ARD, is that Iran refused to give that go ahead and intervened in some way. Hoffmann speculates that Iran thought, "No, we can't allow that, Iran is not a country which forces people to flee, and so perhaps they placed some kind of political pressure?"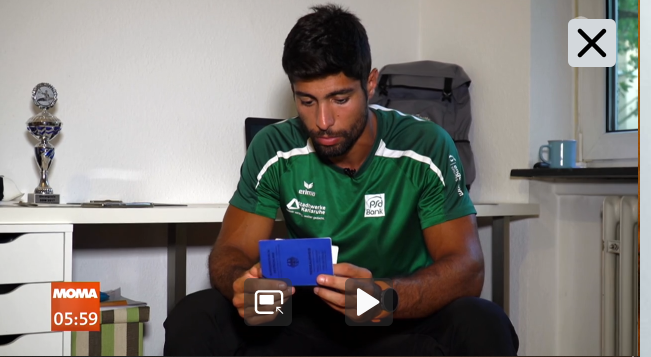 The German Olympic Committee decided to help Fazloula and push for his inclusion in the Tokyo Refugee team. But the IOC weren't happy with this request because since he had already represented Germany, he was seen to have a "sporting home," and therefore could not be considered a refugee, although he has refugee status in his passport, and no German passport.
Even if those obstacles had been removed, Iran still needed to give its go ahead for Fazloula to compete on the Refugee team, something it refused to do. So, Thomas Konietzko, head of the DKV and vice-President of the World Canoe Federation worked "behind the scenes" on a new interpretation of the rules.
Changing the interpretation
Essentially, what Konietzko did was push the IOC to accept Fazloula in the Refugee Team and not see it as him applying to change country. "Finally a majority on the board agreed with me and the International Canoe Federation (ICF) that they would put Fazloula as a candidate for the IOC Refugee Team."
The decision over Fazloula's case should change things for all refugees following in his footsteps, if the new proposals are voted on at the next committee meeting.
For Fazloula, it should open the door to an attempt to qualify, and, he hopes, be allowed to take part in his dream. Paddling at the Olympic games in Tokyo.