At the beginning of October, a flight chartered by the British Home Office left the UK for France with just one migrant on board. Under the Dublin agreement, the UK authorities say he should pursue his asylum claim in France. On Wednesday, October 7, the man's lawyers went to court in France to try and stop his repatriation to Africa.
Some French journalists asked themselves if they were hallucinating, when just one migrant stepped off a charter flight from the UK at Rennes airport in France on October 1. According to reports in French newspapers and British TV Channel 4, this was no hallucination.
The man who stepped off the plane is a 27-year-old migrant who says he comes from Sudan and is called Ismail. His journey was followed by the reporter Paraic O'Brien for Channel 4. "A jumbo jet, a fleet of buses and dozens of staff – all to deport one person, with no right to remain in the UK, back to France," writes O'Brien on the Channel 4 website.
Dublin regulation
Ismail was deported under the conditions of the Dublin regulation. Which means that migrants who have already applied for asylum in another EU country will be sent back there to complete their process in the first "safe" country they entered.
The problem for Ismail is that he was considered to be from Chad by the French authorities and already received a notice to leave the country in 2019. Now, according to the French news website 20 Minutes Ismail is being held in a small town whilst the authorities prepare his deportation to Chad.
Appealing deportation
His lawyer, Francois Tuyaa-Boustug, told 20 Minutes that his ejection from France (OQTF – Obligation de quitter le territoire francais) is based on false information, i.e. that he is not in fact Chadian but Sudanese. "Ismail is Sudanese, he has told people that from the beginning," confirmed his lawyer to 20 Minutes.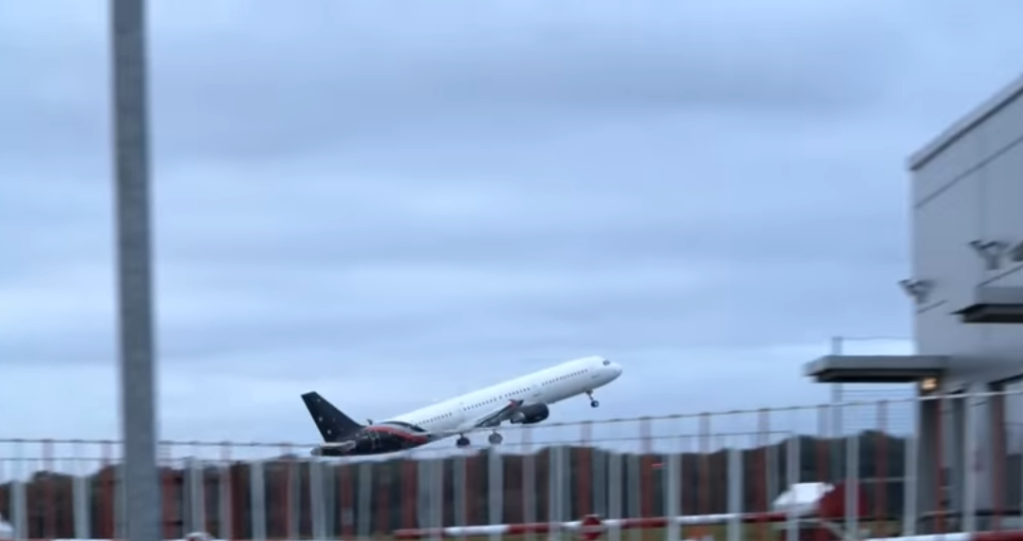 According to 20 Minutes, Ismail arrived in the UK on a small boat relatively recently and was immediately picked up by the authorities. Local Green MPs in Rennes told 20 Minutes that the deportation with one person on board was a "humanitarian scandal." They criticized the operation for being "very costly, both from an ecological point of view and because of the cost to the public purse."
Estimated cost of flight: 30,000 pounds
In fact, Paraic O'Brien of Channel 4 says his channel estimated the cost of chartering a jet to fly from the UK to France "in the region of 30,000 pounds." He said though that the Home Office (British interior ministry) would not confirm how much money they had paid for the charter flight. However, in an interview with a former Home Office civil servant, Channel 4 said they had found that last year in just one quarter of the year the Home Office had spent a quarter of a million pounds on flight charters, "not one of which had actually taken off."
The failure to take off, or the low numbers of migrants actually being deported, has been blamed by the Home Secretary Priti Patel on "lefty lawyers" who file last minute cases to block deportation. One lawyer, Toufique Hossain, who works for the firm Duncan Lewis in the UK and helped get most of the other migrants, who were Yemeni, off the flight disputed the fact that these claims are spurious. He explained to Channel 4 that the last-minute nature of many of these blocks to deportation was because migrants about to be deported were only given access to legal counsel in the last few days before their flights were due to take off.
Ismail spoke on condition of anonymity to Channel 4, his face and head covered by a face mask and a hooded sweatshirt. Subsequently, in the French press his photo and full name have also been printed.
'Tough immigration policy'
"It's just after 2 in the morning ... three minibuses arrive in Brook House Detention Center near Gatwick Airport, they are here to deport a group of migrants and refugees who have crossed the Channel this year," narrates O'Brien in his report for Channel 4.
Deportations of some of the more than 7,000 migrants who have crossed the Channel this year is a "cornerstone" of Priti Patel's "tough on immigration" policy, underlines O'Brien. He says Patel hopes to deport "at least 1,000 migrants in this way by the end of the year." On this particular charter flight, there should have been 30 migrants.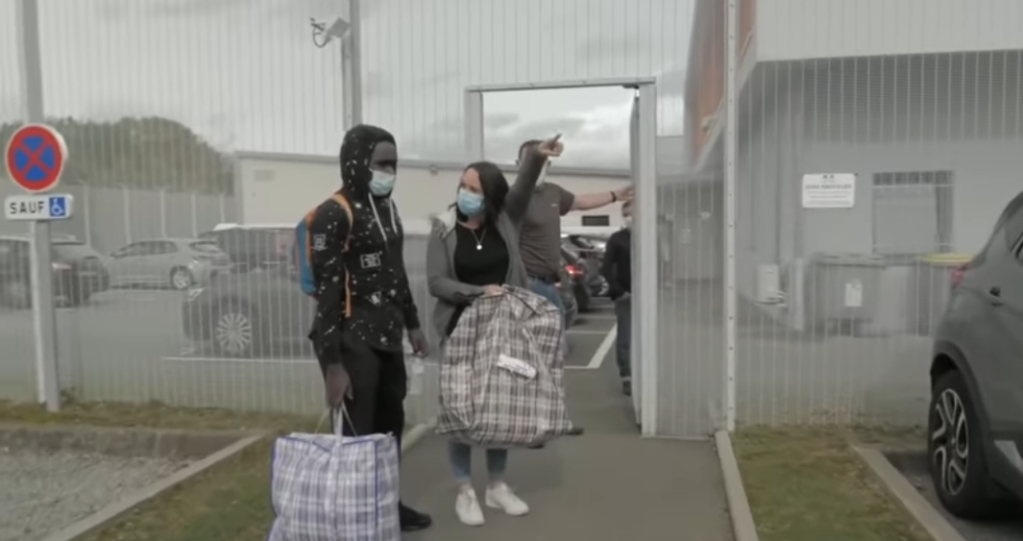 Brook House is run by a company called Serco, explains O'Brien. Their contract with the Home Office, which they took over from the security firm G4S to run immigration detention centers is worth "an estimated 200 million pounds." The buses which transport the migrants from the centers to the airport are run by a second company Mitie. Their contract is worth "525 million pounds," says O'Brien.
The plane that has been chartered to carry out this deportation is a "giant airbus, capacity about 200 people," says O'Brien. According to Channel 4, Ismail left Sudan when he was 18. He traveled to Chad, then Libya, Italy, France and finally the UK. French newspapers say he has lived on the streets and in the so-called "Jungle" camp in Calais before finally making it to the UK.
'I will go back to the UK'
Ismail is filmed speaking to someone on the phone. He says that he has got a lawyer to appeal his deportation in France, if that doesn't work out, he says, "I will go back to the UK."
Channel 4 asked the Home Office why Ismail was the only person on that flight. The UK government sent them this statement: "The government's efforts to facilitate entirely legitimate and legal returns of people who have entered the UK through illegal routes are too often frustrated by last minute challenges submitted hours before a scheduled flight. These claims are very often baseless and entirely without merit, but are given full legal consideration leading to removal being rescheduled, and can effectively result in the timing out of a return due to the stringent Dublin regulation."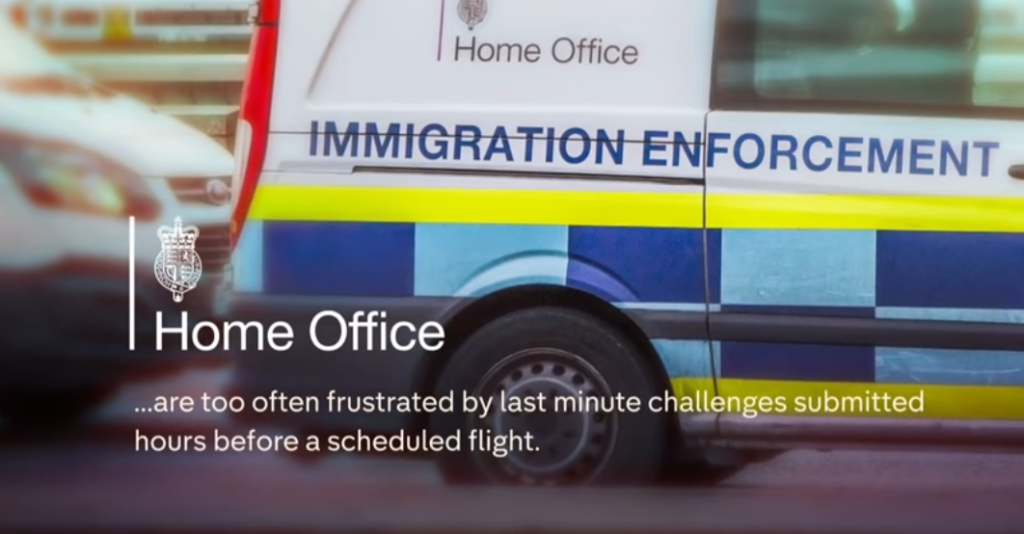 David Wood is the former Director General of Immigration Enforcement at the Home Office between 2013 and 2015, when former Prime Minister Theresa May was Home Secretary. He told Channel 4 that he didn't think that chartering a flight to deport one person was a good use of public money. However, he said that in his experience, although legal challenges mean that many people destined for deportation do not make the flights, there would not normally be a flight taking off with just one person on board.
'Impractical suggestions'
Wood said "normally the flight would have been abandoned." Channel 4 said the Home Office was looking like a department that sent out "tough messages on immigration, but doesn't deliver, or doesn't deliver efficiently." Wood replied that he agreed "tough messages" are put out on impractical things which can't be delivered. "We have seen that with the migrants crossing the Channel; we have seen that in recent days in messages about processing asylum seekers on boats and different islands across the world. I mean I think they are fairly impractical suggestions that sound tough and could probably never be implemented."
Recently, in a speech to the Conservative Party Conference, Priti Patel said that the asylum system in the UK was "fundamentally broken." She promised the biggest overhaul seen in decades starting in 2021 and said that her policies would implement a "firm but fair" approach to immigration. Deportations like this one though will remain very much part of that process, since anyone who has applied for asylum, or even transited other safe EU countries can't expect to seek asylum in the UK.