According to a report in the Telegraph on Sunday, Britain's Clandestine Channel Threat Commander is considering using nets in the Channel in order to deter migrant boats from crossing.
"I will do whatever it takes to stop these crossings. I am targeting every step of the journey to end the viability of the small boats route," Britain's Clandestine Channel Threat Commander Dan O'Mahoney said to the Telegraph newspaper on Sunday.
Just a few days previously, O'Mahoney appeared in a Home Office (British Interior Ministry) video in which he revealed other "world leading, cutting-edge technology" in order to increase surveillance over the Channel.
He explained how the surveillance was being used to help bring cases against smugglers who were risking people's lives in order to make money. He promised that the people driving these boats would be "arrested on your arrival in the UK and locked up in prison for a sizable jail term."
Nets to disable migrant boats
Now the commander is considering the use of nets to continue making the route harder to cross.
According to The Guardian newspaper, O'Mahoney explained to The Telegraph that the nets could be "used to clog propellers and bring boats to a standstill as they attempt the crossing over the Dover Strait." O'Mahoney added that he intended the nets to "safely disable the engine [so that] the migrants could then be taken onboard our vessel[s]."
In one of the busiest shipping lanes in the world, it is not yet clear how exactly these nets might be used, or where they would be placed, or even if they are intended to form a static barrier.
As with previous proposals, difficulties could be foreseen as the nets would presumably have to be used or deployed in British territorial waters, but once in those waters, migrants become the responsibility of the British state and should be able to exercise their right to seek asylum according to international law.
Reforming the UK asylum system
The Guardian reported that O'Mahoney confirmed that nets had not yet been deployed but that they "may be deployed over the next few months." Because they haven't yet been used, he said he was "not at liberty to go into detail about them." However, he did say that he was working with "maritime security departments across law enforcement and military, everywhere across government [to] come up with new tactics to tackle this problem."
Once the migrants were "safely onboard" the authorities' vessels, they would be taken "back to France," confirmed O'Mahoney. However, he admitted that a sticking point in this new plan were the French.
The BBC reported that O'Mahoney told the Telegraph that his new strategy was experiencing delays because "France is not willing to accept migrants back who have been subject to the tactic."
Another weapon in O'Mahoney and the Home Office's arsenal of new plans to tackle migration is to use social media to try and convince people in Africa and the Middle East to stop coming to northern France in the hope that they can make it over the Channel to the UK.
All these methods are expected to be joined up in the Home Secretary Priti Patel's reform of the British asylum system, which she described, in a speech to the Conservative Party Conference, as "fundamentally broken."
Channel crossings increasing
More than 7,000 migrants are estimated to have crossed the Channel to the UK this year via small boats. According to the BBC, almost 2,000 (1,892) migrants successfully crossed the stretch of water in the first three weeks of September alone. That was more people than in the whole of 2019.
Mr. O'Mahoney is a former Royal Marine commando and when asked by the reporter if the idea with the nets would be similar to Royal Navy trials "in which nets were used to snag up propellers and bring boats to a standstill," O'Mahoney replied: "It's that type of thing, yes."
During the coronavirus travel restrictions, the number of trains, lorries and cars crossing the Channel has been drastically reduced, which has made the sea crossing one of the only really viable routes. The Home Office told the BBC in September that the cost for crossing the Channel had also come down in September because smugglers were now "overloading dinghies with migrants." The ministry said that the rate had "fallen by about a third as demand has soared."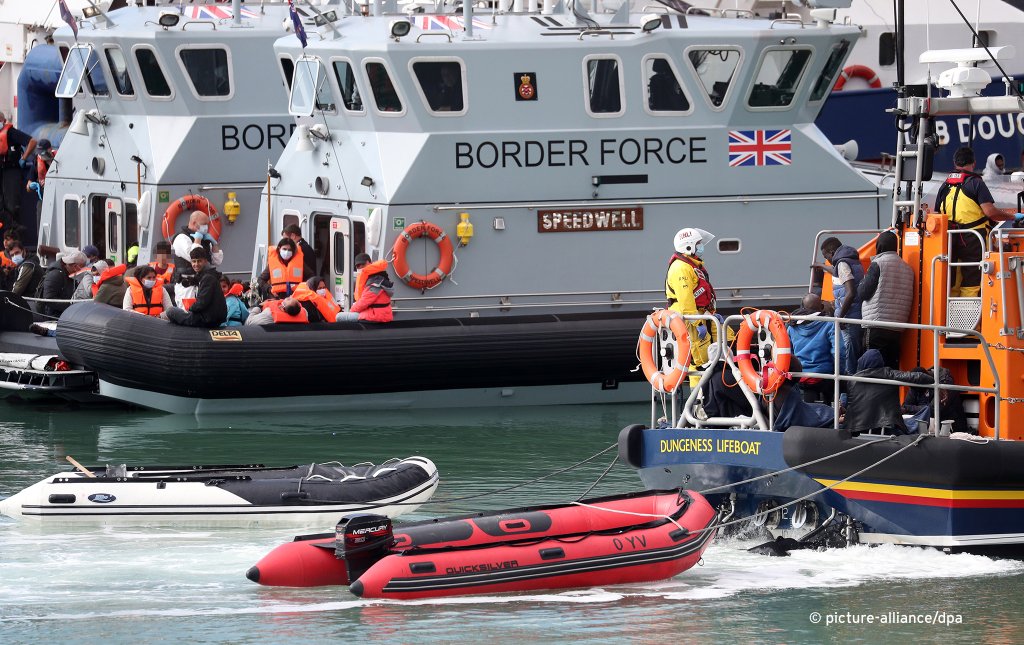 Other strategies to decrease migration to the UK
In recent weeks, the British authorities have also reportedly considered using water cannons to create waves big enough to turn migrant boats back; talked about housing migrants who do arrive on disused ferries or oil platforms off shore and lastly, according to the Financial Times, considered sending migrants to remote islands, sometimes thousands of miles away from Britain in order to process their asylum claims, and or prepare them to be sent back to their homelands.
Last week, a British TV channel, Channel 4, reported that a flight had taken off with just one migrant aboard, at an estimated cost of about 30,000 pounds. When challenged about the costs to the tax payer of this kind of policy, the Home Office told Channel 4 that government efforts to facilitate returns of those who had reached the UK "by illegal routes, were too often frustrated by last minute challenges submitted hours before a scheduled flight."
Channel 4 reported that the charter flight in question was meant to contain 30 migrants being deported back to France or other European countries where they had first sought asylum. However, a lawyer who worked on behalf of some of the migrants who escaped this fate and were not asked to board the flight, said that the last-minute challenges only happened because many migrants to be deported were only given legal counsel hours or days before their flights were due to take off.