An Italian association, ARCI, has expressed its "profound worries" after several asylum seekers housed in various structures across Italy revealed they are being tested and sent to quarantine ships off the coast when they test positive for COVID-19. Some of these asylum seekers have been in Italy several years.
The biggest Italian non-profit association not linked to the Catholic Church -- ARCI (Associazione Ricreativa Culturale Italiana) --, which also works with migrants in Italy, has expressed its "profound worries" and "condemnation of" what appears to be a new departure in Italy's policy towards COVID-19 positive migrants and asylum seekers.
Since the fight against the coronavirus saw the implementation of numerous restrictive measures for citizens around the world, Italy has been routinely quarantining newly arrived migrants on board ferries moored off shore in several ports in the south of the country. According to ARCI, there are currently five in operation, but the numbers of those on board have not been officially released.
Now, it appears that some of the migrants and asylum seekers being sent there are in fact not newly arrived but have been resident in various reception centers for several months or even years. Many of them are waiting for answers to their asylum claims and, as ARCI points out, have a right to a place in the reception system.
Video denounces conditions on board
Last week, ARCI received a video from one asylum seeker who says that he was resident in an emergency reception center (CAS) in Rome when he tested positive for coronavirus. ARCI says he has already been in Italy "for years."
Despite the African asylum seeker claiming that he has not been shown evidence of his positive test, the authorities took him "along with eight other people from Rome to Palermo" where they were placed on board the GNV Rhapsody ferry. The ferry has subsequently sailed to the port of Bari in Puglia, with this asylum seeker still on board.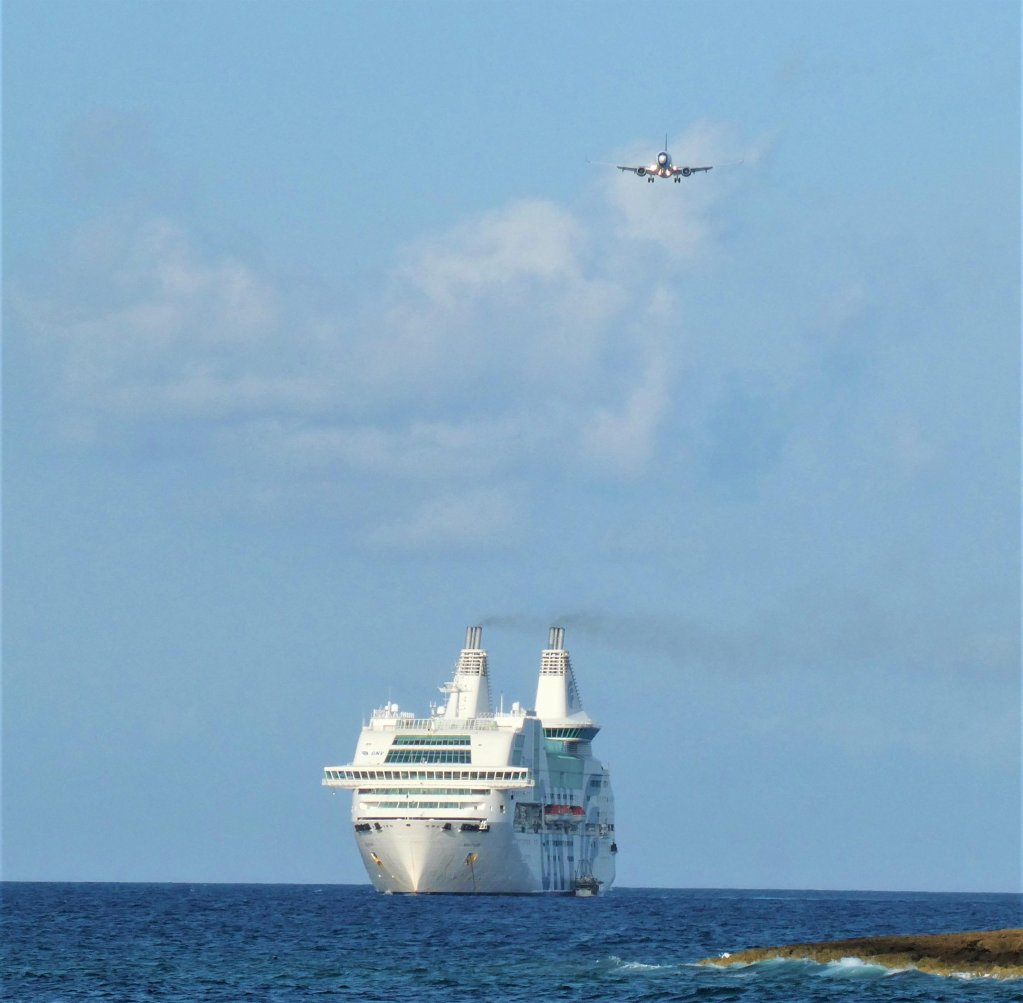 Filippo Miraglia, the head of immigration at ARCI, told InfoMigrants the man has subsequently tested positive again on board the ferry and is expected to stay there for at least another week.
'Not a unique case'
"This is not a unique case," confirms Miraglia. "We at ARCI have been following several other cases. We have already flagged up the case of a family who were transferred from a reception center in Crotone [Calabria] to a quarantine ship, and we have read in the local newspapers in Calabria, that other people in these emergency reception centers which are run by the questura [a part of the Interior Ministry and Police structure] who have tested positive for COVID-19 are being transferred to these ships."
In the video, the asylum seeker films the view from his window on board the ferry, as well as the two single births in the cabin which he is sharing with another person who has also tested positive for COVID-19. "They have not changed our bedding in nine days," says the migrant, pointing out that the disposable paper mask he has been given has also not been changed for the last nine days.
'Deprived of their liberty'
ARCI says that these asylum seekers are being kept in "inadequate" conditions and essentially deprived of their liberty, since they cannot leave the ferry.
"Good afternoon to everyone," says the asylum seeker, who is not pictured, in the video. "I want to make this video for Italian journalists and human rights people so they can hear my voice and help us immigrants."
The man speaking says he was resident in a CAS called "Casa Mentuccia" in Rome. He says the authorities turned up on September 26 to test the residents for coronavirus. The next day, the man explains, the authorities told him he had tested positive. He was then taken from Rome to Palermo, arriving in Palermo on "October 1, about 4pm in the evening," he says.
The man continues, saying that he has been given "no medicine," and has been unable to access a doctor. He also says that all the windows have been kept closed on the ship, or are unable to be opened. He asks everyone who watches the video to "post it so that Italian leaders can see what is happening and fight for immigrant rights." The man finishes by saying his situation is "no good."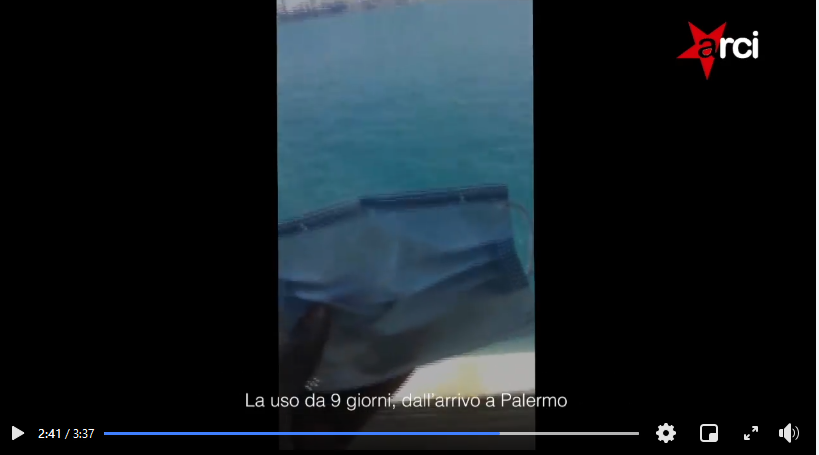 'It makes no sense'
Then ARCI place a subtitle over a black screen, declaring: "Spending public money to hire a ferry, then transferring people from Rome to Palermo to then keep them shut up in the name of public health protection just makes no sense." In a post on Facebook, ARCI asks: "Why aren't they put in quarantine in a normal house like everyone else?"
The post continues, asking whether a refugee or asylum seeker who tests positive for COVID-19 is more dangerous than any other young Italian who tests positive for the virus? ARCI states that by choosing to quarantine people on board ships, the idea that foreigners are an incubus of illness and "dangers to our security" is able to gain more traction.
From Rome to Sicily and back again
Filippo Miraglia points out another case that ARCI have been following recently. He explains that there were another group of young men who tested positive for the novel coronavirus and who were also residents in an emergency reception center in Rome. These men were first asked to quarantine for a week in the center in Rome, explains Miraglia. Then, they were transferred on board a ship.
What happened next is also worrying ARCI. Miraglia says that, on testing negative for coronavirus at the end of their quarantine, the group of young men was disembarked in Trapani, Sicily, and put on board a bus and driven to Campania, the region between Rome's region Lazio and Calabria in the tip of the boot of Italy. There they slept overnight in a reception center and were then given train tickets to Rome by the center's staff.
In Sicily, they had been given papers from the questura, the local police department, telling them they had to present themselves at the Roman questura (police headquarters) on Monday, September 12. When they got back to Rome last week, they tried to go back to the reception center where they had been housed previously.
Losing their place in the reception system
"But they had already been discharged when they were sent to Sicily," explains Miraglia. So they were refused entry. "They slept on the streets for two days," says Miraglia. The centers, he says are not full, many of them have beds to spare and could house these people and even provide quarantine centers for them. But fear of the virus is rife in Italy, and whenever groups of positive migrants are bused to centers, some locals demonstrate against it and voice their fears.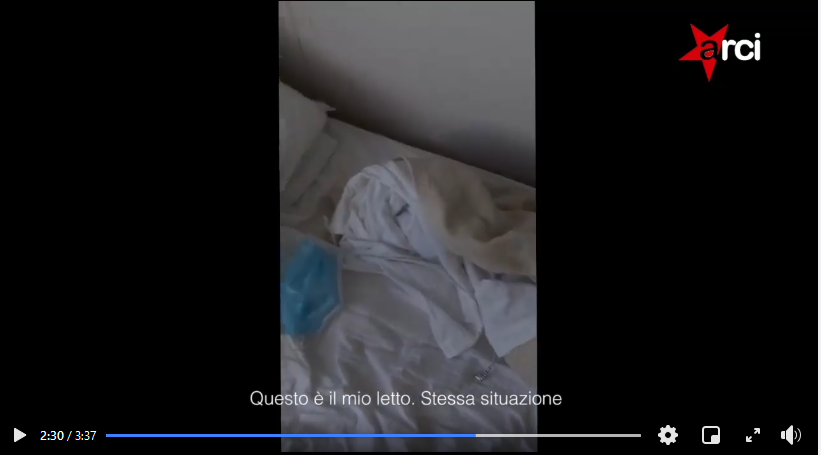 On October 12, the group of young men presented themselves at the questura in Rome, explains Miraglia. Rome's prefect, who runs the questura, is the person to readmit these people to the centers and put them back in the system. Instead, says Miraglia, they received another stamp on their papers telling them "to go."
Essentially, Miraglia says, they have been refused access to the reception system, to which they have a right as asylum seekers.
Some of the group have also been in Italy for years, some for months, all are waiting for a final response on appeal from the courts on their asylum requests. In many cases, these requests have already been refused at the first instance.
'No one should be locked up like a prisoner'
"These people were obliged to board these boats, without explanation," says Miraglia. Quarantine if you test positive is obligatory, says Miraglia, but "no one should be locked up like a prisoner because of it."
He continues, "the government has the right to fine you if you break quarantine, but in no law is it written that people should be deprived of their liberty to enforce public health measures." So, the asylum seekers have been "deprived of their liberty and deprived of their right to reception," which is "totally illegitimate," Miraglia concludes.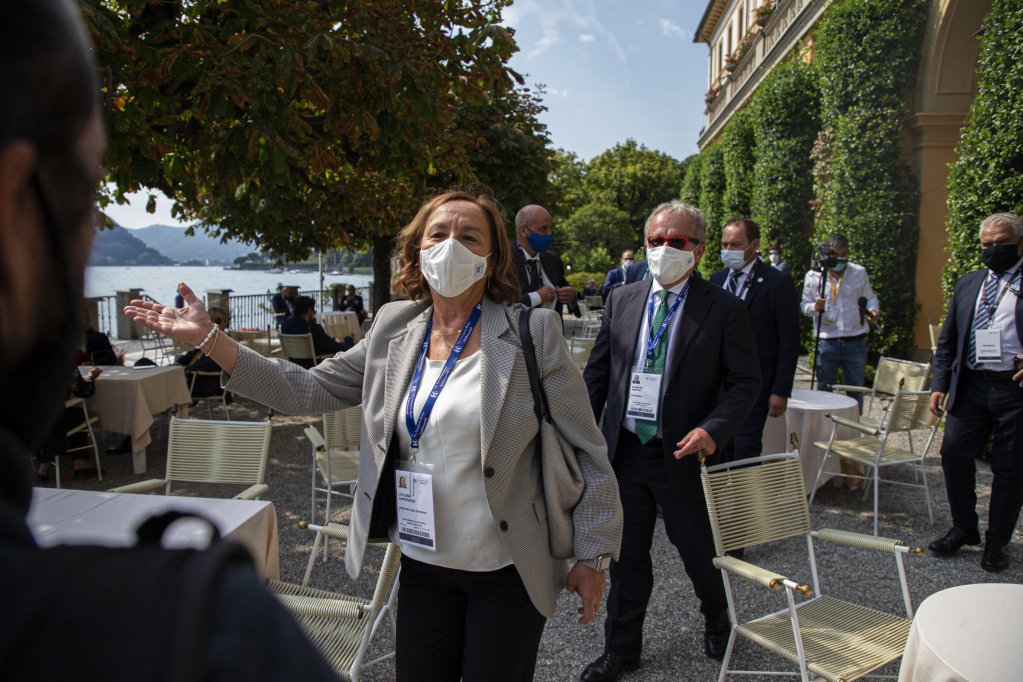 Italian minister of the Interior Luciana Lamorgese, explains Miraglia, says that they are forced to adopt these measures because there is no where else to house these people in quarantine. This is not strictly the case, according to Miraglia. There are places but no one wants these people in their local area, he says.
Unfortunately, the positive changes to migration policy that Lamorgese's government has recently announced are not being backed up by the messaging of these actions, thinks Miraglia. "By packing asylum seekers off to ships, we are saying that they are a risk to public health," says Miraglia.
The head of immigration at ARCI is adamant they need to take their fight to the courts, despite him acknowledging that the process will take "months." In the meantime, "the fear of contagion" as well as "the fact that the government is undertaking these kinds of operations is feeding this negative view" of asylum seekers.
Given this, it's not so surprising that local people fear allowing centers of infection in their local area. "It is like a dog which is biting its own tail!", Miraglia concludes sadly.