Tomatoes were known as Ghana's "red gold." Today however, most of Ghana's markets sell imported products from the EU and China and the tomato processing plants stand empty and abandoned. This is just one of the factors pushing more and more Ghanaians to migrate. Deutsche Welle's documentary "Displaced: Tomatoes and Greed" takes up the story.
Edward 'King' Owusu no longer harvests tomatoes in Ghana, but in Italy, under "appalling conditions," explains a documentary by Deutsche Welle that looks at the reasons behind the exodus of Ghana's farmers towards Europe.
That's because "tomatoes have become gambling chips in global trade products, as have other products. Africa is a lucrative market. Shipments of tomatoes, milk powder and frozen chicken from industrialized nations promise huge profits," explains the narrator in the documentary "Tomatoes and Greed".
Edward is a tall man. He stands, bent under an improvised structure of planks of wood and plastic sheeting, cobbled together against the peeling wall of an old building, his face concentrated on his mobile phone.
Pressure to send remittances home
The pressure on migrants like Edward who have made it to Europe is enormous. Although they only earn a few euros a day, even when they are lucky enough to have found work, they are expected to support often large family networks back home, whose existence depends on their ability to work.
Edward's head is bandaged. He was involved in a car accident whilst on his way to the fields. He is being treated by doctors working for the Catholic charity Caritas and has been told not to work until his wounds have healed. But that is difficult for migrants like Edward.
Whilst his fellow migrants toil in the field, Edward has to stay in the camp, preparing food for when his colleagues return. The worry is etched on his face and he often hides his face in his hands.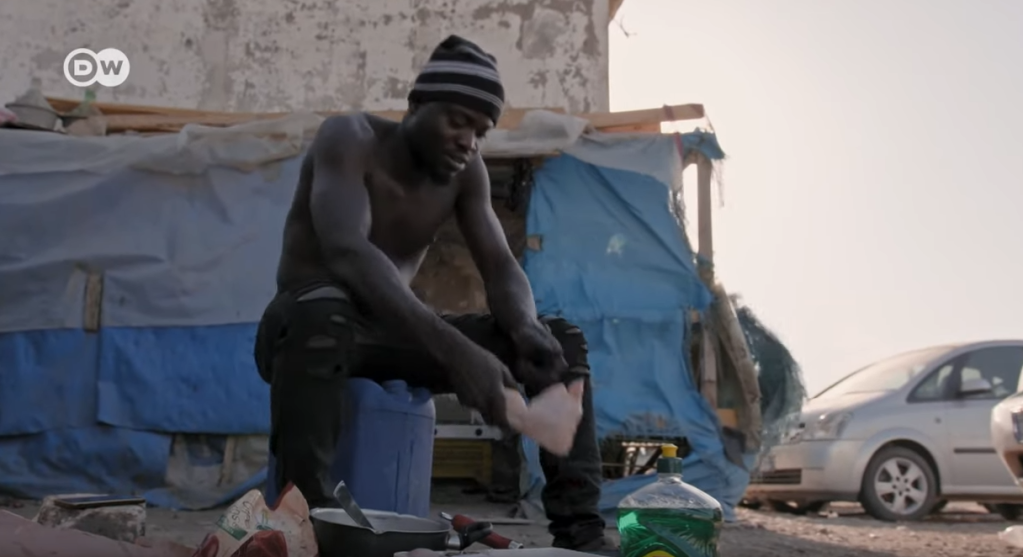 Death of home grown tomatoes
When Ghana gained independence in 1957, the country decided to concentrate on supporting the products it grew naturally in the region. Tomato plants sprang up to turn the "red gold" into canned products to be sold at markets. Today though, "all of Ghana's processing plants have shut down," explains the narrator.
According to the documentary, unstable power supplies, unsuitable tomatoes for canning and the dumping of canned products by industrialized nations have all played their part in the destruction of the processing plants and Ghana's domestic industry.
"It is something that is so frustrating," explains one of the former workers at the Northern Star tomato plant. The factory used to provide jobs for the region around it. Now, the former workers walk around the empty halls, looking up at the machines which used to be humming and busy.
Farming barely pays
In Tubodom, Central Ghana, the documentary talks to a tomato farmer, Benedicta Afrifa. During harvest season, young day laborers wait on lorries, trucks and cars in the hope of being offered money to pick the 'red gold' from the field. The lucky ones wave from the back of trucks taking them to the fields. Many more sit disconsolately at the market place, facing the prospect of no earnings for yet another day.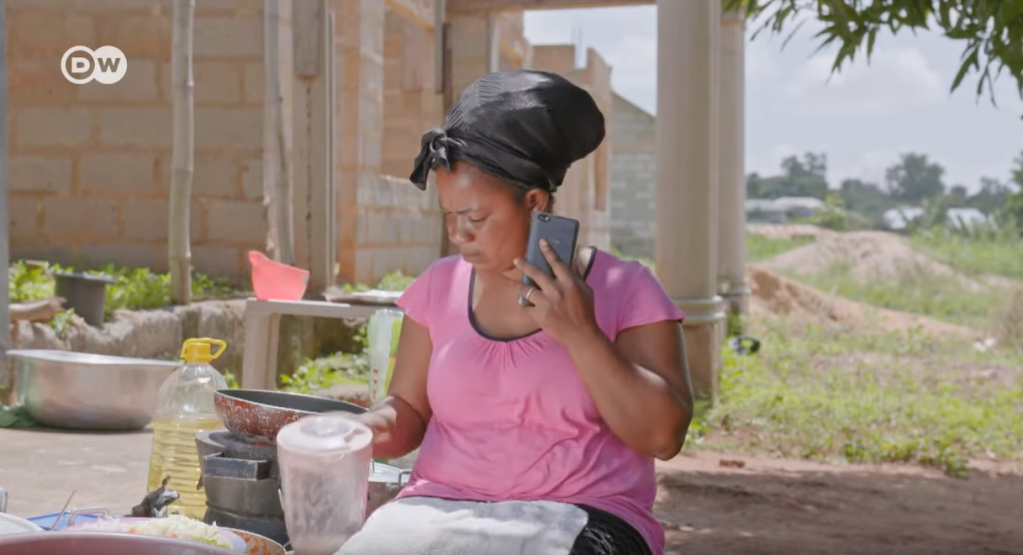 Benedicta explains that before the rains come every year, farmers like her have to buy in water every day to feed their crops. Fertilizer and seeds add to the costs. When no one wants to buy their products at the market, they face a loss.
One of the guys picking in her fields is convinced that "the guys who make it to Europe have a better life than we do." Every day, he says, in Ghana, people are struggling and "have nothing." Another farmer who says his farm is "failing" claims he is "ready to head to the desert." He says that the bank is calling in its debts. Now his only hope is the European dream.
Timothy Apania, an agricultural consultant in northern Ghana said that when the local tomato industry collapsed it indeed "led to suicide." That's because people had no money and the banks "came after them, and they had no money to pay," he explains.
'Rock bottom prices'
Back at the market, the surplus of tomatoes has pushed the prices to "rock bottom." Benedicta says that just a few weeks before she had been offered more but the 270 Ghanain cedis she has been offered means she now "won't earn anything," on her harvest. Sometimes, says Benedicta, crates are sold for just 50 or 60 cedis which is just €10.
"If the market is bad like today," says Benedicta, "we farmers have to give our products away. We sell at whatever price they will give us."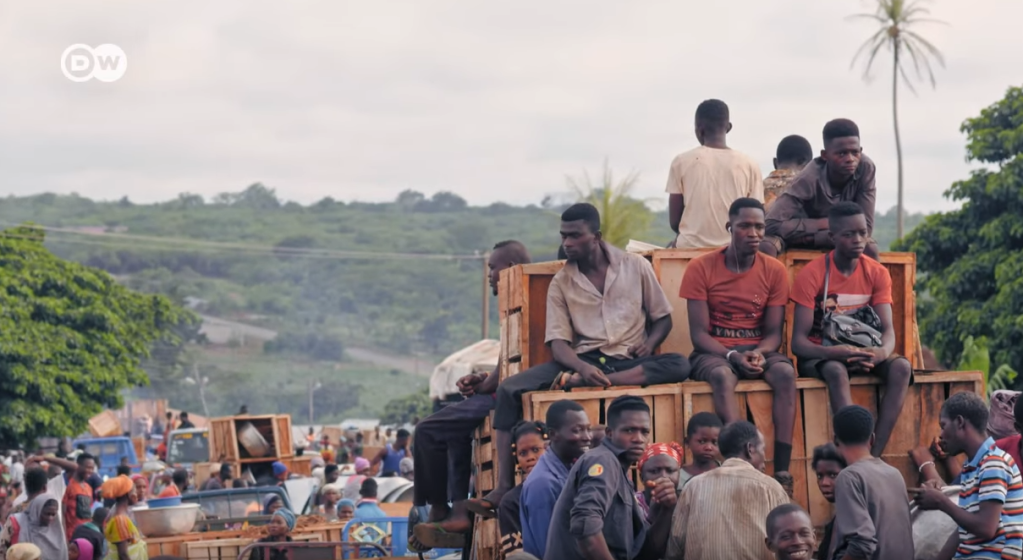 According to the documentary, tomatoes account for "40% of spending on vegetables." The middle classes like to buy the tomatoes canned at the market, but none at the market come originally from Ghana.
The route to Italy
Benedicta's husband has also gone to Italy. To pay for the children's school fees and so they can invest in a house and a well to irrigate their crops. "My husband can earn more there than in Ghana," Benedicta says.
The narrator explains that in the village, those who have relatives in Europe have homes "made of concrete." Benedicta's husband picked apples, then tomatoes and "now he herds animals," she explains.
Although the couple speak every day, his absence is a fact of life, and the only way they can survive, says Benedicta.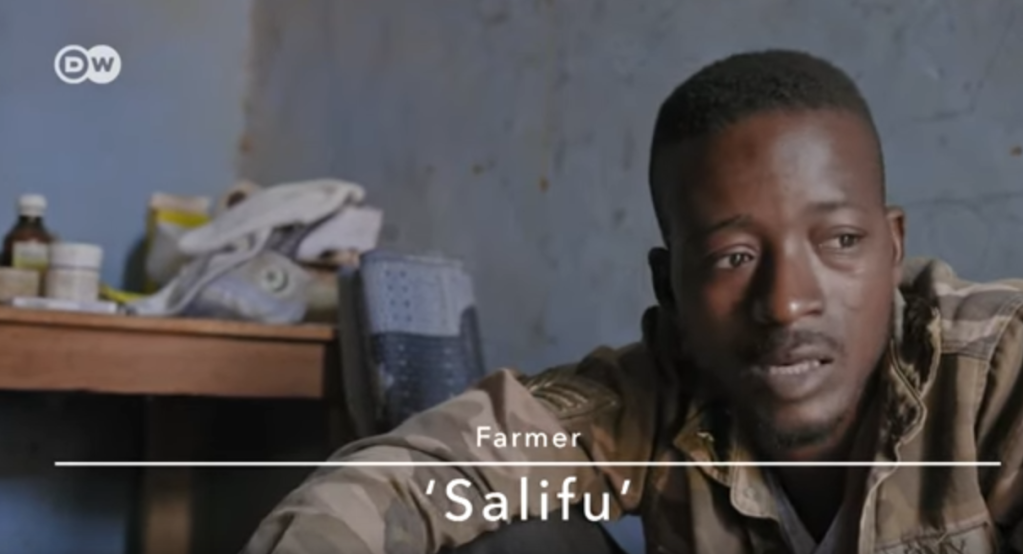 A nearby local farmer named Salifu is about to set off for Europe too. He says his children don't go to school because of lack of funds, something which he is not happy about. Sometimes, he says, the family haven't got enough money to eat. That's why he feels his only option is to migrate.
'Once you are at sea, it's just you and God'
"We've seen the images of dead migrants in the Mediterranean sea," explains Salifu, "that's why my wife is praying for my safe voyage. Because she knows I'm going to give our children a better future."
Salifu has sought advice from the local 'travel agent' who arranges people's clandestine passage to the Mediterranean coast in Africa. He tells people they need to sign up with him because between Ghana and the sea there are "at least 71 checkpoints where you will have to pay money. If you run out of money, they will beat you up, without mercy." The travel agent adds that there are "other armed groups [that] might stop you and mistreat you. If you let me handle things, you usually won't have problems like that."
The travel agent however also admits that once the migrant gets a "spot on the boat," his job ends. He warns the would-be migrants that "they often try to put too many passengers on board the boats," and that that "can be disastrous." He says if that happens, migrants should "protest. Tell them you won't get on an overloaded boat," the man adds, as Salifu's eyes get bigger and he swallows hard.
"Once you're at sea," says the travel agent, in answer to a question from one of his potential customers, "I can no longer help you. Then it's just you and God."
"Even if I die," says Salifu, "my children can be proud of me. Because I won't have died stealing or something like that, but trying to provide a better future for them."
Leaving Ghana
Ghanaian migrants don't just go to Europe. The majority, according to the documentary, work in neighboring West African countries like Nigeria and Togo. Over 100,000 are also in the US and Canada. The United Nations Department of Economic and Social Affairs (UNDESA) estimates for 2018 show that a couple of hundred thousand Ghanaians are also living in Europe.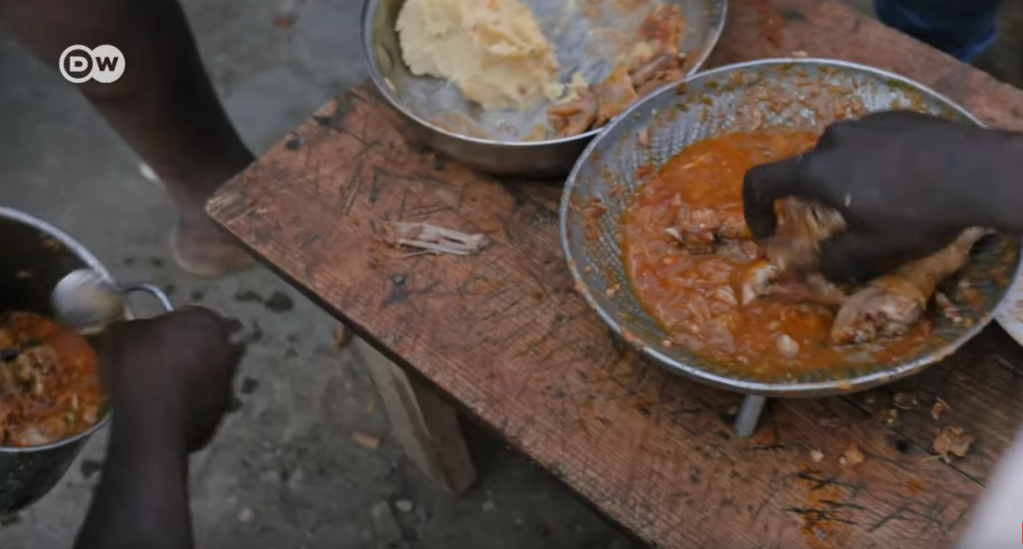 About 114,000 are living in the UK, 30,000 in Germany, 12,000 in Spain and 47,000 in Italy. The documentary explains that the UN migration agency IOM estimates that at least 16,000 Ghanaians migrated to Italy in the last five years.
The red earth in the tomato fields in Puglia, southern Italy, looks similar to the earth in Ghana. The people working the European red earth are predominantly Ghanaians and other West Africans.
'This crate gets you €3.50'
The workers shake tomato bushes, heavy with fruit, into big plastic blue crates which look at least one meter by one meter by one meter. "This crate gets you €3.50" explains one of the workers. The documentary adds that the "heavily subsidized tomatoes," grown in Italy, combined with the "rock bottom prices paid to the migrant workers," means that production costs are kept unnaturally low and are contributing to flooding the domestic Ghanaian tomato markets. A kind of vicious circle of a problem.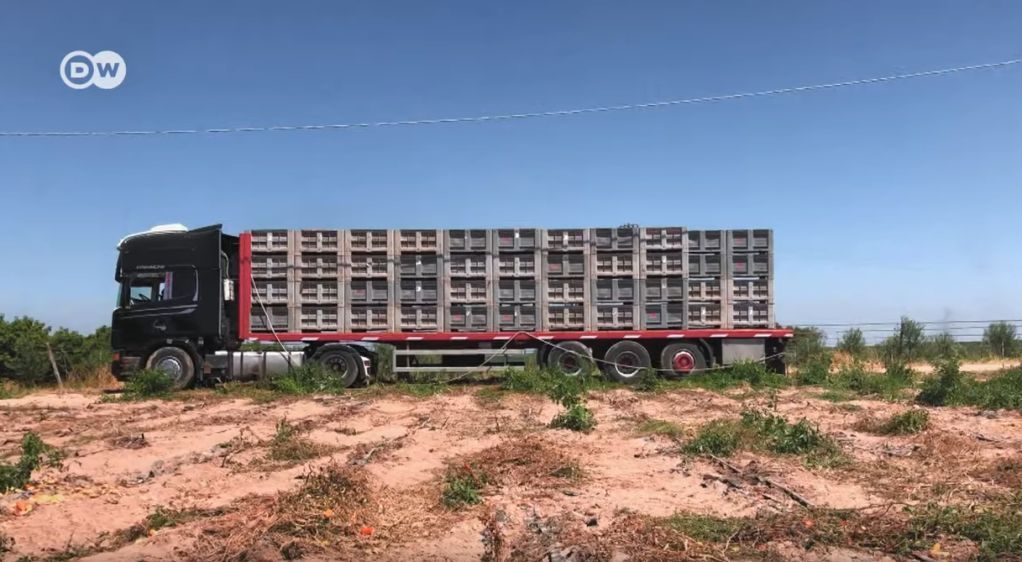 "From morning to evening we can collect 20 to 30 euros, a day," says one migrant worker. "If you told someone in Africa [about the conditions in which we work] they wouldn't believe you," continues the worker. Edward, with his bandaged head, looks on as his colleagues show pictures of what they have harvested on their phones.
The workers, explains the documentary, are often recruited by mafia middle men in a system called "capolorato." It is a system that the Italian government is trying to fight, but since many of the migrant workers have no residence permits or papers in Italy, they are easily exploitable. And even €20-30 a day is more than they could earn for the same job in Ghana.
'We live in a ghetto'
Edward is sitting on his makeshift bed, his bandage still on his head. "We live in a ghetto," he explains. He used to pick tomatoes in Ghana too. But there, he would pick each fruit carefully off the plant, leaving the green. In Italy, the workers are expected to rip the whole plant from the ground and shake it in order to quickly fill the crates and make enough to feed themselves and all those who depend on their wages back home.
Edward says he can't tell his family about the conditions in which he lives. "If I tell them, they will worry," he says quietly, as he sits with his colleagues around makeshift tents, and a shack in the middle of the fields. The men see no way out.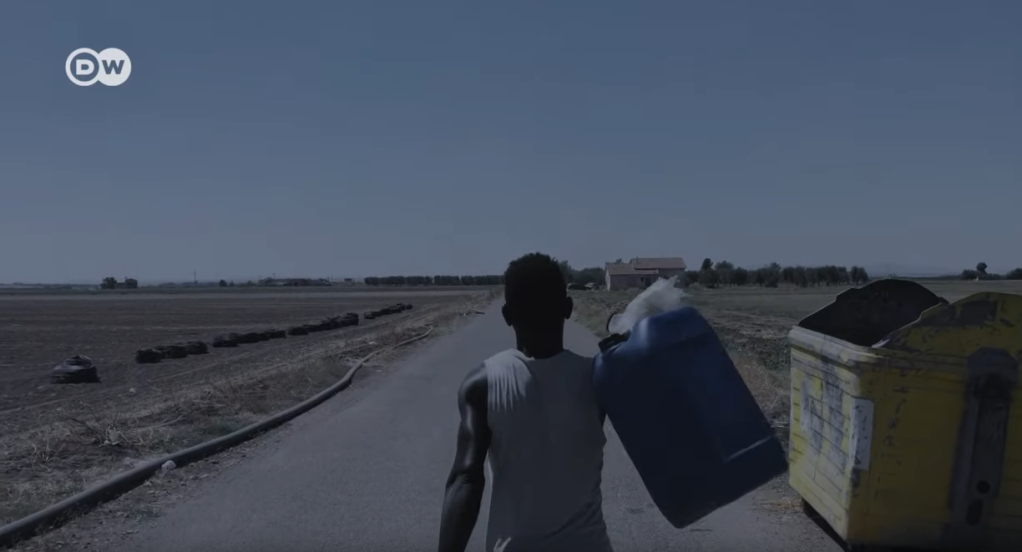 "We're not here to relax," explains Edward's colleague, a man called 'Rasta.' "Maybe it would have been better to stay home than to come to this wilderness." Edward has been in Italy four years now, explains the narrator. He is hoping he will one day make enough to return home, but the truth is, after sending back remittances, "he barely has enough to live on for himself."
Fighting to change the system
In Italy, Edward explains, he is often subject to prejudice because of the color of his skin. There are a few cooperatives in Italy which are trying to fight the system. Just like in Ghana, the costs of water, tractors, seeds and fertilizer are roughly fixed; the only cost that can be reduced is labor. And when in Italy a kilo of tomatoes can fetch a farmer as little as "five cents," according to the documentary, it is perhaps not surprising that it is labor that suffers.
Pietro Fragasso from the Pietra di Scarto cooperative in Cerignola, Italy is trying to bring fair trade back into the system. But his is just one tiny action against the juggernauts of the commercial producers.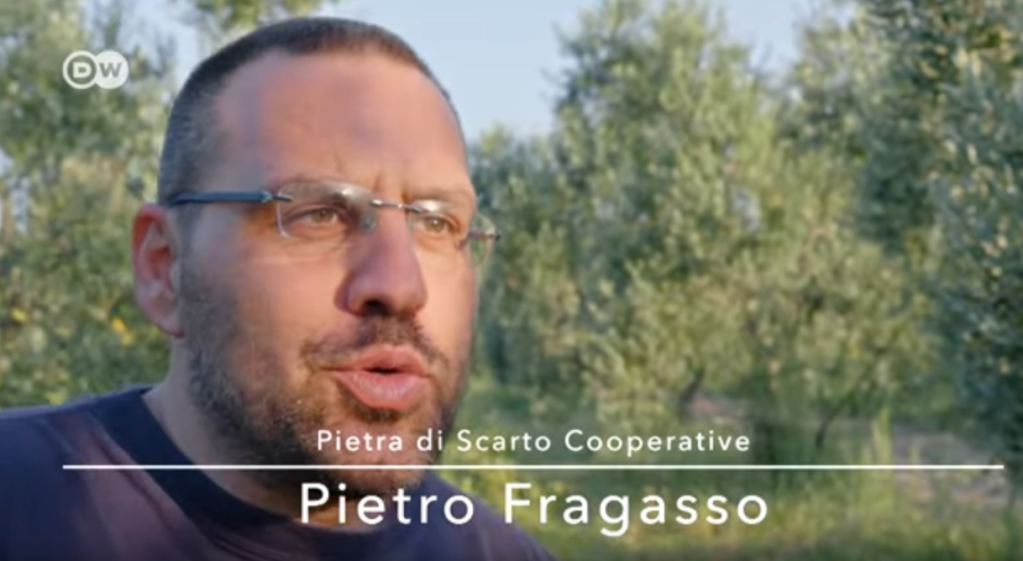 At his farm, he processes his tomatoes in a plant where people are paid fair wages and he pays his workers fair wages too. His workers pick the fruit and leave the plants in the ground to produce more. But as he drives his small harvest of passata, or tomato puree to the shops, he passes heavy loaders full of tonnes and tonnes of tomatoes.
He says: "We need to decide whether tomatoes are worth paying for, if not, we are stuck with slavery." The system, says Fragasso is "sick and utterly crazy."
Losing control of domestic markets
According to Eurostat figures presented in the documentary, the EU exported a total of €23.2 million worth of tomato products to West Africa in 2018. Milk powder and concentrate accounted for €258.6 million and meat accounted for €411.4 million of exports from the EU. And those figures are almost insignificant if you start to look at how much China is exporting to the African markets overall.
In fact, according to the documentary, Italy's tomato products to Ghana are just a "small player" in a global game. In the past, Ghana has tried to introduce tariffs to protect its domestic products. But, according to the documentary, it got into trouble when it raised import tariffs on tomato products to 40%. Currently they stand at 10% and the cheaper imports can be found all across the country's markets.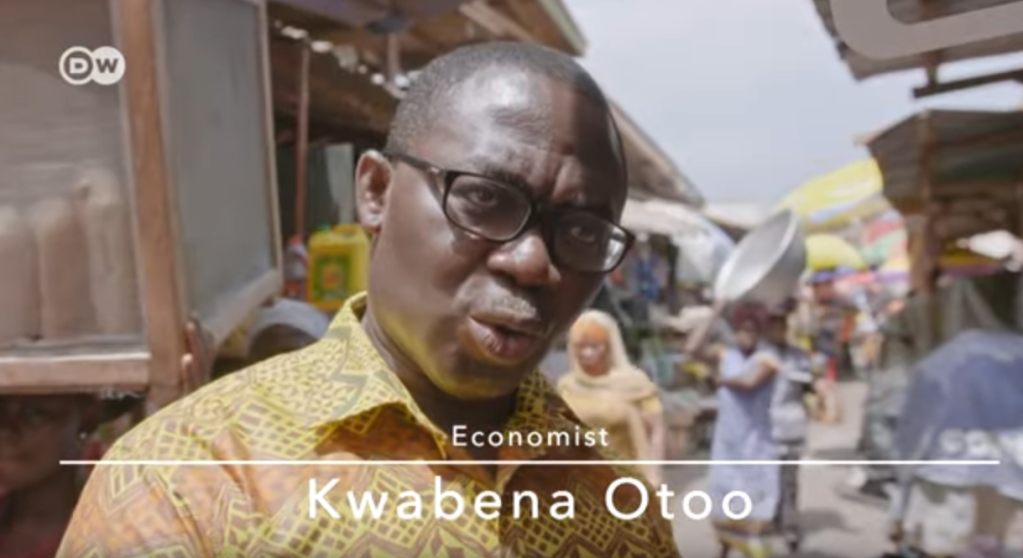 Ghanaian economist Kwabena Otoo says that the problem is that African countries have essentially lost control of their own markets. If they try and raise tariffs or ban imports which are destroying local livelihoods, they often face being kicked out of international trade bodies or associations.
"In the 1990s, we produced around 90% of our poultry needs," explains Otoo. "Now we account for about 5%. That 95% coming from elsewhere, it translates into job losses here. It translates into the destruction of livelihoods, it translates into poverty down here. And it translates into frustration, which leads young people to want to get out of this country."
'Leaving feels like the only option'
Like Salifu, the narrator explains, "many young men in the region are tired of waiting for life to improve. They get to the point where leaving feels like their only option."
But, once in Italy, the migrants who already made it feel stuck too. "We can't go back to Africa like this," says Rasta, looking down at his dusty hands and ripped clothes. The place where he sleeps is probably more ramshackle than the village he left in Ghana. He says he is praying to god that "one day I will achieve my destiny." However, it is unclear how that will manifest. Meanwhile, the men gather around a small stove, fueled by a gas bottle, where they eat maize meal and chicken stew from the pot with their hands.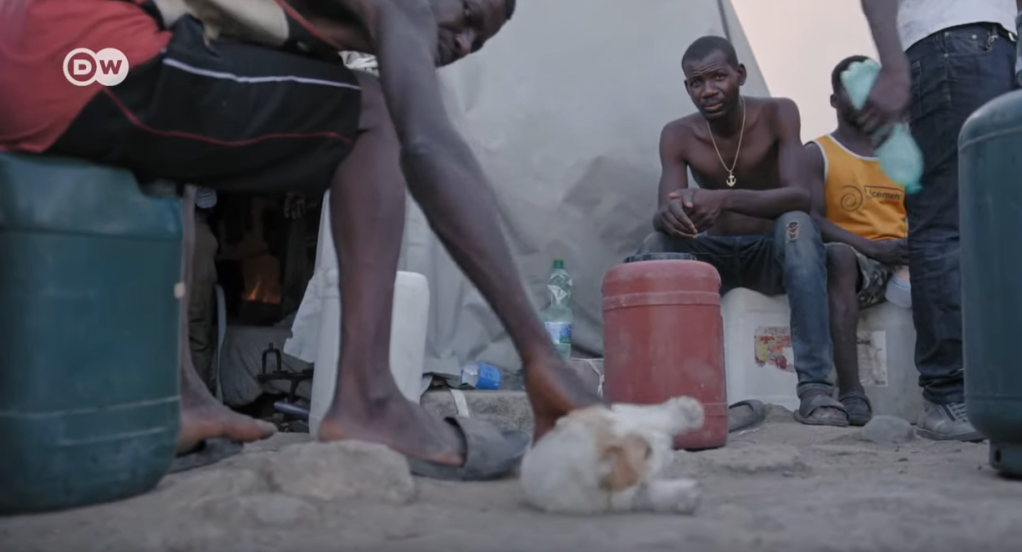 All of the men know that their relatives are depending upon them and often ring up to ask for more funds for education or training, or to provide food to put on the table. One man comments quietly, "I sent money home so they could slaughter an animal, and they rang back and said 'it is rather small this year.'" The men laugh resignedly. The only thing left to them is to get up the next day and pick as many tomatoes as they can so they can amass enough to make their next remittance payment home, and keep working for the dream, which appears to have turned to dust, among the fields of Puglia's 'red gold'.
This article was based on the documentary film made for Deutsche Welle by Elke Sasse: 'Tomatoes and Greed --The exodus of Ghana's farmers. It is one episode in a three part documentary series about displacement from Deutsche Welle.
Part One is called: Oil and Ruin --Exodus from Venezuela
Part Two is called: Drought and Floods -- The Climate exodus