Ylva Johansson, the EU commissioner for home affairs, has expressed concern about the growing number of migrants arriving on the Spain's Canary Islands. Local authorities want more help from Madrid and Brussels while rights groups are calling for the evacuation of the overcrowded port camp on Gran Canaria.
EU Commissioner for Home Affairs Ylva Johansson told German news agency dpa in Brussels that the large number of people setting off on the "deadliest" migration route – from Africa to the Spanish Canary Islands – showed how necessary EU asylum and migration reforms were. (Johansson and Ursula von der Leyen had introduced such a set of policy proposals in September.)
Johansson said that it was important that people who had no right to international protection would be deported. At the same time, she said, the right to asylum had to be protected.
Criticism from humanitarian groups
Some humanitarian organizations have recently questioned whether people are being given the chance to claim asylum, however. According to statements published by Amnesty International and Human Rights Watch (HRW) on Wednesday, citing local press, authorities on the Canaries have processed deportations without offering legal assistance to the migrants.
"This is a serious irregularity, which must be ended immediately," said Amnesty's Spain director Esteban Beltran. The Spanish interior ministry has denied these accusations.
Amnesty and HRW also called for changes to migrant reception, in particular on Gran Canaria. Amnesty said the camp at Arguineguín port on the island was "overwhelmed" and HRW called on Spanish authorities to "immediately alleviate overcrowded and unsanitary conditions [there.]"
Mustafa Galah Leman, who works Catholic charity Caritas on the ground in Gran Canaria, told German news agency KNA that conditions at the camp were "completely unacceptable, inhumane, and dangerous for migrants health."
Efforts to relocate migrants from Arguineguín port
The Canary Islands have seen a large surge in arrivals by migrant boats. More than 15,000 people have arrived on the Canaries so far this year, roughly four times as many as in the last two years combined. Between Saturday and Monday, a record number of more than 2,200 migrants arrived on the islands.
Gran Canaria has seen by far the largest share of arrivals. It houses a makeshift camp at Arguineguín port, which was initially set up to process arrivals and carry out virus tests. It was meant to accommodate just a few hundred people, but is currently housing between 1,500 and 2,000 migrants, according to news agencies. Among them are over a dozen people who tested positive for COVID-19, according to reports by news agency AP, citing a local official.
Last week, during a visit to Gran Canaria with EU commissioner Johansson, Spain's Interior Minister Fernando Grande-Marlaska announced that the makeshift camp at the port would be closed "in the coming weeks" and its residents would be relocated to "military sites" in island capital Las Palmas, Gran Canaria's capital.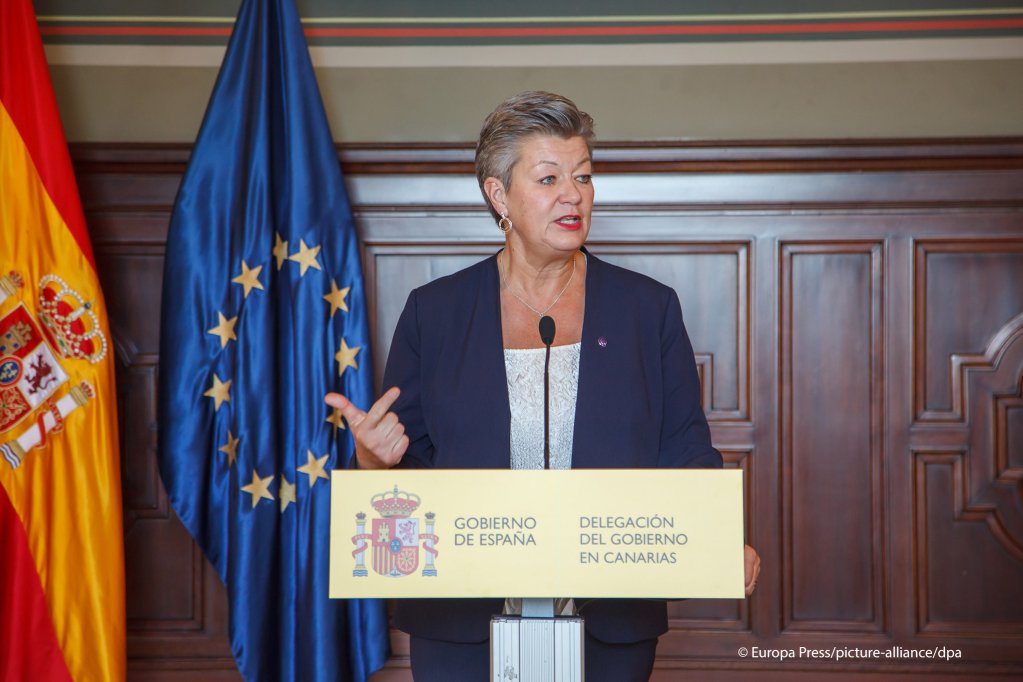 Local government overwhelmed
Some local politicians on the Canaries have criticized the EU and the Spanish government for not doing enough to help authorities on the islands.
Antonio Morales, the cabinet president of Gran Canaria, told KNA that "Spain and the EU are trying to turn the Canaries into a second Lesbos and a kind of prison island. The strategy is clear: The migrants are supposed to feel like they have not arrived in Europe." (The Greek island of Lesbos is known for housing thousands of migrants and refugees in inhospitable, overcrowded camps.)
On Wednesday, the mayor of the town of Mogan (which includes the Arguineguín port), Onalia Bueno, called on the central government to urgently relocate migrants from the port camp to military facilities.
"This temporary camp that was set up on August 20 for 400 people has become permanent, due to the reluctance of Spain's government to open up military installations,'' Bueno told Telecinco TV, according to news agency AP.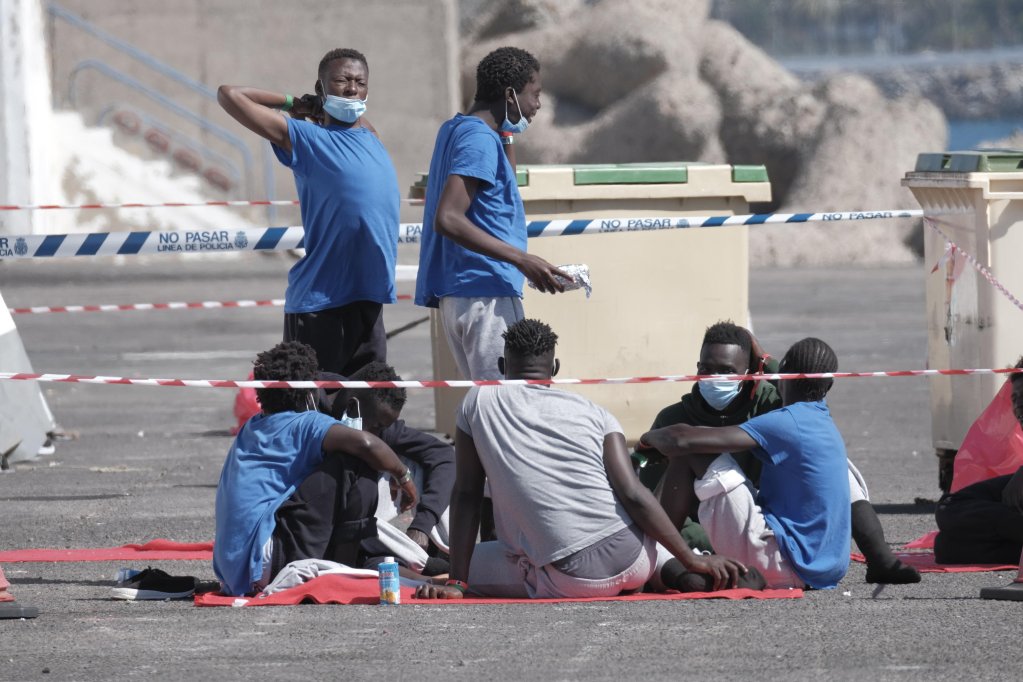 Anti-migrant protests
Some locals on Gran Canaria have staged protests against the presence of migrants on the islands. Last week, villagers in Tunte near Arguineguín port took to the streets. Ricardo Ortega of the local fishers' association told KNA: "We live off tourism. Many tourists are staying away because of corona. The pictures of masses of refugees could keep even more tourists away." He also claimed to be "not anti-refugee at all, but against such an invasion of illegal migrants."
Meanwhile, island hoteliers – some of whom have housed migrants in rooms left empty amid the coronavirus travel restrictions – are also calling for more help from Brussels and Madrid in accommodating migrants.
"We have shown a lot of solidarity and we have preferred to help in a human way to avoid a drama like the ones we have seen in other European territories, but now we have to find other solutions," Tom Smulders, vice-president of the Canaries' FEHT hotel federation, told news agency Reuters. He added that the Canaries could not "become the reception center for the whole of Europe."
The route to the Canaries
The crossing from Africa to the Spanish Canary Islands is one of the most dangerous migration routes worldwide. According to the UN migration agency's Missing Migrants project, some 500 people have died trying to reach the Canaries from Africa so far this year.
But the actual number is likely much higher, as many boats are lost at sea and never found. Last month, at least 140 people died trying to make it from Senegal to the Spanish islands. At their closest point, the Canaries are located about 100 kilometers west of Morocco.
With AFP, AP, dpa, KNA, Reuters