Protestors on the Spanish island of Gran Canaria have rallied in support of better living conditions for the thousands of migrants who have reached the Canary Islands from Africa in recent weeks and months. The Spanish archipelago saw almost 1,300 migrants arrive from Africa on 42 wooden boats during the weekend alone.
Hundreds of demonstrators have taken to the streets of Gran Canaria to protest the way that migrants are being treated. Away from the island's tourist hotspots of Maspalomas and Playa del Ingles, they marched to the port of Arguineguin, where many migrants arrive and are processed for registration and COVID-19 testing.
"We are here fighting for a more dignified reception for these people who arrive on our island to find a better life," said one demonstrator, teacher Famara Brito.
More people are once more seeking irregular migration routes to Europe – and taking desperate people to the Spanish archipelago of the Canary Islands, known for its pristine beaches and lavish hotels, has now become a growing trend among human traffickers.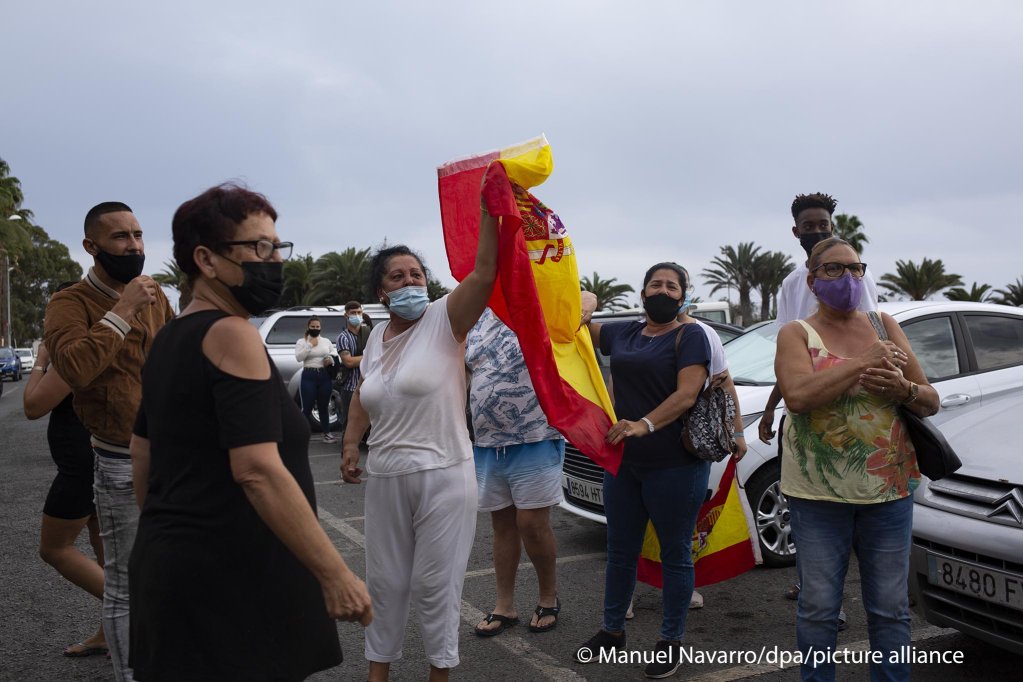 'Inhumane and degrading' conditions
Aid groups estimate that about 4,000 migrants are currently living in tourist hotels on the islands, which are part of EU territory. With skyrocketing numbers of new arrivals, there is a dire lack of refugee reception centers on the Canary Islands. The Federation of Hospitality and Tourism Enterprises of Gran Canaria has already called on the government to do something so hotels could be used again for tourists.
Some of the less fortunate people among the migrant population are forced to go to camps. The town of Mogan on the western side of Gran Canaria hosts one such camp with nearly 2,000 migrants in tents and huts. The pier of Arguineguin is meanwhile also serving as a makeshift migrant camp in the absence of alternatives. Some have reportedly been camped out there for many days, forced to sleep on the ground, according to the Human Rights Watch NGO.
An immigration judge has recently referred to the living conditions there as "inhumane and degrading." Arcadio Diaz Tejera said that migrants were packed together "like cattle" on the pier.
Spanish government prepares comprehensive action plan
Spain's regional policy minister said the government would expand naval patrols around the Canary Islands to intercept migrant boats, and would explore options to set up more migrant centers in response to the recent surge in arrivals. The government has vowed to dismantle the makeshift camps and move the migrants to military sites elsewhere on the archipelago.
Spain has also announced that it would send two senior ministers to Senegal and Morocco to try and stop soaring numbers of migrants. Foreign Minister Arancha Gonzalez Laya will head to Senegal, while Interior Minister Fernando Grande-Marlaska will travel to Morocco.
The government said it "wants to encourage the diplomatic path" to ensure "nobody risks their life getting aboard one of these boats."
Gran Canaria: a new destination for migrants
But the last weekend saw 1,275 new arrivals on the Canary Islands alone, bringing the total number of refugees and migrants there to nearly 17,000 this year. That number reflects more than ten times the annual arrivals last year. And many of those that dare to take the dangerous sea route die or remain unaccounted for.
Read more: Record number of 2,200 migrants arrive on Canary Islands between Saturday and Monday
The vast majority of migrants on Gran Canaria and the other Canary Islands are Africans, who cross the waters of the Atlantic from Senegal, Mauritania or Morocco. The COVID-19 pandemic has made the living conditions in their home countries worse for many of the migrants – a driving force behind their wish to seek a better life elsewhere. Droughts, economic woes and increasing violence across the African continent have also been pushing people to leave their homes to seek out opportunities in Europe.
Back in 2006, Spain saw some 30,000 migrants arrive on the Canary Island. Then, the country signed bilateral agreements with the main countries of origin to invest in local infrastructures and opportunities there in a bid to keep people from risking their lives en route to the islands.
with Reuters, dpa, AFP