Police in Sarajevo say they suspect migrants in the murder of a local man earlier this week. The incident prompted several hundred people to protest on Wednesday against the presence of migrants on the streets of the capital.
A fight broke out late on Tuesday in Ilidza, in the western Sarajevo suburb of Otes. Police and an ambulance were called to the scene, where they found the body of a 36-year-old Bosnian man who had been stabbed. Two other men were also injured.
A spokesperson from the Ministry of Internal Affairs of the Sarajevo Canton, Mirza Hadziabdic, said three men were still on the run. "According to police information, they are migrants," he said.
Hadziabdic added that there was an escalating crisis in Sarajevo, with not enough places in migrant centers and a number of migrants on the streets. 
The death on Tuesday in Otes is the third murder in the Canton in which migrants are suspected, according to Hadziabdic.
A spokesperson for the Sarajevo Canton Prosecutor's Office, Azra Bavcic, said several other criminal cases involving migrants are also being investigated. They included murders, robberies, damage to property and drug possession, she said.
Zurnal, an online magazine reporting on corruption in Bosnia and Herzegovina, reported that the Interior Minister was inflating the issue of migrant crime: It said of 3,433 crimes in the Canton, only 88 had been committed by migrants. 
Citizens protest
A day after the murder, several hundred people joined a street protest in the Ilidza district calling for migrants to be removed from the city's streets.
"We will not tolerate this any longer," local official Dzevan Poturak said. "The people do not want to take matters into their own hands."
Bosnia has seen an increase in the number of migrants trying to reach Western Europe from the south. Many pass through the capital, Sarajevo, en route to the northwestern border to Croatia.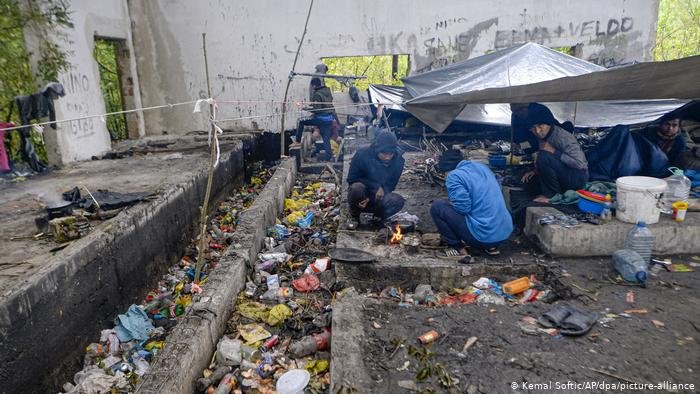 With AP, Zurnal, radiosarajevo.ba