Mbaye Babacar Diouf was just 15 when he arrived in Spain after crossing the Atlantic in a small boat to the Canary Islands. On arrival, after receiving care from the Red Cross, he promised himself he would -- one day -- become a nurse. He's achieved that dream and is about to embark on his next challenge -- to become a doctor.
"I feel a lot of satisfaction having made my dream of being a nurse come true: Doing my daily work, doing the work I like and seeing people through to recovery. It gives me a lot of strength," says Mbaye Babacar Diouf in a video on Deutsche Welle.
Babacar is seen going about his business: he looks tall, competent, calm and smiles broadly, at least in the few shots where he is not wearing a mask. He seems happy, and his story is truly one of success but behind those appearances, there is a long struggle of hardship and determination.
His story appears to have enchanted editors across Spain and the world, as evidenced by Babacar's Twitter feed where he retweets the various articles that have charted his success. In this article for El Transitor, he talks about how he paid his debts to the mafia that trafficked him, and then met his "guardian angel" - a Basque man who came to adopt him.
Waves eight meters high
Babacar arrived on the Canary Islands archipelago when he was just 15 years old. He told the news agency Associated Press (AP) that his journey from West Africa to Spain lasted ten days, and that he arrived "hungry and dehydrated." The waves, he said, were sometimes "eight meters" high.
Babacar made the crossing in 2003. He told AP, he still "remembers the silence on the wooden fishing boat, when on the seventh day of their second attempted crossing, they encountered dozens of floating corpses." He explained to reporter Aritz Parra: "That's when you realize that there is no way back. Either you make it - or you die."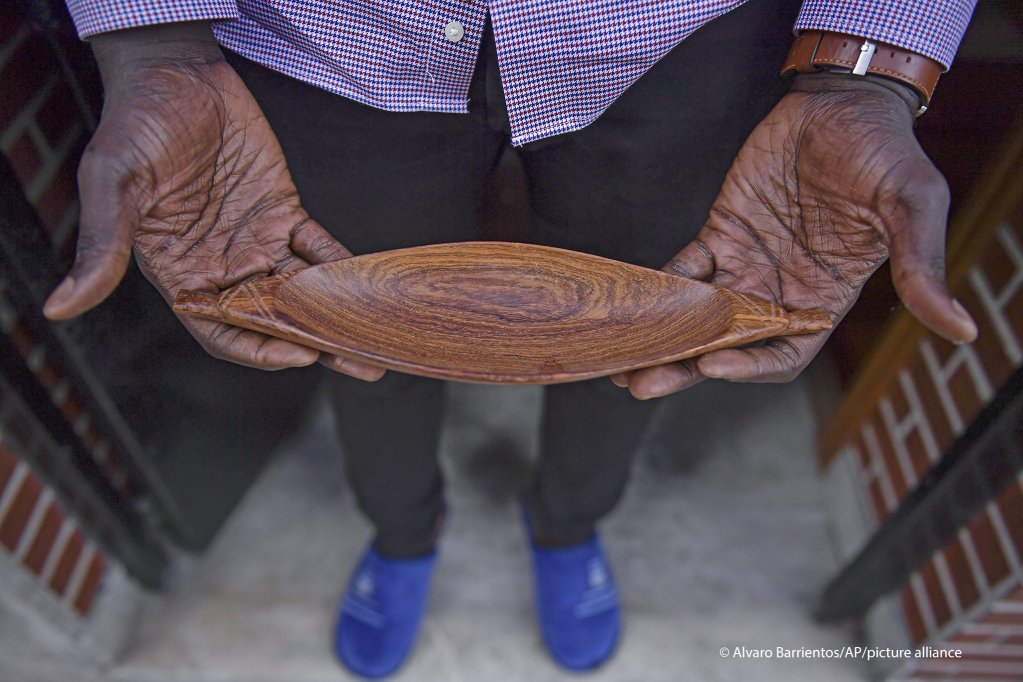 But the boat crossing, although tough, is nothing compared to Babacar's long journey into integration in Spain. He told AP, "the journey on the boat can last just a few tough days, but adapting to a system that leaves us in limbo, on European soil but without permission to legally work is like being born again and having to relearn everything."
'That instant, I promised myself that one day I would be a nurse'
On arrival in the Canary Islands, Babacar was first touched by the care he received from Red Cross volunteers who helped him and the other 137 others on his boat. "That instant, I promised myself that one day I would be a nurse," Babacar told AP.
What followed was not so welcoming. Babacar owed €4,500 to human traffickers for his trip and told AP he was "scarred from years of humiliation and exploitation" trying to repay that debt. Like many other migrants who arrive in Europe, Babacar slept in the open and managed to survive by selling goods on the streets for the migrant traffickers who had brought him over.
Some days, he couldn't "dodge the police raids and landed in a cell." When he eventually found a house to sleep in, he was again charged high prices by the trafficking networks to share poor accommodation with several others.
A lack of papers blocks access to health care and often also to places to rent or a proper job. Most migrants then end up working illegally, off the books, where the potential for exploitation is often far greater. Many migrants never manage to escape this "vicious circle of debt and irregularity," reports AP.
Adopted by a local
At some point, Babacar made it to the north of mainland Spain and the Basque country - in the region's capital, Bilbao. It was there that he came into contact with a retired art teacher called Juan Gil, who was washing dishes at a local bar.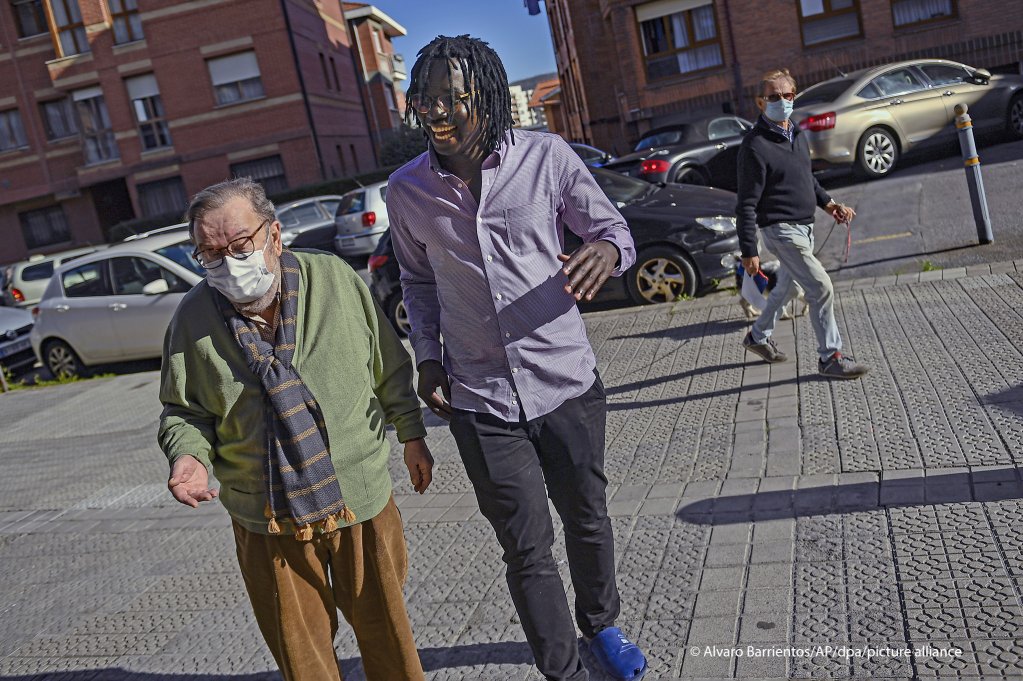 According to AP, Gil needed some work doing in his house and after meeting Babacar at the bar, he invited him to dinner. Soon, reports AP, "the young worker became a guest at every meal." Gil was recovering from the grief of losing his mother, and his daughter had already moved out of the family home. He asked Babacar to move into the house, allowing him to leave the small four-room apartment he was sharing with 15 other men.
Gil told AP: "I told my daughter that Mbaye was lucky. But she told me we had been the lucky ones with him. And she was absolutely right." The two men became so close that Gil has now officially adopted Babacar, and his surname is listed on Babacar's Spanish passport.
With the help of Gil, and the adoption at the age of 28, which - according to AP - involved "a lengthy and expensive battle against bureaucracy," Babacar has been able to pay back his debt to the people traffickers, "send more money to relatives" in Senegal, and enroll in nursing school.
Walking out of the shadows
Today, Babacar works for the Basque regional public health service, and has been busy helping the country nurse the many people who have been affected by the coronavirus pandemic. As well as studying and now working as a nurse, Babacar also volunteers with migrant groups in Spain, helping other migrants find their path to integration and to get out of the debt cycle, which - for most migrants - their journeys brought them into.
At a gathering of young migrants in Bilbao, Babacar sits in the circle and says: "I wish every one of you achieves your life goals, but I don't desire for anybody the complicated and tough journey that I went through."
Babacar wants to make sure that other migrants understand that even if you manage not to drown en route, life in Europe is not easy, because for many, life will be lived "in the shadows" - without official papers or recognition.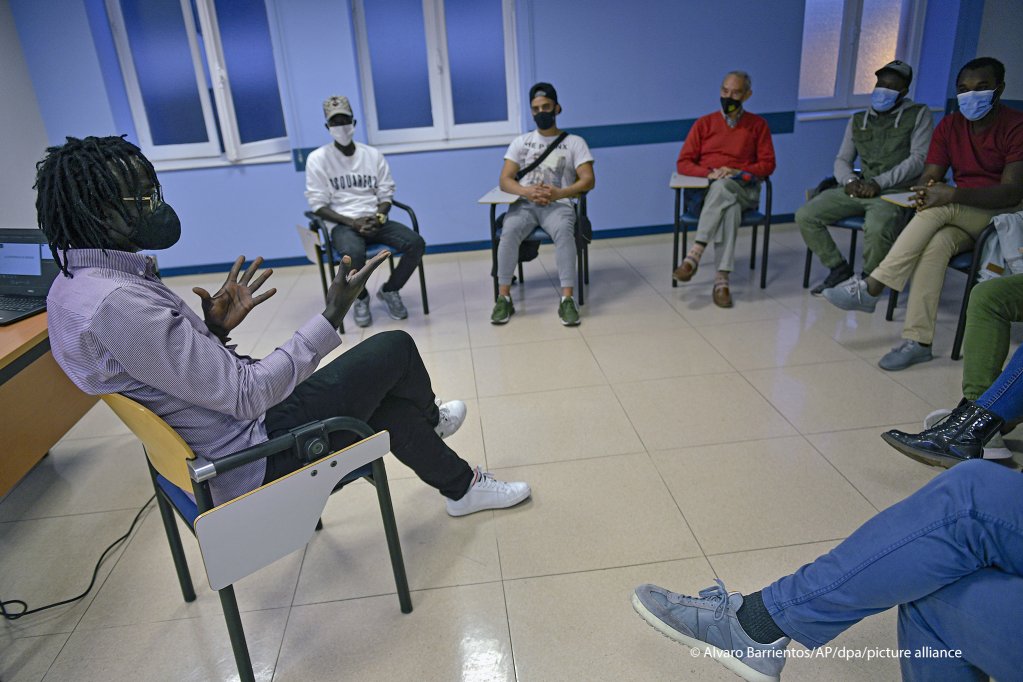 'Goal is to infuse them with critical thinking to make informed decisions'
Babacar doesn't just want his message to reach those who have already arrived, but wants to also get in touch with people in Senegal, too. He has set up a non-profit organization back in Senegal, called Sunu Gaal, which means "Our Fishing Boat" and is run in his native Wolof language.
He's hoping to build a school in Senegal with money he raises with the organization. "The idea," Babacar tells AP in fluent Spanish "is not to tell them to migrate or to stay put. The goal is to infuse them with critical thinking to make informed decisions, and thus not to fall prey to the mafias."
It seems with the numbers of young people attempting to make it across the Atlantic from Senegal to the Canary Islands increasing - and with it the numbers of those who don't make it also on the rise - Babacar's message is needed even more now than ever. The Spanish government has also been stepping up its measures to try and deter migrants from crossing - with limited success.
And Babacar is not going to stop there: Having acquired his nursing qualification, his next dream is to study medicine and become a doctor. That way, he hopes to give back to his adoptive country and the country of his birth, by offering health care for those who need it and also adding another reason for those who might see Europe as their ultimate destination to realize that life in Senegal might be getting better too.
This article was based almost entirely on a feature from AP by Arritz Parra.