The makeshift tent camp on a pier in Arguineguín, which was used to process and accommodate migrants who tried to reach the Canary Islands, was cleared by authorities on Sunday after being used for three months. In November alone, more than 8,000 people arrived on the Spanish Atlantic archipelago. Meanwhile, 68 migrants arrived on Gran Canaria today on two small boats.
Spanish authorities have dismantled a makeshift tent camp where thousands of migrants were brought to and processed over the past three months.
The camp on a pier in the small fishing village of Arguineguín on the southern coast of Gran Canaria became known as the "dock of shame'' due to the cramped and squalid living conditions of thousands of migrants who stayed there after they arrived on the Canary Islands, some of them for a week or more.
On Monday (November 30), the Spanish government's delegation on the archipelago confirmed that all the 830 people who were being held Friday on the dock had been moved out by Sunday night to other facilities on the island. According to news agency AP, the last to leave the site were 27 migrants who had tested positive for COVID-19 and had been placed in isolation.
No one at the dock
"Today dawns for the first time in the Canary Islands, after three months, without anyone having slept on the floor of the Arguineguín dock. 72 hours without arrivals in Gran Canaria and for once the 72 hour rule has also been complied with," Txema Santana, who works for Gran Canaria's refugee council, tweeted on Monday.
Assisted by Red Cross volunteers, most of the some 14,000 migrants who have arrived on the Canaries since late August have spent time at the Arguineguín dock. During this whole time, journalists weren't allowed access and had to stay behind a yellow plastic fence over 50 meters away from the tents.
At the peak in mid-November, nearly 2,600 people slept, ate and were tested on the dock under police watch after arriving on orange Salvamento Marítimo search and rescue (SAR) vessels. According to Spanish daily El Pais, the camp comprised an area of 3,800 square meters with 13 tents and 25 portable toilets.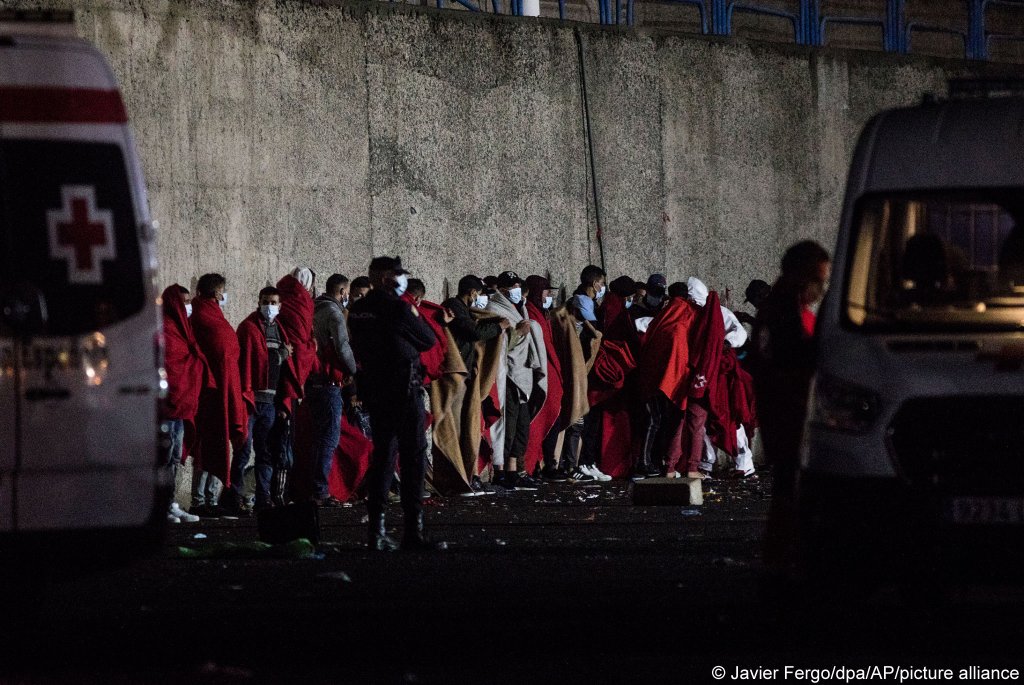 On Tuesday (December 1), Spanish news agency Efe reported that a total of 68 migrants of Maghreb origin, including one minor, arrived on Gran Canaria around 1 am Tuesday morning on two small boats. While one boat was helped by Salvamento Marítimo to the Arguineguín pier, the other one arrived in the coastal city of Maspalomas by its own means.
Located some 100 kilometers west of the African coast, with Morocco and the disputed territory of Western Sahara being the closest mainland countries, Spain's Canary Islands consists of seven large and several smaller islands. The archipelago, which attracts some some 15 million visitors a year in non-coronavirus times, is home to 2.2 million people.
Relocations to other facilities
The makeshift tent camp on the small pier in Arguineguín had been repeatedly criticized by human rights organizations and others for its poor conditions. Many migrants were left to sleep with just a blanket and no showers. According to AP, "potential asylum seekers had no proper access to legal advice and some people were held for much longer than the three days that the law allows."
Anselmo Pestana, the Spanish government delegate in the archipelago, told reporters on Monday that all migrants were brought to makeshift military facilities with better infrastructure and hotels across Gran Canaria and other islands.
On November 20, the government in Madrid had announced that it would set up seven "tents and emergency camps" with room for 7,000 people -- four on Gran Canaria, two on Tenerife and one on Fuerteventura. One of these facilities, a camp next to a former military ammunition site at Barranco Seco located in the hills near the capital Las Palmas with room for up to 800 people, has already started to take in migrants.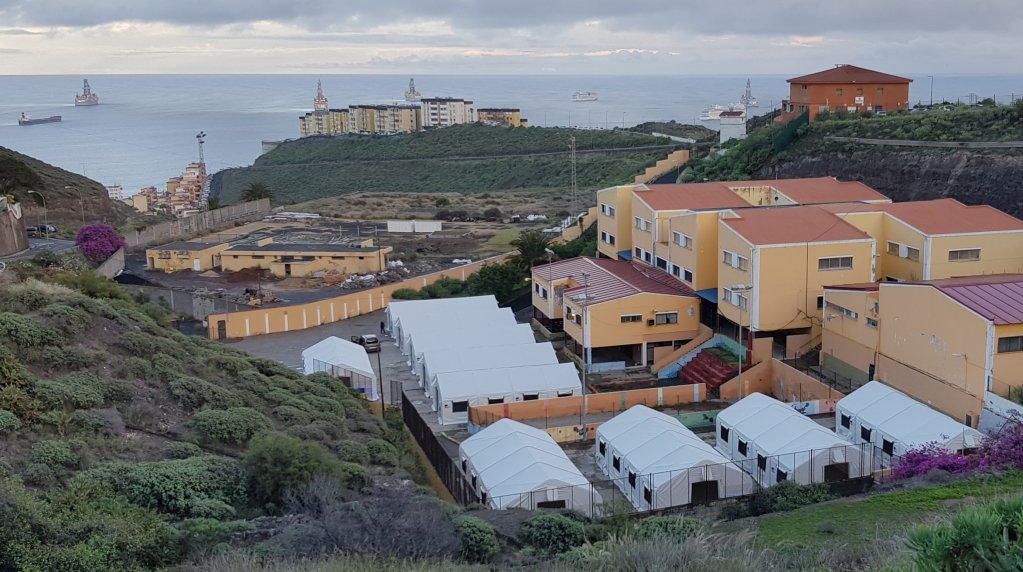 Tension over migrant accommodation
Lately, the presence of migrants on the Canary Islands has taken on an increasingly controversial dimension. Last Thursday (November 26), Onalia Bueno, the mayor of Mogán, one of the municipalities of the island of Gran Canaria with 3,471 migrants housed in ten hotels and other tourist complexes, demanded the Spanish government find new homes for the migrants by the end of the year. She also threatened to fine hotels that host migrants.
Bueno reiterated her demands during the "save tourism" protest march on Friday (November 27) in the tourist town of Puerto Rico in southwest Gran Canaria.
Spain's left-wing ruling government coalition, led by Prime Minister Pedro Sanchez, has taken several measures to reduce undocumented migration to the Canaries and return arrivals to their countries of origin. On November 22, Spain's foreign minister with her counterpart in Senegal discussed measures to deter potential migrants attempting to make the 1,500 kilometer Atlantic crossing. Among other things, the minister promised to crack down on migrant smuggling networks in Senegal.
Reactivate deportations
The government in Madrid is also trying to reactivate deportations to countries including Morocco, where most of the migrants are coming from. AP reported that most of the few transfers to the Spanish mainland were "women, minors and a reduced number of asylum seekers."
In the first 11 months of this year, according to the International Organization for Migration (IOM), some 20,000 people seeking a better life have arrived on the Spanish archipelago on around 435 separate vessels. That's around eight times as many as in all of 2019, when some 2,500 people arrived.
The Atlantic route to the Canaries is extremely dangerous: So far this year, IOM's Missing Migrants Project has recorded 568 deaths or disappearances. 
With AP, Efe