Humanitarian organizations in the UK have written to the British government to raise their concerns over conditions in a former military barracks in Kent which has been used to house migrants and asylum seekers since September 2020.
The Napier barracks in Kent and the Penally barracks in Wales were converted as accommodation centers to house migrants and asylum seekers. Since they were put into use in September, those held at Napier barracks and the conditions in which they are reported to be living have been hitting the headlines.
Last week, on November 26, several humanitarian organizations, including Doctors of the World, Freedom from Torture, the Helen Bamber Foundation, the Royal College of Psychiatrists and the Faculty of Public Health have signed a joint letter to British government ministers -- to state secretary of health, Matt Hancock, and state secretary of home affairs, Priti Patel, -- expressing concerns about conditions in ex-military accommodation.
'Unsuitable sites'
The signatories said they believed that these types of sites were "unsuitable" to house "people seeking asylum and survivors of modern slavery," because of "a lack of access to adequate and appropriate healthcare services." They also said they were worried about a "lack of compliance with the COVID-19 regulations and the risk of re-traumatization triggered by accommodation in former military barracks."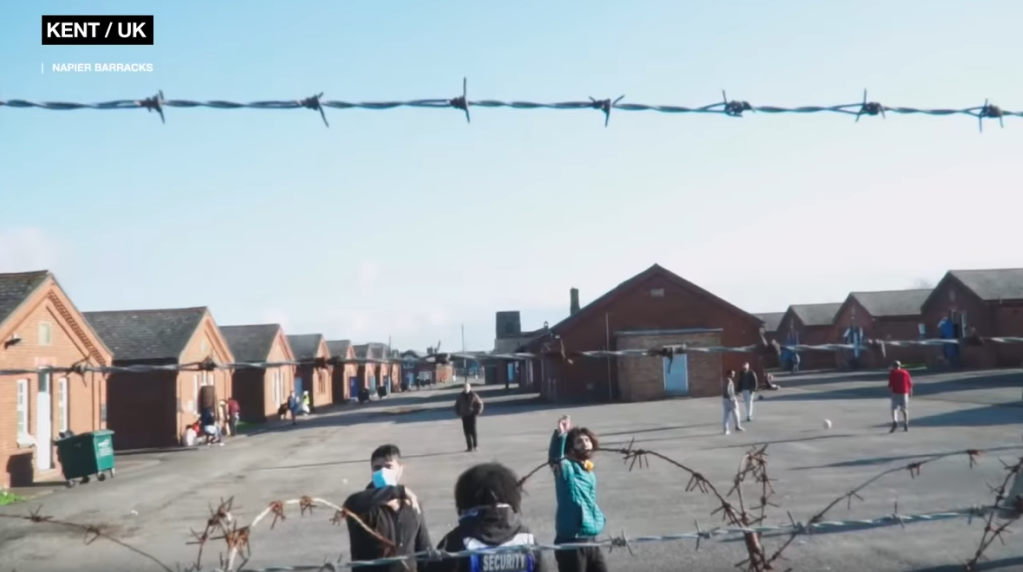 They asked the government to "end the use of MoD [Ministry of Defense] sites as accommodation for migrants." Doctors of the World (DotW) say that the UK government designated such sites as "temporary" but then immediately announced they will be using them "for the next 12 months." According to DotW, the UK authorities intend to accommodate up to 665 people across the two sites.
Suicide attempt
In the middle of November, reports of a suicide attempt at the Napier barracks added to the concerns. Dr Jill O'Leary, lead doctor with the Helen Bamber Foundation's medical advisory service, said "we are hearing concerning reports of poor mental health among residents leading to suicide attempts, self-harm and unrest within the barracks."
O'Leary said that she had assessed one man from Yemen in the barracks "who had been imprisoned and tortured by the state." O' Leary said he had traveled "across Europe before arriving in the UK to seek asylum." She said she had been contacted by his solicitor for an assessment because of his "deteriorating mental health since being moved to the barracks." She said the military environment of the accommodation was causing him "to experience flashbacks" and he was suffering from insomnia and severe anxiety as a consequence.
As well as this man's mental health, O'Leary said torture had left him with chronic pain which needed treatment to which he did not have access. After her assessment, this man was relocated.
O'Leary pointed out that many other residents of the barracks had similar complex needs and after "surviving such horrors deserved compassionate, trauma-informed care by experienced practitioners."
Overcrowded accommodation
Another doctor, Dr Julie Cohen, head of Doctors at Freedom from Torture said the accommodation was "crowded" and that there was a "lack of privacy" which could also "trigger symptoms of post-traumatic stress disorder."
Increased flashbacks or nightmares because of "traumatic past experiences" could increase "the risk of self-harm and suicide," underlined Cohen. She added the government should be "ashamed" that it was failing vulnerable members of society "so badly."
The doctors were also worried about the lack of compliance with the new restrictions put in place because of COVID-19. O'Leary said that the "sudden and unexpected" arrivals of "hundreds of new residents to the barracks" had put immense pressure on local health services which were "already overburdened." O'Leary added that the sites appeared "to be completely ill-equipped to maintain social distancing measures and adequate hygiene, posing a major public health risk."
In fact, in November, one resident at the barracks tested positive for COVID-19 and others who were in contact with him placed in isolation, according to the local news service Kent Online.
'Some look at us in disgust'
Kent Online spoke to a Yemeni resident at the barracks in October. He wished to be identified with the initials M.S "to protect his identity from far-right agitators," who reportedly have been shouting insults over the fence and intimidating some of the residents in the camp.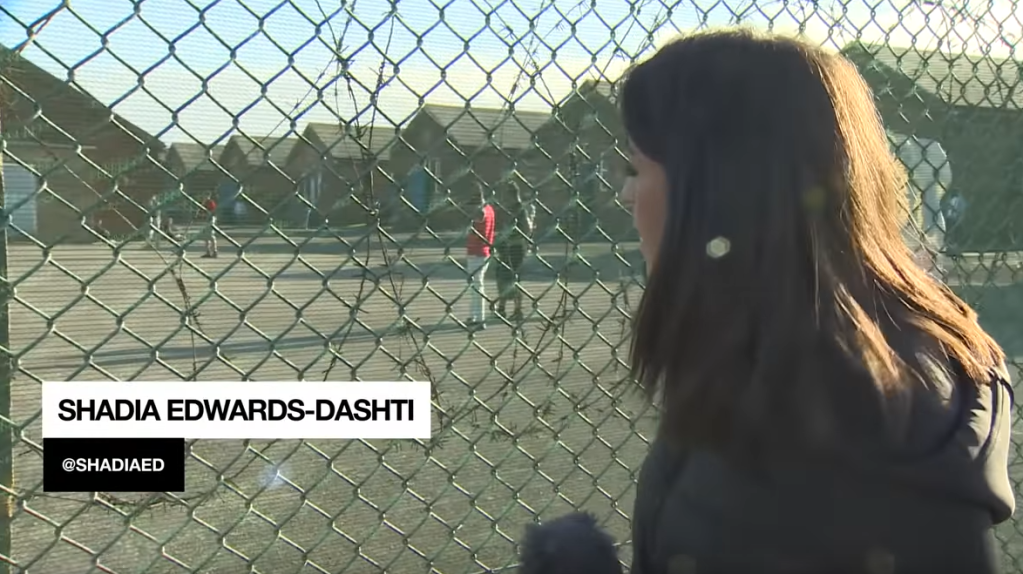 M.S. told Kent Online that although he was "grateful" for the situation in the barracks "being confined, is hard for the soul." Residents are allowed to sign out every day between 7:00 am and 10:00 pm but M.S. admitted that he had become intimidated by the reactions he was getting from some local people and had stopped venturing out at all.
M.S. said that sometimes people would look at him and the others "as if we were a herd that came out of a cage. Some turn away from the road ... and some look at us with disgust." He added that some people had been chasing residents at the barracks and "photographing them provocatively."
The Yemeni asylum seeker also reported "some quarrels occurring between refugees at night;" and a dire need for improvement of the toilet and washing facilities.
M.S. said that in at least one building there were only two toilets between 28 people and that "the toilet floors are soaked in water all day."
Food was also problematic when he first arrived, but he admitted that after the camp installed chefs in mid-October, the food had improved. He also confirmed that it was difficult to maintain social distancing in the communal areas.
COVID-19 positive
A Home Office spokesperson confirmed to Kent Online that there had been a positive case of COVID-19 at the camp and that "the person had been moved off site." The Home Office continued to underline that the Napier barracks were "COVID compliant, and in line with the law and social distancing requirements."
Following reports of the "disturbing conditions" at Napier barracks, on November 23, The Guardian newspaper reported that volunteers working in the barracks were being asked "to sign confidentiality agreements underpinned by the Official Secrets Act before entering." This led to accusations that the Home Office was trying to "cover up" what was going on on site. According to the Guardian, there have been "hunger strikes, suicide attempts, unrest and regular medical emergencies among residents."
Non-disclosure agreements
Volunteers had been delivering clothing and other items to residents of the camp and showed the agreements to the Guardian. The director of Detention Action, Bella Sankey, told the Guardian that "the Official Secrets Act is intended to protect state secrets and national security, not the government's treatment of people who have arrived in the UK seeking sanctuary."
The legal director of the Immigration Law Practitioners' Association Sonia Lenegan told the Guardian "it sounded like a cover-up." Asking rhetorically, she said "What else could it be? It's sinister. What reason could there be for that non-disclosure agreement otherwise?"
Lenegan said that the British government appeared to be imitating Australian immigration policy. "This is yet another trick they're pulling from Australia. They did this for people working on Nauru and Manus Island. Over and over again they're learning from Australia's playbook," she reportedly told the Guardian.
The Home Office told the Guardian though that they just wanted to make sure the "Napier site is safe and secure. This includes an agreement with staff to provide asylum seekers with privacy and confidentiality as would be expected."
Blood on the floor
But reports in the Guardian and on the Russian government-sponsored TV channel Russia Today (RT), speak of attempted suicide, hunger strikes and anger boiling over as the men in the barracks are not told how long they will be kept there for.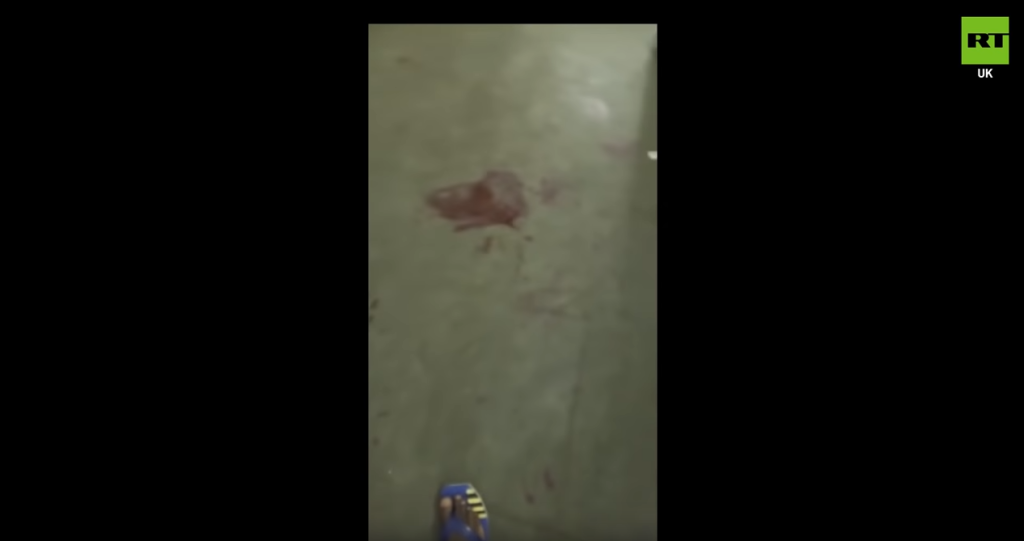 A lengthy RT report showed mobile phone images purporting to have been taken inside the barracks of blood-stained sheets and floors, barbed wire fences, and security guards who tried to stop the residents speaking with the RT reporter on the other side of the fence. Some of the residents told her "it's worse than prison."
Last week, the signatories of the DotW letter told an All-Party Parliamentary Group on Immigration Detention that the British Government should "immediately end the use of MoD sites as accommodation for migrants."
Securing Britain's borders
Back in September, the detainee support group Detention Action already spoke up about their concerns regarding the use of the barracks to house "traumatized asylum seekers," and said that action is "typical of a Home Office that is unprepared, in denial about its responsibilities and insensitive to the needs of those fleeing persecution."
Minister Priti Patel however continues to say that she is fixing Britain's "broken asylum system," and has just announced that the British government will be spending 580 million pounds on "securing Britain's borders" and implementing her new immigration system "to keep our country safe."