The first snowfall last week in northwestern Bosnia and Herzegovina has increased the difficulties for migrants, particularly those sleeping in tents and outdoor shelters. Local NGOs say thousands could be affected.
"It is very cold now, last night [we had a] very big problem," a 30-year-old migrant calling himself Shahin told the news agency Associated Press (AP) on December 3.
Shahin, who is from Bangladesh, was interviewed as the first of 2020's winter snow fell in northwestern Bosnia Herzegovina.
He is just one of about "40-60" migrants sleeping in a tent camp outside the town of Velika Kladusa known as "the Bangladeshi Jungle," according to local non-governmental organization (NGO) No Name Kitchen.
'The Bangladeshi Jungle'
No Name Kitchen (NNK) describes the tent village as "a squat made mostly of Bangladeshi people." One of NNK's volunteers, Alba Domínguez Pena, told the magazine Balkan Insight, that "there used to be 100 or more [people in the camp] but they are all trying to leave now because they cannot handle this cold weather." Domìnguez Pena said that because the people were sleeping in tents on the ground, the situation was even worse for them than other migrants who choose to sleep in abandoned factories.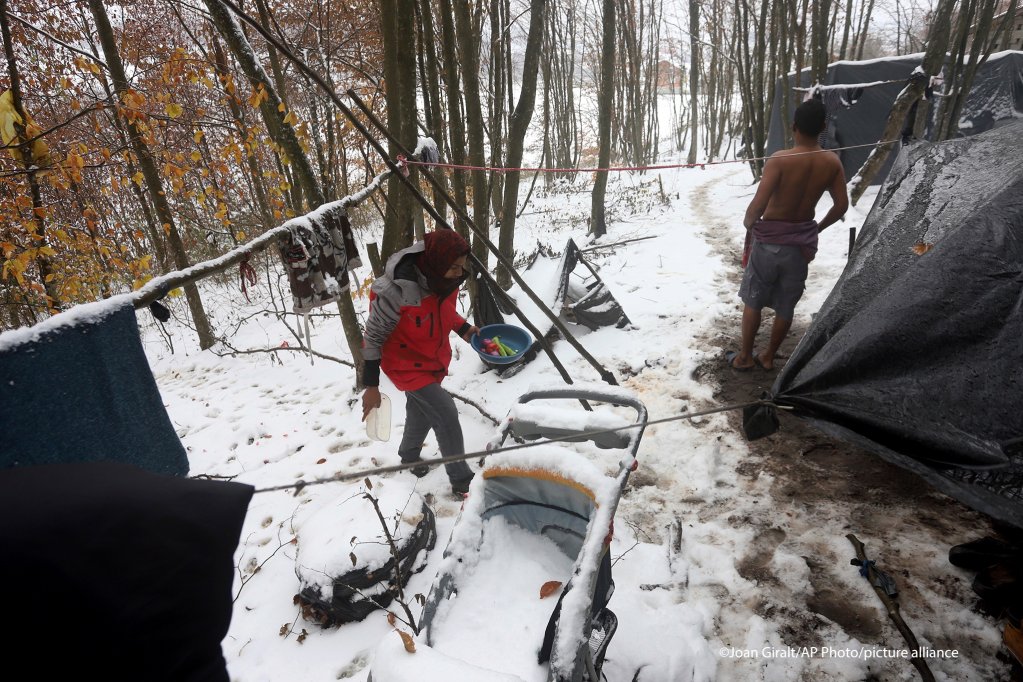 Some of the migrants, NNK told Balkan Insight, are trying to get back into official camps again, but are "often refused," because the camps are "overcrowded."
Snow helps police track footprints
Apart from the cold, Domìnguez Pena added that the snow makes it more difficult for migrants to attempt to cross the border into Croatia, because the police "can track their footprints in the snow."
The NGO published a series of photos and videos last week, of small groups of migrants gathered around fires in a snowy forest, towels frozen solid on branches, the makeshift tarpaulin shelters heavy with a good couple of centimeters of snowfall.
Shahin from Bangladesh told AP that the group was "suffering very much, we have no sleeping place." He like many other migrants have been stuck in Bosnia, on the border with Croatia for several months.
Thousands will face hardship this winter
Many NGOs, including NNK, have alleged that the Croatian police carry out illegal pushbacks along the border and sometimes beat migrants they find and or confiscate their belongings and destroy their mobile phones before returning them to Bosnia. It is an allegation the Croatian authorities have repeatedly denied.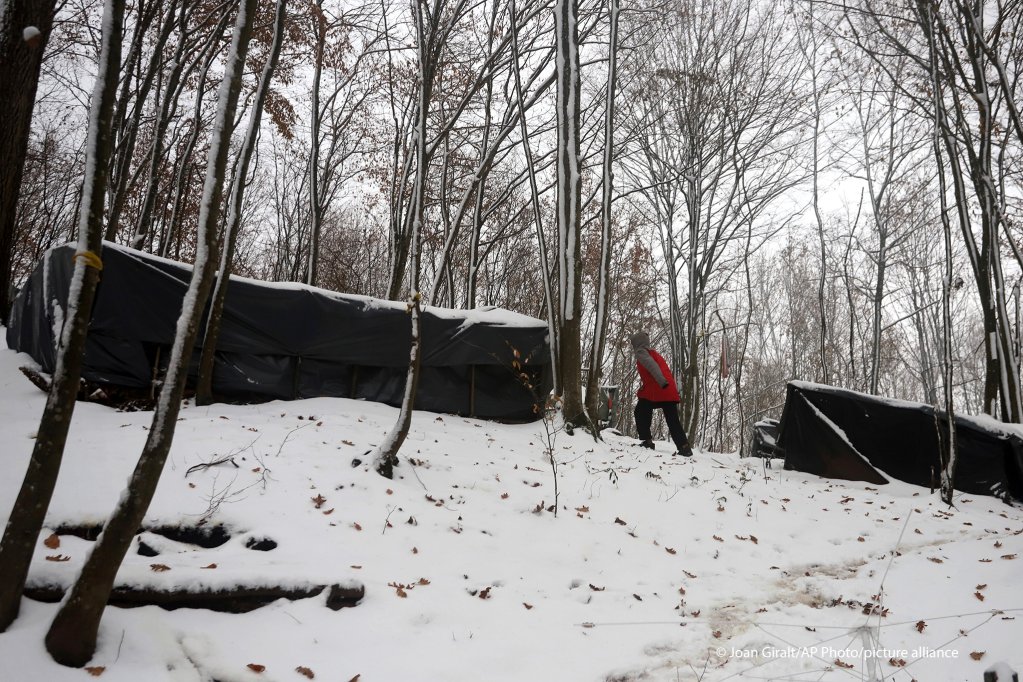 Another Bangladeshi migrant, Ahmed, who is 22 years old, told AP the situation was "impossible."
In November, the Danish Refugee Council (DRC) warned that "thousands of refugees in Bosnia and Herzegovina will face hardship this winter." DRC said that thousands of migrants were residing "outside of official reception facilities -- in abandoned houses, decrepit factory buildings, or out in the open."
DRC's press release points out that Bosnia and Herzegovina has become "one of the most significant mixed migration routes for people seeking to enter the EU. Some 65,000 refugees, migrants and asylum seekers have been recorded in the country since the beginning of 2018."
Closure of some reception facilities
They said that reception facilities are designed to accommodate "up to 6,500 people" but that humanitarian organizations estimated that "some 3,000 persons are living outside of reception centers." The vast majority of those are dotted around the Una Sana Canton on the border with Croatia in the Northwest of the country.
The situation has been made worse this year, said DRC's country director in Bosnia-Herzegovina, Nicola Bay, because the local authorities decided to close several of the reception facilities they did have in Bira, Miral and Lipa. Bay said this action "will drastically destabilize the humanitarian situation in the country and will inevitably put refugees, migrants and asylum seekers residing outside of reception centers at very serious risk."
Bay said that a worst-case scenario "could lead to some 5,500 refugees, migrants and asylum seekers residing outside of reception centers and in need of food, warm clothes, blankets and medical assistance over the course of the winter months."
92% of those interviewed have health problems
When the DRC interviewed almost 400 migrants in September who were living outside of the official reception facilities, they found that a quarter of them only ate once a day, or not at all. Half of them didn't have access to clean water and in Una Sana canton, "92% of them reported having experienced health problems such as vomiting, diarrhea, stomach pain and loss of appetite."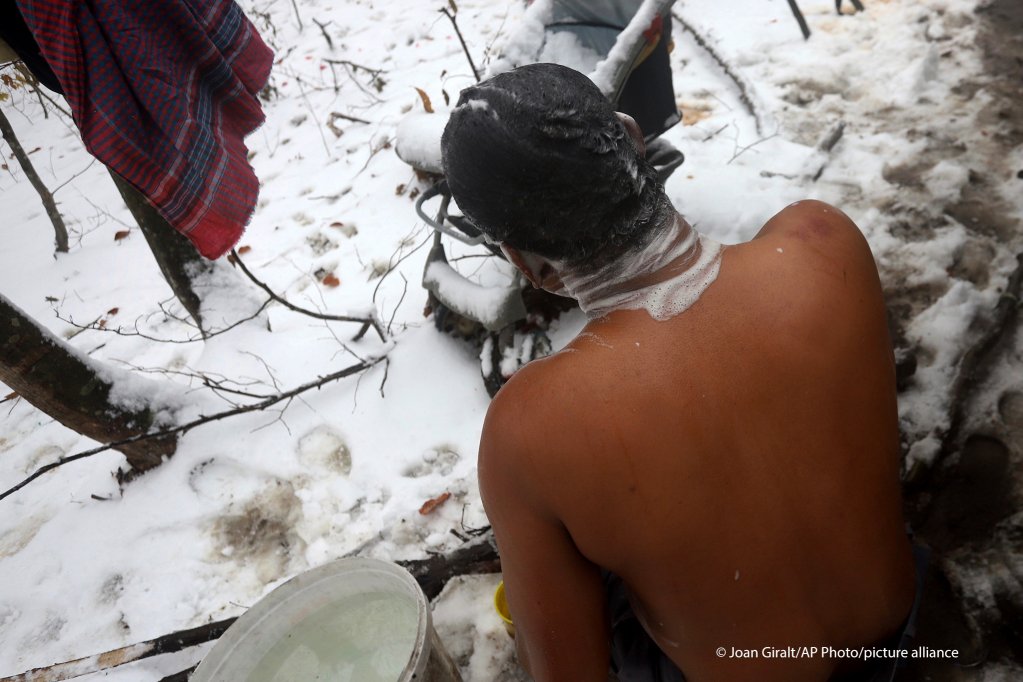 Bay said that their outreach teams had been trying to make sure people had warm clothes, blankets and access to food and health care but that they couldn't reach everyone. She underlined that their actions were just "an emergency measure," and that "more sustainable solutions, including an increase in reception capacity are highly needed."
On December 2, NNK published a video protest from "several families stranded in Bosnia." The families told NNK that they had been "pushed back in different times from Croatia, against the law."
Families and children
In November, DRC's outreach teams confirmed that some of the people living outside included families with very small children, including in one case a six year old and "two babies of only six months." Despite efforts to get them into a reception facility, in November, DRC confirmed that at that point their attempts had lacked success.
In fact, DRC estimates that at least 200 of those living outside of reception facilities are unaccompanied children, and that apart from about 3,100 people in Una Sana canton, there are about 200 people in Tuzla canton and about 200 people in Sarajevo canton in the center of the country who are sleeping rough.