In recent months, thousands of migrants have been taken in by hotels on Spain's Canary Islands. This has caused tension in the islands' vital tourist industry, which was hit hard by the coronavirus crisis. It remains unclear if the migrants' presence will hurt the popularity of the holiday destination at all -- but xenophobia is on the rise.
"There just wasn't much of a choice," says Dominik, a 29-year-old German holidaymaker, who is waiting in line at Frankfurt airport to check in for his flight to Gran Canaria.
The counter is one of only two at terminal 2 this morning with long lines -- and both of them are bound to Spain's Canary Islands. Dominik and his colleague Jan plan to stay one week. Neither of them took much notice of the recent surge in arrivals of African migrants to the Spanish archipelago before they booked. 
Due to COVID-19 related restrictions in most other places, the Canary Islands are currently one of the few viable destinations -- for Europeans looking for a sunny getaway, but also for Africans trying to escape economic hardship.
The number of migrant arrivals to the archipelago is near a historic high: More than 20,000 people from Morocco and western African countries like Senegal have arrived on Gran Canaria, Tenerife, Fuerteventura and Lanzarote since the beginning of the year -- more than five times as many as in 2019 and 2018 combined. Only 2006 saw more arrivals. Tourist arrivals, on the other hand, are at a historic low.
Read more: Migration on the Canary Islands: A convenient scapegoat (Part I)
Whereas migrants who arrived on the islands during the peak year of 2006 were swiftly brought to a military camp and then deported for the most part without visitors or locals noticing much, this year the situation is completely different: Not only has the coronavirus decimated tourism, plunged the archipelago into a deep socio-economic crisis and prevented deportation flights, but the images of migrants both standing on hotel balconies and sleeping rough on the "dock of shame" in Arguineguín have made international headlines.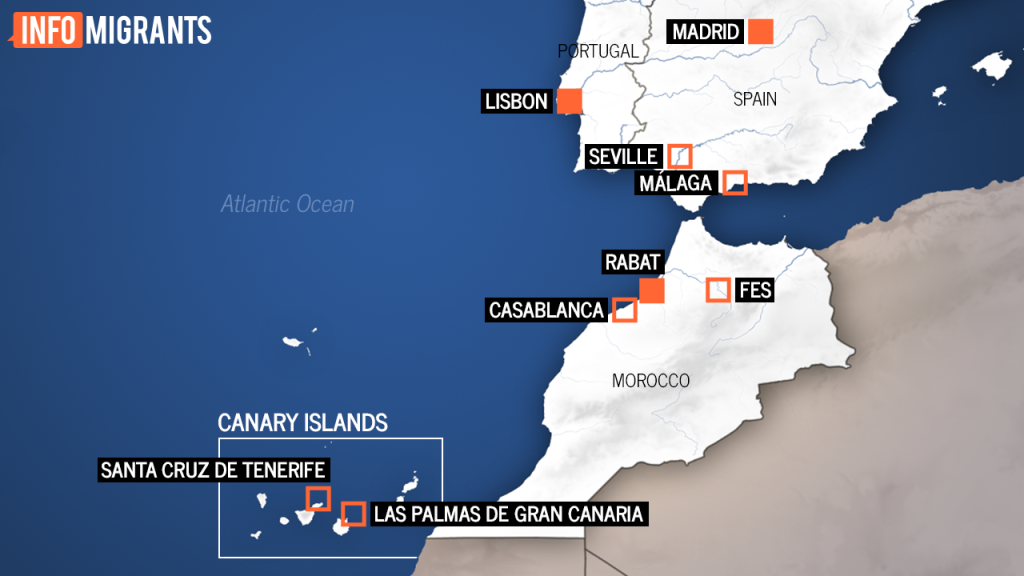 Perceived tension over migrant accommodation
We meet Tom Smulders on a sunny day in Maspalomas, one of Gran Canaria's popular tourist towns known for its Playa des Inglés beach and vast sand dunes. Smulders, an energetic Dutchman in his 60s who owns a hotel in a prime location in Maspalomas, is also vice president of the local tourism federation.
Smulders is eager to tell his version of the story. When hotels and other tourist facilities first took in migrants in August, hotel owners went out of their way to help their guests and show solidarity, he tells us.
And, as Smulders admitted without hesitation, housing migrants helped some hotels survive the coronavirus crisis. In the case of the Servatur Waikiki, a middle-class hotel with five eight-story towers, its roughly 1,000 guests have been bringing in €45,000 per day. The decent revenue coming from the government also allows the Waikiki and other tourist facilities to keep at least some of their staff working, all while accommodating the migrants in a dignified way.
Needless to say, a few thousand migrants on top of a fraction of tourists cannot nearly employ all those whose jobs depend on visitors. Marta, a 66-year-old local who earns her living cleaning bungalows, isn't happy that migrants are staying in hotels while locals are struggling. Yet she's mainly angry at the government.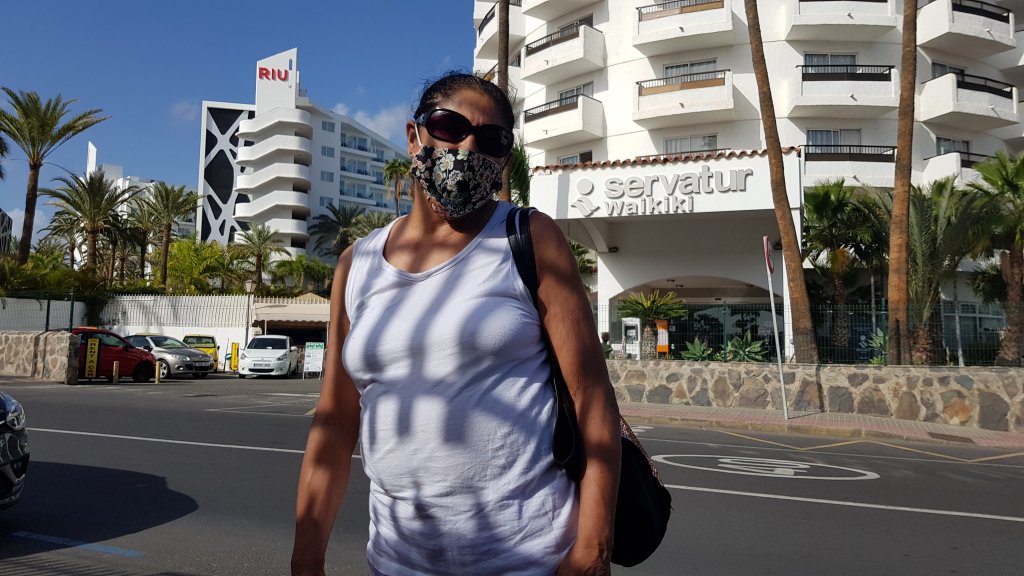 "The government approved economic aid and housing assistance, but it never paid the money. There are many people without a place to live because they cannot pay the rent," she told InfoMigrants.
As we approach the Waikiki, Smulders tells us stories about misbehaving migrants and points to a big sign hanging from a crane that minutes before stood atop one of the hotel towers. Smulders suggests that it is being taken down out of fear that concerned tourists would stay away because they'd associate the hotel with migrants from seeing it on TV.
From the street in front of the Waikiki, one can see 20 or so migrants standing on the balconies, some alone, others in groups. A Spanish flag hangs from one of the balconies and a female security guard is standing outside the main entrance. As hotel staff walks in and out, a Moroccan shouts in Arabic from the sidewalk to one of the groups on the balcony. He's looking for his brother, who arrived on Gran Canaria in mid-November. After 15 minutes, he leaves empty-handed. Every few minutes, a car or a bus drives and some tourists walk by.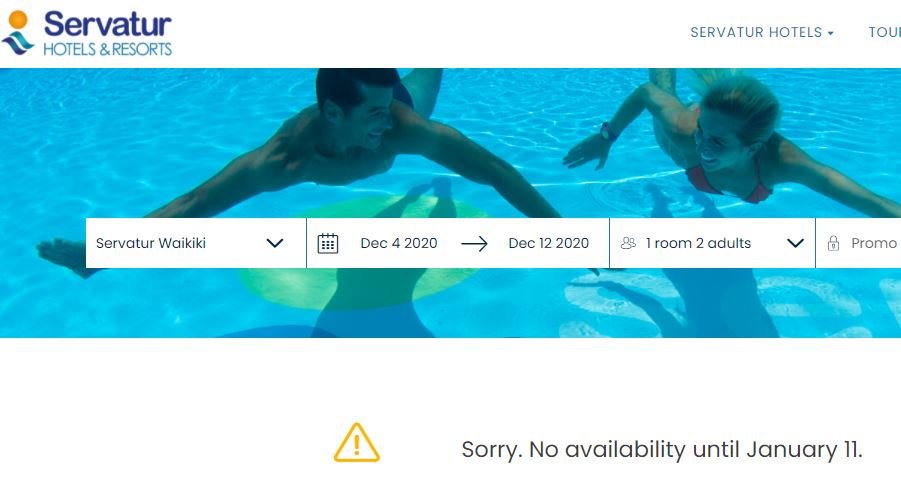 Some argue that the presence of migrants in hotels and, until it was cleared on November 29, at the dock camp in Arguineguín has damaged the tourist image of Gran Canaria and caused some people to stay away. Yet most tourists we talk to don't seem to even notice the migrants much or know a lot about the situation, let alone take issue with their presence. And given that a mere 17 hotels and apartment complexes on Gran Canaria house some 5,000 migrants -- some 3.5% of the island's nearly 150,000 tourist beds, according to Smulders, -- the little interaction between locals, tourists and migrants is not very surprising.
'Save the tourism'
But to Yineka, a Dutch businesswoman who runs an Italian restaurant in Mogán some 25 kilometers west of Maspalomas, the mere possibility of tourists steering clear of the archipelago is enough to demand that migrants are no longer accommodated in tourist facilities.
"It's our right to be concerned about our future," she told InfoMigrants. "Even though we can't be sure if tourists stay away because of the migrants, we are so dependent on tourism that even a small doubt about tourists coming back is a reason to say that this has to be resolved in a different way. If we don't come out of this crisis next year, we will not survive and this tourist area is doomed."
We first meet Yineka, who is of Chinese-Indonesian descent, during a "demonstration for the defense of tourism" in Puerto Rico, a tourist town next to Mogán. Some 1,000 people -- among them hotel staff, gardeners, cooks, waiters, taxicab and bus drivers, garbage collectors as well as restaurant, bar and hotel owners -- chant and hold signs that read "Hotels aren't immigration centers," "Save the tourism," "Tourism, no socialism," "No tourists, no money" or "Stop illegal immigration."
The demonstration, which according to people we spoke with was attended by numerous xenophobic and extreme right-wing protestors, is one of the recent signs that the presence of migrants on the Canaries, specifically in tourist facilities, is becoming increasingly controversial. At another protest march one week later (December 5) on Lanzarote, the president of far-right party Vox, Santiago Abascal, said that the irregular immigration to the archipelago was "destroying the image of the Canary Islands."
Onalia Bueno, the mayor of Mogán and one of the speakers at the demonstration, exemplifies this trend well. In September and October, Bueno was one of the most prominent voices both criticizing the inhumane conditions in the dock camp in Arguineguín and pressing for more help from the government. Of late, however, she has been mainly acting as a defender of the tourism industry, demanding that the Spanish government find new homes for the migrants by the end of the year and threatening to fine hotels that host migrants.
Achraf and Mustafa, meanwhile, were unperturbed by the protest march. Observing the protest march from a nearby café, the two Moroccans didn't know what it was all about. They represent two generations of migrants: While Achraf arrived on the Canaries recently, Mustafa, who works in a restaurant, has been here since 2006. He told us the new arrivals weren't causing problems around here.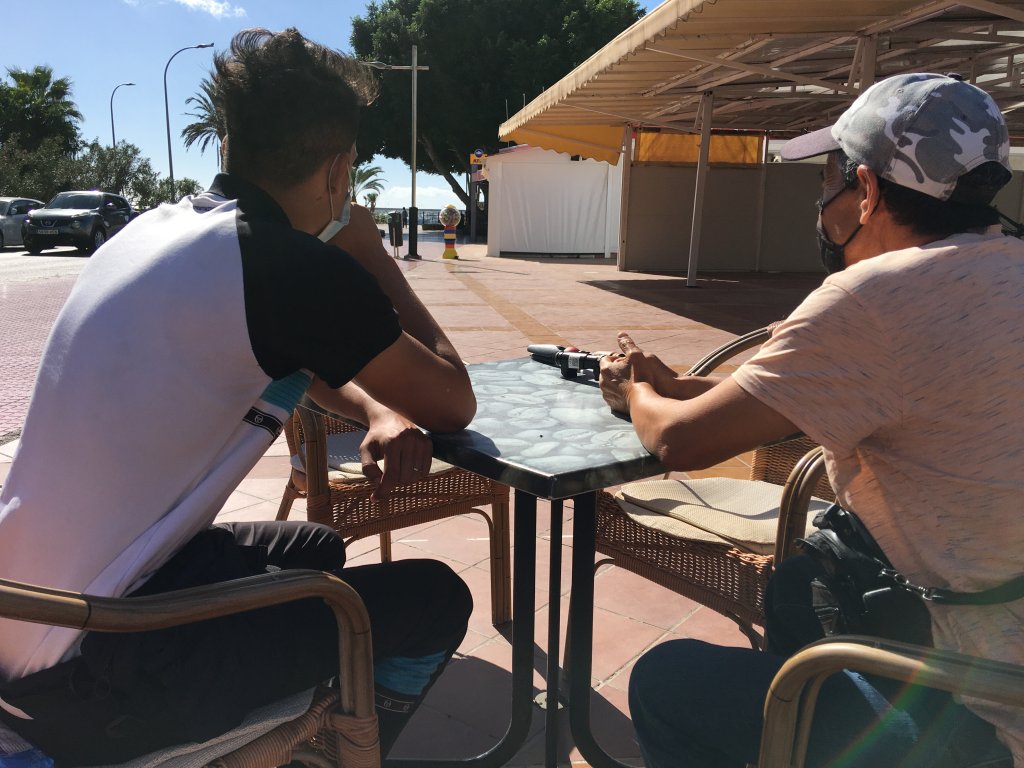 Restaurant business: 5% of last year's revenue
Two days later, we visit Yineka at her Italian restaurant, which she has been running together with her Italian husband for the past 18 years. As we arrive at La Cicala at 8:30 pm, the last two guests are about to leave. Most of the other restaurants on the 200-meter promenade are already closed or didn't even open.
"Today, we served about 20 tables, or about 5 to 10% of what we normally do in November," says Yineka, who's also the president of the business association in Playa de Mogán. Most of the other days in October and November weren't any different, she tells us.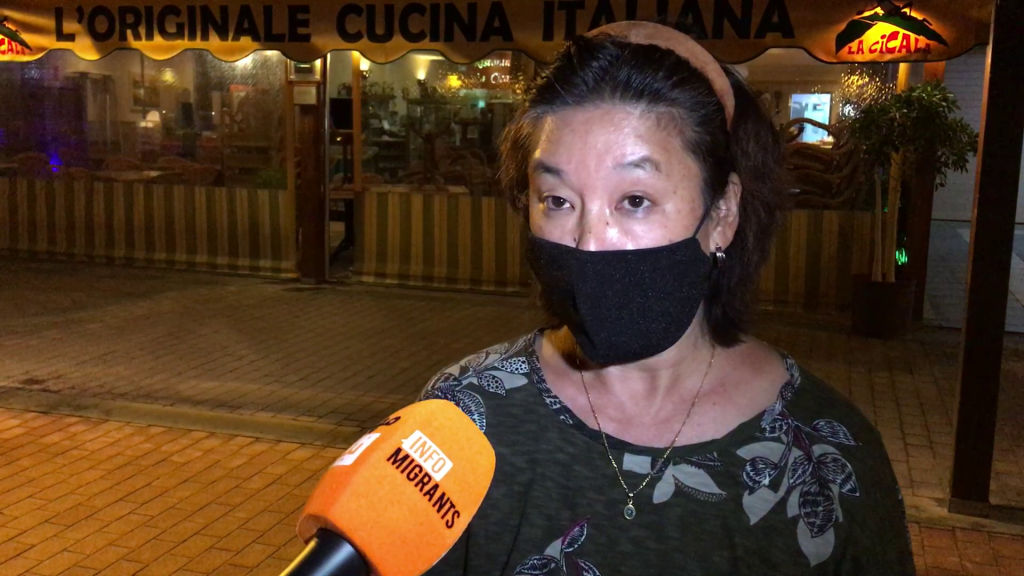 The dramatic decline in tourist arrivals to the Canary Islands -- October only saw 20% of last year's numbers -- has caused the unemployment rate on the Spanish islands to soar: Only three in four Canarians currently have a job.
Not surprisingly, the travel and tourism sector -- the backbone of the archipelagos' economy employing some 40% of the Canaries' 2.2 million inhabitants -- was hit particularly hard. The drastic decline in tourists has caused 70% of the workforce to be on 'short hours' (ERTE in Spanish). Yineka's restaurant is no exception: Before the pandemic, she employed 20 people. Now, she's down to six, all of them part-time. On the day of our visit, only two Romanians and one Italian were working.
It's understandable, therefore, that many people fear for their livelihoods and of migrant's presence exacerbating the COVID-crisis. But Yineka reminds us that it was the authorities' decision:
"I'm a migrant myself, I've been struggling all my life to be accepted by my surroundings. I'm very sensitive to anything that can trigger racism because I'm always the victim of it, too. When the migrants are shown on television in a four-star hotel, it looks like they are taking advantage of the situation when it's not their decision to be there. I think it's quite unfair. Personally, I'd feel more comfortable in a more modest accommodation.
"We are angry because the Spanish authorities and European governments are not making the right decisions to deal with this problem," she adds.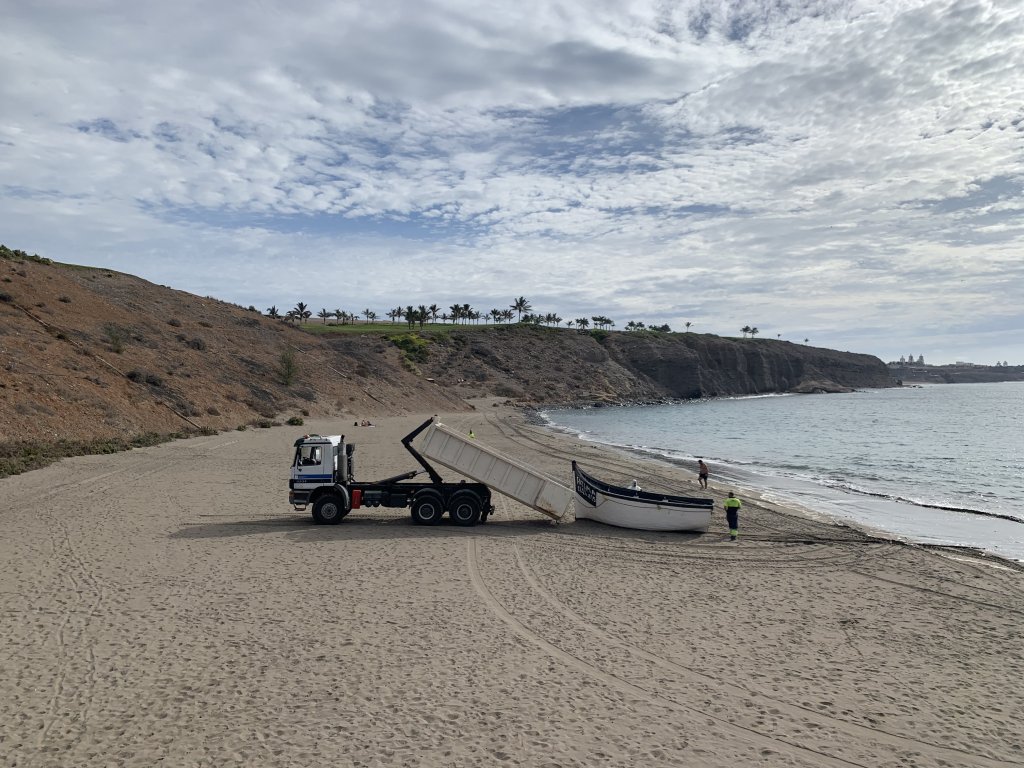 'We will keep coming back'
After one week of vacationing on Gran Canaria, Germans Dominik and Jan said they didn't notice the migrants' presence on the island. To fellow German Clemens Kösters, who has been staying on Gran Canaria regularly since 2002, this vacation wasn't different except for the presence of journalists and the restrictions due to the pandemic.
"Migrants have been omnipresent on Gran Canaria for years, from the boat landings to the beach vendors and the nightlife in Maspalomas with drug sellers and prostitution," the Berliner told InfoMigrants. "Of course there's been more reporting lately, at least that's how I perceive it. We will keep coming back to the Canaries."
Correction note: An earlier version of this article misstated the nationality of the employees working in Yineka's restuarant. The two employees were Romanians, not Bulgarians. This article was first published on Novemer 7, 2020.