On Friday, the German rescue organization Sea-Eye announced that it would be working with the international NGO Migrant Offshore Aid Station (MOAS). The two NGOs will operate Sea-Eye's latest boat, Sea-Eye 4, in the central Mediterranean.
German rescue organization Sea-Eye and Migrant Offshore Aid Station (MOAS) issued a joint statement on Friday, December 4, announcing that they would be "intensively working together" to operate Sea-Eye's latest rescue ship, Sea-Eye 4.
"We firmly believe that nobody deserves to die at sea in search of safety, that's why we founded MOAS in 2013: to save lives," said Regina Catrambone, Director of MOAS and co-founder, alongside her husband Christopher, of MOAS.
MOAS 'first private rescue mission to operate in Mediterranean'
The Catrambones founded MOAS, according to reports, after spotting a floating jacket in the Mediterranean whilst cruising near Lampedusa on a chartered yacht in 2013. It was, according to the MOAS press release, the first private rescue mission to operate in that region.
Christopher Catrambone is an American entrepreneur worth millions, who along with his Italian wife from the southern region of Calabria set up an insurance business, the Tangiers Group, in Malta. The insurance business provides insurance to those who work in conflict zones.
As Chris Catrambone told The Guardian in 2015, "I rescue people for money in my other job. I know what to do [when it comes to the business of saving lives]." According to that article, after spotting that jacket, migrant deaths and journeys became an "obsessive topic of conversation" on board the yacht.
Chris Catrambone told the Guardian: "Wow! Look at me out here cruising on my boat, at the same time as people are out there dying." He said it made him realize that "our paradise is their hell," and the couple decided to do something about that.
'Rescued more than 40,000 people'
Regina Catrambone said in the joint press statement with Sea-Eye that between 2014 and 2017, MOAS missions had "rescued more than 40,000 people." Regina Catrambone added that she hoped this new partnership with Sea-Eye would help "rescue as many people at risk as possible."
She continued that there needed to be more safe and legal routes to migration "to avoid further deaths at sea."
Sea-Eye itself, which was founded in 2015, called the collaboration with MOAS a "milestone." They said they were "proud" to welcome rescuers from MOAS aboard their ship. The two NGOs hope to launch their first joint mission in February 2021.
MOAS is expected to bring "professional personnel" to the mission, as well as help run joint search and rescue training programs. MOAS will also offer "strategic expertise" and will support Sea-Eye with an "international charity campaign."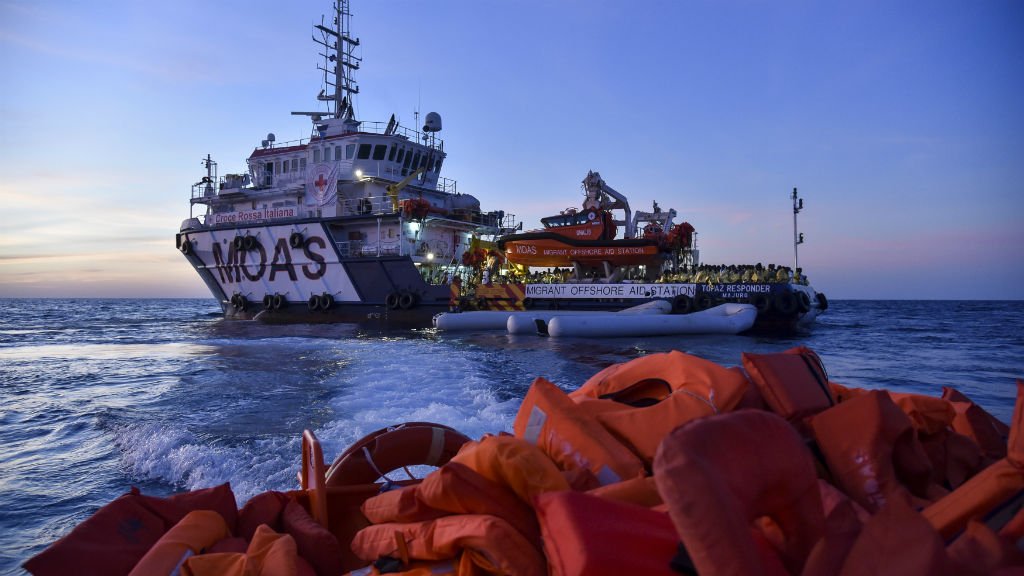 Sea rescue: 'Still very much needed'
According to Sea-Eye, more than 700 people have already drowned in the central Mediterranean this year alone. They say that the situation for migrants trying to cross to Europe across the Mediterranean has got worse this year, partly due to the COVID-19 pandemic and the restrictions imposed because of it, including borders and ports being closed.
Sea-Eye points out that the Mediterranean states like Malta, Italy, Greece and Spain have been left alone by other EU states, despite promises and agreements to start trying to share the burden of migrant arrivals.
Sea-Eye says that German politicians have also been dragging their feet over these issues and that the German transport minister and the German interior minister have been "trying to hinder the work of sea rescue organizations" like Sea-Eye. They say no country has said it will undertake a state rescue mission, which means that private organizations like MOAS and Sea-Eye are still very much needed.
First mission set for February 2021
Jan Ribbeck, Sea-Eye's director of missions and a member of the organization's board, said that the two organizations would work out a plan for future missions "in the coming weeks."
As well as running rescue missions in the Mediterranean, MOAS has also conducted rescue services in the Andaman seas in Asia and has "expanded its operations to Bangladesh, to assist Rohingya refugees fleeing violence in Myanmar and the local host community."
According to the press release, they are also involved in "several missions in Yemen and Somalia assisting the most vulnerable communities by delivering nutritional and medical aid." In Malta too, they have several projects "to assist migrant communities," who have already landed on the island.
Sea-Eye 4
The Sea-Eye 4 is a 55-meter long former off-shore supply vessel built in 1972. Once it has been fully converted, it is expected to be able to accomodate significantly more migrants than any of the other Sea-Eye vessels.
Gordon Isler said in a press statement that teams from the two NGOs had first met during rescue missions in international waters in 2016 and 2017. Now, they were looking forward to "working together on the Sea-Eye 4."