Deforestation operations in areas in and around the northern French city of Calais have intensified in recent months, according to migrant aid groups. The NGOs say this is yet another deterrant strategy aimed at preventing migrants from seeking shelter in the woodlands.
In Calais, deforestation operations are changing the face of the city. On December 1, an area dubbed "Unicorn" behind the Virval hospital, where migrants were living, was completely deforested with a backhoe loader.
Video clips posted on Instagram by the Calais Woodyard – an NGO that prepares and distributes wood to migrants for heating and cooking – show a bare piece of land from which trees have just been uprooted. Migrant tents can be seen at the edge of screen.
"The woodland was home to around 150 people just 2 days ago. Today there are only 15 tents remaining," commented the NGO in a post published Wednesday.
This operation, carried out by the Calais town hall on the orders of the state, is the latest of its kind in recent months.
In mid-November, the site around Fort Nieulay, between Calais and Coquelles, was targeted with a partial vegetation razing. "There had been as many as 300 to 400 migrants at this place," said François Guennoc, vice-president of L'Auberge des Migrants, which provides meals to migrants.
In late October, the woodlands of Marck, a commune east of Calais, was similarly targeted. On October 8, backhoe loaders were put to work in front of a hospital – dubbed "Hospital Jungle" – in the infamous "Calais Jungle" vicinity that was cleared in 2016. Many woods, hedges and bushes, where migrants could pitch tents for lack of anything better, are being targeted.
"Deforestation has intensified in recent months in connection with the large evictions from the camps in July. Dozens of hectares were deforested between the end of October and the beginning of December, or rather massacred with shredders," explained Guennoc. "It's clear that the aim is to clear the spaces so that people can not settle or shelter. It's cruel."
Scattering migrants decreases their safety
Philippe Mignonet, Calais deputy mayor in charge of safety and the environment, justified the razing operations in an interview with the local daily, La Voix du Nord. "The idea is to avoid having camps that are not visible, as was the case," he explained. "But it will also help us prepare future [tent] constructions."
In Calais and its environs, woodlands are privileged living places for migrants, driven out of the downtown area by, in particular, a municipal decree prohibiting food distributions in the heart of the city.
These woods – a solution for worst-case scenarios – have various advantages: the trees provide some protection from the bad weather, particularly at this time of year, and also from prying eyes, explained Chloé Smidt-Nielsen, a coordinator at Human Rights Observers. "In the woods, people could gather together more easily, which is an asset for them," she explained. "We have indeed noticed that police violence cases reported to us are often perpetrated on isolated groups."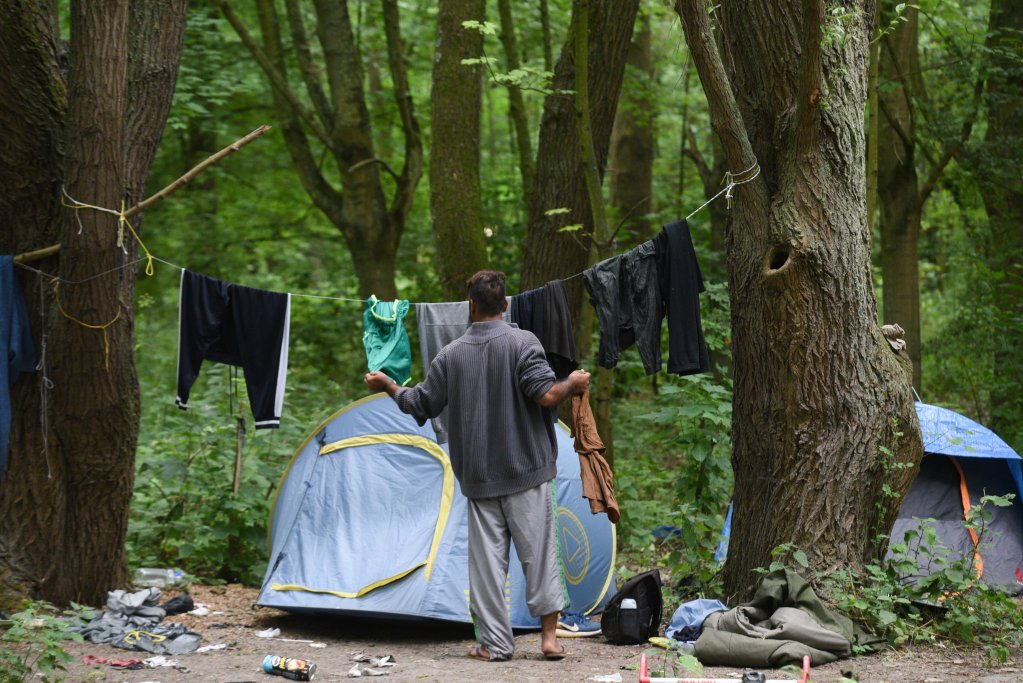 No access to food distributions
Woodlands are now becoming scarce in Calais, says Smidt-Nielsen, who notes that similar methods have been used in the Grande-Synthe commune in the Nord-Pas de Calais region for years. In addition, the area known as the Dunes, which previously housed the majority of migrants transiting through the town, was completely fenced off this summer after also seeing its vegetation diminish in recent years.
These moves have dispersed migrants.
"We estimate the number [of rough sleepers] at around 500 to 600," said Guennoc. The Pas-de-Calais prefecture speaks of 1,030 people who have been sheltered since the end of October, but half of them were no longer present in the shelters on December 3.
"These migrants are now near the Carrefour shop in Coquelles, along the coast or in the town center," he said. In the city, they take refuge under bridges, with no access to the food distributions, which are forbidden in this area.
"They find it harder to access services and we, the associations, find it harder to access them," lamented Guennoc.