In Paris, young Afghans who lived in a now dismantled makeshift migrant camp are being temporarily sheltered in an exhibition hall. Although the premises are heated and have relaxation areas, the migrants lack medical attention, according to NGO workers.
Some are lying on sofas, their eyes glued to a television screen connected to the popular Afghan Tolo TV channel. It's comedy time on Tolo, and a man dressed as a woman is playing to the gallery.
"They tinker with things and they manage to get foreign channels," explains Justine Porte, social team coordinator at Coallia, the NGO that manages the premises.
Others watch programs that look like soap operas on their smartphones or are absorbed by video games.
The "living room" of this small group of TV viewers is not at all cozy: it's set up in the middle of a cavernous exhibition hall at the Paris Event Center in the French capital's 19th arrondissement.
On December 1, 419 men, mainly asylum seekers, were housed there, after having, for the most part, been evacuated from the Saint-Denis camp two weeks earlier. Most of them are Afghans aged between 18 and 40, but the majority are in their 20s. "Those in their 40s can be counted on the fingers," says Alban Gueniot, Coallia chief coordinator at the site.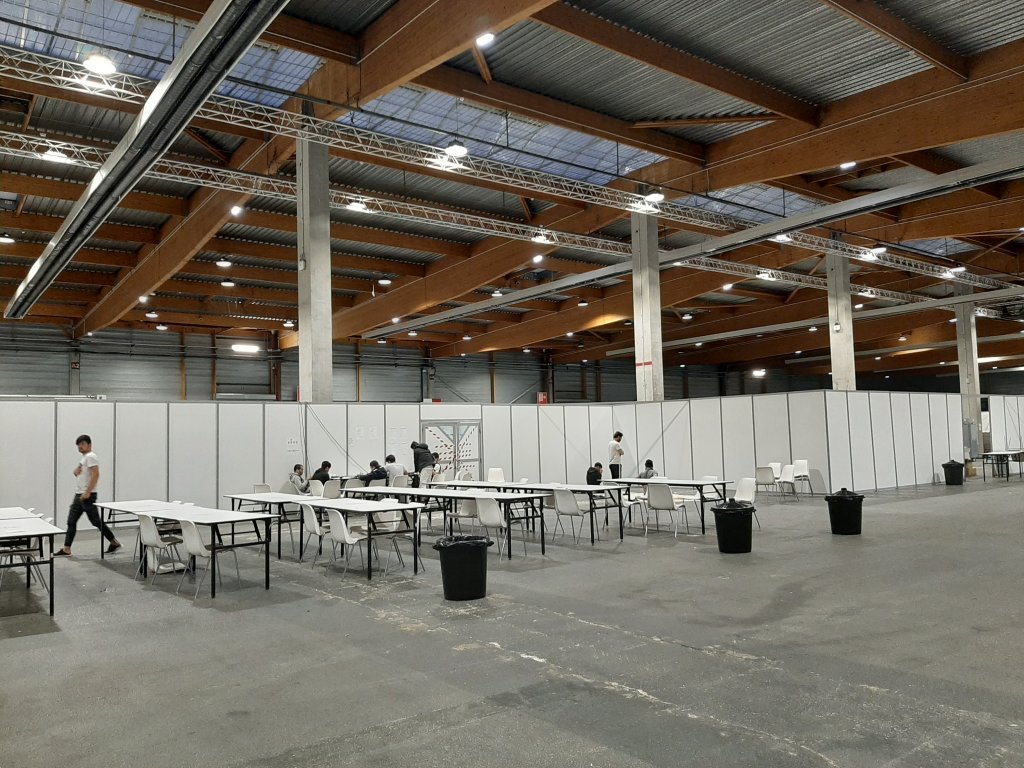 Coallia has set up "well-being" activities with the help of public funding: two football squares have been installed on the outdoor forecourt and ping-pong tables are located in each of the four relaxation areas. "I call this place 'the little miracle'," smiles Gueniot. "There's warmth, a roof, three meals a day and electrical outlets to plug in mobiles and laptops."
Itching, kidney problems
These migrants are among those who boarded buses chartered by the authorities during the November 17 dismantling of a makeshift camp in the northern Paris suburb of Saint-Denis. "I have friends who were in the Saint-Denis camp like me and still don't have a place to sleep. When I call them they tell me they have trouble finding food," says Abdul Wahed, a 20-year-old asylum seeker.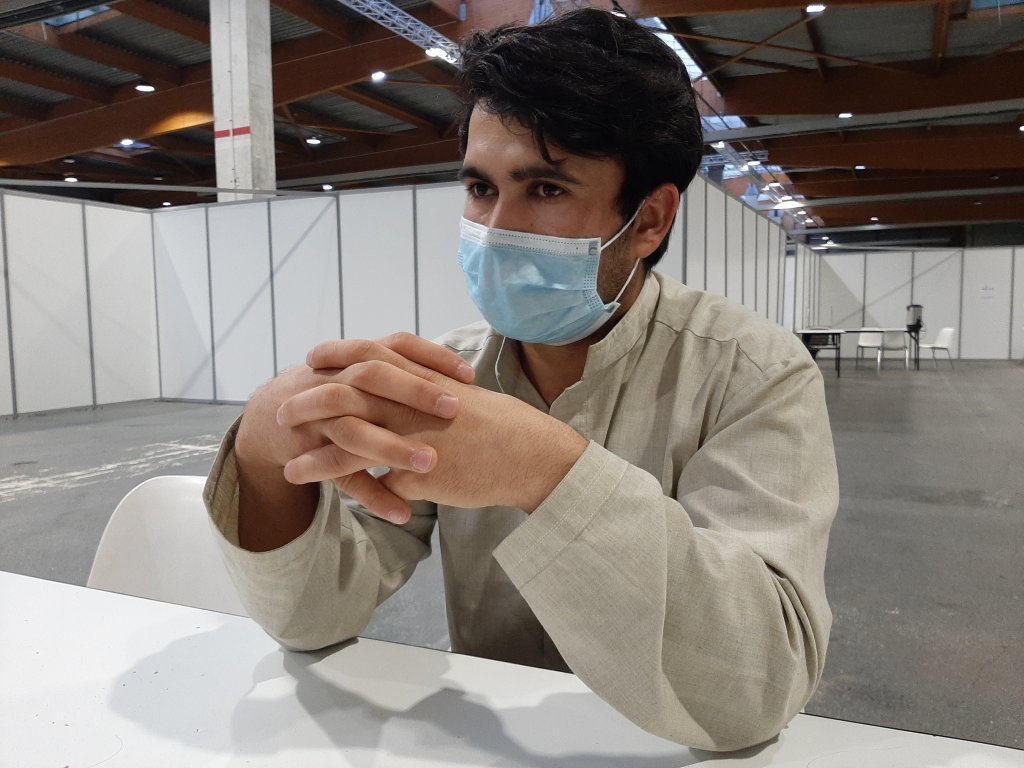 Wahed however refuses to talk about miracles, or even "luck" when it comes to his situation. "Life is very difficult. I don't have friends, I don't have money, I'm not comfortable when I sleep. And it hurts," he says, lifting his pants and the sleeves of his flowing shalwar kameez to display old wounds that mark his arms and legs, painful memories of police beatings during his passage through Croatia in the summer. On the road, he says he also developed kidney problems. "I'm an asylum seeker but I don't have health insurance yet," he worries.
A little further away, Ismatullah Ahmadzai, also 20 years old, looks more peaceful. He now has a roof over his head for the first time since his arrival in France a year ago. "When I got on a bus in Saint-Denis, I said to myself, 'You're going to a great place,'" recalls the young man who spent the entire first lockdown between March 17 and May 11 in a tent near the train tracks in the northeastern Parisian suburb of Bobigny. "When I arrived, I was disappointed."
Like many, Ahmadzai was hoping to find doctors in his new place. The frail young man suffers from itching all over his body after his time spent on the streets. "I don't know what it is," he says.
'Doctors are in high demand'
The need for general practitioners is not being fully met, Porte agrees. "Punctual permanent medical examinations have taken place but, unfortunately, they have not yet been institutionalized," Porte explains, referring to the recurrence of problems such as dermatological diseases, scabies, diabetes, and injuries to the feet of migrants mostly due unsuitable footwear for life on the streets. As for COVID-19, only two men tested positive when they entered the premises – but most of them had already caught it in the first wave, say Coallia coordinators.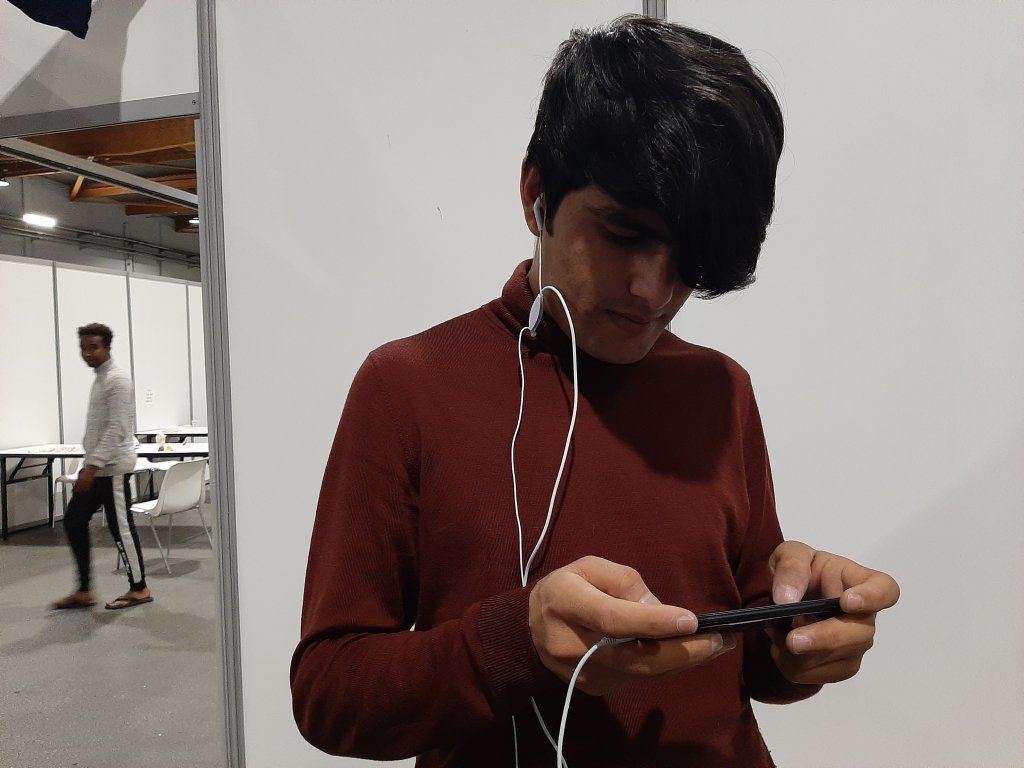 "Doctors are in great demand in the 19th arrondissement [where many emergency shelters in the capital are concentrated]. And when a doctor is on the move, there must also be interpreters with him or her, otherwise patients cannot make themselves understood. That complicates things."
Since the opening of the premises, some of the occupants, who were in a bad state of health, have been taken by ambulance to the hospital before coming back "straight away".
On a positive note, however, consultations for psychiatric problems are being organized. "This will be particularly aimed at those suffering from anxiety and sleep disorders," says Porte.
'I'm afraid of catching a cold'
At night, migrants sleep on camp cots, spaced 1.5 meters apart each in cubicles containing four beds. They use jackets and sweaters rolled into balls for pillows. Upon arrival, only a thin sheet was provided to cover them, insufficient for the season they point out, but this huge exhibition hall is overheated anyway.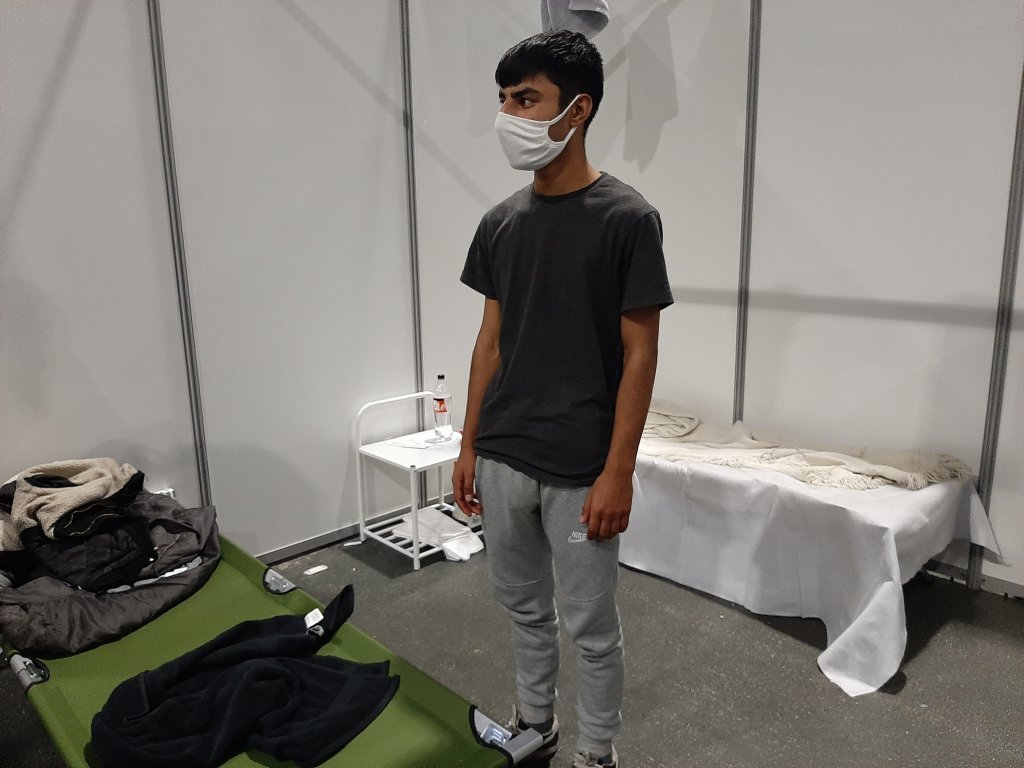 "I can sleep peacefully here, it's not cold," says Ahmad, 24, from the eastern Afghan city of Jalalabad. However, this young man, who arrived in France in November after taking the Balkan route, has recently become wary of showers, where hot water no longer flows. He washes only once or twice a week.
"I'm afraid of catching a cold. If I get sick, I won't have anything to take care of myself," Ahmad says, aware that his situation can change again from one moment to the next (these places are available to the migrants until March 30, 2021).
Far from worrying, Porte explains that every effort is being made to find more sustainable relocation solutions for these people.
Since the opening of the premises, around 60 migrants have already been transferred to CAES (reception and situation assessment centers), HUDA (emergency accommodation for asylum seekers), and CPH (temporary accommodation centers) after their cases were examined.
While waiting to find out more about their fate, the occupants seem to want to take advantage of this time to get back on their feet, before perhaps returning to the streets. "My future is not clear," says Wahed, in a voice betraying his anguish. "I want this to be over quickly."