The year 2020 is not yet over, but already the UN Refugee Agency (UNHCR) has estimated that the number of the forcibly displaced "surpassed 80 million at mid-year." This is according to a report on trends in global forced displacement released on December 9.
As the year 2020 dawned, according to the UNHCR's latest report, "some 79.5 million people had been forced from their homes due to persecution, conflict, and human rights violations." That number includes 29.6 million refugees, 4.2 million asylum seekers, as well as 45.7 million internally displaced people (IDPs).
War, conflicts (both existing and new) and the coronavirus pandemic have all contributed to increase those figures as the year has passed, stated the UNHCR report.
'A bleak milestone'
In fact, Filippo Grandi, the UN High Commissioner for Refugees, said that forced displacement has doubled in the last decade. With numbers estimated to have passed 80 million in mid-2020, Filippo Grandi called this "another bleak milestone, that will continue to grow unless world leaders stop wars."
67% of refugees and Venezuelans displaced abroad "originated from just five countries," according to the UNHCR mid-year trends report. 6.6 million came from Syria, 3.7 million came from Venezuela, 2.7 million came from Afghanistan, 2.3 million from South Sudan and 1 million people from Myanmar.
According to the UNHCR, Turkey continued to be the country hosting the greatest number of refugees worldwide, with a total of 3.6 million registered on its territory. Germany came in fifth place in this table, with 1.1 million present.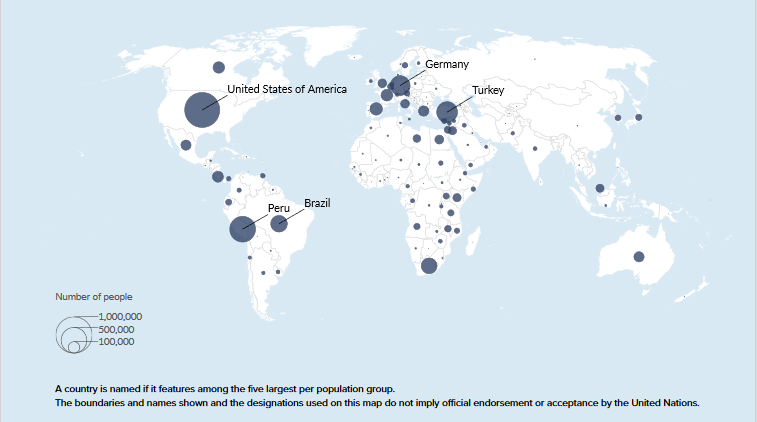 COVID-19 'worsened existing challenges'
COVID-19 "severely worsened existing challenges" this year, in particular for those who are forcibly displaced or stateless, said UNHCR. According to the World Bank it has also created "millions of 'new poor.'" The World Bank projects that during the course of 2020 "between 88 million and 115 million people could fall back into extreme poverty." Between 23 million and 35 million could follow in 2021.
Whilst the virus made things worse, the restrictions imposed globally to try and curb its spread also made it more difficult for refugees to reach safety. During the first wave of the pandemic, 168 countries fully or partially closed their borders, according to UNHCR. 90 of those countries made "no exception for people seeking asylum." Since then, writes the UNHCR, 111 countries have managed to reinstate their asylum system provisions, either fully or partially, but that still leaves 57 countries which haven't.
The effects of the restrictions and closures can be clearly seen on the numbers of those applying for asylum. According to the UNHCR, they dropped by a third compared with the same period in 2019. In fact there were 580,000 asylum claims worldwide. And 398,400 people were newly recognized as refugees. As a result of the virus, the UNHCR and the UN migration agency IOM also had to suspend repatriations.
Finding solutions also hampered
UNHCR figures show that in 2020 "just 822,600 people returned home." The majority of those were IDPs. In the first half of 2020, there were 102,600 voluntary repatriations and refugee returns also "dropped by 22% compared to 2019."
Resettlement too was affected. In the first half of 2020, 17,400 refugees were resettled globally. That is half the number of those resettled in 2019.
The UNHCR says that the exact number of stateless people remains unknown, but that numbers gleaned from the reports of 79 countries have found that there are at least 4.2 million stateless people in the world.
The UNHCR's work in finding solutions for those displaced has also been severely hampered by the pandemic and conflicts which ravaged 2020. Even the integration process for those displaced to new countries was slowed.