Moustapha arrived in the Canary Islands in 2006 as part of the previous influx of mass arrivals at that time. He befriended a young compatriot from Morocco who arrived there by boat in November this year.
Achraf is a big sports fan. In fact, when talking, it is his favorite subject. He is a supporter of Raja in Casablanca -- one of the two soccer clubs in the economic heart of Morocco. The city's other club is Wydad. The matches between the two home clubs are exciting affairs, and each time, Achraf roots for Raja.
It is perhaps of little surprise to hear then that the 25-year-old Achraf wants to ultimately go to Milan, Italy. This too is a city where two big football clubs, Inter Milan and AC Milan, compete against each other and for the attention of the locals.
But this is not the only reason why he wants to go to Italy. Achraf says he has family members there. For him, it is definitely a question of "when" and not of "if" he might get to Milan: He is confident that he has good chances of being accepted in Italy, and of staying in Europe in general.
The sporty young man is nevertheless connected to his roots: He pulls out his Moroccan passport with a sense of pride – not realizing that this passport isn't seen as so attractive in the EU.
Repeated attempts to reach EU
Achraf has befriended Moustapha, whose own journey into the EU started many years ago. Moustapha -- now in his 60s -- says that he "first came to Spain in 1990 on a small boat of three meters."
Moustapha mixes his languages when he speaks. French, Spanish and Arabic all get blended together in the smoke of the cigarettes he inhales: "We went from Tangier to Tarifa in Spain. Then I lived in The Hague. But then the Dutch police sent me back to Morocco."
After failing during this first attempt, Moustapha tried his luck again years later, joining family in the Canary Islands in 2006. But this time, it was not on a three-meter boat that he made the crossing: "I came by plane with a visa," he stresses.
Canary Islands in crisis
Moustapha normally works at a restaurant but "at the moment, there's no work. We haven't worked in nine months." Without tourists coming to the Canary Islands because of COVID-19, the economy of the archipelago is almost at a standstill.
Like many others, Moustapha receives unemployment under the ERTE scheme, through which the Spanish government pays him 70% of his regular salary during the COVID-19 crisis. This has left Moustapha with a lot of free time on his hands.
And that's how he met Achraf: at a shopping mall nearby, he ran into the young migrant and helped him do some shopping for clothes, as Achraf didn't speak Spanish.
"It was my pleasure to help him," says Moustapha.
A steep price for a dangerous undertaking
Achraf hails from Beni Mellal, a city of 200,000 inhabitants in central Morocco. He arrived in early November by boat -- like many of the more than 8,000 other migrants that have reached the islands since.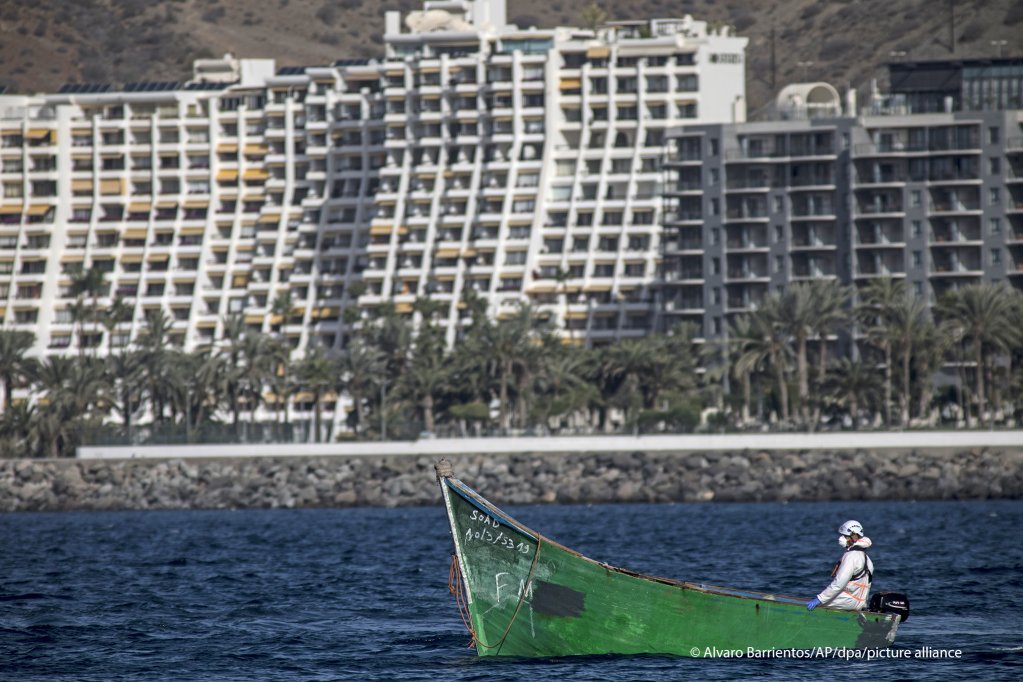 Achraf takes out his smartphone to show us a video of his crossing: about ten people sit in a small boat amid a seemingly calm sea. No one speaks. Many just stare at their phones or film the journey.
It would also be almost a normal video, if they weren't in the middle of the Atlantic Ocean on a small vessel. This is not a luxury cruise ship -- yet the price of the dangerous journey might as well be up there: like many other migrants coming to the Canary Islands, Achraf tells us that he had to pay €1,500 to human traffickers to be allowed to make the crossing.
Stuck in no-man's-land
He shares further details with us. He originally departed from the coastal town of Dakhla in the Sahara Desert, and says the journey lasted two and a half days. "It's very dangerous. You should have stayed in Morocco," Moustapha said when he saw the video. In addition to the dangers of the crossing, Moustapha is also looking at the economic prospects that Achraf may or may not have: "It is very difficult for young people now" amid the economic downturn, he adds.
"They are without passports, without papers, some of them are stuck here. A solution must be found. Whether it is to make them return to Morocco, to give them papers, or to offer them other countries," Moustapha confides.
With the coronavirus pandemic continuing to rage, there's no hope for a lasting solution in sight: According to the latest figures from the IOM in October, Moroccans account for the largest share -- more than one-third -- of the more than 21.000 arrivals in the Canary Islands this year.