In 2020, a global health pandemic, economic problems and even more people displaced than before were just some of the challenges we all faced. But there were some positives too, including these stories of sporting achievement.
Fighting for survival
Farid Walizadeh fled Afghanistan and is now living in Portugal. He is an elite boxer and in February, when InfoMigrants featured his story, he was hoping to qualify for the Tokyo Olympic Games which subsequently had to be postponed because of the coronavirus pandemic.
Farid Walizadeh learned to fight at an early age, for survival. As a one-year-old, his father died and his mother faced religious persecution and fled to Pakistan, leaving her baby son with another family.
Seven years later, Farid Walizadeh told a Portuguese news magazine, Visao, that after his adoptive mother died, his adoptive father paid smugglers to help him escape. He had to walk a long way over the mountain passed from Afghanistan to Pakistan, because the money that was paid was not enough to buy him a place on the back of a donkey.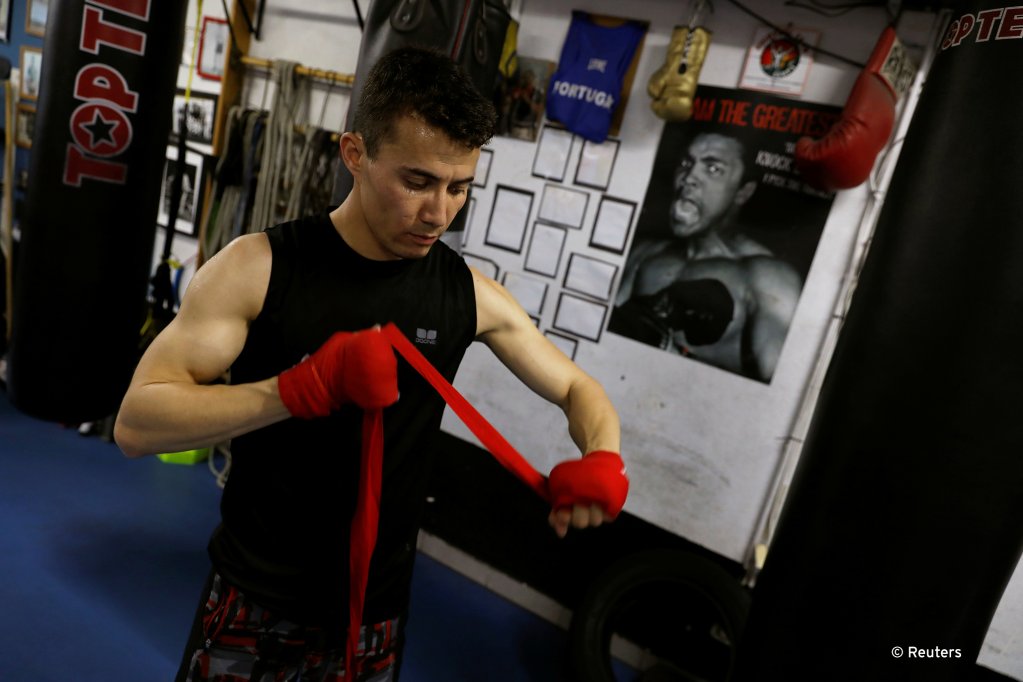 "I went through things that not even most adults have ever experienced, let alone a child," Walizadeh told Visao.
Walizadeh didn't stop in Pakistan however. He told the Reuters news agency that he "fell off" the back of a truck and continued alone to the Iranian-Turkish border. Eventually he reached Istanbul in Turkey and was taken into an orphanage for children with no parents.
There, he was bullied and he began practicing kung-fu and taekwondo. "I had no protection from the boys on the street or in school. They didn't like refugees," Walizadeh told Reuters.
Five years after that the UN refugee agency relocated Farid to Portugal and there he was taken in again by the Portuguese Refugee Council's Reception Center for Refugee Children (CACR) in Lisbon.
It was in Lisbon, that Walizadeh first tried out boxing. By the age of 15, he was already determined to become a champion. At the same time, he started studying to achieve a second dream, that of becoming an architect.
But without Portuguese nationality, as a refugee, money and time was tight. In 2019, he received a grant from Portugal's Olympic Committee to start training for a place on the Refugee Olympic Team. His trainer says that he would "literally have to make him bleed to show people he can do this." Given all the other obstacles Walizadeh has overcome, it is likely that he won't take his eyes off the prize until he succeeds.
Up in the sky
Ali Noori is another determined young Afghan. His big dream was to fly and become a pilot. Like Walizadeh, Noori was born in Afghanistan, but quickly moved to Iran with his family, where he grew up.
He didn't have much of a childhood, he told InfoMigrants, because he had to work from an early age to support his family. But after he fled to Germany in 2015, he used that grit and determination to start to realize his dreams.
Noori successfully studied for his glider license and told InfoMigrants that he feels like, today, he has found his freedom, in the skies. It was a feeling, he has been searching for his whole life. "Watching the world, the good and the bad, all the humans from above gives you a weird and beautiful feeling."
It took Noori almost two years to study. He had to pass a medical and a psychological test too. You need to be strong and healthy even to get on the training course, he said. Today, Noori is happy. He says on his journey to Germany he "stared death in the face." He looks so young in the pictures five years earlier. "We were floating in the middle of the sea for hours," he said.
Noori says that in Germany he has finally acquired "freedom of speech, and can do what I want." His mother and sister have joined him in Germany. He wants to use his new skills to eventually help improve things for his fellow Afghans one day, and make sure that young people growing up there have a chance to realize their dreams too.
Paddling to an Olympic dream?
A second olympic hopeful is Iranian born canoeist Saeid Fazloula. InfoMigrants featured his struggles to qualify for the Olympic team in October this year.
He too arrived in Germany in 2015 and had already caught the eye of the German Olympic Federation.
Fazloula was already an experienced canoeist in Iran and represented his national team in Iran in several international competitions. But despite his sporting prowess, the Iranian government was unhappy with his behavior, which they described as "unreasonable."
Whilst he was competing at the World Championships in Milan, he took a selfie photo in front of Milan's famous cathedral. That made the regime believe he wanted to convert to Christianity, and so they sent him to prison.
Although he pleaded that he wasn't intending to convert, the regime told him that "changing your religion entails the death penalty for us. You can kiss goodbye to your life." That's why Fazloula decided he had to flee, and he followed the Balkan route to Germany.
In Germany, Fazloula has been granted refugee status. That means he has already canoed on the German team in the European championships, but Olympic rules are different. In 2016, he was put forward by Germany for the Refugee Team at the Olympic but then he got taken off the list. One of his mentors at the canoe club told the German state broadcaster ARD that they think it was "something political."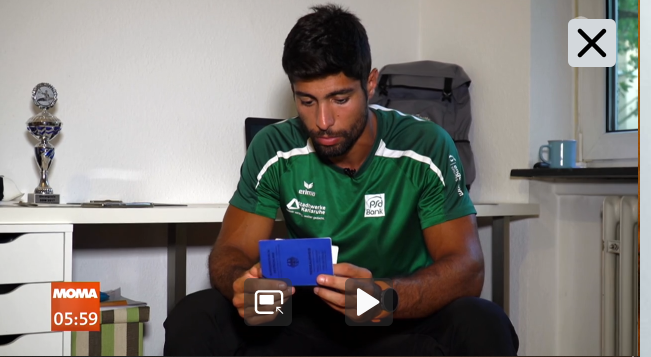 Normally for an athlete to change their team they need the go ahead from both old and new federations. The German broadcaster suspects that Iran was somehow blocking Fazloula's attempts to change teams.
The IOC also felt that since Fazloula had already competed for Germany, he had found a sporting home, but since he has no German passport and does have a refugee passport, he wouldn't be allowed to compete for Germany either at the Olympics.
Luckily for the talented Fazloula, the German canoe federation worked behind the scenes to get the IOC to reinterpret the rules and allow Fazloula to become a candidate for the refugee team. If he makes it, then next summer, if all goes well, Fazloula too will be living the dream, and paddling his way, he hopes, to an Olympic medal at the Tokyo Games.