The coronavirus pandemic has brought challenges for people and countries all over the world. Some businesses however grew during the lockdowns – food delivery services is one example. Nigerian migrant James Osawe is one of Rome's thousands of delivery riders. German TV channel ZDF accompanied him on a shift in Rome.
28-year-old James Osawe has a motorcycle helmet on his head, a mask on his face, a big green box rucksack on his back and he sits astride a small scooter, bumping over Roman cobblestones, shiny with rain.
The Nigerian migrant came to Italy four years ago and now speaks good Italian. He is one of about 8,000 delivery riders operating on Rome's streets.
"Roman traffic is absolutely horrible," he tells reporter Andreas Postel from German public broadcaster ZDF. The reporter team accompanied Osawe on a busy shift, weaving his way around the dark Roman streets.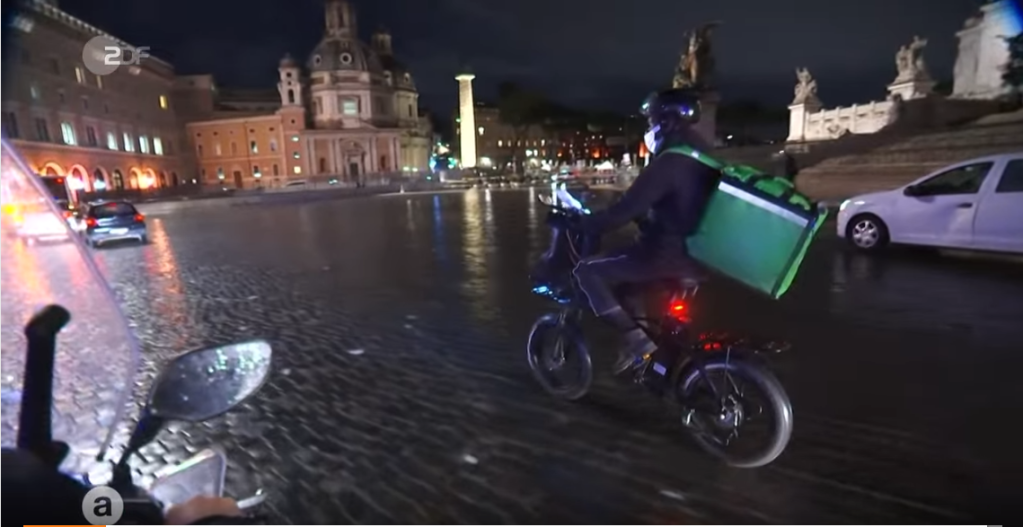 "There are too many cars here, most people don't obey the rules and vehicles are constantly weaving in and out of small spaces," Osawe continues. Osawe's impression is correct, but as he glides past some of Rome's famous monuments, even the traffic looks to have been quietened by the pandemic.
Food orders increased
One of Osawe's customers, Chiara Di Doro, comes to the door to collect her food in an elegant snake print mask. "We've been ordering food to go a lot lately," she explains through the gap in the front door to her apartment building.
"I am a student and so I spend most of the day in my house. I don't really go out much, although I would love to be able to," she says, her eyes appearing to remember times pre-COVID-19 when going out to meet your friends for a pizza on a mild night in Rome would have been normal.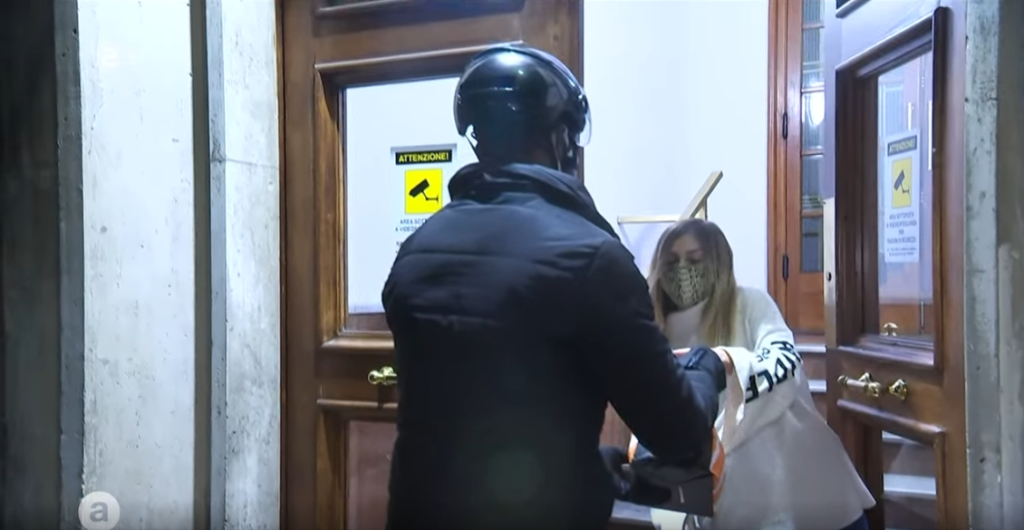 "In the evening, I prefer to order something so that I can keep studying," concludes Di Doro. That is good for riders like Osawe: the more orders he gets, the greater the number of points he accrues. This gives him the chance to more hours or shifts from the delivery companies that he has signed up to.
Your ranking determines how much you can work
It's a kind of ranking, explains reporter Andreas Postel. If it is a quiet night, your ranking goes down and then you get less shifts over the next few days until you have built your business back up. It seems like riders like Osawe are under constant pressure to work. His points slid after he had a road accident recently.
"I've only got 93 points at the moment and it is a Thursday today, so they have only given me a two hour shift today. Tomorrow, I get two and a half hours and on Saturday four hours of riding," Osawe explains.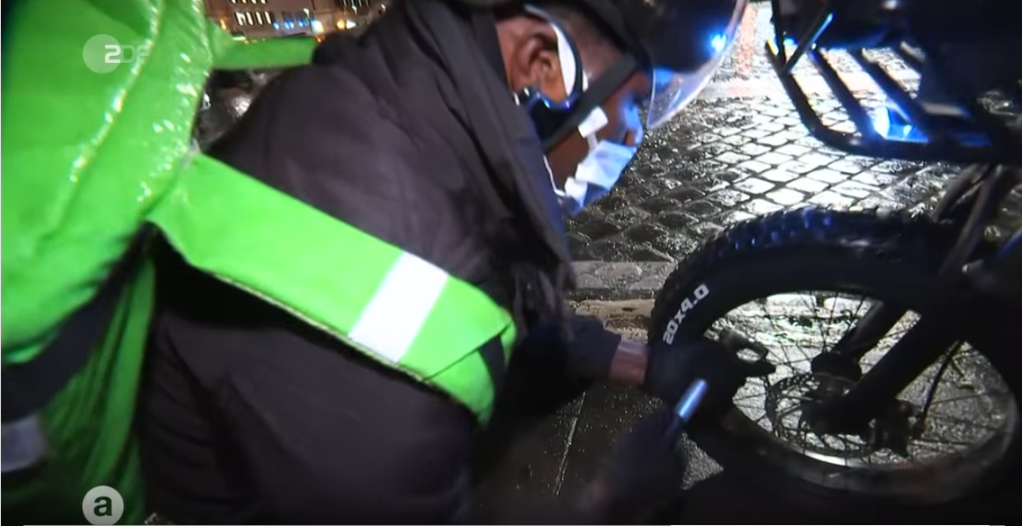 In front of the grand white palace on Piazza Venezia, James Osawe stops to pump up his bike's tyres. Time is running. He needs to be quick, otherwise he will slide down the rankings again, says Postel, as Osawe tries to repair his tyre as quickly as possible.
"This is the first time I have had a flat tyre," says Osawe sighing. "But that is the way life goes sometimes. You never know when you might die either," he says laughing cautiously, his eyes darting about as if hoping to avoid life's imagined next blows.
Life is precarious for riders
Life is precarious for riders like James Osawe. Trade Union representative Michael Popescu explains that the big delivery services want "as many riders as possible on the streets. But that means," says Popescu, "that if there are fewer orders, there will be less work for each rider too."
When James Osawe crossed the Mediterranean from Africa, he thought life in Europe would be better than it has turned out to be. That things would be easier. "After I arrived by boat, I spent some time in Sicily. Then I moved to Rome to a refugee center where I eventually got all the documents I need to live a better life here," explains Osawe.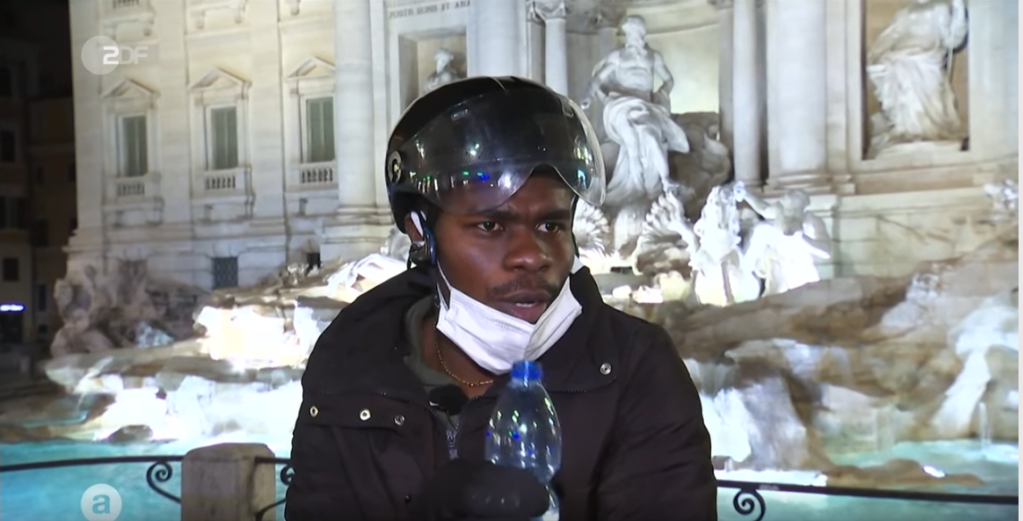 When the coronavirus hit Italy hard, things got even more difficult for migrants and refugees like James Osawe. With his rider job, he can earn between €600 and €700 per month, at least when there are enough orders. With rents relatively high in the Italian capital, this does not leave much room for all the other daily expenses.
'An e-bike gladiator in the eternal city'
At his last delivery for the evening, Osawe sends the pizza up to a flat via the lift, to avoid unnecessary contact. The lift comes back down with a €5 tip on the floor. Osawe says that is the only tip he has received all evening. He bends down to pick it up gratefully.
"One minute to go until I have to log off," Osawe explains, with a sigh and a shrug of his shoulders. "After that I will go home. I hope there will be a few more orders tomorrow," he says mournfully.
The app closes down and Osawe sets off slowly past the Colosseum towards his home. "But he'll be back tomorrow, to fight another battle as an e-bike gladiator in the eternal city," explains reporter Andreas Postel.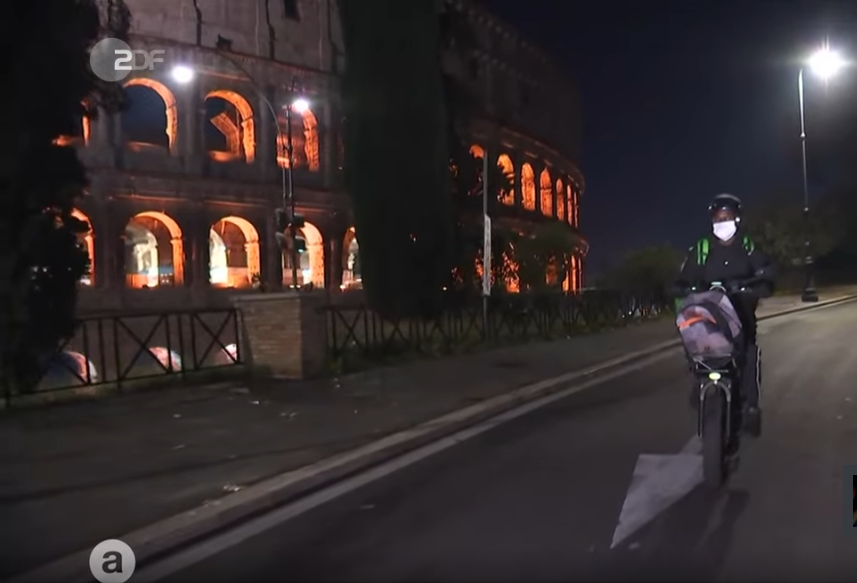 This report was based on a TV report by Andreas Postel for ZDF Auslandsjournal (Foreign News)