Iyaloo Akuunda is a qualified nurse. She was born in Namibia but she couldn't find work there, so she decided to apply for a job in Germany. Through a recruitment agency and a lot of study, she landed a job in Düsseldorf. DW followed her journey from Namibia to Germany.
In the Namibian capital Windhoek, Iyaloo Akuunda is at the market with her cousin and her cousin's son. They are buying a Namibian speciality, grilled meat. As Akuunda tucks into a plate of beef intestines, she says she thinks Namibian meat is the best meat in the world.
Wistfully, Akuunda says she will "miss that," once she moves to Germany. Akuunda qualified as a nurse in Namibia but despite looking, she couldn't find a job. In Germany, explains the film's narrator, "nurses are highly sought after."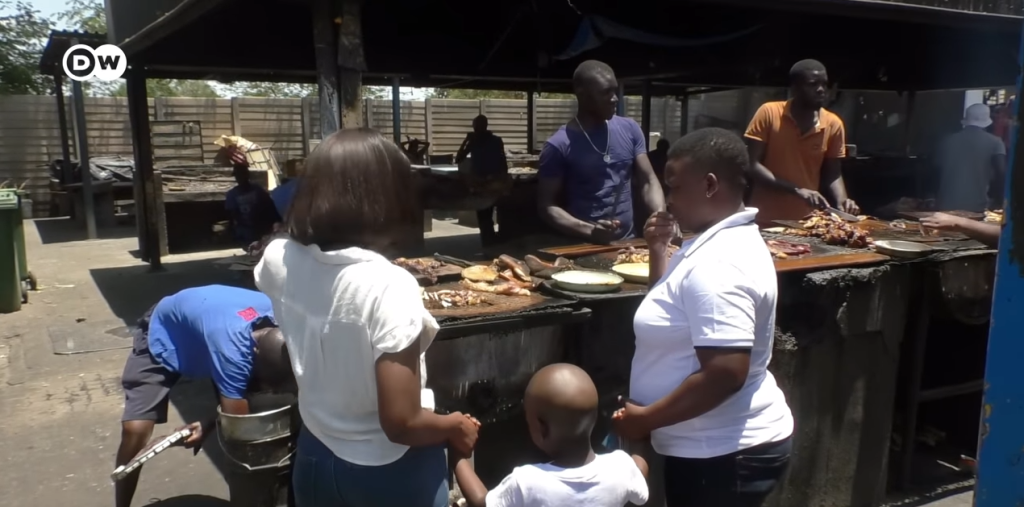 Akuunda is keen to emigrate to Germany because she wants to build on her skills and also earn more money in her chosen profession. She signs up with a recruitment agency, Capitalent Medical, and set out to learn German. The agency funds the language course.
"It is really stressful," says Akuunda in the classroom in English, "but we know what we want so we give it our all." She is studying from "morning to night."
A nurse moves to Germany
At one point, Akuunda leaves the classroom to be interviewed by staff from Düsseldorf's university hospital for a potential job. A woman from the recruitment agency accompanies her in to a large room to sit before the interview panel. The interview will be conducted in German and Akuunda is visibly nervous.
"Why do you want to come to Germany?" asks one of the interviewers.
"It's an opportunity for my personal development," says Akuunda, "and a chance to work with first-class medical personnel."
'They fit in with our team, with our wards'
The interview panelists seem impressed by Akuunda. Torsten Rantszch is in charge of nursing staff in Düsseldorf. "After five months, I am very impressed," he tells the filmmakers. "If we had to do that in English after five months of learning ... it's just unbelievable," he trails off, stunned.
"They fit in with our team, with our wards, I am totally impressed," Rantszch enthuses.
After all the interviews are over, Rantszch says they were impressed by all of the cohort they interviewed and they hope to recruit them all to Düsseldorf hospital.
Three months later, it is time to fly. Akuunda's journey was delayed because of the COVID-19 pandemic. She had to wait until the flights started up again due to the coronavirus restrictions imposed around the world.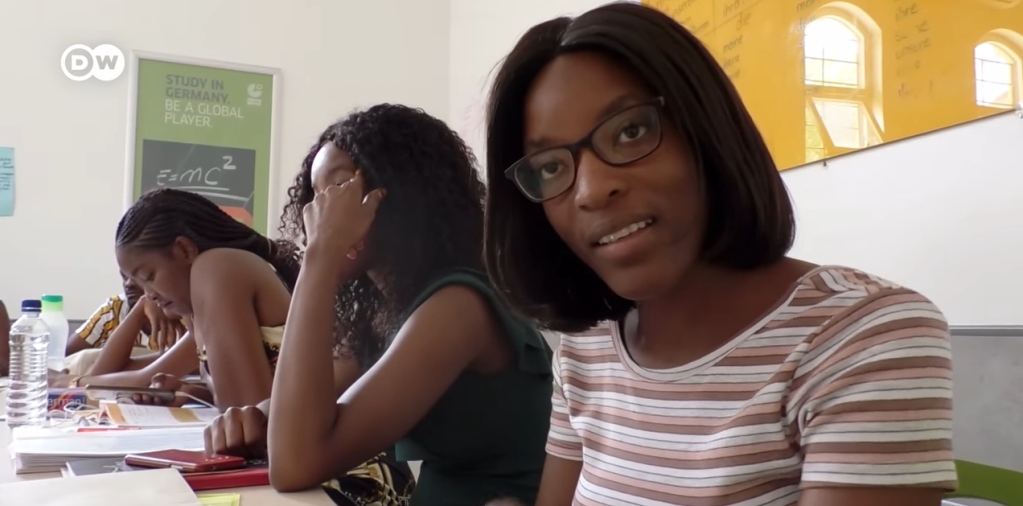 Leaving Namibia for Germany
As she arrives at the airport, wearing a mask and her hair in plaits, her temperature is taken. Her family has accompanied her to the airport. Akuunda comes originally from a small village, part of it has "no electricity," explains the narrator.
Her father works on a pig farm. "Germany feels like a distant world away," comments the narrator as the family quietly say their goodbyes to each other. "Her father is proud of his daughter's success, but saying goodbye is tough," continues the narrator.
"It is very difficult, but what can I do? I can do nothing, I must just accept it," says Akuunda's father resignedly. He hugs and comforts Akuunda as she cries in his arms. Akuunda sobs and buries her face in her father's shoulder.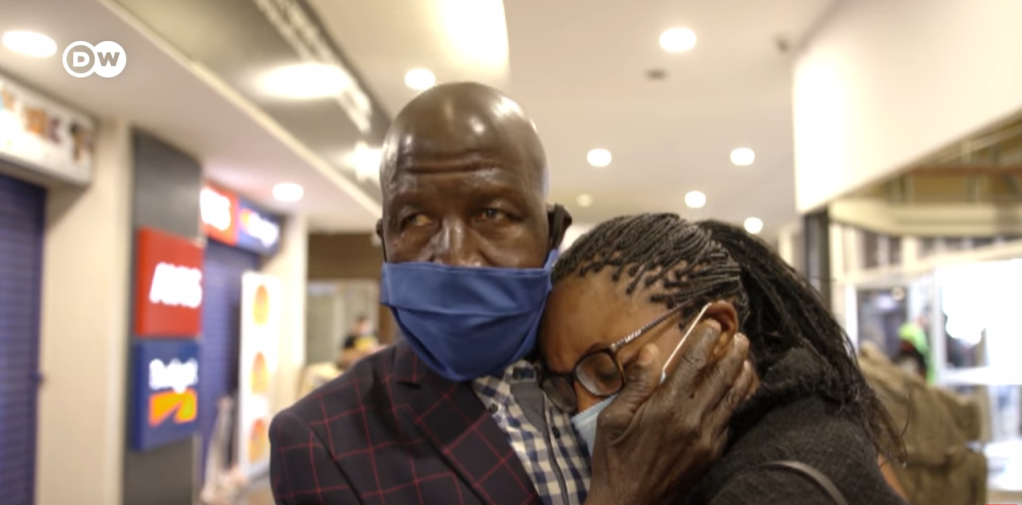 "None of them know when Akuunda will be back," explains the narrator. "She hopes to stay in Germany for at least two years. She might end up staying a lot longer than that." The recruiting staff have come to meet the nurses at Frankfurt airport.
The narrator explains they have spent months trying to get the nurses they recruited to Germany because the clinic desperately needs staff.
'It is too different'
As Akuunda sits on the bus, rolling past the green trees of Germany in the summer, she exclaims, "it's so beautiful. I can't believe this, we're coming from our dry Namibia. We'll learn how to swim and swim in these lakes," Akuunda giggles, folding up a fluffy blanket as she speaks.
Although it is summer, Akuunda wraps the blanket around her shoulders, the temperature is "unfamiliar," to her. The clinic has rented apartments for the nurses, explains the narrator, and Akuunda will be sharing a place with "six of her colleagues."
"It's too different. There is nothing that is familiar here," says Akuunda shaking her head and looking out of the window. She immediately finds the radiator and checks whether it might be working. "It's like a different world, a totally different world," she says.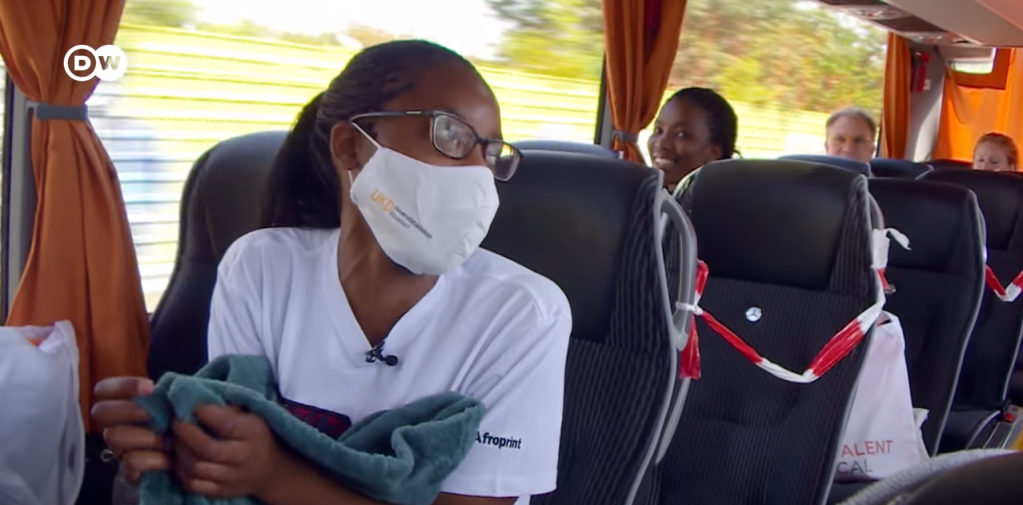 "There are shops and cars all over, I feel like I am in New York," laughs Akuunda looking out of the window at Düsseldorf. She doesn't have long to sit and observe though. Soon, Akuunda is taken to the hospital to meet her new colleagues.
'She grasps things quickly and applies them'
Sabine Schneider is the deputy head nurse on the ward where Akuunda will be working. Schneider will also be her mentor. She shows her round the dispensary and explains the job to her. Akuunda and the other nurses will spend the next four weeks being shown the ropes at the hospital and attending a course on medical terminology in German to make sure that they are up to speed with everything they will have to do.
Akuunda takes an elderly patient's temperature, who has been admitted with pneumonia. She checks his blood pressure and sets up a drip for him. Akuunda's mentor, Sabine Schneider says she is pleasantly astonished by what she sees. "I think her German is amazing," she says. "She seems to grasp things very quickly, and apply them. I'm feeling very positive."
Akuunda will work for a few months on these apprentice conditions and then she is expected to sit one more exam. If she passes, she can expect to be paid the same as a German nurse. She is already planning what she will do with some of her wages.
"I want to install electricity in our farmhouse," says Akuunda as she carefully stows the blood pressure kit away. "I want to help my cousin as well and my brother, since he is at university, I want to give him some pocket money," explains Akuunda.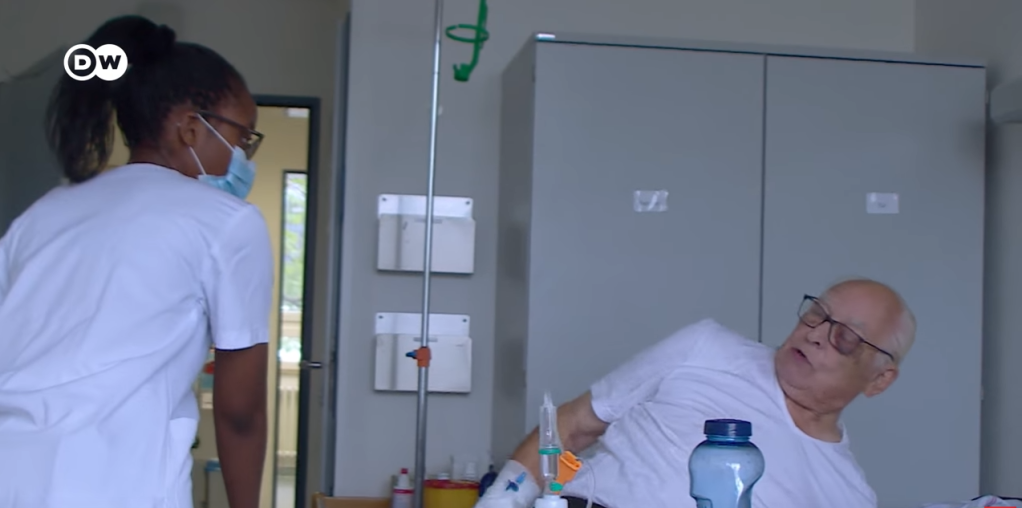 Cultural differences
As one of her first patients, Werner Blanck is taken back home, Akuunda comments on how "sweet" he is. The narrator explains that she likes elderly people but she is sad that they are not always able to have their whole extended family near them, as they would in Namibia.
"You wouldn't normally see an elderly person staying on their own in Namibia," says Akuunda seriously. "He would normally be with somebody. I really feel for them, it is not good to stay alone, especially in old age. I'm a bit sad for him."
After work, Akuunda goes out for Italian ice cream and coffee with two of her colleagues. They sit at an outdoor café near the Rhine river. The narrator says they think the city of Düsseldorf is "beautiful." But making German friends hasn't been easy, explain the nurses.
Finding friends
"For us with friendship, it is like family," says Akuunda. "Once I am in your world and you are in my world. But I think Germans are hard to crack," she giggles, miming cracking a very hard object with a chisel. She's still hopeful that "once you are friends, then maybe they are soft, I don't know!"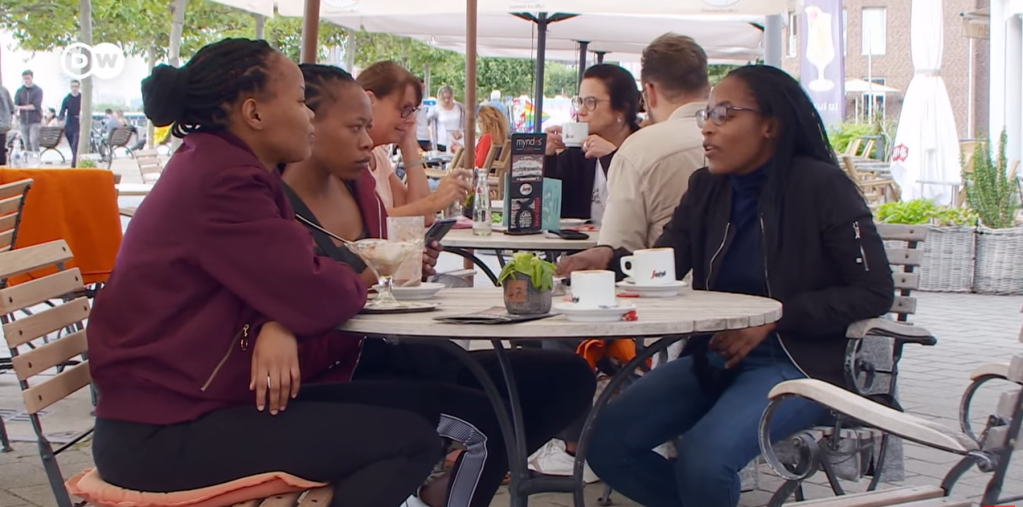 The nurses take their first boat trip on the Rhine river. "I think I will adapt, but it will never feel like home," says Akuunda wistfully. It starts to rain lightly and she pulls her jacket around her shoulders a bit more. "Well maybe if I…" Akuund begins, then she shakes her head, "no, it will never feel like home. It is so different to be honest."
Akuunda is still glad she decided to come to Germany though, she explains to the filmmakers seriously. "The job is good, I can learn a lot, learning from the best," Akuunda smiles. "So, I don't regret it one bit."
Akuunda's hope now is to find some German friends, which would help to replace her lack of a family, and then, says the narrator, she hopes that despite the differences, she could be happy living in Germany.
This report was based on a DW News Documentary report by Adrian Kriesch and Ruth Krause.