The feared sexual assault of an Afghan toddler in the Kara Tepe tent camp for migrants on the Greek island of Lesbos last week has been confirmed by a forensic examination. While Germany's development minister sharply criticized the living conditions at Kara Tepe, the Greece migration minister defended safety conditions at the camp.
On Friday (December 18), Greek police said doctors confirmed that the three-year-old Afghan girl found bleeding and unconscious in a bathroom at the Kara Tepe camp on the Greek island of Lesbos last Monday had been raped.
According to police, the child is recovering in a hospital while police are continuing to investigate the assault. No arrests have been made so far. News agency AFP reported that local medical staff said the toddler required stitches.
UN agencies, human rights organizations and migrant aid organizations like Doctors Without Borders (MSF) have repeatedly condemned the conditions at the tent cities on the Greek islands, such as Kara Tepe on Lesbos, which many refer to as Moria 2.0.
There have been many reports, including from the UN refugee agency UNHCR, that refugees and migrants in Greek island camps -- especially children and women -- are at risk of suffering sexual abuse and exploitation.
Greek vs German minister
In statements to the press late last week, Germany's development minister and Greece's migration minister assessed the security situation at camps like Kara Tepe very differently.
German Federal Minister for Economic Cooperation and Development Gerd Müller accused Europe of ignoring migrants, especially children, who are facing weeks of winter weather on Lesbos. The minister said that medics working on the Greek island had been treating babies with rat bites.
Greek minister of Migration and Asylum Notis Mitarachi defended the safety conditions at Kara Tepe. He insisted the tent camp was a massive improvement on the Moria camp.
"The facility is in very good condition as regards safety and order," Mitarachi told reporters granted rare access to the camp. The minister also said that 300 police officers were stationed at the camp. He stressed that Kara Tepe was built as temporary accommodation, under "emergency conditions", after Moria burned down in September.
Greece announced earlier this month that a new, permanent "up-to-standard reception center" on Lesbos will replace Kara Tepe by September 2021. The European Commission said it will support the Greek government with the building project.
According to the UNHCR, 19,500 refugees and asylum seekers are currently staying on the Greek Aegean Islands, close to half of them from Afghanistan. 147 asylum seekers departed to the mainland between December 7-13.
'Moria 2.0'
The Kara Tepe tent camp was erected in September after a fire devastated the Moria camp, displacing more than 12,000 people who were staying in and around Europe's then-largest migrant camp.
Many refugees and asylum seekers were transferred to the Greek mainland and some to other EU countries like Germany. But thousands remained on Lesbos and were moved to Kara Tepe. The site with 850 tents is currently home to more than 7,000 people.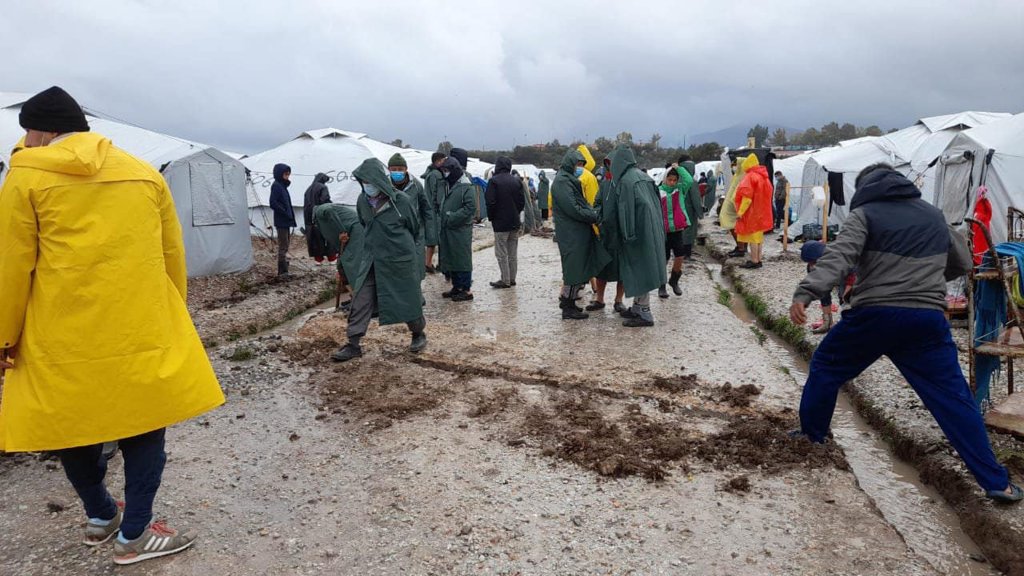 Earlier this month, Greece's government came under heavy criticism after the tent camp was flooded for the third time following heavy rainfall.
Human Rights Watch also recently said that Kara Tepe residents and aid workers might be at risk of lead poisoning, given that it's located on a former military firing range.
With AFP, AP