The information flow about the roughly 22,000 migrants who have arrived on Spain's Canary Islands this year is slow and often intransparent – from authorities, NGOs and locals alike. The lack of communication and absence of facts have long helped fuel rumors and xenophobia.
It's a warm and sunny day in November during high tourist season, yet the Holiday Club in southern Gran Canaria isn't hosting any tourists this year. COVID-19 has effectively placed the tourism industry on hold.
But this doesn't mean the middle-class hotel is empty: Judging from the laundry racks on the balconies, well over a 100 people are staying at the hotel. However, they aren't tourists; they're migrants from Africa who have come to the Canary Islands in search of a better life.
But trying to gain access to the 17 tourist facilities that house migrants on the Spanish archipelago is proving to be difficult. After trying for one week the Holiday Club is our last best hope to get to speak to some migrants about their experience.
Hotel fortress
We arrive there as the sun begins to set over the Atlantic. The managing director of the hotel is supposed to meet with us and introduce us to some of his guests. But after 20 minutes of waiting and watching migrants come and go, a Cruz Roja (Spanish Red Cross) employee shows up to tell us in a friendly but firm way that journalists aren't allowed to enter.
We enquire whether we could at least talk to the managing director of the hotel, but the answer remains "no." With four security guards watching over the entrance, the hotel begins to increasingly appear like a fortress rather than a welcoming tourism facility.
Read more: Boat migrants instead of holidaymakers - how is the Canary Islands' tourism industry coping?
Little 'transfer of information'
For local and foreign journalists covering the surge in migrant arrivals to the Canary Islands, this episode sounds like a familiar story: The constant lack of access to information about the migrants' accommodation and to the facilities themselves is making it difficult to report on facts rather than to follow the trail of rumors and gossip.
This lack of cooperation seems to stem in equal parts from local authorities and from the Cruz Roja; NGO workers complain that they have had similar experiences.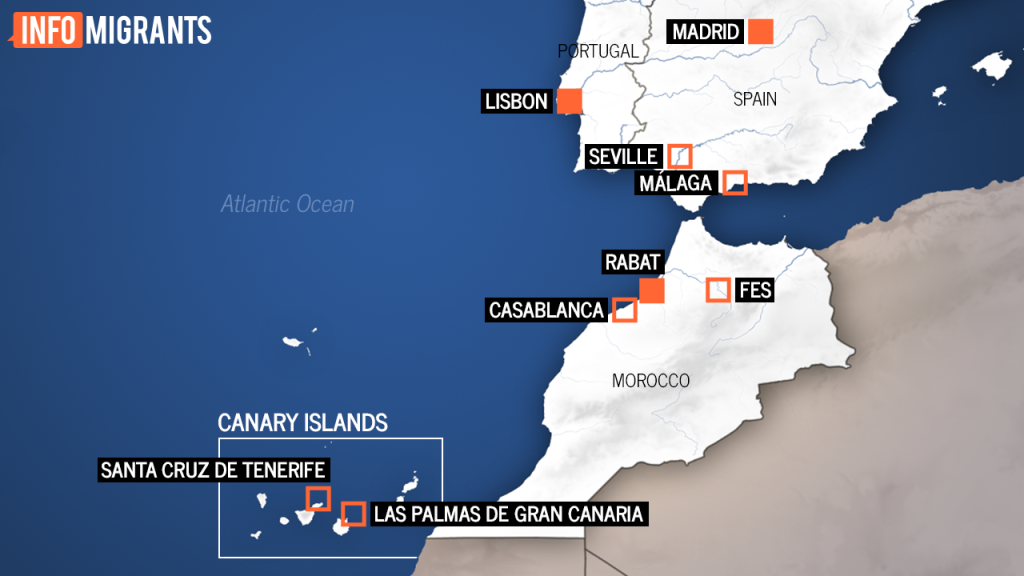 "Compared to the Greek Aegean Islands, there is a really big problem on the Canaries concerning the transfer of information," says Niklas Fischer, who works for German NGO Mission Lifeline.
The 36-year-old spent three months on Lesbos before coming to Gran Canaria in November to do on-the-ground research and media work. "Very little information exists, and it's hard to verify what is true and what isn't," he told InfoMigrants. However, building up an "NGO and information infrastructure," as Fischer calls it, typically does take some time.
Distance at the 'dock of shame'
However, authorities have long been blocking most enquiries by the media and NGOs -- even before migrants staying at the controversial dock camp in Arguineguín and at hotels on Gran Canaria first made international headlines earlier in the year.
At the "dock of shame" in Arguineguín, which was closed in late November after it had become the glaring symbol for the authorities' failure to cope with the migration surge this year, journalists weren't allowed access and had to stay behind a yellow plastic fence over 50 meters away from the tents.
Making matters worse, the increasingly controversial nature of the migrants' presence on the island, particularly in hotels, has turned many people reluctant to talk to the press at all. We've also been told that the sheer number of journalists descending there and -- at times -- their pushy demeanor have also affected the relationship between locals and the media negatively.
We have experienced this for ourselves: We had to deal with canceled interviews, rejected inquiries and an overall sense of caginess at every corner we turned. The managing directors of various hotels were especially reticent. As were representatives of the Cruz Roja, which did not respond to our extensive list of questions about the accommodation of migrants on the Canaries.
There also appeared to be little communication coming from the two responsible ministries in Madrid: the Ministry of Inclusion, Social Security and Migration (MISSM) and the Interior Ministry. Some have said that this is due to an overall lack of strategy.
Xenophobia and violence
Yet the accommodation of thousands of migrants in tourist facilities is at the crux of this crisis situation, which seems to be more about perceptions rather than facts. The absence of a clear and open communication strategy on what's being done has allowed rumors, xenophobia and even conspiracy theories to seep in.
Examples for this range from comparatively harmless rumors, like the ones saying that migrants' bracelets mean an 'all inclusive' treatment at 'luxury' five-star facilities to hoaxes that have almost led to real violence.
On December 12, after reports of an alleged assault by a group of foreign minors on a young Canarian spread like wildfire on social networks, 30 locals gathered in front of a hotel in Arguineguín that houses migrants.
According to Spanish daily El Pais daily newspaper, the tension escalated to such a degree that police had to protect the hotel from the protestors; the Cruz Roja recommended the nearly 6,000 migrants staying at such hotels on Gran Canaria refrain from going out on the streets.
Déjà-vu in Las Palmas
In front of the Casa del Marino ("sailor's house") at the Spanish capital Las Palmas, migrants enter through the lobby carrying plastic bags filled with groceries from a local supermarket. Others, like 23-year-old Mohammed, are sitting idle on a bench. He and two other Moroccans all wear the same blue Havaianas flip-flops. They say that the Cruz Roja provided them.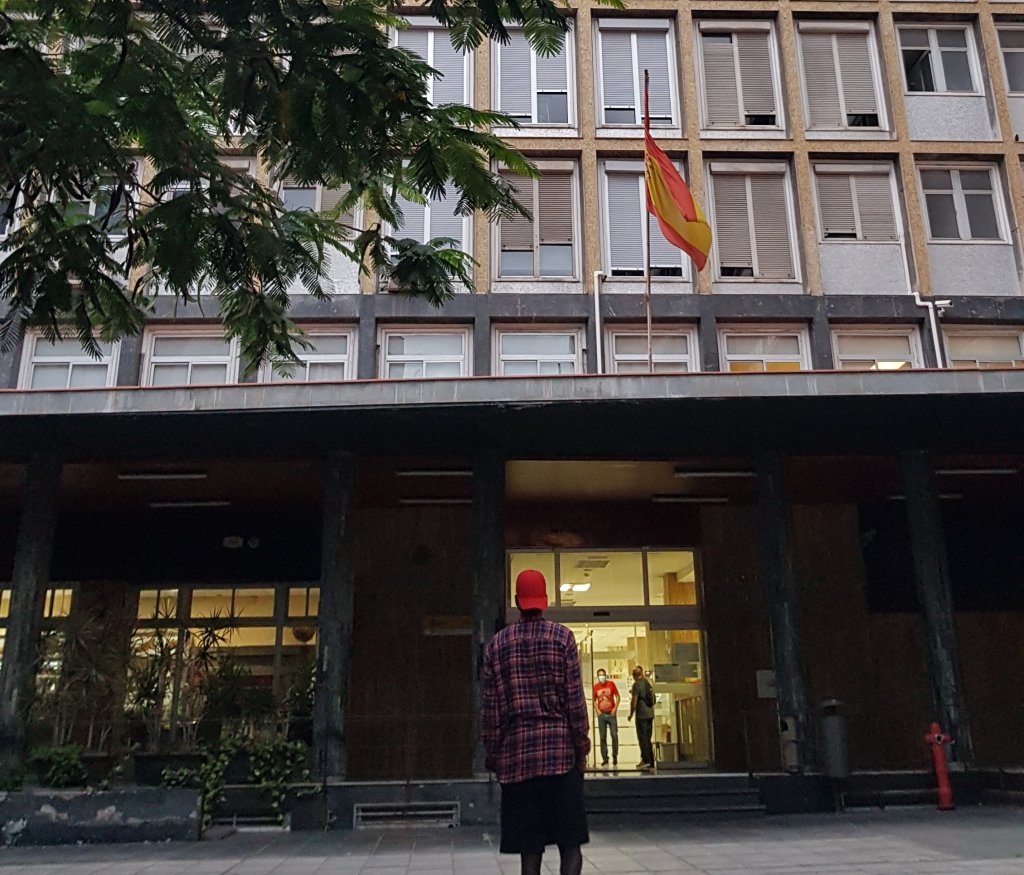 The Moroccan tells us that he spent four days at sea on a boat that he left with from Dakhla, around 440 kilometers southeast of Gran Canaria. His cousin and close friends are also on the island, he adds. But he has no idea what will happen next to him, to his cousin or to his friends.
What he does know is that he doesn't want to apply for asylum here. When we enter the lobby, a security guard tells us that we cannot enter the building, and that we would need to contact Cruz Roja if we wanted any further information. The whole scene feels like somewhat of a déjà vu.
From hotel beds to tent camps
The Casa del Marino is one of an estimated 17 hotels, bungalow holiday complexes and other similar facilities on the Canary Islands that currently house migrants. While there is no definite information on how many migrants are currently housed at such facilities, the number one hears the most is 7,000. The majority of the buildings are in the tourist hotspots Maspalomas, Puerto Rico and Mogán in southern Gran Canaria.
Ranging from two to 3.5 star hotels, each tourism facility houses between several hundred migrants to more than 1,000 -- like the Servatur Waikiki in Maspalomas. Without official information, of course, neither of these figures can be verified or corroborated.
According to El Confidencial, migrants receive three meals a day but do not have access to common areas -- such as swimming pools and solariums. Still, a comfortable bed at a hotel room with a TV and a fan would presumably be more enjoyable than what life is like at the seven "tent and emergency camps" the migrants are supposed to move into by the end of the year.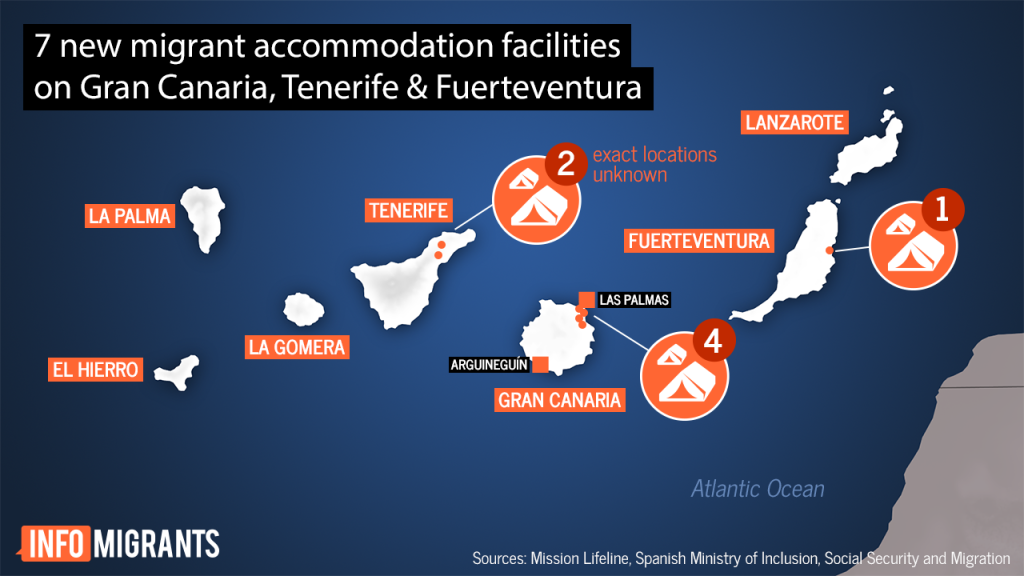 The Spanish government announced the setup of these facilities with room for some 7,000 people on November 20; four of them will be located on Gran Canaria, two on Tenerife and one on Fuerteventura.
Two of them have already started to take in migrants: the new camp next to the former military ammunition site at Barranco Seco near Las Palmas with room for up to 500 people, and a closed school (CEIP León) with room for 300 people.
But NGO workers like Niklas Fischer doubt that these transfers will be completed by December 31.
Moreover, an estimated 2,500 foreign unaccompanied minors are currently staying in 22 "emergency spaces," which are run by different NGOs. These fall under the protection of the regional government, according to a Save the Children representative we spoke with. One of those spaces, reportedly located in southern Gran Canaria, consists of igloo-shaped tents standing on the grounds of an equestrian center.
There are also a number of women's shelters on the islands that accommodate female migrants; however, of the 22,000 arrivals this year, only about 1.4% are women, according to Save the Children.
Another 1,500 to 2,000 migrants have meanwhile been transferred to mainland Spain this year, as elDiario reported in late November.
The numbers don't add up
According to the International Organization for Migration (IOM), some 22,000 migrants have arrived on the Canaries so far this year. We know that around 15,000 people are still on the islands. But the whereabouts of the remaining 7,000 migrants are unknown; they must either have found a place to stay on the archipelago, or -- in the majority of cases -- moved on to the mainland and other EU countries where many of them have relatives.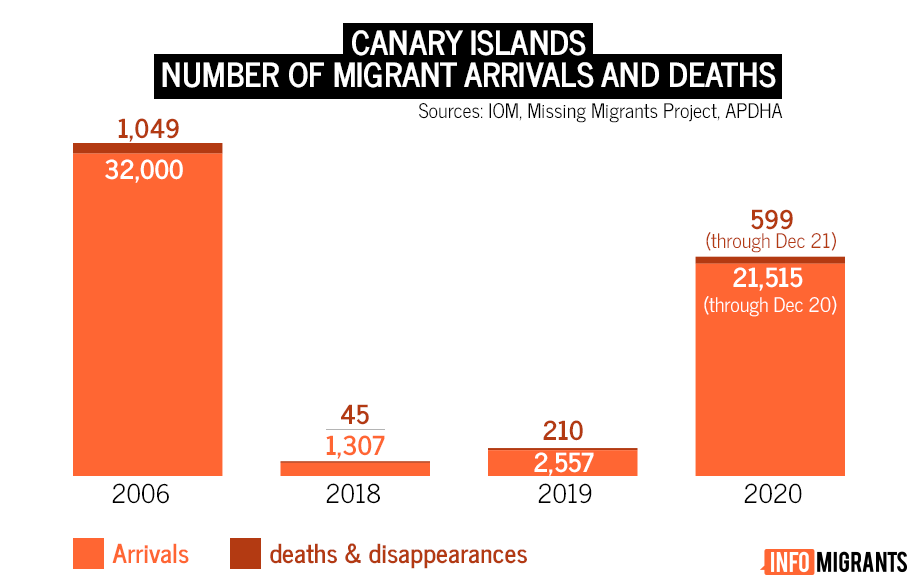 Even rejected asylum seekers, who would usually have ended up in deportation detention during non-coronavirus times, appear to have fallen through the cracks of the system: Since repatriation flights to Morocco and Mauritania -- the two North African countries Spain has corresponding agreements with -- have been suspended due to the COVID-19 pandemic, a local judge has decided to close these pre-removal centers.
And since the Canary Islands are not only part of the European Union but part of the Schengen freedom-of-movement zone, they could be anywhere in the EU.
Five potential ways out
Meanwhile the question of what will happen to the some 15,000 migrants still remaining on the islands remains unanswered. Given that very few of the 32,000 Africans who arrived during the last big migration spike in 2006 ended up staying on the archipelago, it is highly unlikely that a substantial number will ultimately remain on the islands.
This is further supported by the fact that most of the new arrivals this year have also said that they regard their current position as a springboard into elsewhere in Europe
But where would they go instead? There are five possible scenarios they could resort to:
If they are deemed to be in a vulnerable position, they could eventually be transferred to mainland Spain. For most arrivals, this scenario is unrealistic given the low protection rate of migrants from Morocco, Senegal, Mali and Guinea -- the four main countries of origin. Migrant aid organizations and NGOs criticize how difficult and long the asylum procedure is -- lasting up to two years. Such authorized transfers from the Canary Islands to mainland Spain are the responsibility of the migration and interior ministries based on lists of people proposed by the NGOs that manage their reception.
They could return to their home countries voluntarily. The International Organization for Migration (IOM) knows of 18 such cases so far, but all of them came from and returned to South America. The two ministries in charge have shared very little information thus far about the movements to and from Spain.
They could qualify for reunion with relatives who have emigrated to Spain many years ago. They would have to come to the Canary Islands to pick up the new arrivals. However, this would be an informal case family reunification, and could still bring about future challenges.
Those who can afford to travel and have a passport can purchase a plane ticket to travel further to mainland Spain. In fact, this is a phenomenon that has been well-documented for months now, primarily among Moroccan migrants. During domestic flights, only the identities of the passengers are assessed for security purposes but not their legal residence situation. It is widely believed that authorities only put up with these flights as they ease the pressure on the Canary Islands.
The government's priority, though, seems to be to focus on deportations and repatriations. After a meeting with Moroccan officials in late November, the Spanish interior ministry in early December increased the number of deportation flights to its Mediterranean neighbor. The numbers of deportations are still low, but the plan is to transfer at least 80 people per week.