Survivors of the blaze that destroyed a warehouse near Barcelona and that left four migrants dead have been camping out in protest over their housing conditions. Their goal: papers, and a decent home.
It is a grey day and temperatures have started to drop. A small group of ten people stand around a fire in the middle of the street, trying to get warm. They are some of the survivors of the fire that destroyed an abandoned warehouse in Badalona, a city next to Barcelona, on 9 December. Four people died and nearly 20 others were injured in the blaze.
For three weeks, around 60 people – mainly men from Senegal and Gambia – have been camping out in the open. Their campsite is located next to a park, in a modern avenue of new luxury buildings. Surrounded by a "wall" made of blankets, there are about 20 tents in a circle.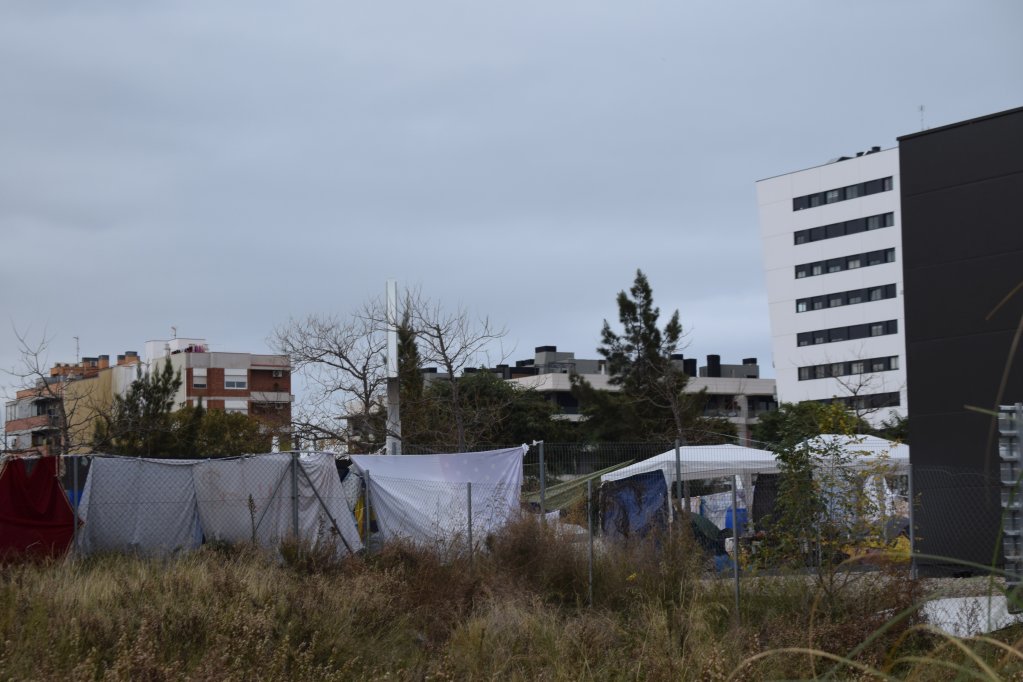 This provisional campsite is not far from their old home. Some of the men had been living in the warehouse for a long time. Amadou had been there for 11 years. "At the beginning it was like a hotel, with electricity and water," said the 40-year-old from Senegal. "Everything was clean."
The number of residents had been increasing in the last few years, and especially in recent months due to the coronavirus pandemic. "There were around 150 of us, but every day there were new people coming," Amadou said.
Amadou had lost his job during the financial crisis and needed a place to stay. Then a friend told him about the warehouse and he moved in. It was the same for Ismalia, also from Senegal. He too found the place through a friend and was one of the first residents in the warehouse.
"At the beginning there were only five or six of us," Ismalia said. He left the warehouse and moved to Santa Coloma de Gramanet, a city near Badalona. That was three months ago, but he continued to visit his friends regularly and had kept his room there.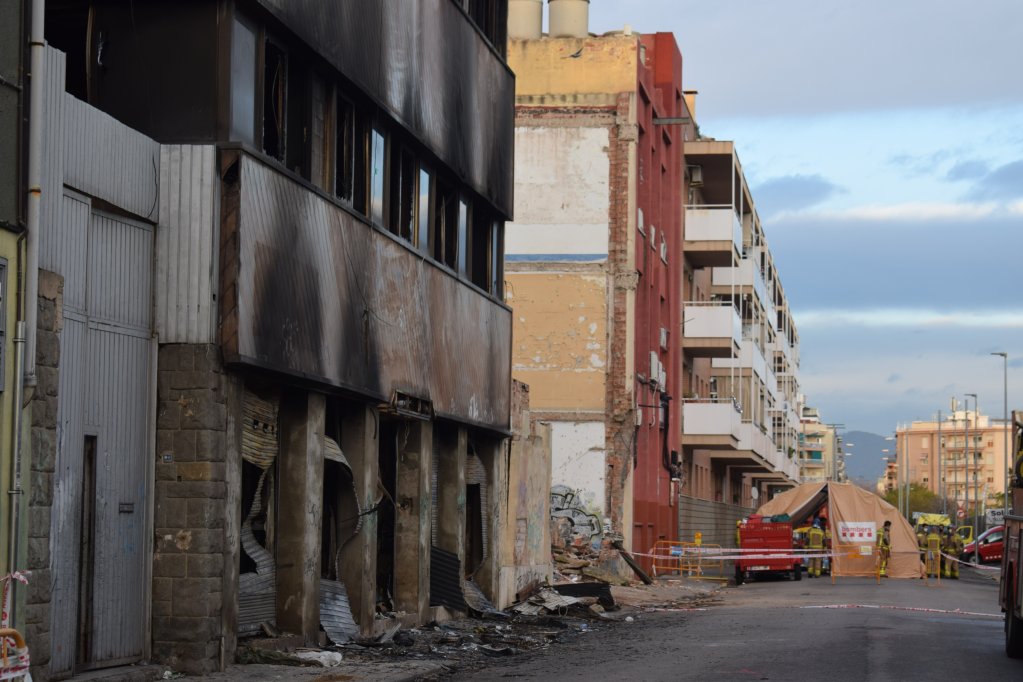 Traumatized from the fire
Sety from Gambia lived in the warehouse for seven years but had left a few weeks before the fire to move to the Selva de Mar area in Barcelona. "My friends said I knew what was going to happen and that's why I left," he joked.
But not all of them had the chance to leave. For Amadou, finding a place to live turned out to be so difficult that he decided to stay at the warehouse. "I lost everything," he said, adding, "I had some valuable things there."
The Senegalese also lost his job as framer. "The day the fire happened I signed a work contract," he explained. However, he was unable to start. "I have a trauma here," he said, pointing at his head. "It must go."
Amadou complains that the residents did not receive any psychological counselling after the blaze. He still cannot forget the fire. "When I arrived home I smelled something burning, but I went to my room. Five or ten minutes later, I was preparing a tea, when suddenly a guy knocked on my door to alert me that there was smoke in my room, but my windows were closed. Then he said to me: 'You must go, the house is burning'. This guy saved my life," Amadou said.
Like the other residents in the warehouse, he jumped from the building to escape the flames.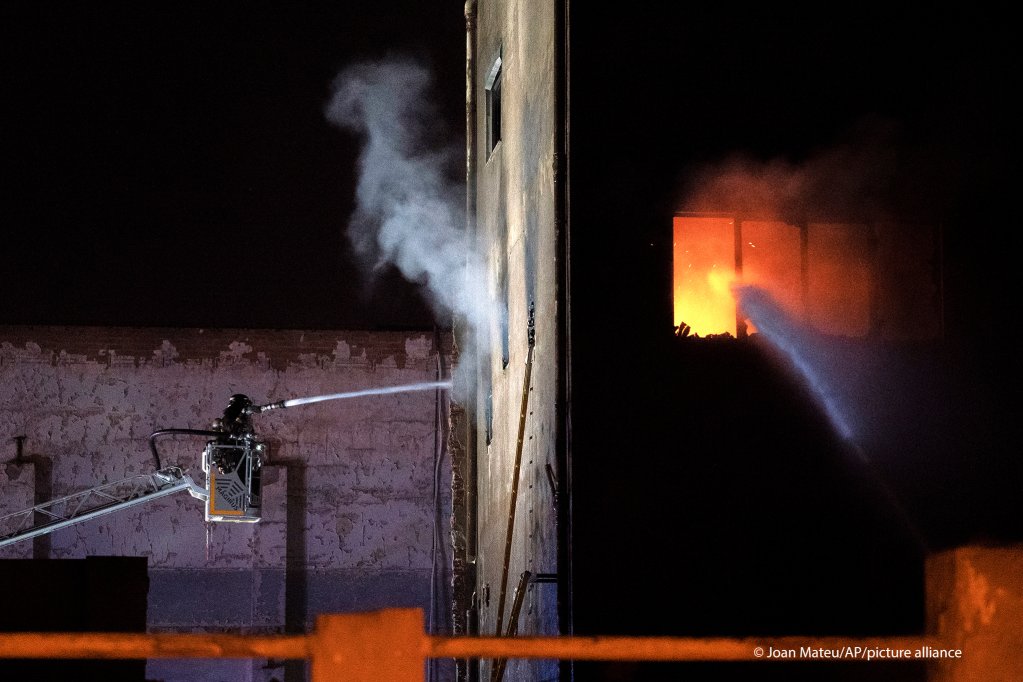 Migrants want papers, homes
Amadou is one of six spokespeople from the group 'Burnt Souls' (Almas Quemadas).
On 12 December, together with local associations, the group organized a demonstration that drew a crowd of roughly 1,000 supporters. They walked from Gorg metro station, where the warehouse and campsite are located, to City Hall.
With a trembling voice, Nfaly Faty introduced the speakers. Originally from Senegal, he works for a foundation assisting migrants and others in need, and he already knows the people from the warehouse and the conditions they were living in. "They were without water, without electricity, with nothing," he said.
"They came to Europe looking for a better life, but this tragedy happened."
Cristina, another 'Almas Quemadas' spokesperson, did not live at the warehouse, but she was a regular visitor. Her boyfriend, who suffered burns in the fire, was a resident. Cristina criticized the assistance the former residents had received and the way Badalona's mayor, Xavier Garcia Albiol, had responded to the emergency. "You sent ham and chorizo sandwiches, but they are Muslim, are you kidding us?," she said. She also called for assistance with health care. "We are living in a pandemic crisis," she pointed out.
Temporary housing offered by government
Following the fire, Badalona's City Hall declared three days mourning. The mayor requested help from the regional government, which provided funds to help with housing. The administration offered accommodation, food and transport for all the survivors for one month in hostels located in different areas of Badalona and Barcelona.
Some of the former warehouse residents accepted this assistance. In January, social services will help those who have provided their contact details to look for employment.
However, the residents in the campsite were not persuaded. "We don't want to be separated. We are Badalona neighbors," said Amadou.
"They are afraid of being separated. It would make it harder for them to request permanent solutions," said Harun from the Black African and Afro Community in Catalonia (the region in which Badalona is located). The organization is trying to conduct independent research into whether firefighters responded correctly, among others issues.
It is also collecting money to help the families of those who died or were injured. However, there are other needs that have to be met. "We spend around €250 a day on food," said Harun. Luckily, a local association is in charge of this task until the end of this year.
Meanwhile, a number of other organizations are focusing on the main challenges: collecting information on those affected, repatriating the bodies, and handling documentation.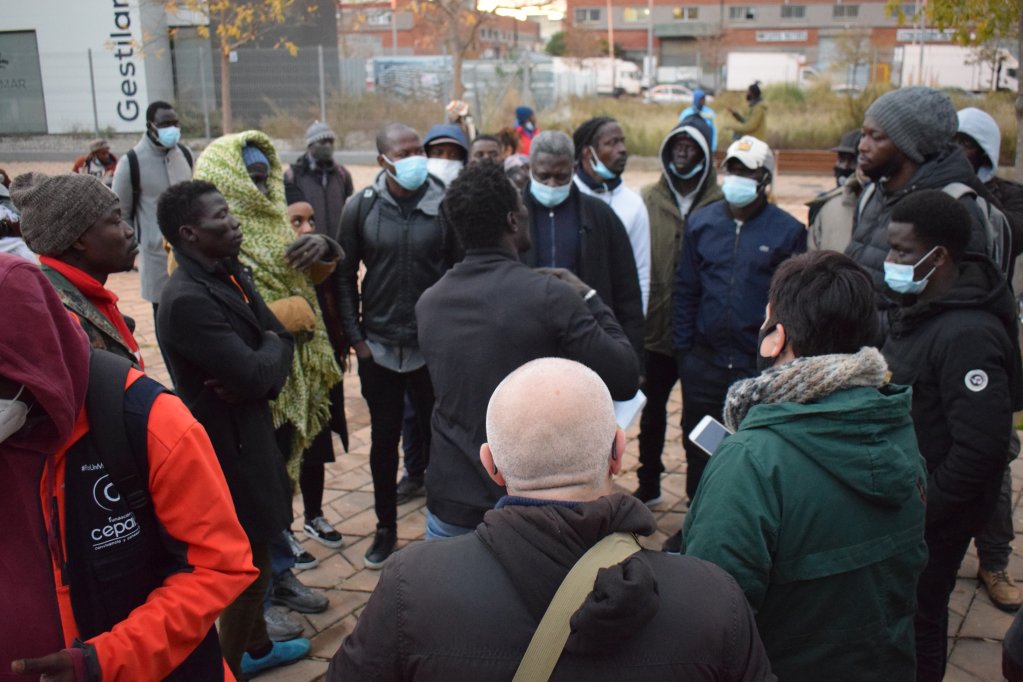 Solidarity with the migrants
The immediate future is uncertain for the migrants who remain camped out. Amadou explains that there have been objections about garbage at the site. "Neighbors are complaining because we are throwing out garbage, but we don't have garbage bins or public toilets here," he said.
While there had been complaints from some locals in Badalona before the fire that there were drugs and prostitution in the warehouse; neighbors nevertheless provided clothes, blankets and food for those left homeless after the fire.
Most of these donations are kept in an occupied building near the campsite. They are stored in the corners of a big space furnished like a living room. On a couple of mattresses are at least 10 bags full of winter clothes. Upstairs there is a group of women cutting up potatoes, while in the kitchen another woman is preparing the food for people in the campsite.
Residents count on Harun, Ismalia, Saty, and many others who frequently visit the campsite to support their struggle. There are other kinds of solidarity too. An artist who lived in the warehouse for seven years has been preparing an exhibition to raise money through an auction.
But all this could disappear soon. Before Christmas, an eviction notice arrived. This created panic until they discovered that it had no effect because it didn't come from a judge. They were able to relax, but for how much longer, no one knows.
Badalona's mayor has already said that the campers must leave the street as soon as possible. And while other political groups in local government have been pushing to support migrants, it's possible that these Christmas holidays will be used to close the campsite.