Migrants who were evacuated from Lipa migrant camp on Tuesday have been stuck on buses, unable to relocate to a new site. 'We cannot keep people in buses for another night,' IOM's head of mission in Bosnia said.
Around 900 migrants and refugees remained stuck on buses in northwestern Bosnia on Wednesday afternoon, according to a tweet by Peter Van der Auweraert, the UN migration agency's head of mission in Bosnia and Herzegovina.
In an interview with German broadcaster DW on Wednesday, Van der Auweraert said that the Danish Refugee Council had provided humanitarian assistance to the migrants aboard the buses during the night. He told DW: "They had no shortage of food and water. But obviously this cannot continue.
"We cannot keep people in buses for another night. And for the time being, the situation is as blocked politically as it was yesterday when the operation was halted," Van der Auweraert said.
Sumka Bucan, the Balkans regional director for CARE International, told DW that the migrants have been left "essentially in limbo."
"What we see is a lot of finger-pointing, and nobody is taking responsibility or being accountable for this situation, neither to migrants or to the local population," she said. 
Anti-migrant protests
The migrants had been evacuated from Lipa camp in northwestern Bosnia, near the Croatian border, on Tuesday. Since then, they have been stuck on buses that were meant to transfer them to a new facility.
Some government officials said that there were plans to rehouse the migrants and refugees at a military barracks in the town of Bradina, roughly 320 kilometers from the border village Lipa. However, others disputed this.
Locals in Bradina staged protests against the migrants' presence in their region, news site Klix reported on Tuesday.
Attempts to create migrant centers in Bosnia and Herzegovina have often been met by strong resistance from local officials and residents nearby, which has made it difficult to find new sites.
Fires had destroyed most of the camp in Lipa – which housed some 1,200 people, according to news agency Reuters – last week. This made the already squalid conditions even worse at the camp, which had neither heating nor running water.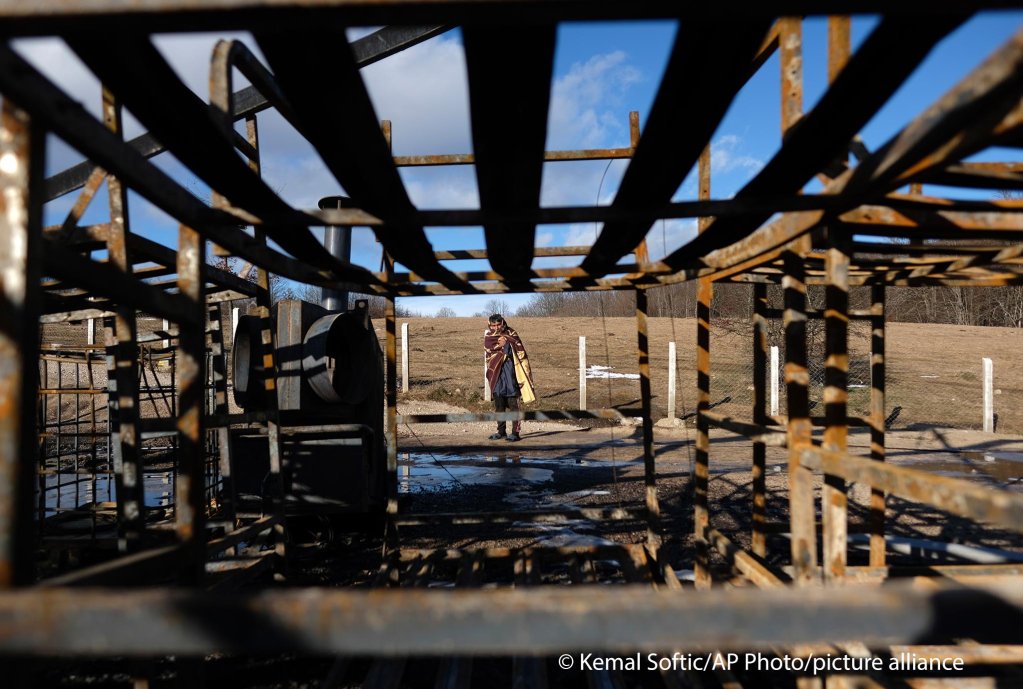 Thousands of homeless migrants
Van der Auweraert told DW that as soon as a new location for the migrants would be found, the "technical solutions" could be carried out. He said that there was also support from the EU for this. "The European Union stands ready to immediately start working to make any new center operational in a safe and secure environment for migrants to be," he said.
"But it's the local politicians at the end of the day, who need to come together and decide where these migrants are going to be housed. It's only a local decision that can break the deadlock at this point in time."
Bosnia – a non-EU country bordering on EU country Croatia – is a transit country for many migrants hoping to make it to Western Europe through the Balkans. Because of enhanced border controls as well as alleged pushbacks by Croatian authorities, an estimated 2,000 migrants and refugees have been stuck in northwestern Bosnia, living in abandoned buildings and forest camps.
With AP, DW, Reuters