About 1,000 migrants are living in dire conditions in freezing temperatures in northwestern Bosnia-Herzegovina after they were forced to leave a camp in Lipa near Bihac. The Lipa camp was destroyed by a fire set up by a group of migrants when they heard that the facility would be closed for renovation work.
A reported 1,000 migrants are living in severe winter conditions, exposed to freezing temperatures, rain and snow in Bosnia-Herzegovina after they were forced to leave a destroyed camp in Lipa near Bihac.
The Lipa camp had been set on fire by migrants protesting against the camp's closure for renovation work to adapt it to winter conditions.
On Sunday night, hundreds of migrants who were forced to return to Lipa staged a protest during a visit to the camp by Bosnian Security Minister Selmo Cikotic.
The minister promised quick renovation work to restore dignified living conditions at the camp.
Protest staged by migrants
"We don't want food, we want freedom! We want truth," a group of migrants wrote on a banner during the protest. The demonstrators asked the International Organization for Migrants (IOM) for help.
The migrants have been refusing for days to eat food donated by the Red Cross and by a local NGO.
Attempts to move the migrants failed
Attempts to move the refugees first to the nearby camp of Bira, in the center of Bihac, and then to abandoned barracks in Bradina, near Konjic (50 km south of Sarajevo), were unsuccessful due to strong opposition from residents, backed by their respective local authorities.
The migrants are reportedly perceived as a threat to security and public order.
The local population repeatedly staged protests to denounce robberies and attacks by migrants roaming the area in an attempt to cross into nearby Croatia and to continue their trip to western Europe, according to local reports.
Under pressure from residents and the mayor of Bihac, the camp of Bira was closed in October last year.
Calls to reopen Bira camp
Josep Borrell, the high representative of the European Union for foreign affairs and security policy, has called for the center's reopening, denouncing the "grave humanitarian crisis" of the nearly 1,000 migrants evacuated from Lipa.
On Sunday, he urged Bosnian authorities to intervene as soon as possible to prevent the situation from getting worse with people out in the cold, without access to sanitary facilities amid a global pandemic.
Borrell, who has talked with the Croatian member of the Bosnian tripartite presidency, stressed the European Union's pledge to give 3.5 million euros in aid for migrants in Bosnia, in addition to the 4.5 million already allocated last April.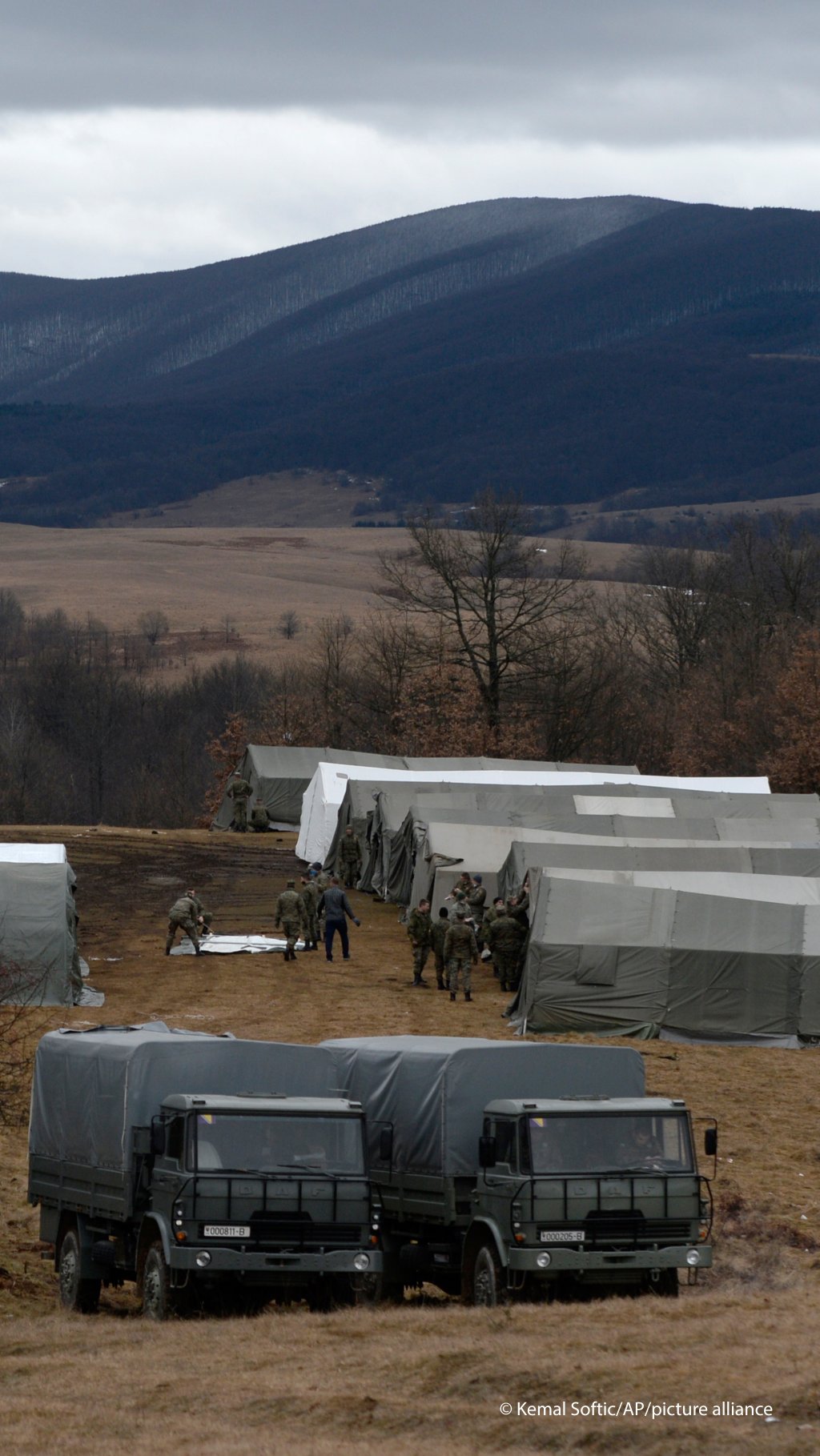 The Bosnian army on January 1 started to set up tents near the devastated camp in Lipa to provide temporary accommodation to the hundreds of migrants who have been left without shelter and who spent two days on a bus while they were waiting for a possible transfer.
On January 3, the EU confirmed that it was providing the humanitarian aid to help migrants living in "unacceptable" conditions in Bosnia, urging the government to speed up work to rebuild a permanent facility in Lipa.
It is estimated that the new camp, which will be heated and will offer basic services, will be able to host up to 1,200 migrants.