Officials from the European Union and the UN migration agency IOM have called on Bosnian authorities to relocate migrants and refugees who are sleeping rough to appropriate accommodation. Meanwhile, migrants at Lipa camp ended their hunger strike.
Thousands of migrants are stranded without adequate shelter in northern Bosnia, facing freezing cold temperatures. "Over the past two weeks, we watched with growing concern the dire humanitarian situation facing many migrants in Bosnia," Paul Dillon, spokesman for the UN migration agency IOM, said in a press briefing on Tuesday.
There are currently close to 3,000 migrants and refugees in northern Bosnia who are facing harsh winter weather without adequate shelter, according to IOM estimates. Between 900 and 1,400 men are reportedly living in the burnt-out Lipa camp, another roughly 1,500 migrants and refugees --- including women and children – are sleeping rough in the region of Una Sana Canton, which borders on European Union member state Croatia.
Peter Van der Auweraert, IOM's Bosnia Chief of Mission, told reporters Tuesday that there are two centers in Bosnia that would have enough space to house these people, but that disagreements between the central Bosnian government and local governments have made the relocation of the migrants and refugees impossible.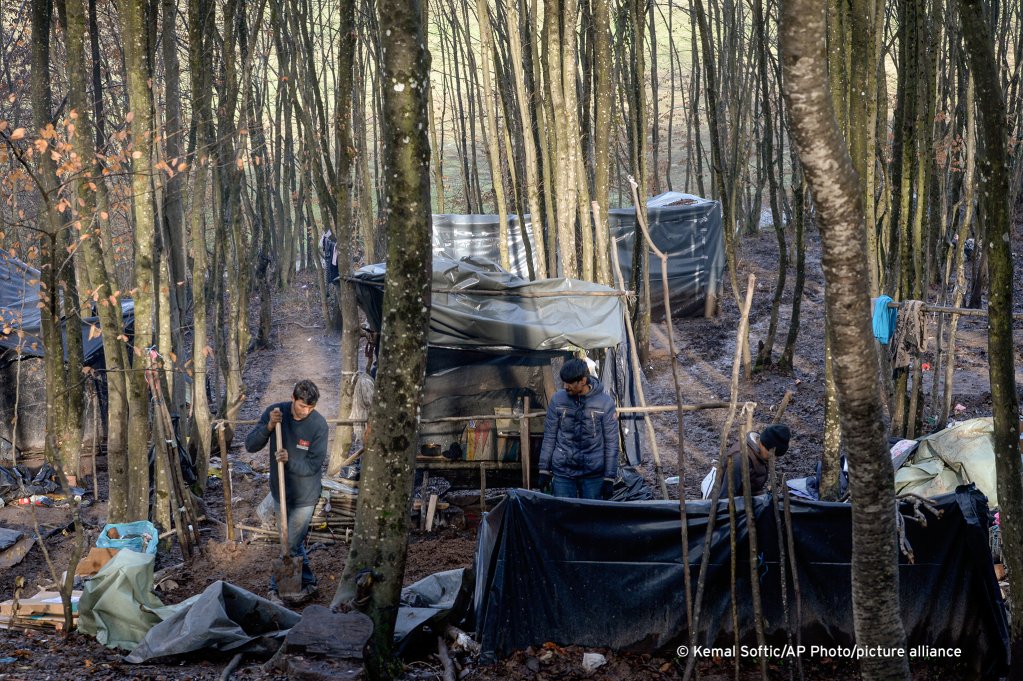 He also said that while army tents have been set up near Lipa camp to accommodate the migrants there, they would not be ready to move into for another two or three days.
'Serious humanitarian crisis'
EU foreign affairs commissioner Josep Borrell criticized Bosnian local authorities in a statement published on Tuesday, saying that "over the last weeks, we have witnessed a serious humanitarian crisis concerning hundreds of migrants in Bosnia and Herzegovina" and that this crisis was "largely due to the dysfunctioning governance in the country."
Borrell said that migrants could be hosted "at the Bira center in the nearby city of Bihac, which was refurbished with €3.5 million EU support." The Bira center, he said, "is suitable for winter conditions but stands empty, due to the opposition of local authorities and population to open it."
According to Borrell, the central Bosnian government wanted to open Bira, but local authorities blocked the opening. Similarly, an attempt to move the Lipa migrants to former military barracks in central Bosnia and Herzegovina failed due to the resistance of local authorities, following anti-migrant protests.
This is not the first criticism officials in Bosnia have faced from the EU -- earlier this week, Johann Sattler -- the EU special representative to Bosnia and Herzegovina -- called the situation at Lipa camp "completely unacceptable".
Since Bosnia is a very decentralized country, local authorities hold a lot of power – this has made the relocation of migrants and refugees very difficult, given that there is usually a lot of resistance among the local population against the opening of migrant facilities.
The European Union has provided funds for aid and accommodation for migrants and refugees in Bosnia -- €88 million since 2018, according to Borrell, with another €3.5 million announced on Sunday.
But no EU country has thus far offered to take in migrants or refugees from Bosnia. EU member state Croatia, which shares a border with Bosnia, has been accused of brutal border pushbacks -- Croatian officials have denied these claims.
Migrants end hunger strike 
Meanwhile, migrants at Lipa camp reportedly started accepting food again from aid workers at the camp on Tuesday, according to local news site klix.ba, after four days of hunger strike.
Some of the residents at the burnt-out camp had started refusing meals handed out by the Red Cross and local charities on Friday, to protest against the dire conditions at the camp. The secretary of the Red Cross in Bihac, Selam Midzic, told klix.ba that people accepted food again after he and his fellow aid workers talked to them and "explained to them that intensive work is being done to improve their current living conditions."
Peter Van der Auweraert tweeted a video of the food distribution at Lipa on Tuesday afternoon, saying "Good news is that migrants stuck in former Lipa location are now accepting food."
Lipa camp: No electricity, heat, running water
Lipa camp was set up in the spring of 2020 as emergency accommodation for migrants and refugees in the Bihac area. The camp was never equipped with heating, running water or electricity, and thus always ill-equipped for the coronavirus pandemic and freezing winter weather.
All attempts to relocate the migrants and refugees from the Lipa location have thus far failed. In December, the UN migration agency decided to close the camp to put pressure on Bosnian authorities to relocate the migrants and refugees from the camp to more appropriate accommodation. After the closure was announced, fires broke out at the site – allegedly started by a group of camp residents.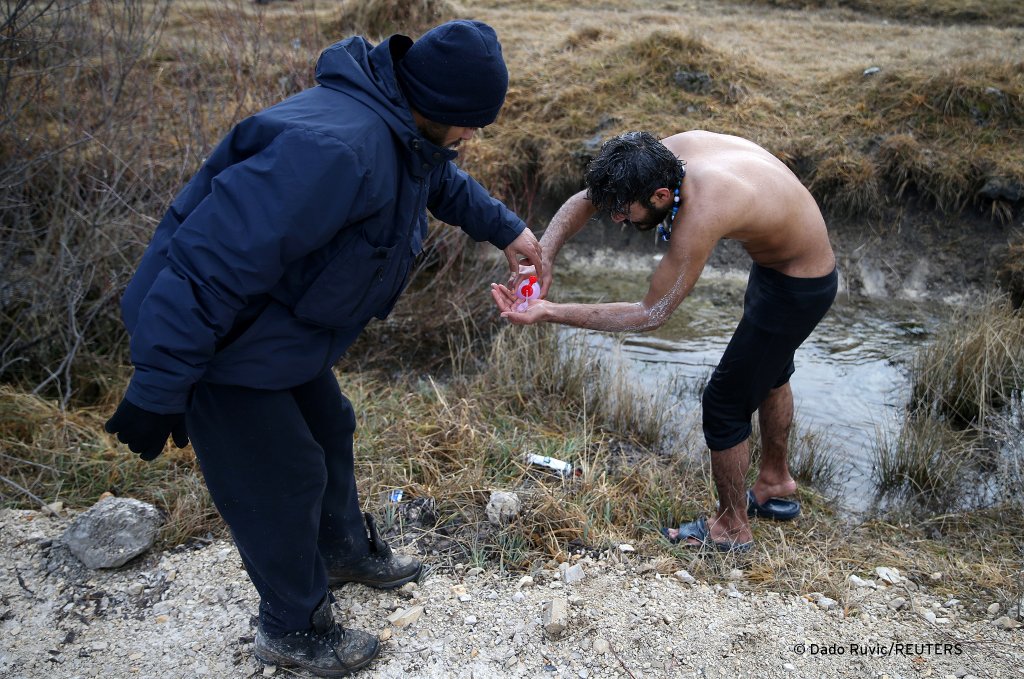 There are currently between 8,000 and 9,000 migrants and refugees living in Bosnia, according to Borrell and Van der Auweraert. About 6,000 of them live in migrant centers, the rest lacks adequate shelter.
Bosnia is a transit country for many migrants and refugees hoping to eventually make it to western Europe along the so-called 'Balkan route."
With AFP, dpa, KNA, Reuters