Spain's maritime rescue service late Friday salvaged a boat carrying over 30 migrants and brought them safely to the Canary Islands, but not in time to save one child who reportedly died at sea. Meanwhile, some migrants on the Canaries have reportedly begun a hunger strike.
On Friday (January 15), Spanish rescuers said a small boat was discovered some 160 kilometers south of Gran Canaria. On board were 11 men, 20 women and three children traveling in very poor conditions.
The survivors said that a 9-year-old boy had died during the journey and that they had tossed his body overboard.
The migration route from Africa to the Spanish archipelago is one of the deadliest in the world, with more than 600 deaths and disappearances in 2020 according to the International Organization for Migration (IOM).
23,023 migrants arrived on the Canary Islands on 745 boats last year, almost six times as many as in the previous two years combined. Around nine out of ten of arrivals were rescued by Salvamento Marítimo, Spain's maritime rescue service.
In a separate incident in the Mediterranean, three migrants died when a boat capsized Sunday night off the coast of southern Spain, Europa Press reported.
Unaccompanied minors
It was unclear whether the boy who reportedly died and was thrown overboard was traveling by himself. Although it's rare, boys this young do occasionally attempt the dangerous crossing without an older relative, but together with dozens of other adults, Save the Children told InfoMigrants last month.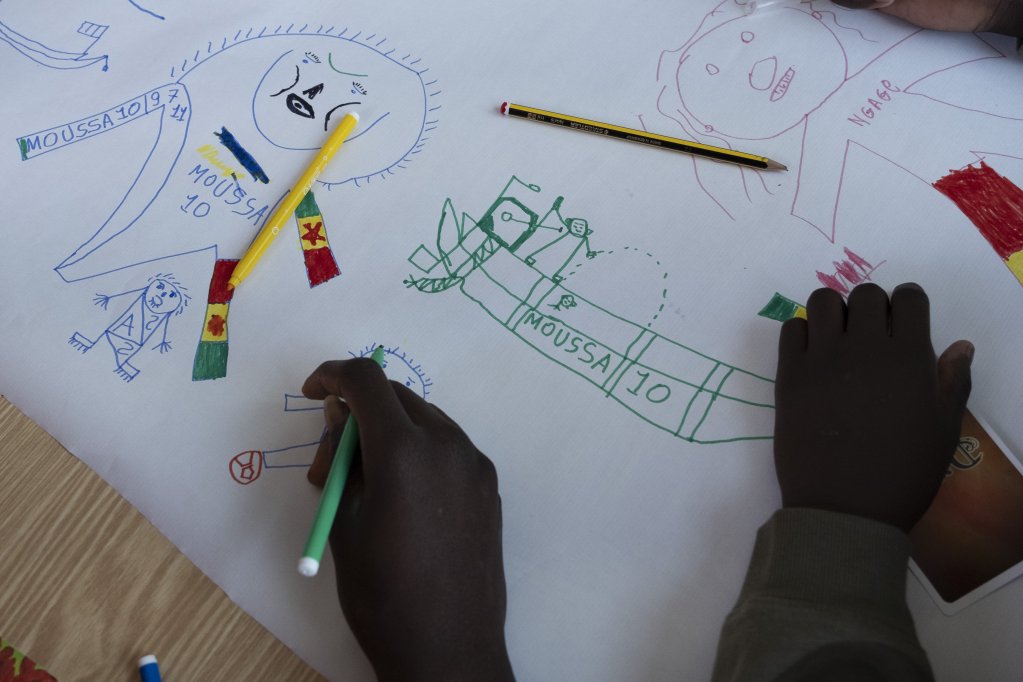 Most of the more than 2,000 unaccompanied minors on the archipelago are between the ages of 13 and 17. According to Save the Children, many of them "struggle to get proper sleep" and are often suffering from anxiety, even once they are on dry land. They also "have nightmares and exhibit compulsive behavior."
Last September, Save the Children accused the European Union of letting children "die on the EU's doorstep."
Hungerstrike and violence
Meanwhile, news agency Europa Press on Sunday (January 17) reported that 176 Senegalese migrants who have arrived in recent weeks and months have begun a hunger strike on the island of Tenerife.
The goal of the migrants, who reportedly began their strike Saturday morning, is to be allowed to travel onwards to mainland Spain. Many of them allegedly have valid passports and family members there who can host them and help them get a job.
Many people from African countries like Senegal who attempt the dangerous Atlantic crossing flee poverty, violence or other circumstances, including the COVID-19 pandemic.
Separately, local broadcaster Canarias7 last week reported several new incidents involving migrants staying in tourism facilities in the south of Gran Canaria. According to Canarias7, the migrants committed theft and started several brawls, one of which left three security guards injured. Police reportedly detained one of the aggressors.
Tensions between locals and migrants
The accommodation of thousands of migrants in tourist facilities on the Canaries hs become a focal point of some of the tension between locals and migrants. In December, thousands of people who work in the islands' tourism sector, which has been hit hard by the pandemic, took part in several protest marches on Gran Canaria and Lanzarote "for the defense of tourism."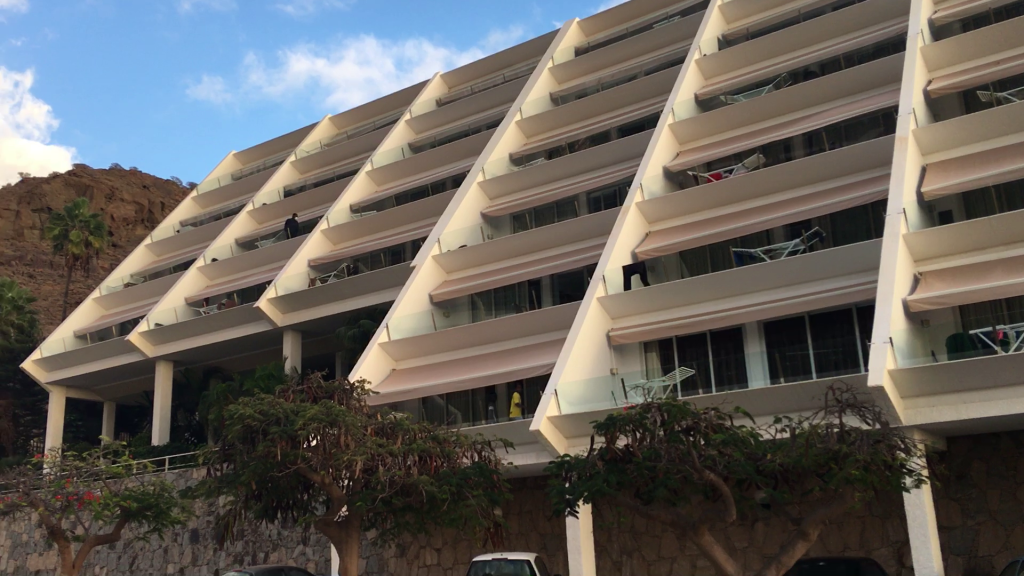 On December 12, after reports of an alleged assault by a group of foreign minors on a young Canarian spread like wildfire on social networks, 30 locals gathered in front of a hotel in Arguineguín that houses migrants. The tension forced the Spanish Red Cross to urge migrants on Gran Canaria to temporarily stay in the hotels and not go out on the streets to avoid any violence.
Read more: How is Canary Islands' tourism industry coping?
From hotels to tent camps
In late November, the Spanish government announced the setup of seven "tent and emergency camps" to relocate the some 7,000 migrants staying in hotels and other tourism facilities. But at least four of the seven camps haven't yet opened.
Initially intended to be operational by the end of last year, so far only two of the seven facilities have started to take in migrants: Colegio León, a tent camp on the grounds of a closed school that opened in early December; and the "Canarias 50" barracks, another tent camp in Las Palmas with an alleged capacity of 1,320 people that started to accommodate migrants over the weekend.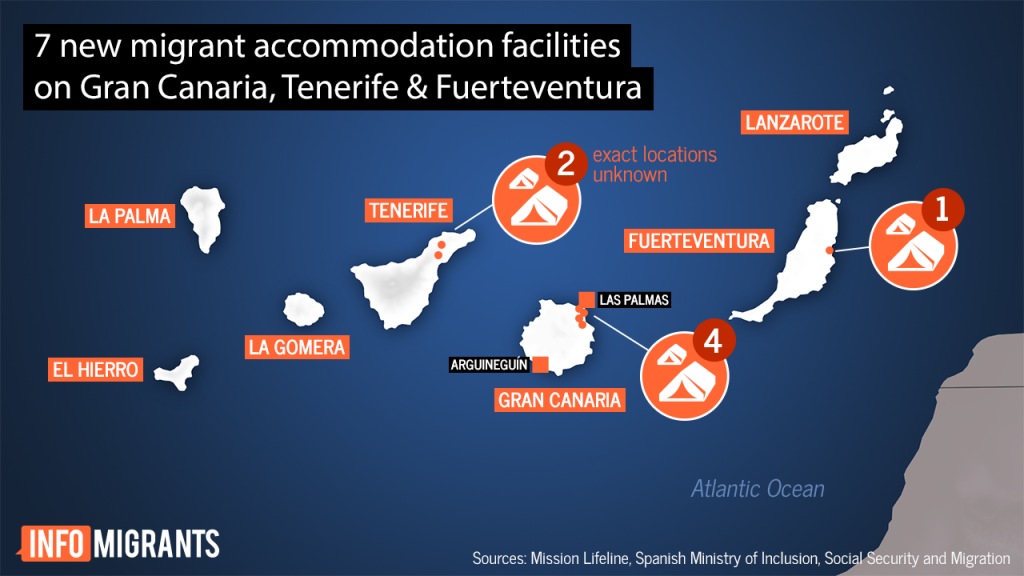 It is unclear whether migrants staying in hotels will also be transferred to Barranco Seco, a former military ammunition site near Las Palmas that already housed migrants in mid-November.
The fourth facility on Gran Canaria is a warehouse in Las Palmas with room for 500 people, while the other three camps are located on Tenerife and Fuerteventura. 
With AP