According to a media report, the majority of Germany's 16 states favor deporting Syrian nationals deemed to pose a risk to security in Germany. While states with conservative-led interior ministries are in favor of deportations in individual cases, those led by Social Democrats and The Greens are against the contentious practice.
Germany is apparently moving closer to becoming the first EU country to deport people to war-torn Syria.
According to research by German newspaper Welt am Sonntag ("World on Sunday"), nine German federal states are starting to prepare deportations of so-called Islamist Gefährder ("endangerer").
The general ban on deportation to Syria from Germany expired on December 31 after the interior ministers of Germany's state governments had failed to agree on the terms of an extension. It had been in place since 2012 and has been repeatedly extended due to the ongoing civil war in the Middle Eastern nation.
"Wherever it's possible -- legally and in practice -- we will do everything to return such people," Thomas Strobl, Interior Minister of Baden-Württemberg and member of Angela Merkel's ruling Christian Democrats party (CDU) told the Welt am Sonntag.
"This must also apply to those who come here from Syria," Strobl said.
Around 90 people with Syrian citizenship currently living in Germany have been classified as endangerers. Authorities believe they are capable of conducting attacks.
No to 'protection and refuge'
Bavaria's Interior Minister Joachim Hermann echoed Strobl's statement. "People who commit severe criminal offenses in our country or act as endangerers cannot expect to find protection and refuge here." He said that foregoing deportations solely because of missing diplomatic relations to the Assad regime was difficult to communicate to the public.
Germany cut diplomatic ties with Syria after the outbreak of the civil war in 2012. Therefore, even if the interior ministers of Germany's 16 federal states agreed to changes in deportation guidelines, the coordination and execution of deportations could prove to be difficult.
In a recent interview with DW, Patrick Sensburg, also a member of Merkel's CDU party, said while Germany is not going to deal with the Assad regime as such, it is willing to deal with lower levels of his administration.
"We do not want diplomatic relations to the government yet, so we have to open other channels," Sensburg told DW. Discussions could take place with police or at the "lower than minister state secretary" level, according to the CDU politician. "If we want somebody to be brought back to Syria, there will be channels of communication that secures that."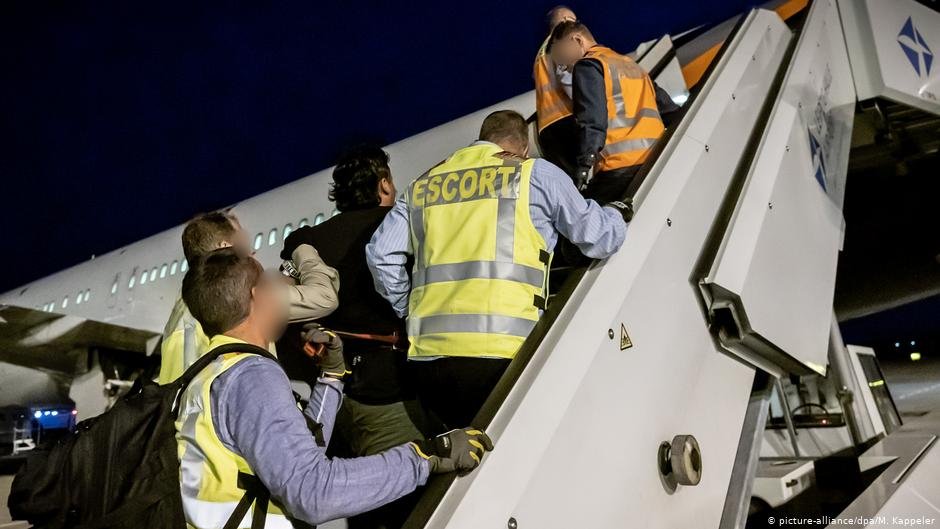 Conservatives in favor of deportations 
Roland Wöller, interior minister of the federal state of Saxony, meanwhile advocated for getting in touch with the Syrian government via Jordan or Lebanon.
He too voiced the opinion that endangerers and those who have committed serious crimes should not be protected and need to be deported in individual cases.
According to the media report, the states of Schleswig-Holstein and Hesse, both of whose interior ministries are also led by the CDU, took first steps to deport endangerers as well.
Brandenburg, Mecklenburg-Western Pomerania, Saarland and Saxony-Anhalt were still in the process of examining the consequences of the end of the deportation ban.
Social Democrats, Greens reject deportations
According to Welt am Sonntag, the interior ministries of the German states of Berlin, Bremen, Hamburg and Lower Saxony, on the other hand, don't see the necessity of deporting people to Syria. The interior ministers of Rhineland-Palatinate and Thuringia, both members of the Green Party, strictly oppose the practice.
The integration minister of Germany's most populous state North Rhine-Westphalia, meanwhile, was open to deportations to Syria.
Forcibly returning people to Syria is highly controversial: Reports show that detentions, disappearances and torture in Syria "remain pervasive." In case Germany resumes the deportations, it would be the first member state of the European Union that would send people back to the civil war country.
In recent years, however, a number of attacks by alleged Islamists has prompted various political parties to come out in support of introducing changes to the ban on deportation. Most recently, a man was killed in a knife attack in the eastern city of Dresden and died on October 4. The suspect in that case is a Syrian national with alleged extremist views.
The end of the ban on deportations to Syria effectively means that a deportation of criminals and dangerous persons from Syria can in principle resume, following individual assessments in each case. 
With KNA