Abdullah Sabra was just 14 when he was sent to sea by his father. After nearly a decade spent working on merchant vessels, he reached a point where he knew he needed to leave the ship. His passage to asylum in Europe however was different from most. Now in Germany, he is hoping to return to sea to help other refugees from the decks of the Sea-Watch.
"I went to sea for the first time when I was 14," says Abdullah Sabra matter-of-factly over the phone from Berlin. When we double check that we heard this correctly, he confirms it, saying, "yes, 14. It was totally illegal and very bad for my mental health."
It transpires that Sabra's father sent him to sea. "My father decided I would make a fine seaman!" explains Sabra with an ironic laugh in his voice. It was a complete surprise, he explains. "My father told me that he had asked my employer [where he worked as a delivery boy] for a reference and that in two weeks, I should prepare myself to go to sea. I had a mouth full of watermelon [at the time] and I was looking at him, at my mum, at him, like asking, is this real? Are you going to allow this."
It seems they did. Two weeks later, Sabra began his sea service and studied at a merchant seaman's academy in Lebanon. Lessons are usually in English, explains Sabra, in his fluent and easy-going English but he actually studied in Arabic. His language came from working with so many different nationalities around the world.
Sabra adds that he doesn't want to mis-portray his father. He is obviously still close to his family. He admits that he may have missed out on having a childhood or some of the teenage years, but his experiences taught him a lot and made him mature quickly. "The experience was positive on many aspects of my life."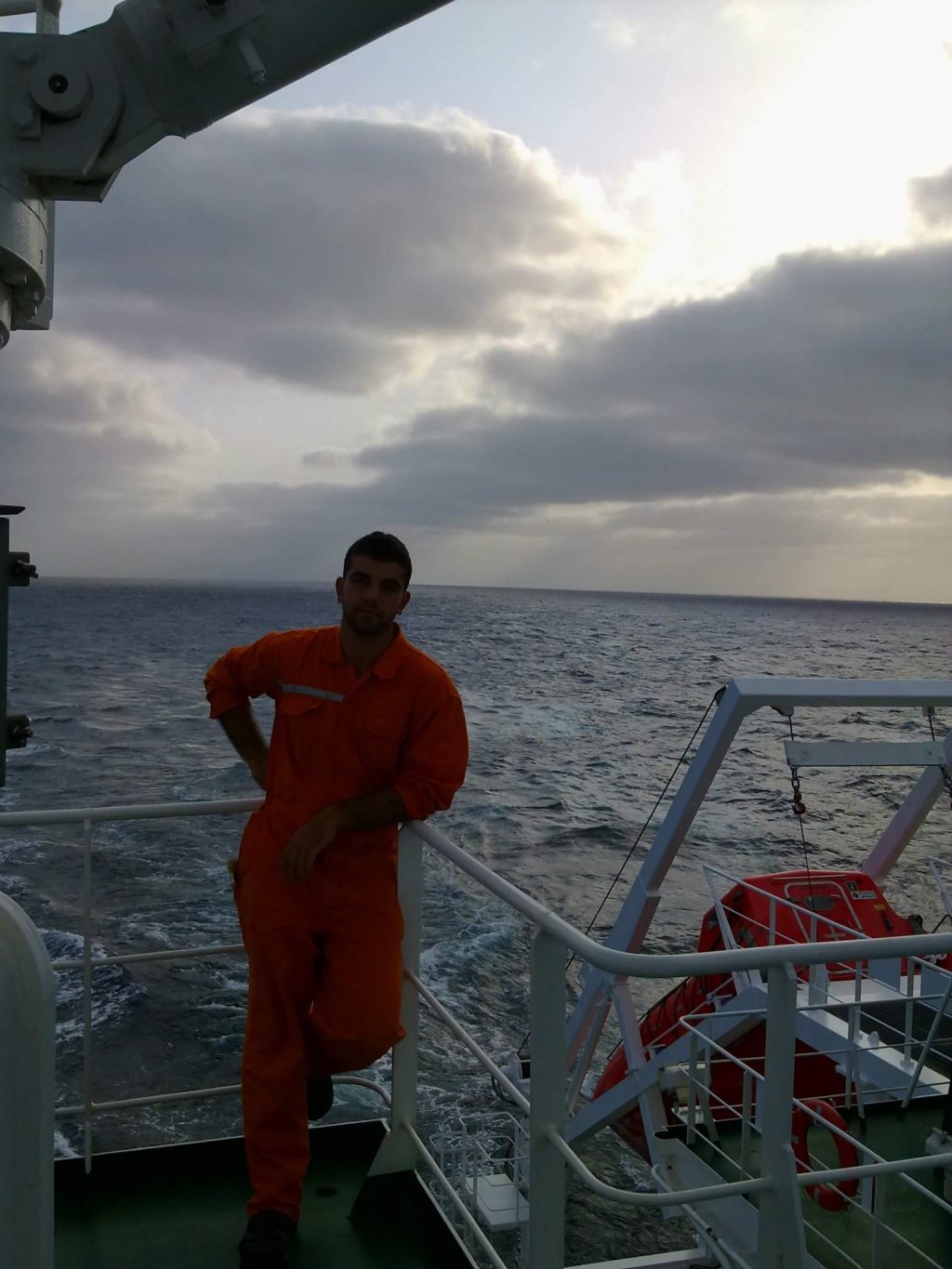 Sea in the blood
Sabra was born on the small Syrian island of Arwad, just off the coast of the port town of Tartus. When he was 11 and his grandfather passed away, Sabra and his family moved to the mainland and Tartus. But the sea was in his blood, agrees Sabra. "Everyone there knows how to sail. You learn to swim when you are four," Sabra laughs. "I don't know if it is still the same now but back then, you build your own boat, me and my cousins we built a couple of boats ourselves."
Until 2015, Sabra was busy working his way up to Second Officer on various ships around the world. At the time he was working for a Cyprus-based firm with a Syrian chairman, on a ship sailing under a Panamanian flag. "That's kind of normal in merchant shipping," explains Sabra, whose own family also has a shipping company.
The second officer is the one who is in charge of navigation, among other things, explains Sabra helpfully, for those who don't know their way around the hierarchies on ships. Several times in the conversation, he describes atmospheres on board many ships as "toxic and unhealthy. […] It's a moving prison practically," he says with a shrug in his voice.
"For one reason or another, people, after a few months, go too much into their heads and go a little bit crazy. I witnessed that myself when I would do a contract for nine-months say or a year and then come back to land and spend time with friends or family."
'Several times I nearly died'
In 2015, Sabra was on board a ship sailing from Iran towards France. "I had a situation on board, and I realized they wanted to disembark me at the Suez canal," says Sabra. When pressed a bit about what was going on and why they would want to throw him off the ship, he says that there were a number of incidents "where I almost died."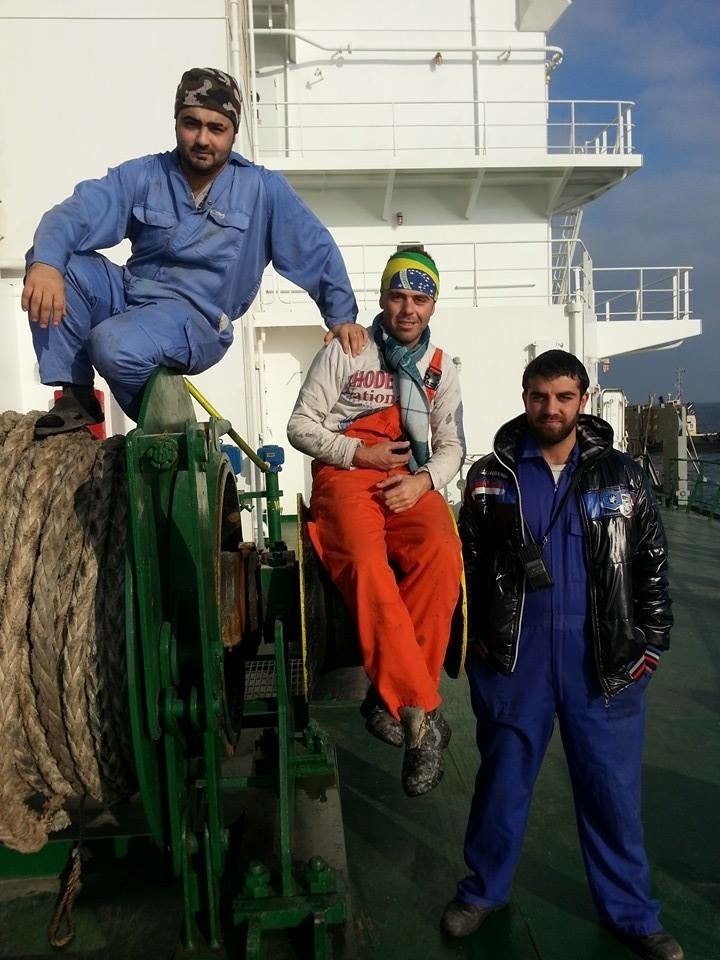 Each time, says Sabra, he would write a report for the captain about what had happened, explaining why these things should not happen again. Twice more the situation repeated itself, he says, until he decided to send all three reports directly to the company headquarters. Sabra says the captain would get "nervous" when they were arriving or leaving port. "We got in a few dangerous situations," he says quietly.
After he sent the reports off, he was told the company would sort it, but on the way back from Iran, he got wind of a possible disembarkation at the Suez Canal. "It was unfair and I just didn't want them to deal with it like that," says Sabra determinedly. So he "kind of forced them to allow me to stay on board until the ship arrived in France. Once there, I called every organization I could think of for sailors and for human rights and I reported their abuses of people, how they break the law. How they throw rubbish in the sea."
Not the classic refugee?
Sabra's arrival in Europe doesn't follow the 'classic' refugee route from Syria in 2015. "I had it way easier," he says jokingly. Arriving in western France, he contacted a French tourist he had met "before the war," in Syria and said "yo, I'm in La Rochelle."
Sabra's jokey nature and clear self-possession perhaps belies the more serious situations he too would have been drawn in to if he hadn't managed to get himself to Europe on board that last ship. He too was being called up for the Syrian army to fight for the Assad regime. So, like many other young Syrian men in their mid-twenties, fleeing the draft eventually helped him obtain asylum in Germany.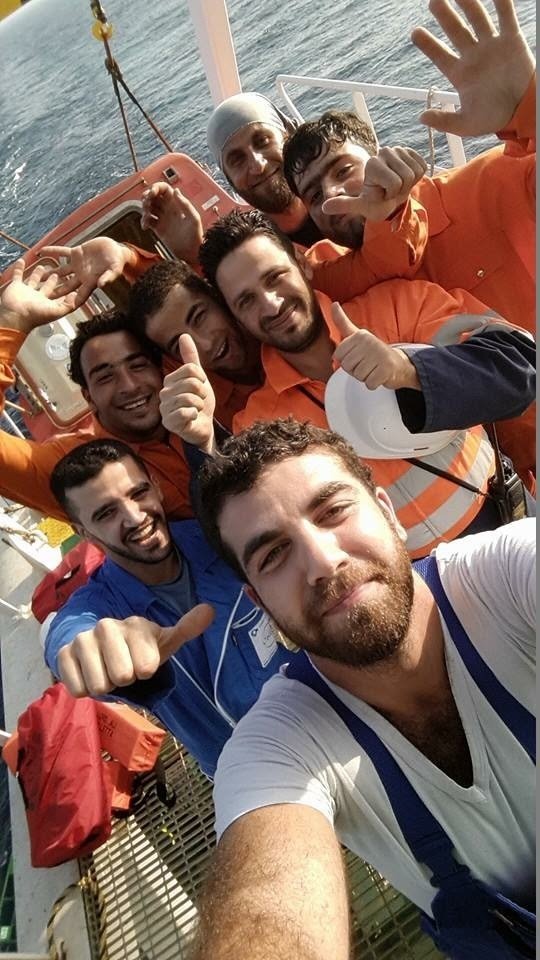 Back in France, that morning, Sabra obtained a transit visa for two days and made his way to Paris to meet his friend. "I just hopped on the train, and we got drunk at like nine-o-clock in the morning, and we were debating where I should go," he laughs at the memory.
Destination: Karlsruhe
"I was meant to go to Turkey after two days," confesses Sabra, "but I didn't like that plan." Sabra's friend tried to convince him to go to one of the Nordic countries to seek asylum. Sabra, having grown up in the Mediterranean wanted to head south for the sun. "I didn't know what to do," he says. "So after a night of not sleeping, still being drunk, I went to the station and I saw a train. It was white, with red stripes and said "ICE" on the side. At the time, I didn't know what that meant..." Sabra explains.
So, he asked at the ticket office where the train was headed and was told "Karlsruhe." It turns out the train was a German Intercity Express. "It looked like those fast trains you see in movies," remembers Sabra. Sabra asked the woman in the ticket booth where Karlsruhe was and she told him it was in Germany. "Sounds good," said Sabra to the woman. "Please give me a ticket on that train."
By this time, the woman was laughing too, remembers Sabra. "Are you sure?" she asked, and Sabra confirmed happily, his destination suddenly decided. Once in Germany, he applied for asylum and spent some time in asylum seeking centers with many other Syrians who also arrived in the country in 2015. In August 2015, he was granted asylum.
Life in Germany
After a few months, Sabra found himself in the city of Tübingen, also in Baden Württemberg and about 30 kilometers south of the regional capital Stuttgart. As with everything that life has thrown at him, Sabra seemed to cope excellently.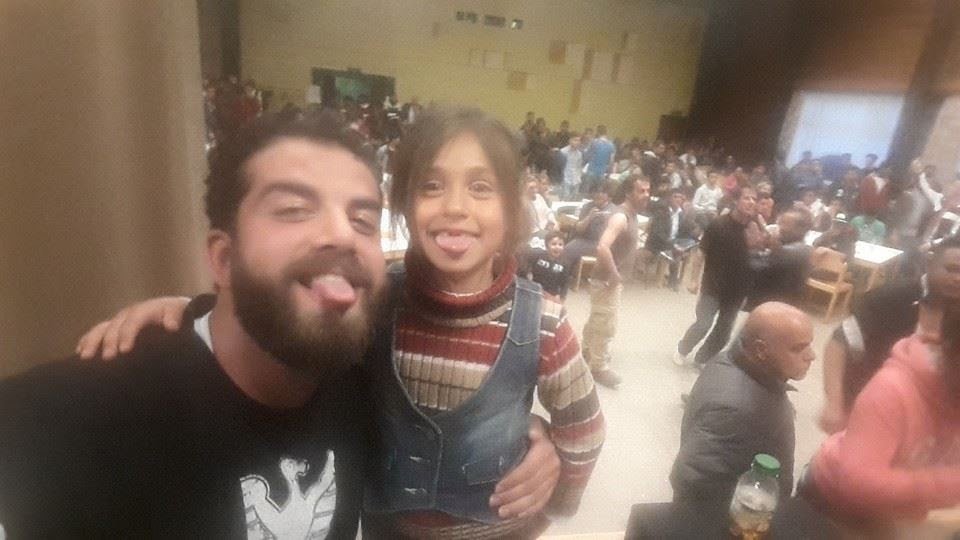 As soon as he could, he got jobs and made lots of friends in the city of Tübingen, before deciding to move to Berlin in 2019. He says he traveled quite a lot for work during that time too, his taste for constant movement not having quite left him, even after making landfall.
"I think partly it was luck and partly I always communicated and got to know people and..so, yes things were difficult but not as difficult for me as for other people, because of my English I guess," reflects Sabra.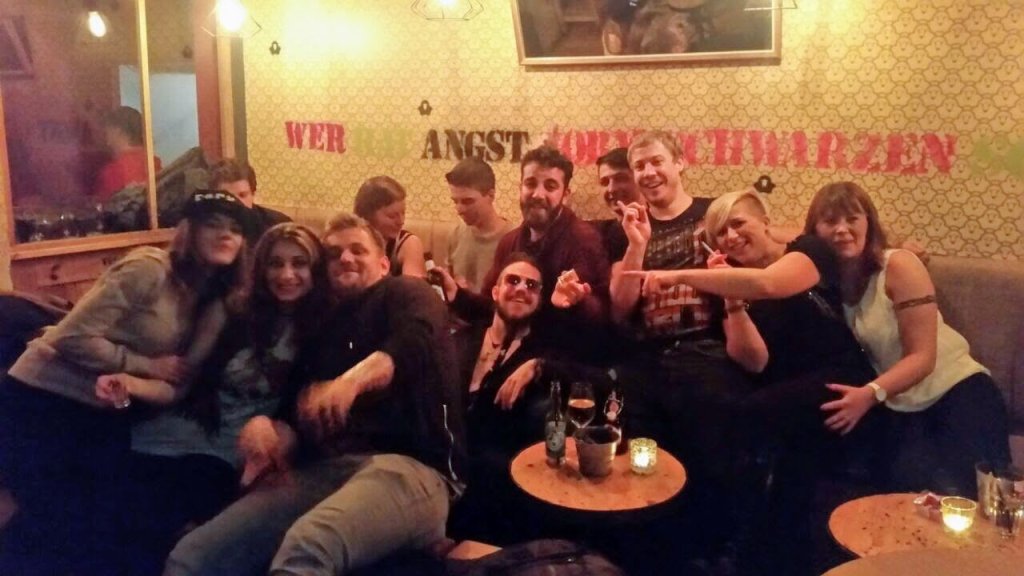 'I loved the idea immediately'
Once in Berlin, like so many other things that Sabra has done, he chanced upon a journalist who told him about the migrant rescue organization Sea-Watch and so last year he applied to work for them. "I loved the idea immediately," he says simply. "I said, really? There are people in the world who exist and do that? They are f***ing Angels! They don't just talk about things, they put their words into action. […] I respected that a lot."
Sabra initially applied to work in their technical logistics department, but -- perhaps seeing his seafaring experience -- Sea-Watch passed him on to the crew. "A few days later, I got a call," says Sabra. They asked him if he'd do a few week's volunteering whilst the boat was in port in Spain.
"Of course," responded Sabra and spent 40 days from early November until December 19 working happily with the Sea-Watch team. He even made a video for them.
Sabra had a great time working with Sea-Watch, he says. He's hopeful they will hire him for a more permanent job in the future. "I'd get to use my skills in a way where I'm not dealing with that toxicity, with those kinds of people [on many merchant ships]. I'd be dealing with people who are chilled and open-minded and know how to communicate."
'I enjoy having a big grinder in my hand and hacking at something'
"People were welcoming," Sabra says about his time spent with Sea-Watch. If he sets sail again, then Sea-Watch would have to renew all his seafaring certificates, all of which have expired. Most of his work with the organization was helping doing "maintenance, repairs." Sabra says he "loved it. I enjoy having a big grinder in my hand and just hacking at something," he laughs.
Sabra takes a long pause before saying he can't see an end to the situation in Syria at the moment. When asked about the future, he says he wishes that all governments in the world would "stop investing money in military complex industries and instead invest in the source of the world's problems: Poverty, education and healthcare."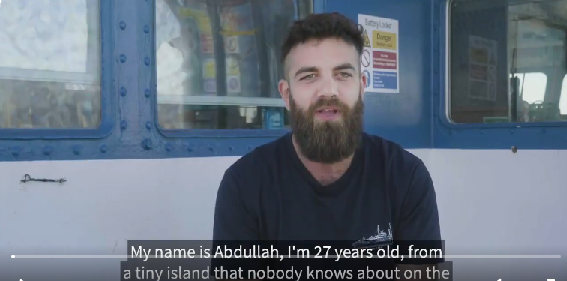 He thinks, that if governments could fix those problems then far fewer people would need to flee and would be happy staying where they are.
A future back at sea?
Sabra thinks that if they had a good education "where you want to learn about something, not just to pass exams," and healthcare and a job to work in then "no one would learn to hate. No one would want to migrate. No one would want to have a war with another land."
When asked about his own future, Sabra pauses. "To be honest, I don't know," he says, his voice suddenly quieter. "I'm lost on so many levels, that's one part," he confesses. "I know that there are things I enjoy learning about and want to do," but formal studying is dismissed as "pointless."
He says he is busy developing a YouTube channel where he can expound more on his world philosophy. He also is interested in converting classic cars to electric. But for now, it is the sea that is calling him back; now that he has found a new reason, one more in line with his worldview. His main plan now is to head south once again, set sail with Sea-Watch, but this time as a man, not a boy.