Around 150 migrants attempted to storm a section of the border fence between Morocco and the Spanish enclave Melilla, Spanish authorities say. 87 people reportedly succeeded in crossing the border.
A group of about 150 migrants tried to storm a section of the border fence between Morocco and the Spanish enclave Melilla just before dawn on Tuesday, January 19, reports say.
According to Arab News "it was the biggest mass attempt to cross the border fence since August 20 when some 300 people stormed the fence." In that attempt about 30 people made it across the border and one person died.
Razor wire fence
The fence on this stretch of the Nano river is about six meters high and razor-wired, according to the news agency Reuters. All the migrants who tried to cross on Tuesday were from countries in sub-Saharan Africa, it added. Nine of them were injured in the attempt and were taken to hospital for treatment.
Attempting to cross the border fence between Morocco and the Spanish enclaves Ceuta and Melilla has long been a popular way for migrants to try to make their way into the EU. Although the Spanish authorities send as many migrants as they can straight back to Morocco. In November, a Spanish court announced it would "back fast deportations" of this kind.
Migrants to be identified and 'situation assessed'
Reuters reported that in Tuesday's case, the migrants who made it across the border had been taken by Spanish authorities to a "local migrant center where they will be identified and their situation assessed."
According to the UN Refugee Agency UNHCR's latest data, last updated on January 17, 97 people have made it into Melilla and 81 into Ceuta from Morocco this year. 184 migrants have arrived in mainland Spain by crossing the Mediterranean and 1,069 have arrived in the Canary Islands.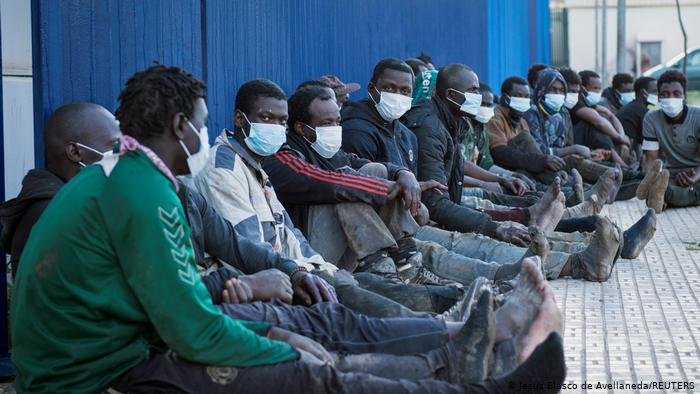 Reuters reports that in 2020, "fewer migrants" attempted to cross the land borders into Ceuta and Melilla than in 2019, although overall arrivals to Spain in 2020 rose because of huge increases of migrants crossing the Atlantic towards the Canary Islands.
UNHCR figures show that in 2020, a total of 1,535 people crossed Spain's land borders and 40,326 people arrived in Spain by boat. In 2019, 6,345 crossed the land borders and 26,168 made it across the sea.
The news agency Associated Press reports that, according to Spanish ministry figures, about 2,250 migrants actually crossed into Ceuta and Melilla in 2020, slightly higher than those figures provided by UNHCR.
With AP, Reuters and Arab News