"Traded Children" (Handelsware Kind) is a new documentary from Germany's public broadcaster ARD / RBB. It investigates the story behind the trafficking of minors and young adults who are being regularly traded like goods from Vietnam to Europe.
The story in this documentary begins at a fairly anonymous tram station on the outskirts of Berlin, Germany's capital. Not far from the station are big warehouses and trading centers full of Vietnamese businesses, restaurants, nail bars, food shops.
An animated sequence depicts a young Vietnamese girl who stands up against the entrance to the station. "This is Lan*," the film's narrator tells us. "12 years old, with a heart disease and forced to work illegally in the heart of Germany, in Berlin."
Although we don't see her in the film, Lan is a real person. Her story, say the filmmakers is just "one of many" which they have been documenting via a huge criminal case against the people who trade or traffic (the line is blurred as the documentary explores) children and adults like Lan.
Trading routes
Behind the legitimate trading in these shopping centers and warehouses in Berlin and Warsaw, the documentary alleges, is a trade in people, sometimes children, as well as counterfeit goods, drugs and animals.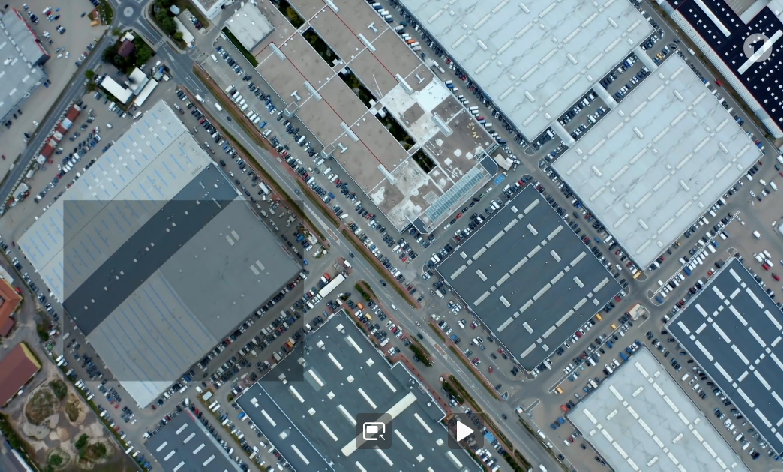 That trade starts thousands of kilometers from Berlin, in Hanoi in the north of Vietnam. Or perhaps even further away in small villages up in the hills, where young children, with or without parents to look after them, were born poor and expect to die poor.
Children, young people and adults who sometimes get lured by clever scouts working for mafia organizations into responding to adverts promising jobs; hard work yes, but sums of money unimaginable for the average wage earner in Vietnam.
People who gather thousands of euros to purchase a passage towards Europe and the promised source of these magic jobs. Among these people, are also sometimes minors, some, according to the documentary as young as 12, many 14, 15 or 17 years of age.
'Hundreds of Vietnamese people'
Even when they are not actually children, they tend to be relatively young and mostly small, as one convicted Polish trafficker, Andrzej*, who worked with Vietnamese gangs transporting "hundreds of Vietnamese people" from Lithuania, through Poland and on to Germany confirms.
"They are all tiny, they maybe weigh 30 or 40 kilos max! It was mostly young boys, they were all very skinny. There were a few girls too. […] it is hard to tell their ages, they all look young and fragile...," says Andrzej with a shrug of his shoulders.
Andrzej worked with a few hundred. Worldwide, the Organization for Security and Cooperation (OSCE) estimates there are 25 million victims of trafficking.
'Modern slavery'
The gangs Andrzej worked for are deemed "highly professional" by Markus Pfau, who leads a department at the German State Police (Bundespolizei) in Halle against organized crime. He is an expert in people smuggling and admits that this trade amounts to a form of "modern slavery."
Although the Polish and German police catch some of the lorries and vans transporting Vietnamese people, many more get through. The van Lan arrived in crossed the Polish-German border in August 2015. The Berlin police "didn't bother to find out how long she had been held in Poland for," explains the narrator.
Andrzej wears dark glasses as he drives the RBB reporting team around Poland, demonstrating where he would pick consignments of people up and where he might drop them off. He doesn't seem too bothered by his part in this international trade in human beings.
Andrzej laughs sometimes, but when he is near buildings, apartment blocks, wholesale centers and even temples, allegedly controlled by the Vietnamese mafia, he appears jumpier, pointing them out, then driving quickly away.
Trafficking or smuggling?
The line between people smuggling and human trafficking is a murky one, explains the documentary, at least as far as European law is concerned. Each country defines it slightly differently and those like Andrzej who work in this line of business tend to be convicted for people smuggling rather than human trafficking, especially in Germany.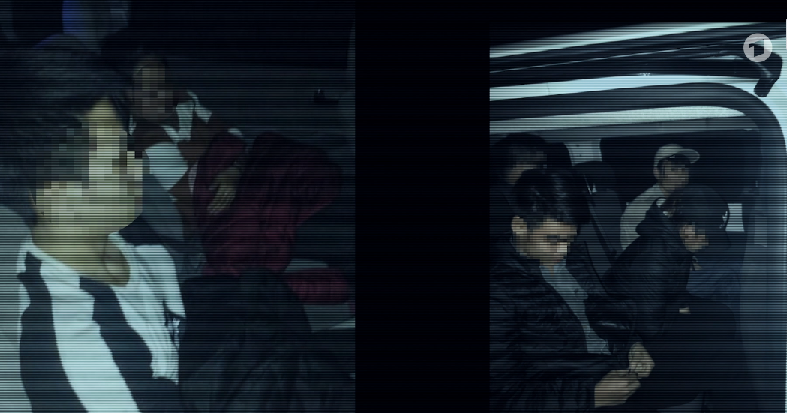 The country was criticized in 2019 by a Council of Europe report which said that Germany was not doing enough to recognize and monitor this trade as human trafficking, a situation which is playing into the hands of the gangs, say the narrators.
An expert in criminal law at the Martin-Luther-University in Halle-Wittenberg, Professor Joachim Renzikowski explains that you can define the trade as human trafficking when people lose their identity and are handled as goods. This, says the documentary, is what is happening with many Vietnamese who make their way to Europe.
"Exploitation is the aim of human traffickers," says Professor Renzikowski. "When the person being smuggled arrives at the destination, he has to do what he is told, whether he likes it or not. He will not be asked, because he is simply a 'thing' for the traffickers, and not a person with rights."
'Working to pay off their debts'
"They're working to pay off their debts," confirms Andrzej with a laugh. "It's logical isn't it? If someone doesn't want to, well, then there might be some violence."
For Sebastian Laudan, the chief investigator for organized crime at the LKA Berlin (German state criminal investigations), these people have been "smuggled" not "trafficked." Laudan says that because the people pay to be smuggled to Europe and know that they will have to work to pay off those debts, it can't be considered trafficking.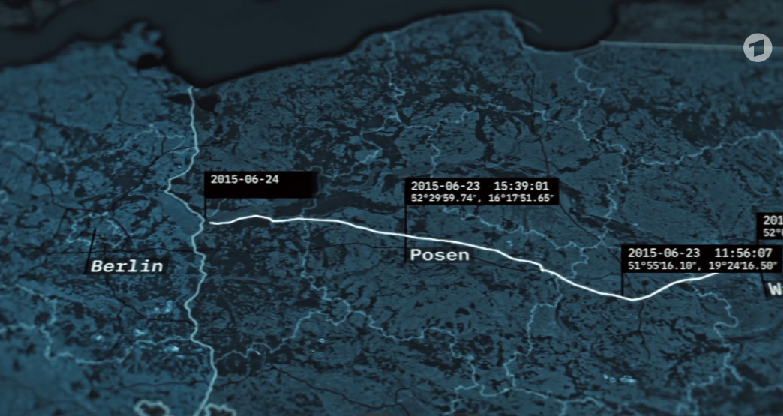 Laudan admits that sometimes the work leads to exploitation, but not always. This is why many more criminals are convicted of smuggling than human trafficking. In 2019, Germany registered "just seven Vietnamese victims of human trafficking," the documentary's narrator tells us.
In Poland, Andrzej it turns out, was convicted. He received a sentence of three years and six months for the crime of driving people illegally across borders. Those involved still make money from it, but in theory, when their journey ends, so does the link between smuggler and smuggled.
Bonded labor and illegal employment
In the case of human trafficking, those who have often still paid for the 'privilege' of traveling to Europe, remain in bonded labor to the traffickers, sometimes for years at a time. Forced to work, and unable to leave and exercise their human rights.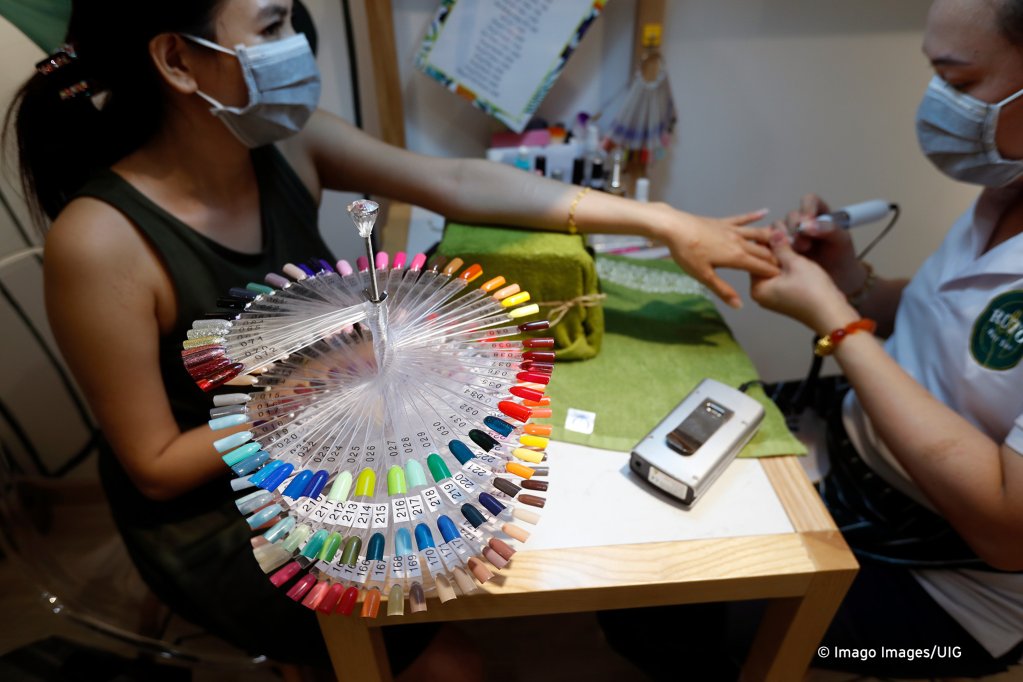 Nail studios, restaurants and illegal sewing factories and indoor cannabis farms across Europe and the UK are the most common places where police, customs officers and other law enforcement authorities have found Vietnamese people working illegally, without contracts or passports, sometimes under age, or for much less money than they had been promised, far below the minimum wage of the country in which they find themselves. In the UK for instance, 900 people per year are registered as being victims of trafficking, "half of those are minors," says the documentary.
The trade globally is enough, according to the documentary to generate at least €35 billion per year for the gangs who deal in people as goods.
Chung's story
Some like Chung* don't make it to Germany or the UK. They stay in Poland, where 30,000 other Vietnamese people live in "one of the largest Vietnamese communities in eastern Europe." Chung's parents are both dead, explains the narrator. He was brought up by his grandmother, when she died too he was all alone, getting by collecting bottles, driftwood and anything else he could sell.
"I was just 15 when a man asked if I was looking for work. I didn't talk to him for long but he seemed nice, and friendly. I was just a child, I didn't really know about anything. I did what they told me. They didn't tell me what I would be working at, or for how long, just that I would be going to Germany," Chung tells the filmmakers.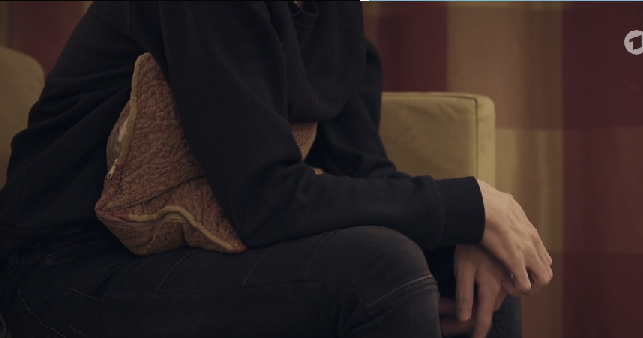 Chung was brought from Hanoi, to Moscow and then through the Baltic states, he doesn't know exactly where, explains the film's narrator. He was locked in warehouses, sometimes for weeks on end. "I wasn't allowed to leave or go outside. I had no idea where I was. I heard from one of the other Vietnamese that we were in Russia. I asked one Vietnamese guy if I was allowed outside, he said no. He told me one guy had tried to escape and was shot in the leg, I didn't ask again after that." says Chung.
Chung was on his way to Germany in a minibus when the bus crashed, several people were badly hurt. The police came to the scene and questioned the driver and passengers. Among the group, were eight minors, boys and girls. Chung decided to turn state witness and gave evidence for the prosecution in the trial.
Living in fear
Now, he lives in fear, of the gangs that smuggled him and asks the producers to hide his identity. According to mobile phone data gathered from the driver and other members of the gang, Andrzej and his team had made about 100 journeys from Poland, to Germany like Chung's in the space of eight months. Many went on with other vans later across western Europe towards the UK via France, Belgium, Holland to England.
Andrzej and his team are thought to have received about €500 per person for their job. There were "lots" in their vans, sometimes eight, sometimes 12, Andrzej shrugs his shoulders. The numbers of children being smuggled "are rising," says the documentary. The German and Polish border police have numerous examples of young people who are found and taken into care by the state. In many cases though, a few days or weeks later, they disappear.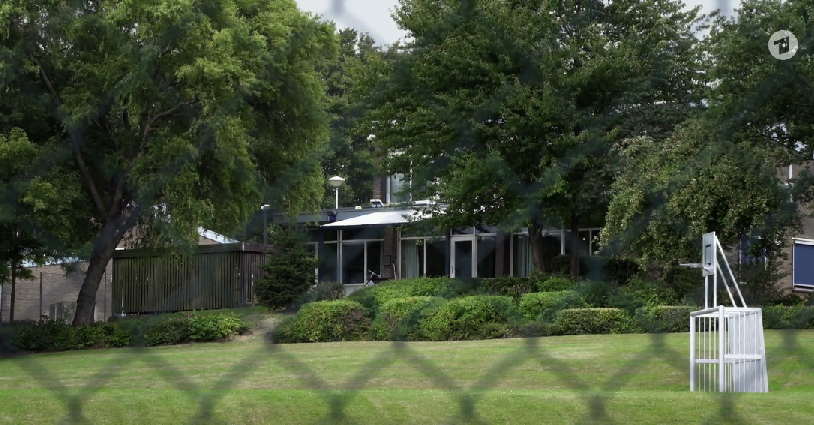 Missing children
A German social worker responsible for looking after these children says that this happens all the time. They tell the police the children have gone missing, and then, "nothing happens. If it had been a German child gone missing, there would be a huge effort made, but with the Vietnamese children... nothing."
According to the filmmakers, after months of research, no one could tell them exactly how many children are going missing, but what is clear is, it is "hundreds at least." The same phenomenon is happening to Vietnamese children in France, Belgium and the Netherlands, they say.
In the Netherlands, at least 67 have disappeared from protective children's homes. Dutch investigative journalist Sanne Terlingen has been trying to find out more. According to documents that Terlingen got hold of from two children's homes, although the children were locked in at night with night watchmen, they "stole knives from the kitchen to open the windows, or sprayed perfume on the fire sensors to get the doors to open."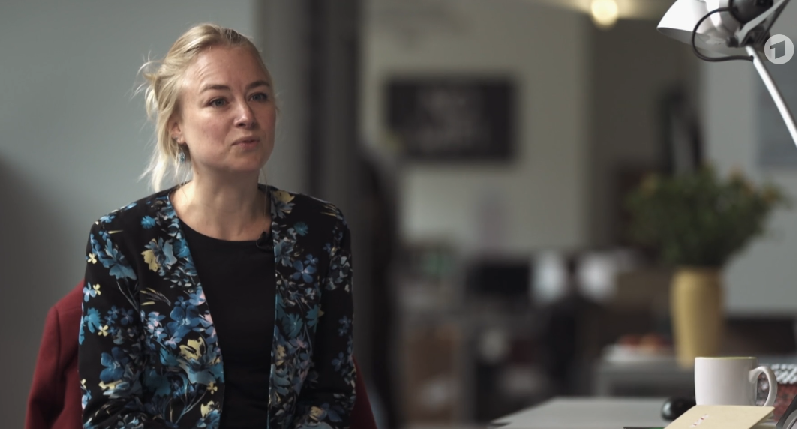 Terlingen says that according to video evidence, there were cars waiting to pick the children up. "It might look like they disappear voluntarily, because they go willingly into these cars," explains Terlingen, "but the pressure on them is so high from their families, because they have to pay back these debts."
'I can't breathe'
Some of those who disappeared from the Dutch homes later died in the lorry which was found in Essex in October 2019 with 39 dead Vietnamese people, some of them minors. It was later found those in the lorry died from asphyxiation in the sealed container.
Some of the ringleaders of those involved in this incident were sentenced in January 2021. They were given prison terms between 13 and 27 years by a British court.
One 17-year-old who died that day sent a text to his mother from the lorry. In it, he said: "I'm so sorry Mum. My journey abroad was not successful. Mum, I love you. I'm dying because I can't breathe. I'm sorry Mum." He too was smuggled via Poland and Germany, the Netherlands towards the UK, say the filmmakers.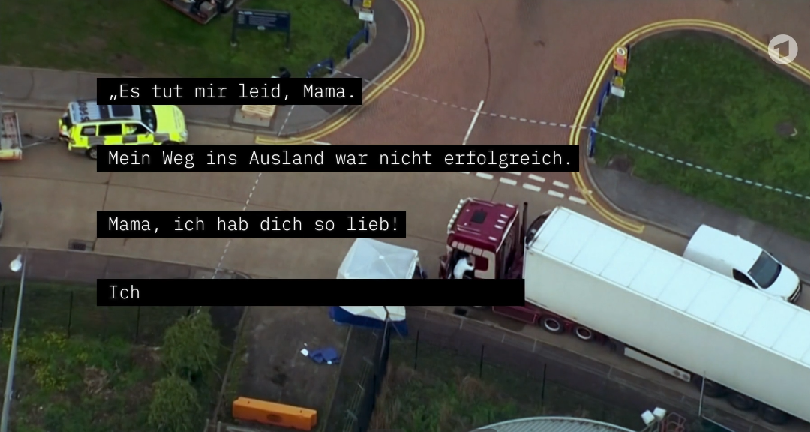 A political investigation followed Terlingen's publication of her work. About "97% of all those Vietnamese registered as minors in the Netherlands vanished without trace," confirms Terlingen's colleague Huub Jespers, deputy editor of the Argos VPRO an investigative journalist platform where they both work.
Transnational efforts needed to combat smuggling and trafficking
Back in Berlin, the filmmakers drive around the Dong Xuan center, a huge Vietnamese wholesale center, with restaurants, shops and warehouses. Laudan at the LKA Berlin confirms that the center was a focus of their investigations.
On January 1, the deputy director of ECPAT Germany, Dr Dorothea Czarnecki, along with Mimi Wu, a US-Vietnamese expert in anti-trafficking and modern slavery and a partner at Raise Partners, and Nadia Sebtaoui, a Paris based migration and anti-trafficking expert, wrote an opinion piece for the Guardian newspaper.
In it, the three experts said that "one of the biggest shortcomings with the UK and EU responses to Vietnamese trafficking and organized crime is the lack of experience and resources to work with victims and diaspora communities." They called on more EU countries to start working with their Vietnamese law-enforcement counterparts, as well as with the Vietnamese diaspora communities to try and end this kind of exploitation and trade.
As the film ends, we learn that the man who pretended he was Lan's father has been sentenced also to three years in prison, for smuggling. "Trafficking was not mentioned in his case," say the filmmakers.
The filmmakers also say they don't know what happened to 12-year-old Lan or where she might be today. They don't say if she has run away, or if she has been taken into state protection, if they are obscuring her story to protect her identity, or even whether she is alive, or dead.
*Not their real names. All names have been changed to protect their identities.
This report was based entirely on an investigative documentary for German public television ARD by Adrian Bartocha and Jan Weise. It was made for the Radio Berlin Brandenberg (RBB) broadcaster, a part of ARD.