The deportation of three girls to Georgia and Armenia has caused controversy and tension in the governing coalition between the green party and conservatives in Austria. Many people criticized the government for expelling children who were considered to be "well integrated", including a 12-year-old girl born in Austria.
Should well integrated families and children whose asylum claims have been rejected be deported by all means -- amid the coronavirus crisis -- even if they are firmly rooted in Austria? A debate over this has been raging in Austrian politics and on German-language social media following the deportation of three girls, at least one of whom had been born in Austria.
Three young girls -- Georgian sisters aged 12 and five, and an Armenian student -- were deported from Austria on Thursday (January 28), despite massive protests.
Governing coalition in conflict
The Greens – who are currently in the governing coalition with the conservative ÖVP party -- sharply criticized the deportation. "It is inhumane and irresponsible that well-integrated girls were deported in the morning hours," Green Vice Chancellor Werner Kogler said in a statement. Kogler claimed that the ÖVP-run interior ministry had gone ahead with the deportation though Interior Minister Karl Nehammer had promised to look into the cases.
The Austrian president also weighed in on the matter. "This is deeply concerning," Alexander Van der Bellen – the former head of the Green party -- said in video statement posted on Twitter. "I cannot and will not believe that we live in a country where such a step is really necessary." 
Van der Bellen also called on authorities to take a more humane and measured approach, and to prioritize the well-being of children.
SPÖ head Pamela Randi-Wagner tweeted: "As a mother, I am stunned that well-integrated children are uprooted from their lives and deported to a foreign country."
Karl Nehammer justified the deportation. "This is also not an easy duty for the deployed police officers, but it's necessary to help the state under the rule of law break through," he told radio station Ö1.
Petition against deportation
The deportations garnered national attention in Austria after schoolmates of 12-year-old Tina, one of the girls slated for deportation, launched an online petition that has gathered more than 34,000 signatures.
Early Thursday morning, ahead of the eminent deportations, there were massive protests at the deportation center the girls were staying at on the outskirts of Austrian capital Vienna. According to news agency dpa, some 160 protestors set up a roadblock to stop police from deporting the three girls and their families. Among the demonstrators were several politicians from the green party, social-democratic SPÖ and the liberal Neos.
Florian Klenk, editor of the Vienna weekly Falter, tweeted out pictures of the blockade, saying that demonstrators had "brought bulk garbage and shopping carts to block of all access [to the center]."
Police broke up the protests and deported the three girls, along with their families. On social media, pictures and videos were shared, showing a massive police presence during the deportation, leading to criticism from some politicians and activists – including the Greens spokesperson on asylum issues, Georg Bürstmayr – that the police presence had been "excessive".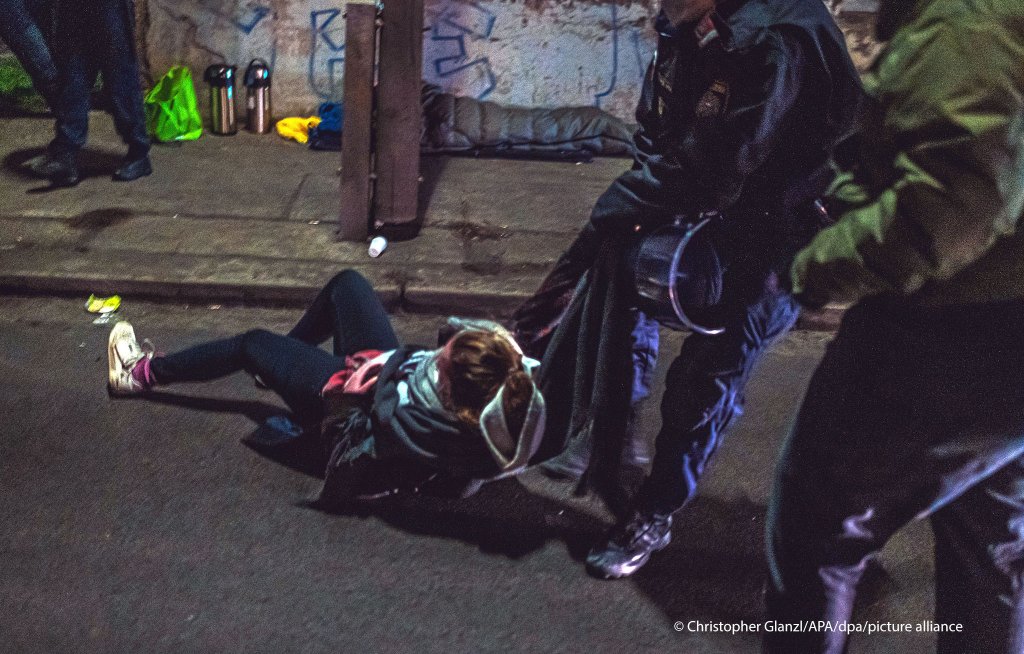 Those who called for Tina and the other girls to not be deported pointed to their deep roots in Austria and how well integrated they were. Advocates of the girls argued that they knew Austria much better than their supposed home countries.
"If what happened yesterday was covered by the law, then there's something not right about the law," Theo Hass, a student spokesperson from the school to which Tina went, told Austrian broadcaster ORF on Thursday.
According to media reports, 12-year-old Tina was born in Austria and went to a local high school (Gymnasium). She reportedly only lived in Georgia for two years during her childhood when her mother returned there in 2012 after her asylum application was rejected.
No legal right to stay
Those in favor of the deportations – including the interior minister – argued that several court decisions found that the family had no legal right to stay in Austria. Tina's mother had received a definite rejection of her asylum application in December 2019, ORF reported.
All Austrian courts rejected the family's claims to stay, according to multiple media reports, and the Federal Administrative Court ruled that part of the reason the family had been in Austria for so long had been because it ignored the authorities' instructions. According to the interior ministry, Tina's family had been in the country illegally for four years.
However, advocates of the girls said that Austria was not legally obliged to deport people without stay permits. "If the interior minister claims that he cannot act differently based on the legal situation, all I can say is: There is no binding legal obligation to deport school children that grew up in Austria and are well integrated," vice chancellor Kogler argued on Thursday.
With dpa