36 migrants on two separate boats were found in difficulty in the Channel between France and Britain at the weekend. They were taken back to France by a coastguard patrol boat who declared the migrants "safe and sound."
On Saturday, February 6, the French operational and rescue center CROSS activated two rescue operations for a total of 36 migrants off the port of Calais. That's according to a press release from the Prefect for the Channel and the North Sea (Préfecture maritime Manche et mer du Nord).
The first boat had 13 migrants on board, who were transferred on to the patrol vessel Themis. Alerted by a cross-Channel ferry to another small boat, the Themis took a detour to help a further 23 migrants in difficulty. All were taken back to Calais.
'Safe and sound'
"All the migrants are safe and sound," stated the prefect's press release. On Monday, the maritime authorities posted a tweet warning of "difficult weather conditions" in the area. They said that from Tuesday (February 9) to Wednesday (February 10), they were expecting heavy seas and "gusts of winds which could reach 93 kilometers per hour." They asked everyone thinking of going to sea to "be careful."
Last week, a woman was "found unconscious" by French authorities during another crossing attempt, according to BBC. In total, the French picked up 78 people last week, and 17 migrants made it across the stretch of water to the UK, according to the broadcaster.
Pilot of boat jailed
On Saturday, an Iranian man was jailed for two years, according to BBC reports, for steering a group of migrants across the Channel in July. The boat he is accused of piloting was "dangerously overcrowded".
The man, named as Sadrallah B. by the BBC, was picked up by the British Border Force authorities in July. He had been piloting a "rigid-hulled inflatable boat." According to the BBC, he "admitted assisting unlawful immigration at Canterbury Crown Court" in Kent. He was sentenced at the same hearing.
There were 15 migrants on board the boat Bahador is accused of piloting. A boat which can safely hold about eight people, according to the Clandestine Channel Threat Commander, Dan O'Mahoney.
O'Mahoney said that the "lives of everyone on board this dangerously overcrowded boat were at risk," reported the BBC.
O'Mahoney has been tasked with ending the Channel crossings by migrants and regularly works with British and French authorities as well as prosecutors. He underlined the importance of prosecuting "those who have taken the helm," wrote the BBC, because the crossings were only possible when someone was willing to pilot them.
He called the actions of pilots "reckless."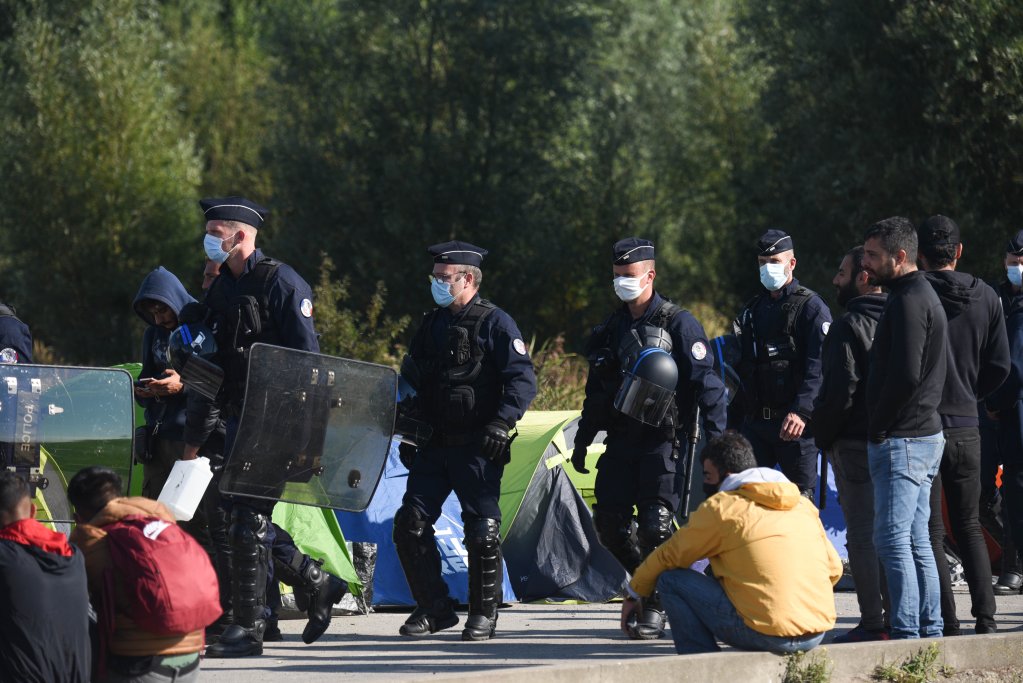 Emergency accommodation in Calais
Meanwhile, French radio station France Info reported on Monday that migrants in Calais were being offered emergency places to sleep, as the area, like much of northern Europe, is in the grip of an "arctic blast."
France Info said that the Préfecture du Nord was offering 170 supplementary places for those sleeping in the temporary migrant camp known as Grande-Synthe. It added that there were two hangars now open in Calais for all those who wanted to sleep somewhere warmer.
The region around the French north coast has been placed on "Orange alert" after snowfalls and minus temperatures were recorded.
A tweet put out by the regional prefect said anyone who wanted a place inside could ring the French humanitarian emergency service Samu Social to request that place. It can be reached by dialing 115 from a French phone. If you are calling from British or other mobile devices, dial 112 and your call will be redirected to the local emergency telephone number.