Many migrants complain that they have not been able to apply for asylum when they cross the border into France. According to them, the French border police (PAF) refuse to take their asylum applications and immediately send them back to neighboring Italy.
Paul*, a young 24-year-old Cameroonian, remembers every moment of a long night in February, when he was lost somewhere in the Alps near Montgenèvre. The young man was trying to enter France from neighboring Italy when border police officers stopped him.
"I saw policemen coming towards me and they stopped me. It was my first attempt crossing the border. When I saw them, I immediately said 'asylum, asylum'. They said, 'No, you can't ask for asylum'. And they sent me straight back to Italy."
Paul was not deterred. A few days later, he tried to cross the Alps again and this time managed to enter France without being stopped. "I'd like to settle in Brittany," confides the Cameroonian. "I'm going to file my asylum application in the next few days and if everything goes well, I'll make my new home there."
Also read: 'We were lost, knee-deep in snow': Paul crossed the Alps at night
This type of behavior by French police - who turn some migrants back without letting them apply for asylum - is reportedly frequent according to the migrants InfoMigrants interviewed.
"This pushback from France to Italy, we all know about it before we even try to make the crossing, that's why we are so afraid of meeting police in the mountains. Because they won't listen to anything we say," explains Mohamed*, a Tunisian, InfoMigrants met at the Refuge Solidaire in Briançon.
Unlike Paul, Mohamed succeeded and crossed the Alps on his first attempt, without encountering PAF or any marauders (the name used by volunteers who roam the Alpine border to help those in need). "We were lucky. We walked for 8 hours and everything went well despite the cold. We could see the police cars passing, but we were well hidden, so they didn't see us."
Also read: 'The Alps will not stop us': migrants brave knee-deep snow on mountain trek into France
'Very frequent refusals'
PAF's refusal to respect the right to asylum is loudly denounced by the members of the association Tous Migrants. "Refusals are very frequent here [...] What usually happens is that the police arrest migrants in the mountains in France, take them to the PAF office in Montgenèvre and give them OQTF (official orders to leave France). Then they call the Italian police who come to bring the migrants back to Italy [...] All this takes place in less than 5 hours," sums up Pâquerette Forest, the co-president of the association.
According to law, border police are authorised to check the papers of people entering French territory, and can therefore expel any person in an irregular situation. This is referred to as "non-admittance." However, they cannot expel a foreigner who is applying for asylum. In this specific case, they must register the asylum application and transmit the file to the Minister of the Interior, who is the only one in the position to accept or refuse entry into France, on the advice of OFPRA.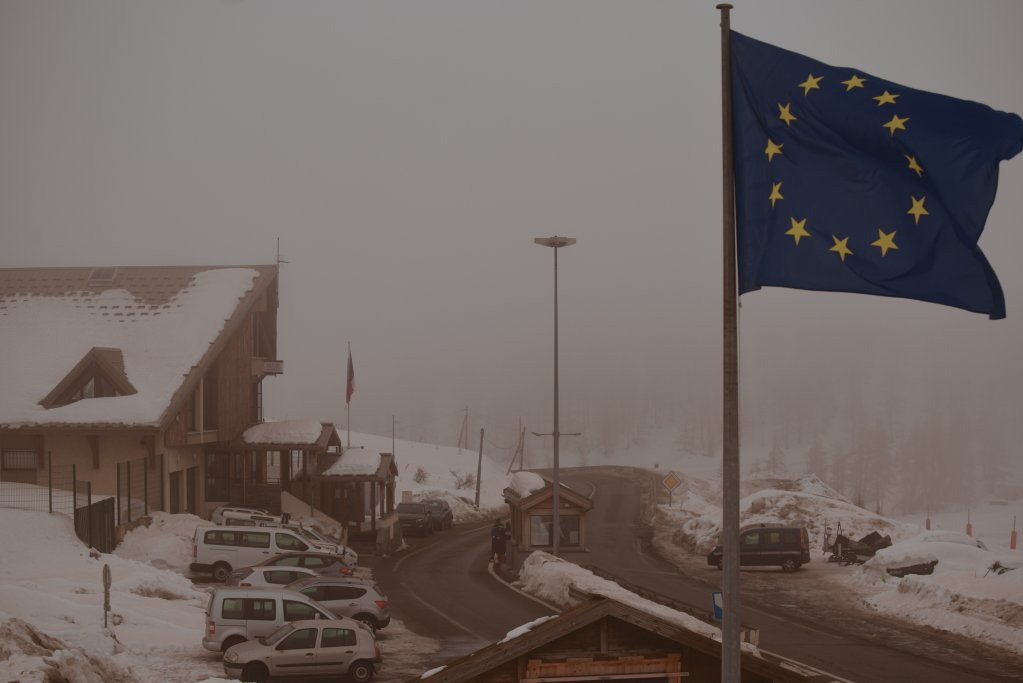 "There is a real denial of rights here," Forest continues, although she does qualify her remarks. "It's important to add that not all policemen behave like this. There are those who let migrants cross through so that they can apply for asylum, but there are those who are relentless."
According to her, "those who are persistent" are "rare" but their behavior has serious consequences. "There have been reports of police officers tearing up migrants' official documents, such as their birth certificates," documents that are crucial to beginning any administrative procedures in France.
'Pushbacks don't discourage anyone'
"As a result of the fear of pushbacks, migrants are now taking more and more risks," says Juliette, one of the association's marauders, who knows the mountains and their dangers very well. "Migrants are going up steeper and steeper paths, getting more and more remote," she says.
"PAF has to stop thinking that pushbacks discourage them. They don't discourage anyone. We're talking about migrants who have been turned back to Bosnia, to Croatia as many as 10 times, even 20 times before managing to get through! It's not the Alps and these policemen who are going to stop them!"
Approached by InfoMigrants, PAF refused to let us enter their premises in Montgenèvre, less than 5 kilometers from Italy, and they refused to answer any questions.
The Prefecture of the Hautes-Alpes region also refused to answer our requests, but they did give us some statistics. In 2020, there were 80 refusals of residence and OQTF in the Hautes-Alpes. A total of 1576 people were "not admitted" into French territory in that period.
*First names have been changed